MIR@NT@N: a framework integrating transcription factors, microRNAs and their targets to identify sub-network motifs in a meta-regulation network model
BMC Bioinformatics
2011
12:67
Received: 27 July 2010
Accepted: 4 March 2011
Published: 4 March 2011
Abstract
Background
To understand biological processes and diseases, it is crucial to unravel the concerted interplay of transcription factors (TFs), microRNAs (miRNAs) and their targets within regulatory networks and fundamental sub-networks. An integrative computational resource generating a comprehensive view of these regulatory molecular interactions at a genome-wide scale would be of great interest to biologists, but is not available to date.
Results
To identify and analyze molecular interaction networks, we developed MIR@NT@N, an integrative approach based on a meta-regulation network model and a large-scale database. MIR@NT@N uses a graph-based approach to predict novel molecular actors across multiple regulatory processes (i.e. TFs acting on protein-coding or miRNA genes, or miRNAs acting on messenger RNAs). Exploiting these predictions, the user can generate networks and further analyze them to identify sub-networks, including motifs such as feedback and feedforward loops (FBL and FFL). In addition, networks can be built from lists of molecular actors with an a priori role in a given biological process to predict novel and unanticipated interactions. Analyses can be contextualized and filtered by integrating additional information such as microarray expression data. All results, including generated graphs, can be visualized, saved and exported into various formats. MIR@NT@N performances have been evaluated using published data and then applied to the regulatory program underlying epithelium to mesenchyme transition (EMT), an evolutionary-conserved process which is implicated in embryonic development and disease.
Conclusions
MIR@NT@N is an effective computational approach to identify novel molecular regulations and to predict gene regulatory networks and sub-networks including conserved motifs within a given biological context. Taking advantage of the M@IA environment, MIR@NT@N is a user-friendly web resource freely available at http://mironton.uni.lu which will be updated on a regular basis.
Keywords
Regulatory MotifmiRNA GeneInteraction GraphmiRNA RegulationJASPAR Database
Background
The cells of an organism harbor a common set of genes which are differentially regulated in time and space by various factors allowing them to adopt distinct phenotypes and to exert various functions. Among the regulators, transcription factors (TFs) and microRNAs (miRNAs) which are small 21-23-nucleotide-long, non-coding RNAs, play a cardinal role in the determination of cell fate and homeostasis, in physiological and disease conditions. While TFs act at the DNA level by binding to cis-regulatory elements of genes, termed Transcription Factor Binding Sites (TFBSs) [1–3], miRNAs regulate gene expression at the post-transcriptional level by binding to the 3'-untranslated region (3'-UTR) of messenger RNAs [4]. They thereby inhibit protein synthesis by triggering the degradation of the target messenger or by inhibiting its translation, contributing to the fine-tuning of gene expression [5, 6]. Rather than acting independently or in parallel, it is now well established that TFs and miRNAs act in concert in networks to regulate target genes in a coordinated manner [7, 8]. TFs and miRNAs are in turn regulated, in part, at transcriptional and post-transcriptional levels. In line, regulatory nodes may comprise TFs and miRNAs that form sub-networks including fundamental, evolutionary conserved regulatory motifs such as feedback or feedforward loops (FBL, FFL) [8–12], contributing to the modulation of gene expression and the adaptation of cells to changes in their environment. For example, these regulatory schemes play an important role in cell fate determination during embryonic development and during the differentiation/dedifferentiation processes of cells, conferring them genetic plasticity [13–15].
Potentially, a TF binds to the regulatory motifs of thousands of genes while a miRNA may target several hundreds of messenger RNAs. Consequently, in silico predictions of binding sequences of these regulators require additional filtering to identify those with potential biological relevance. In line, recent studies have demonstrated that combining binding site predictions with context-linked, experimental genome-wide co-expression data, is a powerful approach to identify biologically meaningful molecular interactions [7, 12, 16, 17].
To date, databases and tools have been established which compile and explore experimentally supported and predictive data from TF regulations on coding genes (TF→Gene) [3, 18, 19], TF regulations on miRNA genes (TF→miRNA) [20–23] and miRNA regulations on messenger RNAs (miRNA→ gene), [21, 24, 25]. While these resources and associated tools are useful to predict TF or miRNA binding sites and associated molecular interactions, an approach which integrates this information at a genome-scale level to identify miRNA, TF and target gene regulatory sub-networks is still not available. Thus, a resource dedicated to the reconstitution of meta-regulation networks guided by '-omics' data would be of great interest to users to better understand how these regulations contribute to biological processes in normal and pathological conditions.
Here, we have developed MIR@NT@N (MIRna @Nd Transcription factor @nalysis Network), based on a graph-theoretical method to integrate multiple regulation levels into a unified model (Figure
1
). MIR@NT@N predicts novel molecular actors and the form of their interplay. Based on these predictions or on lists of known molecular actors, users can generate regulatory networks and extract FBL and FFL sub-networks. Analyses can be contextualized and filtered by associating, for example, large-scale co-expression data. Collectively, MIR@NT@N offers novel applications to gain insight into the potential mechanisms of action of molecular regulators and their targets, in a given biological context.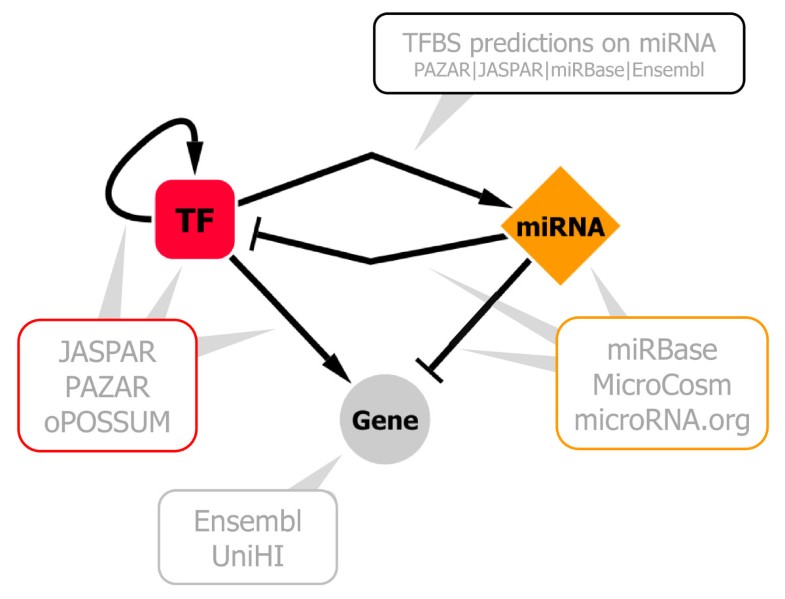 Implementation
The MIR@NT@N application
The MIR@NT@N application is an open-access web interface, which can be accessed as a standalone module or through the workflow of M@IA, an environment dedicated to integrative biology analyses [26]. MIR@NT@N is built in the PHP programming language for database generation, data integration, analysis scripts (including graph construction and FBL and FFL detection) and interface. It also uses applications included in M@IA: R language (http://www.r-project.org) for statistical computing and Graphviz tool (http://www.graphviz.org) for interaction graph generation. Data can be further processed using any other module of M@IA, such as automatic gene annotation and data mining based on ontology or metabolic/signaling pathways. The MIR@NT@N application is connected to a MySQL relational database integrating information on biological entities and their regulations and interactions. The MIR@NT@N help main page includes an overall description of each section, including a quick tutorial and example files. To guide users in their analysis, MIR@NT@N also provides a contextual help available within each section, by explaining parameters, checking loaded data, and suggesting analysis refinement.
Conclusions
Here, we described MIR@NT@N, available as an open-access web application at http://mironton.uni.lu, which identifies meta-regulation networks implicating TFs, miRNAs and target genes. The possibility to predict TF- and miRNA-mediated regulations at a genome-wide scale is an important novel feature of MIR@NT@N. MIR@NT@N facilitates the analyses of "-omics" data (i.e. any experiment made at a genome scale such as transcriptomics and proteomics analyses) and allows detection of relevant molecular interactions and associated regulatory motifs (e.g. FFL). Users analyzing complex spatio-temporal gene regulation data can obtain experiment-suitable insights into the regulatory mechanisms governing cellular processes.
Availability and requirements
Project name: MIR@NT@N
Project home page: http://mironton.uni.lu
Operating system(s): Platform independent
Programming language: PHP, HTML, Javascript, R
Other requirements: M@IA environment including Apache 1.3 or higher, MySQL 4.0 or higher, R 2.0 or higher, Graphviz
License: GNU GPL
Any restrictions to use by non-academics: licence needed
List of Abbreviations
TF:

Transcription Factor
PFM:

Position Frequency Matrices
PWM:

Position Weight Matrices
TFBS:

Transcription Factor Binding Site
miRNA:

microRNA
CGI:

CpG Island
FBL:

Feedback loop
FFL:

Feedforward loop
EMT:

Epithelium to Mesenchyme Transition
Declarations
Acknowledgements
This work has been supported by the National Research Fund, Luxembourg (BIOSAN 07/12, AFR fellowship to A.L.B, TR-PDR BFR08-084), the "Fondation Luxembourgeoise Contre le Cancer", the CNRS, MSFHR, CICHR and the French Embassy in Canada. A.S. is a recipient of a BFR fellowship (08/046) from the Ministère de la Culture, de l'Enseignement Supérieur et de la Recherche of Luxembourg. W.W.W. was supported as Scholar of the Michael Smith Foundation. We especially thank E Schaffner-Reckinger, Jean Muller and Christian Delamarche for critical reading of the manuscript and their helpful comments, and Matthias E. Futschik for providing us UniHI database.
Authors' Affiliations
(1)
Cytoskeleton and Cell Plasticity lab, Life Sciences Research Unit-FSCT, University of Luxembourg, Luxembourg, Luxembourg
(2)
Centre for Molecular Medicine and Therapeutics, Child and Family Research Institute, University of British Columbia, Vancouver, Canada
(3)
Structure and Function of the Cell Nucleus, Institute for Research in Immunology and Cancer (IRIC), Université de Montréal, Montréal, Canada
(4)
Institut de Recherche en Cancérologie de Montpellier INSERM U896, Université Montpellier1, CRLC Val d'Aurelle Paul Lamarque, Montpellier, France
(5)
Institut de Génétique Moléculaire de Montpellier UMR 5535 CNRS, Montpellier cedex 5, France
Copyright
© Le Béchec et al; licensee BioMed Central Ltd. 2011
This article is published under license to BioMed Central Ltd. This is an Open Access article distributed under the terms of the Creative Commons Attribution License (http://creativecommons.org/licenses/by/2.0), which permits unrestricted use, distribution, and reproduction in any medium, provided the original work is properly cited.