Novel base triples in RNA structures revealed by graph theoretical searching methods
BMC Bioinformatics
2011
12(Suppl 13):S2
Published: 30 November 2011
Abstract
Background
Highly hydrogen bonded base interactions play a major part in stabilizing the tertiary structures of complex RNA molecules, such as transfer-RNAs, ribozymes and ribosomal RNAs.
Results
We describe the graph theoretical identification and searching of highly hydrogen bonded base triples, where each base is involved in at least two hydrogen bonds with the other bases. Our approach correlates theoretically predicted base triples with literature-based compilations and other actual occurrences in crystal structures. The use of 'fuzzy' search tolerances has enabled us to discover a number of triple interaction types that have not been previously recorded nor predicted theoretically.
Conclusions
Comparative analyses of different ribosomal RNA structures reveal several conserved base triple motifs in 50S rRNA structures, indicating an important role in structural stabilization and ultimately RNA function.
Keywords
Protein Data BankHepatitis Delta VirusHairpin LoopLarge Ribosomal SubunitPeptidyl Transferase
Background
It is now clear that three-dimensional (3D) structure is as fundamental to the functionality of complex RNA molecules as it is for proteins. Awareness of the extent of the complexity and the diversity of RNA tertiary structures has expanded due to the availability of high resolution structures of large assemblies such as both ribosomal subunits [1–3], ribozymes [4, 5], and the P4-P6 domain of the group I intron [6], in addition to the early transfer-RNA structures [7, 8]. Base triples can provide key interactions in assembling a tertiary structure by docking a base-pair in a helical region, which may be either Watson-Crick or non-canonical, to a single-stranded nucleotide distant in the polynucleotide chain [9, 10]. In addition, neighboring base triples can form stacks or triple helices: the first such example in the RNA shallow groove was observed in the crystal structure of a frame-shifting pseudoknot [11]. The occurrence of four base triples stacked together has also been observed in the structure of the Tetrahymena ribozyme [12].
As with base pairs, the key interactions that stabilize base triples are hydrogen bonds. Hydrogen bonds are highly directional and capable of defining specific interactions. Many previous reports discussing base triples consider a wide variety of possible interactions including single hydrogen bond interactions and interactions to non-base components of the nucleotides [11, 13]. However, it is clear that multiply hydrogen bonded triples, which consist of at least two hydrogen bonding interactions per base, will be especially stable and the structural conservation of such triples is therefore likely to be significant. They are thus expected to be influential constituents of RNA structure and are therefore of primary interest in this work. Nevertheless, RNA structures are highly dynamic and even triple interactions may be lost as a result of conformational changes. As the number of complex RNA structures increases, the ability to computationally detect and track such changes presents an interesting challenge. A library of 840 theoretically computed base triples has been compiled and is accessible as part of the NAIL (Nucleic Acid Interaction Library) database [14]. Another resource, the NCIR database [13], consists of known non-canonical base interactions including base triples and is compiled through a literature search.
Here, we present a survey, that cross-references the patterns in the NAIL database [14], the Protein Data Bank (PDB) [15] and the records in NCIR [13], and is able to deliver a catalogue of base triples of a specific type in existing crystal structures. We use a graph theoretical approach that is capable of documenting occurrences of NAIL patterns in the PDB, and in doing so, find interactions that are predicted by NAIL but not recorded in NCIR. NCIR is a manual literature search and therefore, such a search is limited to what is reported in the available literature in addition to possibly incomplete coverage due to the manual and labor intensive nature of the compilation process. By employing high tolerances designed to give a 'fuzzy' search, our method was also able to retrieve previously unrecorded occurrences of triples contained within the PDB. Surprisingly, we also show that there are multiply hydrogen bonded base triples that occur in the PDB, but were not included in the NAIL dataset. Our investigation of these triples in the large ribosomal subunit structures also revealed conserved interactions that may be essential base interactions in the stabilization of rRNA structure.
Methods
RNA search database and query pattern library
The search database was compiled from PDB-sourced RNA and RNA-associated structures, solved by X-ray crystallography to a minimum resolution of 3Å. High resolution structures which became available at a later date, were also included as they became available. Several separate searches using structures solved at lower than 3Å resolution, such as the E. coli ribosome at 3.5Å [16], were also done. A library of 942 pattern matrices was generated as queries for the search engine, consisting of (i) The 840 base triple patterns from the Nucleic Acids Interaction Library [14] and (ii) 102 patterns generated by an alternative approach (Additional File 1 Figure S1).
Searching program and approach
The computer program NASSAM (Nucleic Acid Search for Substructures and Motifs)[
17
], which uses a simplified vectorial representation of the nucleic acid bases, was used as the search engine and primary screening step. NASSAM implements the Ullmann subgraph isomorphism algorithm [
18
] for comparing pseudo-atom representations of RNA base orientations. Each of the four RNA bases are represented by two pseudoatom vectors consisting of four pseudoatoms; where one pseudoatom is the start node and another pseudoatom serves as the end node (Figure
1
). The search input base triple patterns were created from pseudo-atom distances that hypothetically represent a triple, or they can be created by measuring the distances of the pseudoatoms from an actual occurring formation. Additional pseudo-distances were incorporated into the matrices to ensure that the midpoints of the pseudo-atom vectors for a base were close enough to each other that they were on the same base. These midpoint to midpoint distances internal to a base were constrained to 1Ǻ. NASSAM searches are also not dependent on sequence order. A distance tolerance parameter value, which sets the amount of deviation from the distances supplied in the pattern matrices is also incorporated into a search. This parameter can be supplied as either a discrete distance value, for example 1.7Ǻ, or as a percentage value. Very high distance tolerances (60% and above), which resulted in 'fuzzy' searches, were used to ensure that all possible matches were recalled and to facilitate discovery through variations of the original queries. Hits not matching our criteria of two hydrogen bonds per base were eliminated by computing the hydrogen bonding between the three bases in each hit, using the program HBPLUS [
19
] at default parameters. HBPLUS outputs were screened for matches to our criteria and filtered results were visualized and cross referenced with NAIL, NCIR and available literature.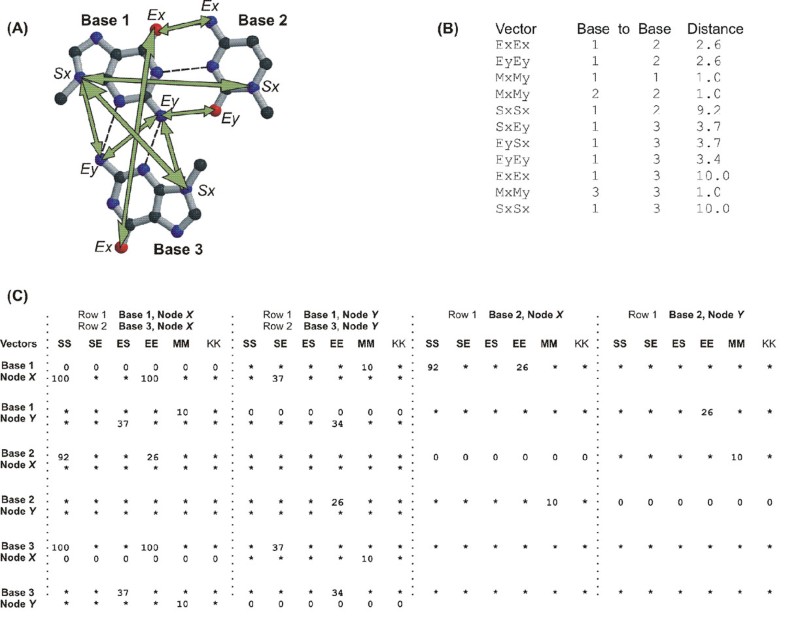 Sequence alignments and structure superpositions
Sequence alignments were done using CLUSTALW[
20
] for 19 prokaryotic 23S rRNA sequences retrieved from selected completed genomes accessible from the NCBI website and four prokaryotic 23S rRNA sequences extracted from PDB structures (Table
1
). The same 19 species were used for an alignment of 16S rRNA sequences against two prokaryotic 16S rRNA sequences from structures available in the PDB (Table
1
). The chosen species were selected to provide a simple yet diverse representative model of available prokaryotic rRNA sequences. The sequences used in the alignments and their database references are available in Table
1
. Structural comparisons of
T. thermophilus
[PDB: 2j01],
E. coli
[PDB: 2awb] and
D. radiodurans
[PDB: 1nkw] to the
H. marismortui
[PDB: 1ffk] structure were carried out using least squares superposition on the phosphate backbone atoms by the program LSQKAB [
21
] from the CCP4 suite [
22
]. Geometric descriptions of the triples utilized the nomenclature proposed by Leontis and Westhof [
23
]. Redundant geometries were identified by ordering the resulting geometries in alphabetical order such as arranging all cis interactions before trans interactions, as well as arranging the interacting edges for each pair alphabetically. Triples with the same geometrical description were then cross checked for differences. The C-H edges of pyrimidines have also been labelled as Hoogsteen edges for uniformity.
Table 1
Source of sequences and structures used for sequence-structure comparisons.
| Species | Taxonomy: (Super)Phylum | Database code |
| --- | --- | --- |
| Bacteroides fragilis NCTC 9343 | Bacteroidetes/Chlorobi group; | GenBank: NC_003228 |
| Borrelia burgdorferi B31 | Spirochaetes | GenBank: NC_001318 |
| Candidatus Protochlamydia amoebophila UWE25 | Chlamydiae/Verrucomicrobia group | GenBank: NC_005861 |
| Rhodopirellula baltica SH 1 | Planctomycetes | GenBank: NC_005027 |
| Thiomicrospira denitrificans ATCC 33889 | Proteobacteria | GenBank: NC_007575 |
| Acidobacteria bacterium Ellin345 | Fibrobacteres/Acidobacteria group | GenBank: NC_008009 |
| Escherichia coli | Proteobacteria | PDB: 2awb |
| Baumannia cicadellinicola str. Hc | Proteobacteria | GenBank: NC_007984 |
| Azoarcus sp. EbN1 | Proteobacteria; Betaproteobacteria | GenBank: NC_006513 |
| Rhodobacter sphaeroides 2.4.1 | Proteobacteria; Alphaproteobacteria | GenBank: NC_007493 |
| Anaeromyxobacter dehalogenans 2CP-C | Proteobacteria; delta/epsilon subdivisions | GenBank: NC_007760 |
| Anabaena variabilis ATCC 29413 | Cyanobacteria | GenBank: NC_007413 |
| Dehalococcoides sp. CBDB1 | Chloroflexi; Dehalococcoidetes | GenBank: NC_007356 |
| Bacillus subtilis subsp. subtilis str. 168 | Firmicutes; Bacilli | GenBank: NC_000964 |
| Deinococcus radiodurans | Deinococcus-Thermus; Deinococci | PDB: 1nkw |
| Bifidobacterium longum NCC2705 | Actinobacteria | GenBank: NC_004307 |
| Thermus thermophilus | Deinococcus-Thermus; Deinococci | PDB: 2j00 / 2j01 |
| Thermotoga maritima MSB8 | Thermotogae | GenBank: NC_000853 |
| Aquifex aeolicus VF5 | Aquificae | GenBank: NC_000918 |
| Sulfolobus solfataricus P2 | Crenarchaeota; Thermoprotei | GenBank: NC_002754 |
| Pyrobaculum aerophilum str. IM2 | Crenarchaeota; Thermoprotei | GenBank: NC_003364 |
| Nanoarchaeum equitans Kin4-M | Nanoarchaeota | GenBank: NC_005213 |
| Haloarcula marismortui | Euryarchaeota; Halobacteria | PDB: 1ffk |
Conclusions
The results of our survey reveal that multiply hydrogen bonded base triples have a high degree of conservation between comparable ribosomal structures, therefore suggesting significant collective contributions towards the overall folding and stabilization of the RNA molecule. By annotating triple patterns and correlating theoretically predicted base triples from NAIL with the literature-based compilations in the NCIR database, we were able to discover a number of multiply hydrogen bonded base triple formations that had not been previously recorded and/or had not been predicted theoretically. The same annotation approach has enabled motif discovery by putting into context known patterns of interactions such as the stacked UAU Hoogsteen, Watson Crick motif. The value of expertly curated databases such as NCIR [13] and SCOR [45] are indisputable. Computationally generated libraries such as NAIL[14] have proven to be an important resource towards the discovery of new base interactions. Computational structure annotation methods, which can quickly locate tertiary interactions of a given type, large or small, can be invaluable for the comparison of complex structures as well as for increasing the coverage and volume for manual curation. This capability provides the foundation for further experimental work in investigating the specific contributions from possibly essential base interactions which can in turn correlate RNA tertiary structure to their corresponding function. As an outcome of this work, we have made available the NASSAM program via a web enabled interface at http://mfrlab.org/grafss/nassam/.
Declarations
Acknowledgements and funding
We thank the Biotechnology and Biological Sciences Research Council, the Royal Society and the Wolfson Foundation for funding and computing facilities. MFR was funded by the Ministry of Higher Education Malaysia FRGS grant UKM-ST-06-FRGS0006-2009 and the Universiti Kebangsaan Malaysia grant UKM-GGPM-KPB-101-2010. The authors gratefully acknowledge assistance from Ms. Hazrina Yusof Hamdani for the setting up of the web server for NASSAM.
This article has been published as part of BMC Bioinformatics Volume 12 Supplement 13, 2011: Tenth International Conference on Bioinformatics – First ISCB Asia Joint Conference 2011 (InCoB/ISCB-Asia 2011): Bioinformatics. The full contents of the supplement are available online at http://www.biomedcentral.com/1471-2105/12?issue=S13.
Authors' Affiliations
(1)
Department of Molecular Biology and Biotechnology, University of Sheffield, Sheffield, UK
(2)
Department of Information Studies, University of Sheffield, Sheffield, UK
(3)
School of Biosciences and Biotechnology, Faculty of Science and Technology, Universiti Kebangsaan Malaysia, Bangi, Malaysia
(4)
Biomedical Research Centre, Sheffield Hallam University, Sheffield, UK
Copyright
© Firdaus-Raih et al; licensee BioMed Central Ltd. 2011
This article is published under license to BioMed Central Ltd. This is an open access article distributed under the terms of the Creative Commons Attribution License (http://creativecommons.org/licenses/by/2.0), which permits unrestricted use, distribution, and reproduction in any medium, provided the original work is properly cited.