Methodology article

Open Access
ParticleCall: A particle filter for base calling in next-generation sequencing systems
BMC Bioinformatics
2012
13:160
Received: 14 March 2012
Accepted: 9 July 2012
Published: 9 July 2012
Abstract
Background
Next-generation sequencing systems are capable of rapid and cost-effective DNA sequencing, thus enabling routine sequencing tasks and taking us one step closer to personalized medicine. Accuracy and lengths of their reads, however, are yet to surpass those provided by the conventional Sanger sequencing method. This motivates the search for computationally efficient algorithms capable of reliable and accurate detection of the order of nucleotides in short DNA fragments from the acquired data.
Results
In this paper, we consider Illumina's sequencing-by-synthesis platform which relies on reversible terminator chemistry and describe the acquired signal by reformulating its mathematical model as a Hidden Markov Model. Relying on this model and sequential Monte Carlo methods, we develop a parameter estimation and base calling scheme called ParticleCall. ParticleCall is tested on a data set obtained by sequencing phiX174 bacteriophage using Illumina's Genome Analyzer II. The results show that the developed base calling scheme is significantly more computationally efficient than the best performing unsupervised method currently available, while achieving the same accuracy.
Conclusions
The proposed ParticleCall provides more accurate calls than the Illumina's base calling algorithm, Bustard. At the same time, ParticleCall is significantly more computationally efficient than other recent schemes with similar performance, rendering it more feasible for high-throughput sequencing data analysis. Improvement of base calling accuracy will have immediate beneficial effects on the performance of downstream applications such as SNP and genotype calling.
ParticleCall is freely available at https://sourceforge.net/projects/particlecall.
Keywords
Hide Markov ModelParticle FilterHide Markov Model ModelParameter Estimation SchemeMCEM Algorithm
Background
The advancements of next-generation sequencing technologies have enabled inexpensive and rapid generation of vast amounts of sequencing data [1–3]. At the same time, high-throughput sequencing technologies present us with the challenge of processing and analyzing large data sets that they provide. A fundamental computational challenge encountered in next-generation sequencing systems is the one of determining the order of nucleotides from the acquired measurements, the task typically referred to as base calling. The accuracy of base calling is of essential importance for various downstream applications including sequence assembly, SNP calling, and genotype calling [4]. Moreover, improving base calling accuracy may enable achieving desired performance of downstream applications with smaller sequencing coverage, which translates to a reduction in the sequencing cost.
A widely used sequencing-by-synthesis platform, commercialized by Illumina, relies on reversible terminator chemistry. Illumina's sequencing platforms are supported by a commercial base-calling algorithm called Bustard. While Bustard is computationally very efficient, its base-calling error rates can be significantly improved by various computationally more demanding schemes [5]. Such schemes include work presented in [6–9]. Among the proposed methods, the BayesCall algorithm [8] has been shown to significantly outperform Bustard in terms of the achievable base calling error rates. By relying on a full parametric model of the acquired signal, BayesCall builds a Bayesian inference framework capable of providing valuable probabilistic information that can be used in downstream applications. However, its performance gains come at high computational costs. A modified version of the BaseCall algorithm named naiveBayesCall [9] performs base calling in a much more efficient way, but its accuracy deteriorates (albeit remains better than Bustard's). Both BayesCall and naiveBayesCall rely on expectation-maximization (EM) framework that employs a Markov chain Monte Carlo (MCMC) sampling strategy to estimate the parameters of the statistical model describing the signal acquisition process. This parameter estimation step turns out to be very time-consuming, limiting practical feasibility of the proposed schemes. Highly accurate and practically feasible parameter estimation and base-calling remain a challenge that needs to be addressed.
In this paper, we propose a Hidden Markov Model (HMM) representation of the signal acquired by Illumina's sequencing-by-synthesis platforms and develop a particle filtering (i.e., sequential Monte Carlo) base-calling scheme that we refer to as ParticleCall. When relying on the BayesCall's Markov Chain Monte Carlo implementation of the EM algorithm (MCEM) to estimate system parameters, ParticleCall achieves the same error rate performance as BayesCall while reducing the time needed for base calling by a factor of 3. To improve the speed of parameter estimation, we develop a particle filter implementation of the EM algorithm (PFEM). PFEM significantly reduces parameter estimation time while leading to a very minor deterioration of the accuracy of base calling. Finally, we demonstrate that ParticleCall has the best discrimination ability among all of the considered base calling schemes.
Methods
In this section, we first review the data acquisition process and the basic mathematical model of the Illumina's sequencing-by-synthesis platform. Then we introduce a Hidden Markov Model (HMM) representation of the acquired signals. Relying on the HMM model and particle filtering (i.e., sequential Monte Carlo) techniques, we develop a novel base calling and parameter estimation scheme and discuss some important practical aspects of the proposed method.
Results and discussion
The proposed method is evaluated on a data set obtained by sequencing phiX174 bacteriophage using Illumina Genome Analyzer II with the cycle length 76. This is a short genome with a known sequence which enables reliable performance comparison of different base-calling techniques. We tested ParticleCall and several other algorithms on a tile containing 77337 reads, and present the results here. All the codes are written in C and the tests are run on a desktop with an Intel Core i7 4-core 3GHz processor.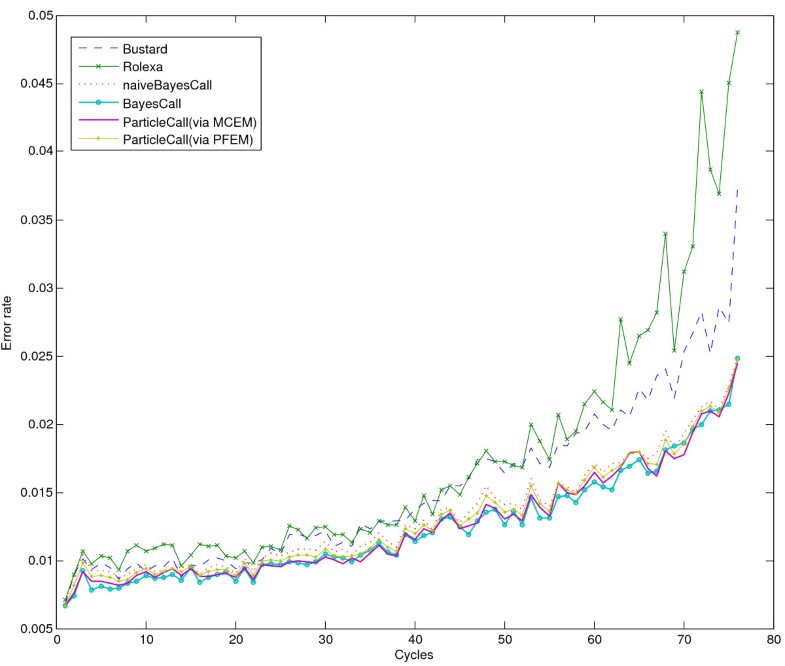 Conclusions
In this paper we presented ParticleCall, a particle filtering algorithm for base calling in the Illumina's sequencing-by-synthesis platform. The algorithm is developed by relying on an HMM representation of the sequencing process. Experimental results demonstrate that the ParticleCall base calling algorithm is more accurate than Bustard, Rolexa, and naiveBayesCall. It is as accurate as BayesCall while being significantly faster. Quality score analysis of the reads indicates that ParticleCall has better discrimination ability than BayesCall, naiveBayesCall and Bustard. Moreover, a novel particle filter EM (PFEM) parameter estimation scheme, much faster than the existing Monte Carlo implementation of the EM algorithm, was proposed. When relying on the PFEM scheme, ParticleCall has near-optimal performance while needing much shorter total parameter estimation and base calling time.
Author's contributions
Algorithms and experiments were designed by Xiaohu Shen (XS) and Haris Vikalo (HV). Algorithm code was implemented and tested by XS. The manuscript was written by XS and HV. Both authors read and approved the final manuscript.
Declarations
Acknowledgements
This work was funded by the National Institute of Health under grant 1R21HG006171-01.
Authors' Affiliations
(1)
Department of Electrical and Computer Engineering, University of Texas at Austin, 1 University Station C0803, US
Copyright
© Shen and Vikalo; licensee BioMed Central Ltd. 2012
This article is published under license to BioMed Central Ltd. This is an Open Access article distributed under the terms of the Creative Commons Attribution License (http://creativecommons.org/licenses/by/2.0), which permits unrestricted use, distribution, and reproduction in any medium, provided the original work is properly cited.