Research article
Open Access
Human-specific protein isoforms produced by novel splice sites in the human genome after the human-chimpanzee divergence
BMC Bioinformatics
2012
13:299
Received: 12 May 2012
Accepted: 9 November 2012
Published: 13 November 2012
Abstract
Background
Evolution of splice sites is a well-known phenomenon that results in transcript diversity during human evolution. Many novel splice sites are derived from repetitive elements and may not contribute to protein products. Here, we analyzed annotated human protein-coding exons and identified human-specific splice sites that arose after the human-chimpanzee divergence.
Results
We analyzed multiple alignments of the annotated human protein-coding exons and their respective orthologous mammalian genome sequences to identify 85 novel splice sites (50 splice acceptors and 35 donors) in the human genome. The novel protein-coding exons, which are expressed either constitutively or alternatively, produce novel protein isoforms by insertion, deletion, or frameshift. We found three cases in which the human-specific isoform conferred novel molecular function in the human cells: the human-specific IMUP protein isoform induces apoptosis of the trophoblast and is implicated in pre-eclampsia; the intronization of a part of SMOX gene exon produces inactive spermine oxidase; the human-specific NUB1 isoform shows reduced interaction with ubiquitin-like proteins, possibly affecting ubiquitin pathways.
Conclusions
Although the generation of novel protein isoforms does not equate to adaptive evolution, we propose that these cases are useful candidates for a molecular functional study to identify proteomic changes that might bring about novel phenotypes during human evolution.
Keywords
Splice siteHuman genomeProtein variantMolecular evolution
Background
Humans have many unique traits compared with those of other primates that must be derived from genetic changes acquired during human evolution [1]. These genetic modifications include accelerated amino acid substitutions [2, 3], de novo origin of protein-coding genes from non-coding sequences [4], formation of novel transcript variants by DNA insertion [5], and inactivation of long-established genes [6, 7].
The generation of novel alternative splice sites plays a role in the evolution of gene structure [8, 9]. Alternative usage of splice sites often results in insertion or deletion of amino acids and/or frameshift in proteins. Generation of novel splice sites or activation of cryptic splice sites in transposable elements such as Alu repeats is rather common in human genes [10–13]. These sites are often alternatively spliced, as the novel Alu splice sites are generally weak donors or acceptors and/or the insertion of Alu-derived fragments into the coding region of genes generally results in disruption of the host proteins [14, 15]. There are reports on novel exons originating from non-coding intronic sequences in some organisms such as rodents and humans [16, 17]. However, these are not species-specific but have been originated during rodent and primate evolution, respectively; the novel "human" exons reported by Zhang and Chasin [17] originated before the human-chimpanzee divergence.
Although many reports are available on novel exons originating during human evolution, most of them have no evidence of protein-coding capability or are not human-specific. In this study, we hypothesized that nucleotide changes in the human genome after the human-chimpanzee divergence may have generated novel splice sites and produced novel protein-coding exons. To find such cases, we analyzed annotated human protein coding exons and their orthologous genomic sequences of other primates including chimpanzee and some non-primate mammals. We examined possible changes in the proteins caused by the formation of novel splice sites.
Conclusions
We identified 85 cases of annotated human protein-coding exons with evidence of substantial expression that had been generated by acquisition of a novel splice site in the human genome. The novel protein-coding exons were expressed either constitutively or alternatively. We found three cases in which the human-specific isoform conferred novel molecular function. We propose that the generation of novel splice sites contributes to the evolution of the human genome and the variety of protein isoforms that may furnish novel functional proteins and novel phenotypes.
Methods
Collection of human-specific splice site candidates
The overall procedure we employed in this study is presented in Figure
4
. We downloaded the multiple alignment data of the human protein-coding exon sequences and their mammalian orthologous genome sequences from the University of California Santa Cruz (UCSC) Genome Brower Database (
http://genome.ucsc.edu
). The human coding regions were defined in the "knownGene" track, and the multiple sequence alignments of the coding regions were derived from the "multiz46way" alignment data. We extracted the protein-coding exon sequences, padded by 2 bp at both ends, from the respective genome assemblies. The genome assemblies analyzed in the present study included 10 primates and three other representative non-primate mammals: human (hg19), chimpanzee (panTro2), gorilla (gorGor1), orangutan (ponAbe2), rhesus macaque (rheMac2), baboon (papHam1), marmoset (calJac1), tarsier (tarSyr1), bushbaby, also known as galago (otoGar1), mouse lemur (micMur1), mouse (mm9), dog (canFam2), and cow (bosTau4).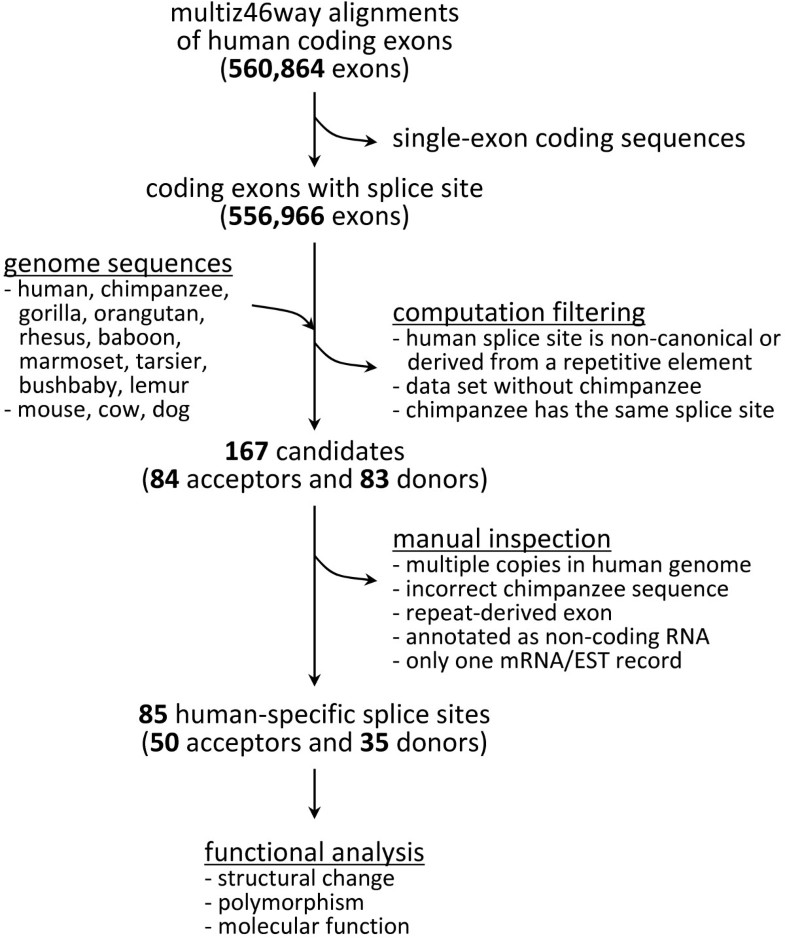 We discarded splice sites derived from repetitive elements which were marked in lowercase in the repeat-masked genome sequences. When a human protein-coding exon has a canonical splice sequence (GT as the donor and AG as the acceptor), but the chimpanzee and other primates have a different sequence (other than GT or AG), we considered it to be a case of human-specific acquisition of a novel splice site after the human-chimpanzee divergence. We collected 167 human-specific splice site candidates (84 acceptors and 83 donors) by filtering the multiple alignment data.
Manual inspection of the candidates
We scrutinized each case by visual inspection mainly based on data available in the UCSC Genome Browser. We discarded cases showing one of the following conditions: the novel human exon was derived from a repeat sequence (the exon overlaps a repetitive element in the "RepeatMasker" track); the orthologous chimpanzee genomic segment had a sequencing error (the "Quality Score" track of the chimpanzee genome was reviewed); the orthology relationship of the gene was ambiguous due to the presence of highly similar paralogous copies in the human genome (BLAT was used to map the sequence to the human genome); the corresponding human transcript was annotated as a non-coding RNA (RefSeq record was reviewed); or the human transcript was not supported by two or more transcript records in the database (human mRNA and EST tracks were analyzed). As a result, we identified 50 splice acceptors (AG) and 35 splice donors (GT) that were specific to humans.
We compared the structures of the derived human exons and corresponding ancestral mammalian genome sequences to classify the protein modification types. We examined human mRNA and EST tracks of the UCSC Genome Browser to determine whether a novel splice site is used alternatively or constitutively. For the human simple nucleotide polymorphism (SNP), we analyzed the "Common SNPs(135)" or "Common SNPs(132)" track of the UCSC Genome Browser. We referred to UniProt database (http://www.uniprot.org) for characterized molecular function of the human-specific protein isoforms.
Declarations
Acknowledgements
This work was supported by the Basic Science Research Program through the National Research Foundation of Korea (NRF) funded by the Ministry of Education, Science, and Technology (2012R1A1B3001513) and by the Next-Generation BioGreen 21 Program (SSAC2011-PJ008220), Rural Development Administration, Republic of Korea.
Authors' Affiliations
(1)
Department of Life Science, Research Center for Biomolecules and Biosystems, Chung-Ang University, Seoul, Korea
Copyright
© Kim and Hahn; licensee BioMed Central Ltd. 2012
This article is published under license to BioMed Central Ltd. This is an Open Access article distributed under the terms of the Creative Commons Attribution License (http://creativecommons.org/licenses/by/2.0), which permits unrestricted use, distribution, and reproduction in any medium, provided the original work is properly cited.