BAYSIC: a Bayesian method for combining sets of genome variants with improved specificity and sensitivity
BMC Bioinformatics
2014
15:104
Received: 10 October 2013
Accepted: 31 March 2014
Published: 12 April 2014
Abstract
Background
Accurate genomic variant detection is an essential step in gleaning medically useful information from genome data. However, low concordance among variant-calling methods reduces confidence in the clinical validity of whole genome and exome sequence data, and confounds downstream analysis for applications in genome medicine.
Here we describe BAYSIC (BAYeSian Integrated Caller), which combines SNP variant calls produced by different methods (e.g. GATK, FreeBayes, Atlas, SamTools, etc.) into a more accurate set of variant calls. BAYSIC differs from majority voting, consensus or other ad hoc intersection-based schemes for combining sets of genome variant calls. Unlike other classification methods, the underlying BAYSIC model does not require training using a "gold standard" of true positives. Rather, with each new dataset, BAYSIC performs an unsupervised, fully Bayesian latent class analysis to estimate false positive and false negative error rates for each input method. The user specifies a posterior probability threshold according to the user's tolerance for false positive and false negative errors; lowering the posterior probability threshold allows the user to trade specificity for sensitivity while raising the threshold increases specificity in exchange for sensitivity.
Results
We assessed the performance of BAYSIC in comparison to other variant detection methods using ten low coverage (~5X) samples from The 1000 Genomes Project, a tumor/normal exome pair (40X), and exome sequences (40X) from positive control samples previously identified to contain clinically relevant SNPs. We demonstrated BAYSIC's superior variant-calling accuracy, both for somatic mutation detection and germline variant detection.
Conclusions
BAYSIC provides a method for combining sets of SNP variant calls produced by different variant calling programs. The integrated set of SNP variant calls produced by BAYSIC improves the sensitivity and specificity of the variant calls used as input. In addition to combining sets of germline variants, BAYSIC can also be used to combine sets of somatic mutations detected in the context of tumor/normal sequencing experiments.
Keywords
SNP
Genome variants
Bayesian
Latent class analysis
Cancer
Somatic mutation
Background
The decreasing cost of producing sequence data has made the sequencing of genomes routine. Researchers use genome resequencing to identify how genomic changes are related to phenotype in their organism of interest. In the case of humans and certain other genomes (e.g., dogs, cats and livestock), resequencing projects aim to associate genetic changes to disease risk, medical treatment efficacy or other traits of interest. In some applications it is desirable to detect de novo somatic mutations, which may affect disease progression, prognosis and therapy. In other applications like genomic medicine for cancer, genomic variants in normal tissue can be compared to genomic variants of the tumor to identify relevant somatic mutations.
However, the accurate detection of single nucleotide variants (SNPs) and small insertions or deletions (indels) is not trivial. There is no standard protocol for detecting SNP predictions with the highest sensitivity and specificity. Each algorithm used in SNP detection creates a different balance of sensitivity and specificity, to either increase the number of true positives at the cost of additional false positives or decrease the number of false positives at the cost of reducing the number of true positives. Additionally, many variant calling algorithms do not provide quantitative values for filtering the VCF output file, or if they do provide users with numerical values for quality score filtering, it often remains unclear to the naïve user what is an appropriate filter. Variant calling programs like GATK and Atlas provide only qualitative values for filtering, with language like "PASS" or "LowQual". In addition, some algorithms, e.g. GATK, recommend the user include many samples in order to recalibrate quality scores or classify SNPs with distinctions between PASS and LowQual, and thereby increase variant call accuracy.
Maximal sensitivity is desirable to minimize false negative calls and therefore avoid missing true mutations. The consequences of not detecting real variation include: 1) failure to diagnosis or detect real disease and correctly predict elevated or reduced risk for medical problems or potential drug effects, and 2) excess mortality or suffering because of nonintervention or non-optimal treatment. Maximal specificity is also essential to minimize false positive calls and thereby avoid erroneous over-diagnosis and the time, patient distress and expense of confirmatory testing and potential morbidity from unneeded overtreatment. Unfortunately, any classifier performing a nontrivial detection operation on real-world data achieves improved sensitivity only by accepting some elevated rate of false positives, and thus reduced specificity. This detection error tradeoff (DET) is an essential feature of detection task performance [1]. Because any single classifier has an inherent sensitivity versus specificity tradeoff, we hypothesized that more sophisticated methods for systematically integrating the output from multiple independent classifiers (here alternative methods of variant calling) – some with higher inherent sensitivity, some with higher intrinsic specificity - would result in overall improvement in the receiver operating characteristics of the BAYSIC integrated call set compared to the input call sets.
Managing sensitivity and specificity of variant calls is critical in projects using genomic data for clinical care [2]. Variant call accuracy may be affected by multiple factors, including systematic sequencing error, sequence read depth, allele variant fraction and position-specific error rate, among others. While there have been recent descriptions of other methods to improve variant call accuracy, including means of combining read mapping and variant call algorithms, these methods typically require training on a gold standard dataset considered to be the truth [3, 4]. By contrast, BAYSIC is a completely unsupervised machine learning method. BAYSIC does not depend upon training and discordant call arbitration with validated data, yet still achieves gains in sensitivity and specificity over input call sets. Moreover, clinical genome sequencing often involves small sample numbers and/or variant calls in genomic regions with low sequencing coverage. For example, many clinical applications involve only trios of exomes or genomes, comparing SNPs differential between two healthy parents and a sick child for diagnosis and treatment selection. In other clinical cases, real SNPs could be missed in low read depth regions where the number of reads containing a SNP do not meet a strict a priori evidence threshold for inclusion in lists of putative clinically relevant variants [5].
Here we describe BAYSIC (BAYeSian Integrated Caller), a novel algorithm that uses a Bayesian statistical method based on latent class analysis to combine variant sets produced by different bioinformatic packages (e.g., GATK, FreeBayes, Samtools) into a high-confidence set of genome variants. The strengths of BAYSIC are several. First, BAYSIC integrates data produced from multiple SNP callers, each with differing biases, and produces a call set with a posterior probability that is intuitive and can be used for quantitative filtering. Equally important, BAYSIC is a completely unsupervised method of clustering or classification and requires no training on a "gold standard" or validated data sets.
Third, BAYSIC performance improves along with the sensitivity or specificity gains of the input call sets. If new calling methods yield improved specificity and sensitivity, then BAYSIC will reap those rewards too. For example, in applications in which sensitivity is a priority, the BAYSIC posterior probability cutoff can be set low to minimize false negatives, and for applications in which specificity is a priority it can be set high to minimize false positives. BAYSIC run with a posterior probability threshold of 0.9 produces more sensitive and specific SNP prediction than any individual caller used as input.
Implementation
BAYSIC algorithm
The user provides variant calls from one or more variant calling programs of their choice in VCF format and, optionally, a posterior probability cutoff (default cutoff = 0.8). While not required, the user may also provide a VCF file containing the contents of third party database (e.g. dbSNP for germline variants or COSMIC for somatic mutations) as an additional source of variant information for BAYSIC.
False positive and false negative error rates for each evidence source (variant calling program (either a variant calling program or evidence such as dbSNP) are estimated using a latent class analysis (LCA) approach similar to the approach previously used to combine sets of gene prediction [6] and to infer orthologous genes from different genomes [7]. Briefly, this approach assumes a multinomial probability model that uses the number of observed counts for each possible combination of evidence sources that detect a given SNP to calculate the underlying parameters for each evidence source: the background frequency of true cases (alpha), and the independent and identically distributed (iid) false positive and false negative error rates of each evidence source. This LCA model is implemented using a fully Bayesian Markov Chain Monte Carlo (MCMC) simulation using the R2JAGS R package [http://cran.r-project.org/web/packages/R2jags/index.html]. For each of the three parameters to be estimated (the background frequency of true cases, and the false positive or false negative rates), a random value is selected from a beta distribution with shape parameters a of 1 and b of 2 for 120,000 iterations to yield an estimated value for each of these three parameters.
The posterior probability for each possible combination of agreement amongst the evidence sources (as in Figure
1
) are then calculated as:
where r is the number of evidence sources used, αi is the false positive rate for the ith program, βi is the false negative rate for the ith evidence source, and θ is the estimate of rate of overall SNP occurrence, xi is 0 or 1 depending on whether the ith evidence source called a SNP at the given location. For each variant, a posterior probability is determined based on which evidence source(s) detected the variant, and the posterior probability cutoff is applied to yield a set of integrated variant calls.
BAYSIC is implemented as a Perl script that receives input parameters from the user (VCF files, posterior probability cutoffs, and output file names). The Perl script invokes a separate R script, which computes the α, β and θ parameters and the posterior probabilities for each possible combination of programs. The Perl script then determines the posterior probability for each SNP variant based on which callers detected the variant, and writes out to a VCF those variants whose posterior probability is greater than the posterior probability cutoff specified by the user or a default value of 0.8 if no cutoff was specified.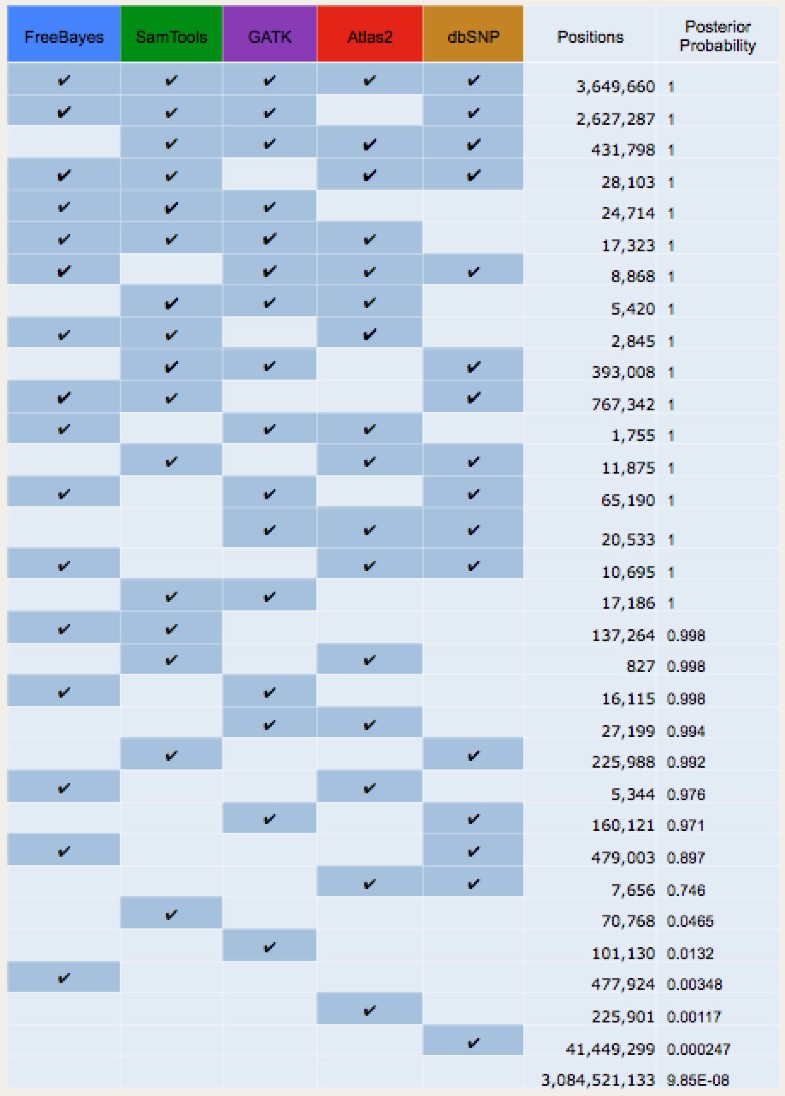 Conclusions
Clinical applications of genomics demand reliable detection of real variants and discrimination and rejection of false alarms due to sequencing error, low sequence coverage or low allelic variant fraction. Accordingly, the utility of genomic medicine will be improved by better methods for accurately identifying SNPs and other genomic variants.
Our analyses support our initial hypothesis: BAYSIC variant calls demonstrated improved variant detection accuracy and superior receiver operating characteristics compared to the variant call methods used as input for BAYSIC.
Importantly, BAYSIC will accept as input any number of alternative variant detection algorithms, allowing the user to combine methods that emphasize sensitivity with methods that enhance specificity and achieve overall gains in detection accuracy. As the sensitivity or specificity of input call sets improve, the sensitivity and specificity of BAYSIC variant calls also increases.
Likewise, BAYSIC may be used to focus on specific types of variant detection problems such as somatic mutations in cancer, and achieves similar gains in receiver operating characteristics compared to the individual somatic variant calling algorithms used as input. Another program was recently described to combine somatic mutation calls [28]. Future work will determine the relative performance of BAYSIC compared with this program, and assess how inclusion of improved somatic mutation call sets, as input to BAYSIC, affects BAYSIC's overall performance in somatic mutation detection.
It is possible that the degree of improvement offered by BAYSIC in combining sets of germline SNP variant calls compared to somatic mutation calls is explainable by the different error rates in these two different experimental settings. That is, germline SNP discovery has very low false positive and low false negative rates relative to somatic mutation calls, with generally good sensitivity and specificity [12, 28]. Therefore, producing a consensus set of germline SNP variants with BAYSIC provides marginal but noticeable improvements to both sensitivity and specificity (Figures 4 and 5). In contrast, somatic mutation discovery has very high false positive (and possibly also high false negative) rates, with poor specificity (and perhaps also poor sensitivity). Producing a consensus SNP set using BAYSIC therefore makes dramatic improvements to specificity without losing sensitivity (Figure 6).
It is possible that correlations between the errors in the sets of variant calls used as input to BAYSIC could result in false positive errors in the integrated variant set produced by BAYSIC. To address this, future versions of BAYSIC will measure the bivariate residuals after latent class analysis is performed, and will penalize the significance of input sets that are highly correlated [7].
BAYSIC currently only integrates sets of SNP variant calls. Future work will expand this to include other sorts of variants such as insertions/deletions (indels), and additional modifications to facilitate improved performance in somatic mutation detection.
Availability and requirements
Project name: BAYSIC
Project home page: http://genformatic.com/baysic
Operating systems: Linux, OS X, Windows
Programming languages: Perl, R
Other requirements: JAGS, JSON File::Temp Getopt::Long List::Util File::Next Test::Warn File::Slurp PerlIO::gzip File::Which local::lib
License: Free for academic use, license needed for commercial use
Declarations
Acknowledgements
The authors wish to acknowledge Andrew Futreal for his helpful assistance, and The Institute for Applied Cancer Science at the University of Texas' MD Anderson Cancer Center and the Cancer Genome Project (CBP) and its funders for kindly sharing the exome sequence data from a CBP tumor-normal sample now found in COSMIC. Pursuant to the data access agreement, the authors also wish to point out that the CBP and its members did not participate in and bear no responsibility for this analysis. The authors also wish to acknowledge Peter Campbell and colleagues at the Welcome Trust Sanger Center for providing somatic mutation call sets used as input to BAYSIC. Finally, the authors wish to thank Raphael Schiffmann, Kevin Hodges and Ella Rudland for helpful feedback.
Authors' Affiliations
(1)
Baylor Health, Baylor Institute for Immunology Research, Dallas, USA
(2)
Genformatic, LLC, Austin, USA
(3)
Institute for Applied Cancer Science, University of Texas MD Anderson Cancer Center, Houston, USA
(4)
Center for Public Health Genomics, University of Virginia School of Medicine, Charlottesville, USA
Copyright
© Cantarel et al.; licensee BioMed Central Ltd. 2014
This article is published under license to BioMed Central Ltd. This is an Open Access article distributed under the terms of the Creative Commons Attribution License (http://creativecommons.org/licenses/by/2.0), which permits unrestricted use, distribution, and reproduction in any medium, provided the original work is properly credited. The Creative Commons Public Domain Dedication waiver (http://creativecommons.org/publicdomain/zero/1.0/) applies to the data made available in this article, unless otherwise stated.