Research article
Open Access
A generalizable NLP framework for fast development of pattern-based biomedical relation extraction systems
BMC Bioinformatics
2014
15:285
Received: 9 July 2013
Accepted: 15 August 2014
Published: 23 August 2014
Abstract
Background
Text mining is increasingly used in the biomedical domain because of its ability to automatically gather information from large amount of scientific articles. One important task in biomedical text mining is relation extraction, which aims to identify designated relations among biological entities reported in literature. A relation extraction system achieving high performance is expensive to develop because of the substantial time and effort required for its design and implementation. Here, we report a novel framework to facilitate the development of a pattern-based biomedical relation extraction system. It has several unique design features: (1) leveraging syntactic variations possible in a language and automatically generating extraction patterns in a systematic manner, (2) applying sentence simplification to improve the coverage of extraction patterns, and (3) identifying referential relations between a syntactic argument of a predicate and the actual target expected in the relation extraction task.
Results
A relation extraction system derived using the proposed framework achieved overall F-scores of 72.66% for the Simple events and 55.57% for the Binding events on the BioNLP-ST 2011 GE test set, comparing favorably with the top performing systems that participated in the BioNLP-ST 2011 GE task. We obtained similar results on the BioNLP-ST 2013 GE test set (80.07% and 60.58%, respectively). We conducted additional experiments on the training and development sets to provide a more detailed analysis of the system and its individual modules. This analysis indicates that without increasing the number of patterns, simplification and referential relation linking play a key role in the effective extraction of biomedical relations.
Conclusions
In this paper, we present a novel framework for fast development of relation extraction systems. The framework requires only a list of triggers as input, and does not need information from an annotated corpus. Thus, we reduce the involvement of domain experts, who would otherwise have to provide manual annotations and help with the design of hand crafted patterns. We demonstrate how our framework is used to develop a system which achieves state-of-the-art performance on a public benchmark corpus.
Keywords
Noun PhraseRelative ClauseRelation ExtractionSentence SimplificationTrigger Specification
Background
Due to the continued growth of biomedical publications, it has become very difficult for scientists to keep up with the new findings reported in the literature. As a consequence, we have observed an increase in the effort spent on automatically extracting information from research literature and developing biomedical text mining tools.
This paper aims to address the relation extraction task, which identifies selected types of relationships among entities (e.g., proteins) reported in text.
Approaches to the relation extraction task can be categorized into two major classes: (1) machine learning-based approaches and (2) pattern-based approaches. Machine learning-based approaches are data-driven and can derive models from a set of annotated data [1–7]. The use of machine learning methods can be quite effective, but the performance of resulting systems depends on the quality and the amount of annotated data. For example, large annotated corpora become available for the protein-protein interaction relation task, reflecting a general community-wide interest [8]. But this situation does not always hold for relations of different scientific interest, because preparing annotated corpora is generally time consuming and expensive and it also requires domain expertise and significant effort to ensure accuracy and consistency. In contrast, pattern-based approaches do not require annotated data to train a system. However, they do require domain experts to be closely involved in the design and implementation of the system to capture the patterns used for extracting the necessary information. Some systems rely on extraction patterns defined at the surface textual level or based on outputs from a shallow parser [9–12]. Others use deep parsers with hand-crafted patterns [13–17]. As found in OpenDMAP [18], a semantic grammar may be utilized with text literals, syntactic constituents, semantic types of entities, and hyponomy. In all cases, rigid extraction patterns are manually encoded in the systems. Owing to rigid patterns, pattern-based approaches usually achieve a high precision but are often cited for low recall. While it is feasible to manually identify and implement high quality patterns to achieve a good precision, it is often impractical to exhaustively encode all the patterns necessary for a high recall in this manner.
Our work enables the fast development of pattern-based systems, while mitigating some of these concerns. We aim to reduce the involvement of domain experts and their manual annotation, and to attain high precision and recall.
Our approach starts by identifying a list of trigger words for the target relation (e.g., "associate" for the binding relation) and their corresponding Trigger specifications (e.g., the number and type of arguments expected for each trigger). Given this information, we make use of linguistic principles to derive variations of lexico-syntactic patterns in a systematic manner. These patterns are matched with the input text in order to extract target relations.
To improve the applicability of the generated patterns, we incorporate two additional design features. The first is the use of text simplification. This allows us to design a small set of lexico-syntactic patterns to match simple sentence constructs, rather than try to account for all complex syntactic constructs by generating an exhaustively large amount of patterns. Second, the framework exploits referential relations. With this method, two phrases referring to the same entity (e.g., coreference relation) or in a particular relation (e.g., meronymy relation, also known as part-of relation) are detected in text, and links are established between them. These links can be used when seeking the most appropriate phrase referring to the target entity and, hence, allow for extraction of target entities beyond lexico-syntactic patterns.
The proposed approach is based on the property of the language, rather than task-specific knowledge. Therefore, it is generalizable for different trigger words and potentially applicable to many different types of information targeted in biomedical relation extraction tasks.
We acknowledge several studies underlying our proposed framework. The automated pattern generation employed in this study shares the fundamental assumptions of certain linguistic theories, such as Lexicalized Tree Adjoining Grammar (LTAG) [19], Head-Driven Phrase Structure Grammar [20], and Lexical Functional Grammar [21]. In particular, we believe that the concept underlying our method is similar to that of LTAG. The paradigm of inferring patterns exploited in our method shares the ideas with [22–30], but we focus on a specific set of patterns pertaining to the expression of biomedical relations.
Simplifying a sentence as a prerequisite for biomedical information extraction was studied in the past [9, 11, 31–34]. The use of meronymy and its opposite holonymy, among other relationships found in the biomedical ontology, was discussed in [35]. Some of these relations were later considered in biomedical information extraction systems in order to improve their performance [36–38]. These relations and paradigms are in conjunction with our own two additional referential relationships: coreference and hyponymy. We integrate them in our framework and examine their utility for biomedical relation extraction.
To evaluate the framework, we test it by producing an extraction system for six relations that were part of the BioNLP-ST 2011 and 2013 GE tasks. We show that by just taking the specification of trigger words (root word only), we produce a relation extraction system with results that compare favorably with state-of-the-art results on this corpus. We further show that we can achieve good precision and recall with the patterns generated from the trigger, and that simplification and referential relation linking can increase the recall without compromising the precision.
Results and discussion
A. Results on GE 2011 corpus
We would like to note that although Table 3, 4, 5, 6, and 7 show the results on different partitions of the 2011 data sets, the system remains unchanged because the trigger word list (extracted from the training set) remains the same.
B. Analysis of false positives and negatives on GE 2011 corpus
We randomly chose 50 false positive (FP) cases and 180 false negative (FN) cases with 30 for each event type from the training set of GE 2011 corpora in order to analyze reasons for failure. We identified two major types of errors.
B.1 Parsing errors
A large proportion of failure was due to errors made by the parser. Since the patterns rely on the parser output, the system failed to recognize a true positive in these cases. Some of the parsing errors were due to noun phrase coordinations. Although the parser detected the coordination, the resulting trees could have been shallow or deep. Figure
3
shows two different parse trees of noun phrase coordinations: (a) is correctly parsed, but (b) is not. Flattening the coordination and applying relaxed matching rules could have fixed most of these problems. For coordination simplifications in particular, we could apply noun phrase and verb group similarity rules to detect coordination boundary and transform the subtree from (b) to (a) [
33
].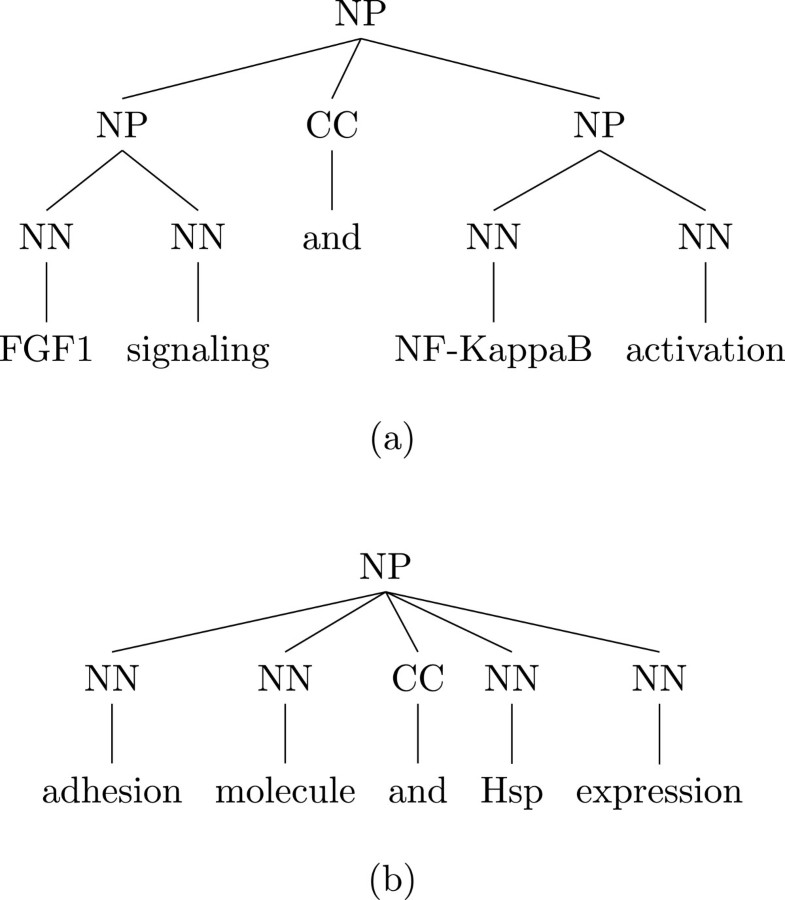 Parsing errors also cause simplification errors. Figure
4
shows the parsing subtree of the fragment "the physical interaction we detected between Foxp2 and p300". If the parse tree were correct, we could remove the relative clause "we detected" in the simplification step and extract the binding relation between "Foxp3" and "p300", but the incorrect parse tree failed the system. As can be seen, errors in sentence simplification can propagate and cause errors in subsequent processing. Most of the simplification errors are due to incorrect coordination detection. However, overall the number of simplification errors are few, and as can be seen from Table
6
, the boost in recall is significantly more than the drop in precision.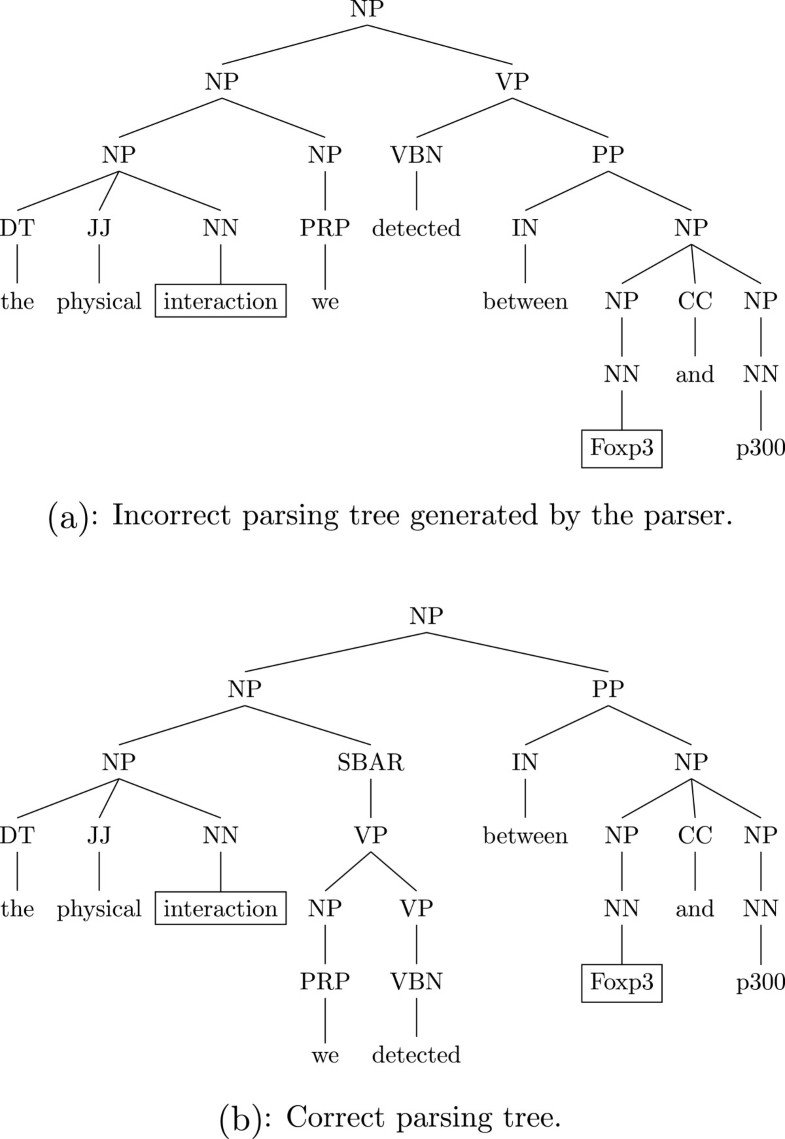 B.2 Missing pattern templates
Another case of false negatives is due to the trigger word being a noun but not the head of the noun phrase. For example, our pattern templates could be applied for fragments "transcription of NP" and "expression of NP" but could not be applied for fragments " of NP2" or " of NP2". We impose such a constraint in order to maintain a high precision. The analysis showed, however, that we could generalize the constraints in the future with some effort, especially in deciding on the words that can head the NPs.
Similarly, we need to generalize null argument structures further. For example, consider the fragment
(33) targets c-Fos for degradation
We have a pattern template using "via" but not "for". There are a few other cases, where null argument pattern templates could have been applied, but these new templates need to be further checked.
C. Results and analysis on GE 2013 corpus
Table
8
shows the results for the same six events of the GE 2013 test set. We still used the trigger list from the 2011 training set. Thus, the system was the same one used on the 2011 task, without any changes made for the evaluation on the new corpus.
Table 8
Evaluation results from the training, development, and testing sets of BioNLP-ST 2013 GE task 1
| Event class | P | R | F |
| --- | --- | --- | --- |
| Training set | | | |
|  Simple event | 86.75 | 72.20 | 78.81 |
|  Binding | 88.95 | 64.83 | 75.00 |
|  Total | 87.12 | 70.82 | 78.13 |
| Development set | | | |
|  Simple event | 89.52 | 71.73 | 79.64 |
|  Binding | 93.58 | 64.42 | 76.31 |
|  Total | 90.68 | 69.39 | 78.62 |
| Testing set | | | |
|  Simple event | 90.48 | 71.80 | 80.07 |
|  Binding | 71.80 | 52.39 | 60.58 |
|  Total | 85.27 | 66.05 | 74.44 |
The system achieves F-scores of 80.07% for the Simple Event and 60.58% for the Binding Event on the GE 2013 test set with an overall F-scores of 74.44% on the 2013 GE task. These scores compare favorably with the top-ranking systems in the 2013 GE task
a
[
59
]. Our system achieves the highest scores for Simple Event and Overall. However there are two participated systems (BioSEM and HDS4NLP), which have better scores for Binding Event. In comparison with these systems, our system's strength lies in its precision, achieving 85.52%, whereas, the precision of these systems ranges from 72.90% to 80.99%.The testing set of the GE 2013 task is not available to the public, hence we cannot directly examine the results. Instead, we conducted experiments on the training and development sets. Although the results on these two sets are consistent with the corresponding results on 2011 corpora, we noticed some differences between the GE 2013 and 2011 corpora: the former is completely comprised of full-length articles, whereas the latter is mostly made up of abstracts. We also observed that in the full-length articles, certain information is repeatedly mentioned within a single section, therefore there is significant use of ellipses in such sections. For instance, consider the example from the GE 2013 development corpus in Figure
5
.

For the trigger "phosphorylation" in the third sentence, the author neglected to mention the theme because it can be inferred from the context: (1) the previous sentence also mentions this "BMP-6 induced phosphorylation", but its theme has a general term "Smad", and (2) the actual proteins "Smad1/5/8" are clearly specified in the first sentence. As a result, to infer the theme of the trigger "phosphorylation" in the third sentence, we not only need the syntax information, but also the discourse-level processing.
Note that the system used in this evaluation remains the same as the one that was used on the GE 2011 task. No changes were made to accommodate any differences between the GE 2011 and 2013 corpora. The focus in this framework is on the patterns and hence almost all processing is syntax-based. While some of our earlier work on relation extraction has integrated discourse-level processing with syntax-based patterns [60], the integration of such discourse-level processing is beyond the scope of this work. However, examples as above suggest that the need for discourse-level processing may be important for full-length based extraction. We intend to investigate incorporating the generalized discourse-level processing into our framework in the future, so that it can be useful for full-text based extraction.
Conclusions
In this work, we have designed a framework for development of biomedical relation extraction systems. The framework requires as input only a list of triggers and their specifications to retrieve relations of interest. It utilizes linguistic generalizations that help speed up the development process by proposing various lexico-syntactic patterns as well as improve the performance, particularly the recall, by making use of sentence simplification and referential relations.
To evaluate the framework, we developed a relation extraction system, which was produced using general resources and the only aspect specific to the evaluation was the selection of trigger words that appear in the corpus. Except for the specification of triggers, other aspects (parser, typing system, simplification, pattern matching system) are general purpose systems that already existed. The fact that only the specification of the triggers is required from domain experts, together with the fact that no training set is required, meets our goals for developing the framework: ability to create effective relation extraction systems for new relations where resources (e.g., annotated corpus or database) are not publicly available.
We evaluate the performance of the system by producing a relation extraction system and evaluating it on the BioNLP-ST 2011 and 2013 GE tasks. The system achieved F-scores of 68.48% on the GE 2011 test set, and 74.44% on the GE 2013 test set. Our analysis shows that we can achieve high precision and good recall with the range of patterns automatically generated from triggers and that simplification and referential relation linking serve to increase the recall while maintaining the precision.
In the future, we would like to extend the framework in two ways. So far, we only considered the triggers that are verbs and their derived forms. Next, we would like to account for triggers that are primarily nouns or adjectives. Also, we would like to extend the framework to take complex entities (e.g., relations themselves) as arguments rather than just simple entities (e.g., genes or proteins).
We are developing systems for additional relations. In general, it is a challenging task to identify all the triggers for the relation and to complete their specifications. This study demonstrates a generalizable relation extraction framework that can be quickly implemented for new relations, initially focusing on a few triggers that appear frequently. While not accounting for a long tail of less frequent triggers, our framework allows additional trigger specifications to be added with little impact on the existing trigger list. Thus as new triggers are found, they can be integrated in the system. Using the framework and this approach, we have developed a system for miRNA-target extraction. Preliminary evaluation based on an in-house corpus of 200 abstracts shows an F-score of the system over 90% (manuscript in preparation). We would like to use the experience in developing this and other relation extraction to design a process involving user interaction in generating trigger specifications for new relations. In general, the specification of a trigger needs both domain knowledge as well as linguistic knowledge. The domain expert will be able to suggest the trigger words for a relation, whereas linguistic knowledge will be more useful in preparing the trigger specifications of sub-categorization, thematic roles, etc.
In our framework, we already have a predefined set of subcategorization frames and thematic roles that can be utilized in the specifications. This can be used to engage the user in the interactive process. At the beginning, the users who are domain experts will provide a list of trigger words. Then the process will derive various forms of triggers using the linguistic knowledge and ask users to choose. If necessary, the process will use these triggers to generate simple examples for the users to confirm which predefined specification should be associated to the trigger. The whole process will communicate with users in an interactive way, which we expect is able to further speed up the development of new relation extraction systems.
Endnote
a Simple Event includes Phosphorylation as well, same as in the BioNLP-ST 2011 GE Task 1.
Declarations
Acknowledgements
Research reported in this manuscript was supported by the National Library of Medicine of the National Institutes of Health under award number G08LM010720. The content is solely the responsibility of the authors and does not necessarily represent the official views of the National Institutes of Health. This material is also based upon work supported by the National Science Foundation under Grant No. DBI-1062520. Any opinions, findings, and conclusions or recommendations expressed in this material are those of the author(s) and do not necessarily reflect the views of the National Science Foundation. We thank the BioNLP Shared Task organizer for making the annotated corpora publicly available. We thank Dr. Catalina O. Tudor for useful discussion and comments for this manuscript.
Authors' Affiliations
(1)
Department of Computer and Information Sciences, University of Delaware, Newark, USA
(2)
Center for Bioinformatics and Computational Biology, University of Delaware, Newark, USA
Copyright
© Peng et al.; licensee BioMed Central Ltd. 2014
This article is published under license to BioMed Central Ltd. This is an Open Access article distributed under the terms of the Creative Commons Attribution License (http://creativecommons.org/licenses/by/2.0), which permits unrestricted use, distribution, and reproduction in any medium, provided the original work is properly credited. The Creative Commons Public Domain Dedication waiver (http://creativecommons.org/publicdomain/zero/1.0/) applies to the data made available in this article, unless otherwise stated.