Research article
Open Access
Visualization and correction of automated segmentation, tracking and lineaging from 5-D stem cell image sequences
BMC Bioinformatics
2014
15:328
Received: 22 April 2014
Accepted: 19 September 2014
Published: 3 October 2014
Abstract
Background
Neural stem cells are motile and proliferative cells that undergo mitosis, dividing to produce daughter cells and ultimately generating differentiated neurons and glia. Understanding the mechanisms controlling neural stem cell proliferation and differentiation will play a key role in the emerging fields of regenerative medicine and cancer therapeutics. Stem cell studies in vitro from 2-D image data are well established. Visualizing and analyzing large three dimensional images of intact tissue is a challenging task. It becomes more difficult as the dimensionality of the image data increases to include time and additional fluorescence channels. There is a pressing need for 5-D image analysis and visualization tools to study cellular dynamics in the intact niche and to quantify the role that environmental factors play in determining cell fate.
Results
We present an application that integrates visualization and quantitative analysis of 5-D (x,y,z,t,c h a n n e l) and large montage confocal fluorescence microscopy images. The image sequences show stem cells together with blood vessels, enabling quantification of the dynamic behaviors of stem cells in relation to their vascular niche, with applications in developmental and cancer biology. Our application automatically segments, tracks, and lineages the image sequence data and then allows the user to view and edit the results of automated algorithms in a stereoscopic 3-D window while simultaneously viewing the stem cell lineage tree in a 2-D window. Using the GPU to store and render the image sequence data enables a hybrid computational approach. An inference-based approach utilizing user-provided edits to automatically correct related mistakes executes interactively on the system CPU while the GPU handles 3-D visualization tasks.
Conclusions
By exploiting commodity computer gaming hardware, we have developed an application that can be run in the laboratory to facilitate rapid iteration through biological experiments. We combine unsupervised image analysis algorithms with an interactive visualization of the results. Our validation interface allows for each data set to be corrected to 100% accuracy, ensuring that downstream data analysis is accurate and verifiable. Our tool is the first to combine all of these aspects, leveraging the synergies obtained by utilizing validation information from stereo visualization to improve the low level image processing tasks.
Keywords
Volumetric texture rendering3-D displayStereoscopic 3-DStem cellTime lapseLineagingValidation and correctionConfocal microscopyCUDAImage montage reconstruction
Background
Neural stem cells (NSCs) are motile and proliferative cells that undergo mitosis, dividing to produce daughter cells and ultimately producing differentiated neurons and glia. Understanding the mechanisms controlling NSC migration and proliferation will play a key role in the emerging field of regenerative medicine and in cancer therapeutics. All of the cells in a clone are genetic copies of the original stem cell. Image-based analysis of static 3-D images demonstrated the important relationship between neural stem cells and blood vessels, and the propensity of both adult and embryonic NSCs to seek out and maintain distinct spatial relationships with respect to vasculature known as their vascular niche [1–3]. Confocal and multiphoton microscopes that contain integrated incubation systems are able to image live NSCs together with blood vessels in intact tissue slices, with 5-D image stacks (x,y,z,t,λ) captured at intervals (e.g. 20 min.) over a period of 16–20 hours. Here, λ represents spectral information from a fluorescent label. By labeling the blood vessels and the NSCs with different fluorescent markers, these microscopes are able to capture image sequence data that show the dynamic behaviors of migrating proliferating NSCs while simultaneously capturing the relationship to other structures including blood vessels. We have developed an application that for the first time enables the use of time-lapse microscopy data to quantify the dynamic relationship between clones of mammalian NSCs and their niche in intact tissue containing vasculature and live proliferating cells.
The analysis of clones of migrating proliferating NSCs starts with segmentation, the delineation of individual cells in each image frame. Tracking then establishes temporal correspondences between segmentation results. Finally, lineaging establishes parent-daughter relationships across mitotic events. The analysis of stem cell clonal dynamics to date has consisted primarily of extracting and analyzing a lineage tree generated from cultured cells. A lineage tree is a graphical representation showing each cell's division time and the offspring it produces. Each daughter cell is a genetic copy of its parent cell. A lineage tree is often referred to as a clone of stem cells. Lineages also indicate the population dynamics of clones of stem cells, showing the lifespan and parentage of each cell in the clone, as well as indicating the phenotype of differentiated progeny. These trees summarize patterns of division (i.e. symmetric or asymmetric, cell cycle time, number of divisions, etc.) and differentiation in a single view. The lineage tree is a key tool in the analysis of stem cell clonal dynamics. In addition to tree level features, we can analyze cellular properties such as motion and morphology using tools such as Algorithmic Information Theoretic Prediction and Discovery (AITPD) [4, 5]. AITPD analyzes the patterns of cellular dynamic behavior for individual cells established by segmentation, tracking and lineaging. It can accurately predict development potential for individual NSCs. Previously, we have shown that software in conjunction with AITPD enables the search for behavioral markers of different functional subtypes as well as the potential discovery of molecular mechanisms controlling stem cell proliferation [6]. There is a pressing need for new approaches to visualize and validate 5-D image sequence data of proliferating mammalian cells to enable quantitative analysis of the mechanisms controlling cellular proliferation and differentiation.
While it is possible to analyze the dynamic behaviors of stem cells in a manner that is robust to segmentation errors, any errors in tracking or lineaging are likely to corrupt all subsequent analysis. For in vitro phase contrast time lapse image sequence data (2-D) we recently developed a software tool called LEVER that allows a biologist to run automated segmentation, tracking, and lineaging on image sequence data in the laboratory [6]. LEVER displays the lineage tree in one window, while the image sequence data with segmentation and tracking results overlaid are displayed in a second window. Navigation and editing can be done on either window. The interface is designed so that users are able to easily identify and quickly correct any mistakes in the automated image analysis. We have found in this work and in previous studies that the vast majority of errors in tracking and lineaging are the result of segmentation errors [5, 6]. These errors happen often when the number of cells in a given area have been incorrectly estimated. LEVER uses an inference-based learning approach, which propagates user-supplied corrections forward to reduce errors on later frames. Here we present an application called LEVER 3-D which displays image data in full stereoscopic 3-D and includes a utility to reconstruct 3-D image montages with the intent to be run in the biology lab. LEVER 3-D uses commodity gaming hardware to implement a high-performance interactive system for validating and correcting the automated image analysis results for 5-D stem cell data. This will allow the biologist to better understand stem cell dynamics and regulation within the neural stem cell micro-environment.
Methods
A total of 18 5-D image sequences showing adult mouse neural stem cells, ependymal cells, and vasculature were analyzed. The stem cells were imaged within a 3D wholemount explant culture of the subventricular zone (SVZ) of the brain. Each 5-D voxel location is specified as (x,y,z,t,λ) where λ refers to a multichannel fluorescence signal, one channel imaging NSCs, the second channel containing ependymal cells and vasculature. The movies were captured on two microscopes at two different laboratories. SVZ wholemounts were dissected under a dissection microscope as described previously [7, 8] from transgenic mice that express green fluorescent or tomato red fluorescent protein in neural stem cells (FVB/N-Tg(GFAPGFP) 14Mes/J, the Jackson Laboratory; Ascl1tm1.1(cre/ERT2); B6.Cg-Gt(ROSA)26Sortm9(CAG-tdTomato), NSCI). Briefly, the brain was removed and halved and the cortex was peeled back to reveal the SVZ. A scalpel was used to make a 2–4 mm cut on the striatal side of the SVZ and watchmaker forceps were used to clip off the SVZ at the anterior and posterior sides and carefully transferred into phosphate buffered saline containing 5 μg/ml Alexa Fluor 647 conjugated Isolectin GS-IB4 (Life Technologies) on ice for 20 minutes to label the ependyma and blood vessels. SVZ wholemounts were transferred SVZ side down to a glass bottomed culture dish (MatTek Corporation) and immobilized by covering with cold (4°C) growth factor free Matrigel (BD Biosciences) and immediately transferred to an incubator set at 37°C with 5% CO2 for 20 minutes to allow the Matrigel to solidify. Freshly made slice culture medium was added to the culture dish and the dish was placed on a Zeiss LSM780 confocal microscope equipped with an environmental enclosure set at 37°C and 5% CO2. The pinhole was set at 2 AU and Z stacks (25 1 μm steps) were collected every 20 minutes using a 20X objective for 16 hours. Spatial resolution was 512 ×512, at a pixel spacing of 0.8 μm for a total of 1.3 GBytes of image data at 32 bits per voxel (BPV). At this resolution, the entire image sequence can be downloaded to the video RAM on a 1.5 GB card, with room left for the frame buffer and back buffer. Images were also captured on a Zeiss LSM510 confocal microscope at a spatial resolution of 1024 ×1024 at a pixel spacing of 0.3 μm for up to 20 hours, resulting in as much as 5 GBytes of image data per sequence. These larger sequences require the image sequence data to be buffered in system memory, a task that is handled automatically by the display driver. Interestingly, less proliferation was observed in image sequences captured at the higher spatiotemporal resolution. Once the 5-D image sequence data has been captured it is imported directly from the microscope output file using the open source Bioformats application.
Processing of the 5-D image sequence data begins by using the open-source BioFormats [9] tool to convert the native microscope data (Zeiss LSM file) into intensity valued tiff images. The use of BioFormats enables LEVER 3D to work not only with the Zeiss specific file formats, but with file formats used by most of the major microscope manufacturers. In addition to the image data, BioFormats extracts the imaging settings including the spatiotemporal resolution used to account for image anisotropy, providing scaling for the tracking and distance-based calculations.
Figure
1
illustrates the flow of data and processing steps used to go from the raw input image sequence data to a fully validated and corrected clonal tracking and lineaging. Figure
1
also illustrates the main software components used including CUDA for efficient image processing from C++, MATLAB for 2-D visualization of the lineage tree and data analysis and export, and Direct 3D for 3-D rendering and visualization. Each of these steps is described in more detail throughout the remainder of this section.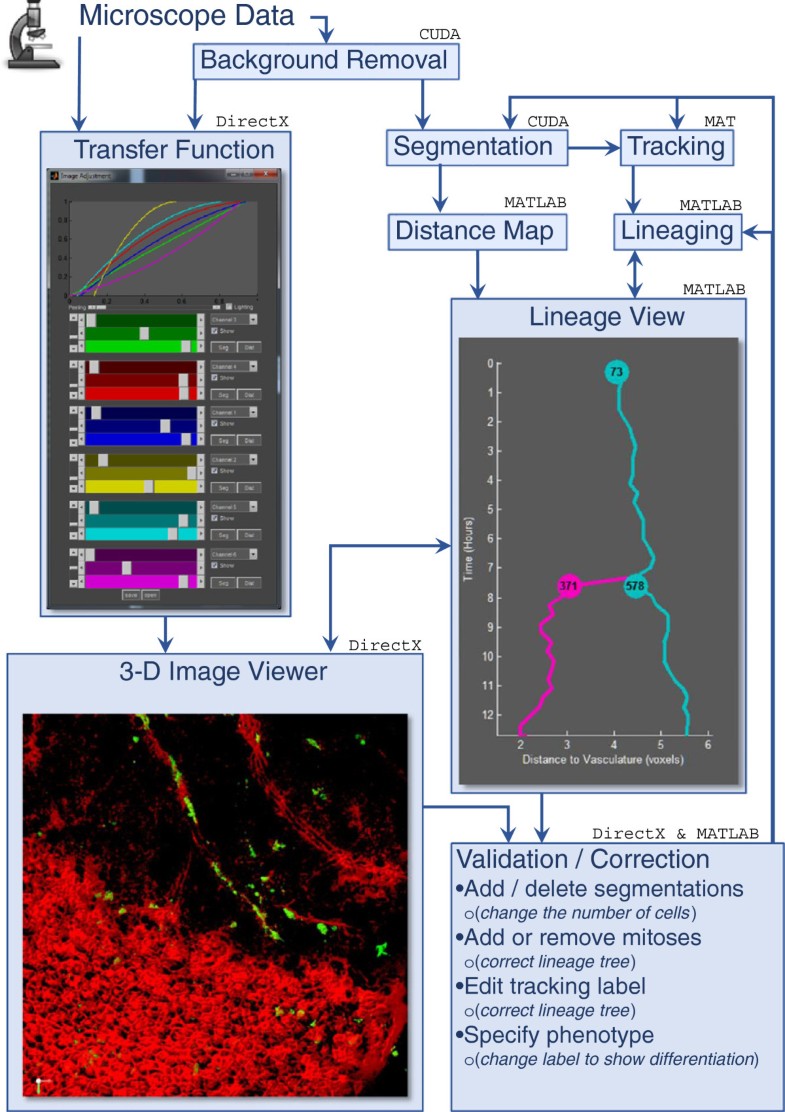 Results and discussion
The analysis of the image sequence data proceeds as follows. All timing information is based on a Windows PC with dual Xeon X5570 processors (2.9 GHz), 24 GB of RAM and an Nvidia GTX 680 video card with 4 GB of video RAM. The automated image analysis routines were implemented in C++ using CUDA. Background noise removal, segmentation, tracking, vascular distance and lineaging are run off-line. This step requires seconds to only a few minutes using CUDA compared with up to 2 hours of processing time using the open source Insight Toolkit (ITK). These times are dependent on the size and dimensionality of image sequence data. The vast majority of this time is consumed by the background noise removal in ITK; in CUDA the task of noise removal, segmentation, tracking, and lineaging are more equally spaced. Background noise removal is a task that is only run once per image sequence and improves the results of the subsequent automatic segmentation algorithm, especially with suppressing image noise between closely adjacent cells improving the ability of the segmentation algorithm to separate nearby cells.
After the automated image analysis routines complete, the 3-D image data with segmentation and tracking results overlaid are shown in the imaging window (Direct 3D connected via MATLAB's Mex interface) and the lineage tree is shown in a MATLAB figure window. The active shutter stereoscopic 3-D visualization glasses improve the visualization of the stem cell data, and especially the relationship between stem cells and vasculature. Stereoscopic rendering allows the viewer to disambiguate the relative distances between objects compared to a monoscopic viewing where additional visual cues are necessary, such as movement (rotation) or lighting.
Image sequence data displays at 60 frames per second, and manipulation of the 3-D volumetric data is fully interactive even with the 3D stereo vision hardware activated. Navigation can be done on either the 3-D window or on the 2-D lineage window. Clicking in the lineage tree window causes the frame to advance to the selected time point. The time can also be navigated on the Direct 3D window using the mouse wheel, and causes the time indicator on the lineage tree window to update. Users can edit the segmentation and tracking in the imaging window by splitting cells with the mouse or by typing tracking numbers directly onto a cell. The user has only had to correct the automated processes 7% of the time on average. Most of these errors were due to the cells not separating immediately after mitosis. We recently developed improved techniques for resolving visual ambiguity in 2-D image sequences of proliferating cells by incorporating tracking and lineaging information [19]. These methods offer a promising approach to reduce the number of errors in the 3-D segmentation and will be added in future versions. Given correct segmentation and the time resolution of the imaging is such that object overlap themselves by at least 50% between frames, there should be no tracking errors [6]. The tracking and lineaging algorithms are automatically executed in response to user provided segmentation edits in order to dynamically update the results and also to correct related segmentation errors in future frames. This process typically requires a few seconds to complete, making response to editing operations as well as the 3-D visualization fully interactive.
Once the tracking and lineaging for a clone of stem cells has been corrected, the data can be exported to MATLAB for further analysis. In order to explore the relationship between stem cells and their vascular niche, we used a distance map of the vascular channel. For each stem cell on the clone, we can use this distance map to instantly find the distance between the cell and the nearest blood vessel. In Figure 4 we plot this distance for the three cells on the lineage tree of the selected clone. Cell 73 is at a stable distance to the nearest blood vessel. When the cell divides one of the daughter cells moves into contact with the vessel while the second daughter continues on its parent's trajectory. This is a result of the cleavage plane, formed by the division between the two daughter cells, being oriented acutely toward the vessel. Interestingly, the daughter cell that is closer to the vasculature following division, cell 371, has a different pattern of motion than the daughter cell that is not in contact with vasculature. This may be indicative of a different sub type of stem cell or of the cell seeking to re-establish its location in the vascular niche following division. This is the first time, to our knowledge, that this relationship between a clone of mammalian NSC's and their vascular niche has been visualized and quantified dynamically in live cell and tissue image sequence data.
A key decision in the design of our application was the use of Direct 3D rather than OpenGL to provide 3-D rendering. In general, scientific visualization applications tend to use OpenGL while gaming applications tend to use Direct 3D. This decision was primarily based on the need to incorporate support for NVidia's 3-D Vision to utilize active shutter stereoscopic glasses into our application. Using Direct 3D enables the use of 3-D vision on less expensive NVidia GTX-class gaming cards, as well as on the more expensive Quadro cards. Additionally, automatic driver optimized support for stereo separation is available to Direct 3D applications only [20] eliminating coding overhead. The 3-D vision stereo glasses can be used from OpenGL, but that requires the use of the more expensive Quadro card and also requires explicit application support for stereo via quad buffering. Stereoscopic viewing enables a user to quickly identify and easily correct tracking and lineaging errors in a natural and highly interactive manner. Shortcomings of using Direct 3D are discussed in the "Conclusions" section.
Other applications have been developed for 3-D stem cell lineaging, notably by Murray et al. [21]. They developed an approach that does not however, include capabilities for learning from user supplied edits or 3-D visualization. In later work they incorporated a support vector machine to automatically identify segmentation errors [22], although we have found that segmentation errors occur primarily when there is visual ambiguity in the image data that the human eye is unable to resolve using only a single image frame. The current project is an extension of the LEVER application designed for 2-D phase contrast stem cell image sequences which uses a human observer to assist in correcting the visual ambiguity inherent in image sequences of live proliferating cells [6]. Aside from the 3-D rendering, one other difference of the current work is that the segmentation is implemented using CUDA rather than MATLAB or ITK. CUDA provides a significant performance improvement over MATLAB and ITK, making the 3-D noise and background removal and segmentation algorithms approximately 60 times faster.
In the area of biological image sequence data visualization there are a large number of commercial and open source products, as described in a review paper by Walter et al. [23]. One thing that differentiates our work from the described approaches is the tight integration between the automated image analysis algorithms and the Direct 3D visualization. In contrast, most other applications utilize the Visualization Toolkit (VTK) an open source visualization library [24]. The 3-D rendering for our application was initially implemented using VTK, however VTK is only compatible with OpenGL and not with Direct 3D. Direct 3D has the benefit of using low-cost gaming hardware for stereoscopic visualization which is necessary for efficient validation of 3-D volumes. The open source ICY application [25] uses VTK for visualization and provides an extensible user interface for visualizing 2-D and 3-D images and incorporates segmentation and tracking algorithms, as well as editing of results and multiple linked views. Our work differs from ICY in supporting stem cell lineaging and using inference-based learning to propagate user-provided edits. A related application for visualizing multichannel fluorescence microscopy data for biological applications was presented by Wan et al. [17]. Their application provided more control over the viewing of the volumetric data including a user controllable 2-D transfer function for setting the rendering properties of the volumetric data. In contrast, the approach presented here uses the automatic image analysis algorithms to set the parameters on the visualization transfer function with the intention that our application will be used for quickly validating and correcting the clonal tracking and lineaging results prior to subsequent statistical and algorithmic information theoretic analyses.
There are a number of papers describing tools for visualizing and analyzing 3-D image sequence data [26–28]. Taken together, these show the power of combining image analysis and visualization tools. As Amat et al. [29] note, extending such techniques to "3D+t is not straight forward." The approach described here is novel in the ability to visualize 5-D image sequence data, utilizing automated tracking and lineaging algorithms to analyze the time course of the dynamic behaviors for all of the cells in a developing clone and incorporating user-provided edits to automatically correct related errors. This provides unprecedented functionality for working with complex live cell and tissue image sequence data and ensures that subsequent analysis starts with 100% corrected data.
Visualization comparison between 2-D projection and stereoscopic 3-D rendering is difficult to quantify. Confocal microscopes are able to capture true three-dimensional data and there are many tools that make two-dimensional projections of this data, such as that of Schmid et al. [30], and Peng et al. [26, 27]. However, 2-D projection relies on visual cues to convey the relative depth between objects as explained by Wan et al. [17]. Using a stereoscopic projection allows our binocular vision to convey this information more precisely [31]. Even without depth peeling, lighting, or other cues necessary with monoscopic projection, the user can perceive depth between objects. We incorporate both depth peeling and lighting to make the scene look more natural. With the perceived depth from stereoscopic visualization, validation can be more accurate and efficient. Stereoscopic projection can also help earlier in the processing pipeline by expediting discovery. Interactions between structures in the SVZ are not fully known. Direct stereoscopic observation facilitates the identification of regions to quantify and determine their significance. This discovery phase optimizes the processing pipeline by identifying more precisely what models the analysis phase can emulate or exploit. We believe that there is enough qualitative benefit to the stereoscopic projection to base a large part of visualization decisions upon it.
Conclusions
We have developed a new application called LEVER 3-D for validating and correcting the automated segmentation, tracking and lineaging of stem cells from 5-D time lapse image sequence data. The segmentation and tracking results are overlaid on the image data in the 3-D rendering window. The lineage tree for the currently selected clone is shown in a MATLAB 2-D window. Navigation and editing can take place on either window; the MATLAB Mex interface is used to communicate between the C++, CUDA, DirectX, and MATLAB components. The ability to visualize the image data simultaneously with segmentation, tracking, and lineaging makes it possible to quickly identify and easily correct any errors in the automatic analysis. Direct 3D is used for 3-D rendering, providing active shutter stereoscopic visualization and interactive rendering on low-cost gaming hardware. We use the open-source Bioformats tool to read the image data directly from the microscope and CUDA kernels to implement the background removal and segmentation algorithms. The open-source MAT tracking algorithm developed previously for 2-D stem cell image sequences has been enhanced to work with 5-D stem cell data.
One drawback to our use of Direct 3D to enable active shutter stereoscopic is that our application is only available on the Windows operating system. The use of OpenGL would have required explicit application support for active shutter stereoscopic visualization and also the use of the more expensive Quadro-class video cards together with additional RAM for quad buffering, but would have allowed for true cross-platform support. Another drawback of Direct 3D is the lack of a web integration module such as WebGL, which makes it difficult to implement a web client for demonstrating the capabilities of the system or for implementing distributed applications for validating and correcting the 5-D image sequence data. We believe that these shortcomings are offset by the improved visualization available for low-cost from DirectX, with active shutter stereoscopic visualization automatically in the display driver using Nvidia GTX class display cards.
Our goal is to develop an open source solution that allows biologists to process, validate and analyze 5-D stem cell image sequence data in the laboratory, increasing the pace of discovery by combining accurate unsupervised image analysis together with intuitive visualization and validation tools. The current version of the source code as well as video tutorials are available at (https://git-bioimage.coe.drexel.edu). We are including executables along with a complete 5-D dataset to enable readers to run the interface directly. Data collection has begun for a number of biological experiments that will utilize LEVER 3-D in a high throughput capacity to quantify dynamic behaviors and niche associations for clones of NSCs. The application described here represents a first step in disseminating widely applicable software tools for the analysis of proliferating cells and vasculature from 5-D image sequence data.
Availability of supporting data
Abbreviations
NSC:

Neural stem cells
AITPD:

Algorithmic Information Theoretic Prediction and Discovery
SVZ:

Subventricular zone
SNR:

Signal-to-noise ratio
MAT:

Multitemporal Association Tracking.
Declarations
Acknowledgments
Portions of this research were supported by Drexel University, by grant number R01NS076709 from the National Institute Of Neurological Disorders and Stroke, and by the National Institute On Aging of the National Institutes of Health under award number R01AG041861. The content is solely the responsibility of the authors and does not necessarily represent the official views of Drexel or the National Institutes of Health.
Authors' Affiliations
(1)
Drexel University, Philadelphia, USA
(2)
Neural Stem Cell Institute, Rensselaer, USA
(3)
UT Health Science Center, San Antonio, USA
Copyright
© Wait et al.; licensee BioMed Central Ltd. 2014
This article is published under license to BioMed Central Ltd. This is an Open Access article distributed under the terms of the Creative Commons Attribution License (http://creativecommons.org/licenses/by/4.0), which permits unrestricted use, distribution, and reproduction in any medium, provided the original work is properly credited. The Creative Commons Public Domain Dedication waiver (http://creativecommons.org/publicdomain/zero/1.0/) applies to the data made available in this article, unless otherwise stated.