MolTalk – a programming library for protein structures and structure analysis
BMC Bioinformatics
2004
5:39
Received: 27 October 2003
Accepted: 19 April 2004
Published: 19 April 2004
Abstract
Background
Two of the mostly unsolved but increasingly urgent problems for modern biologists are a) to quickly and easily analyse protein structures and b) to comprehensively mine the wealth of information, which is distributed along with the 3D co-ordinates by the Protein Data Bank (PDB). Tools which address this issue need to be highly flexible and powerful but at the same time must be freely available and easy to learn.
Results
We present MolTalk, an elaborate programming language, which consists of the programming library libmoltalk implemented in Objective-C and the Smalltalk-based interpreter MolTalk. MolTalk combines the advantages of an easy to learn and programmable procedural scripting with the flexibility and power of a full programming language.
An overview of currently available applications of MolTalk is given and with PDBChainSaw one such application is described in more detail. PDBChainSaw is a MolTalk-based parser and information extraction utility of PDB files. Weekly updates of the PDB are synchronised with PDBChainSaw and are available for free download from the MolTalk project page http://www.moltalk.org following the link to PDBChainSaw. For each chain in a protein structure, PDBChainSaw extracts the sequence from its co-ordinates and provides additional information from the PDB-file header section, such as scientific organism, compound name, and EC code.
Conclusion
MolTalk provides a rich set of methods to analyse and even modify experimentally determined or modelled protein structures. These methods vary in complexity and are thus suitable for beginners and advanced programmers alike. We envision MolTalk to be most valuable in the following applications:
1) To analyse protein structures repetitively in large-scale, i.e. to benchmark protein structure prediction methods or to evaluate structural models. The quality of the resulting 3D-models can be assessed by e.g. calculating a Ramachandran-Sasisekharan plot.
2) To quickly retrieve information for (a limited number of) macro-molecular structures, i.e. H-bonds, salt bridges, contacts between amino acids and ligands or at the interface between two chains.
3) To programme more complex structural bioinformatics software and to implement demanding algorithms through its portability to Objective-C, e.g. iMolTalk.
4) To be used as a front end to databases, e.g. PDBChainSaw.
Keywords
Protein Data BankClass DiagramProgramming LibraryProtein Data Bank FileProtein Data Bank Structure
Background
The major demand from Life Sciences towards bioinformatics today is to combine the often heterogeneous information available and make it easily accessible to a broad range of users. In the past, these efforts concentrated on coping with the overwhelming amount of data that entered and still enter nucleotide and protein sequence databases [1, 2]. Today, other information sources, such as protein structures, subsequently come under the spotlight of a broader scientific community.
In contrast to the sequence world, only one central data resource exists for protein structures, the Protein Data Bank (PDB) [3]. Despite the undisputed advantage of having all structural data available from one source in a common file format, protein structures impose a new level of complexity. They carry information about where in space the adjacent residues of a protein sequence are located. Furthermore, protein structures provide insights into the spatial environment of an amino acid, which is different from its sequence neighbourhood, as well as into its interactions with other residues or heterogeneous ligands. This wealth of information contains answers to questions as diverse as to how proteins function or what compounds may interact with a given protein. However, these answers often remain inaccessible to a broader scientific community.
To overcome this information gap, we developed MolTalk. MolTalk consists of a programming library implemented in Objective-C [4] that maps PDB structure files to object space as well as of a scripting language based on Smalltalk [5]. Moreover, MolTalk provides numerous methods that enable both the novice as well as the expert structural bioinformatician to rapidly develop software tailored towards their individual needs and to allow for novel insights from protein structure analyses. As an application for MolTalk we describe PDBChainSaw, a mirroring and data extraction routine for PDB files.
Implementation
MolTalk is composed of two functional parts: (1) the programming library
libmoltalk
and (2) MolTalk, the Smalltalk interpreter. The
libmoltalk
library implements classes (Figure
1
) in Objective-C [
4
] whereas the interpreter MolTalk is based on StepTalk [
5
], a Smalltalk interpreter for GNUstep [
6
]. The interpreter interacts with all classes defined in
libmoltalk
and is used as a front end to this library.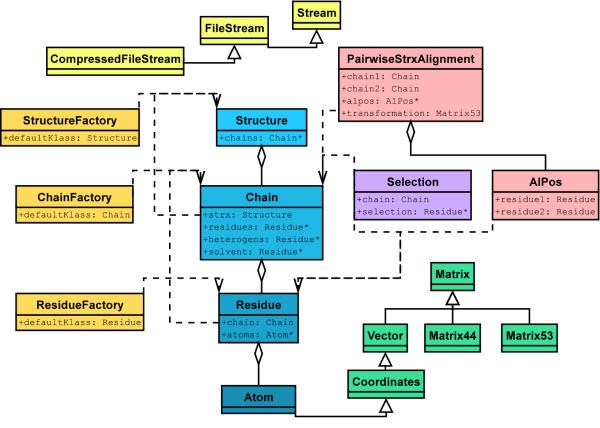 The classes implemented in
libmoltalk
are summarised in groups, namely "structural", "mathematics", and "others". Their complexity and flexibility vary as indicated by the labels "Basic" and "Xtra" (Table
1
). "Basic" classes can be used by even novice users without special training, whereas classes labelled "Xtra" indicate a higher level of potential difficulty for a user, but allow often, at the same time, a higher degree of flexibility in software development (for details, please refer to the manual pages at
http://www.moltalk.org/Manual.html
.
Table 1
The ten classes summarised in group "structure" with labelled difficulty level and a selection of methods available.
| Class Name | Label | Methods |
| --- | --- | --- |
| Structure | Basic | Returns 4-letter PDB code |
| | | Returns HEADER, TITLE, REVDAT lines |
| | | Extracts date from HEADER line |
| | | Returns type of experimental method |
| | | Returns resolution as in REMARK2 lines |
| | | Writes out complete structure to a stream in PDB format |
| | | Returns enumerator over all chains |
| | | Returns chain for a given code |
| | | Removes a chain from structure |
| | | ... |
| Structure Factory | Xtra | Reads structure from directory or file |
| | | Offers parsing options from directory or file |
| | | ... |
| Chain | Basic | Returns code of this chain (as string/number) |
| | | Returns chain identifier consisting of PDB and chain code |
| | | Returns COMPND and SOURCE lines, EC code Transforms all residues/atoms in chain by transformation matrix |
| | | Returns number of residues (amino acids and nucleic acids), standard amino acids, heterogeneous residues, solvent residues |
| | | Provides access to residues, heterogeneous residues, solvent residues |
| | | Adds new residue, heterogen, new solvent molecule to chain |
| | | Removes a residue, heterogen, solvent molecule from chain |
| | | Derives amino acid sequence from connected residues |
| | | Derives amino acid sequence with filled gaps ("X") where missing residues occur |
| | | Returns amino acid sequence from SEQRES entry |
| | | Computes geometric hashing table of all residues |
| | | Finds residues in chain which are close to given co-ordinates based on geometric hashing |
| | | ... |
| Chain Factory | Xtra | Creates a new chain with given code |
| Residue | Basic | Returns the residue name/number |
| | | Returns the name of the standard residue as the base of this modified residue as in MODRES lines |
| | | Returns description of residue modification as given in MODRES lines |
| | | Translates residue name into amino acid one letter code |
| | | Adds new atom to residue |
| | | ... |
| Residue Factory | Xtra | Creates new residue with number and name |
| | | ... |
| Atom | Basic | Returns atom name/number |
| | | Returns temperature factor for an atom |
| | | Returns chemical element |
| | | Returns partial charge of atom |
| | | Returns enumerator over all bonded atoms |
| | | Adds bond from this atom to given atom2 |
| | | Removes all bonds |
| | | Removes bond to atom2 |
| | | Sets atom to be of chemical type |
| | | ... |
| Coordinates | Basic | Calculates Euclidian distance between two co-ordinates |
| | | Returns x, y, z from co-ordinates |
| | | Transforms co-ordinates by transformation matrix |
| | | ... |
| Pairwise Structural Alignment | Basic | Provides access to first/second chain |
| | | Computes transformation based on superimposed chains |
| | | Re-computes transformation from selection of residue pairs |
| | | Calculates RMSD of structural alignment |
| | | Counts alignment positions in structural alignment |
| | | Counts aligned pairs only |
| | | Counts aligned pairs with distance below given cut-off |
| | | Reads external pairwise alignment from stream in T_Coffee format and re-computes structural alignment from this |
| | | Writes structural alignment to stream in T_Coffee library format |
| | | ... |
| Selection | Basic | Counts number of residues in this selection |
| | | Returns enumerator over selected residues |
| | | Includes/excludes a single residue to/from selection |
| | | Adds all selected residues from selection2 to this selection |
| | | Structurally aligns selection1 to selection2 and returns the resulting transformation matrix |
| | | ... |
Each class consists of a set of methods, which again are labelled either "Basic" or "Xtra". Independent of their class, methods can be organised into (1) "basic features", (2) "extended features", (3) "mathematical functions", and (4) "others". "Basic features" enable mapping into object space and querying. "Extended features" can be further sub-divided into "operations" and "manipulations". "Operations" include e.g. superimposition, structural alignment, and transformation, respectively. With "manipulations" chains, residues or atoms can be added to or removed from a structure. "Mathematical functions" allow the calculation of vectors and matrices to perform spatial transformations. The features summarised in "others" regulate input and output. In Table 1, a list of the potentially most important methods and classes of the group "Structure" is provided.
Conclusions
MolTalk is a freely available, well documented and thus easy to learn, robust, and clean implementation of object-oriented mapping of PDB files. The included interpreter for the Smalltalk scripting language allows for rapid software development, while retaining the option to port code to Objective-C, compile, and link with the MolTalk library. This opens the field for MolTalk to become a prominent protein structure analysis suite from small- to large-scale efforts, particularly when large and complex data sets need to be analysed automatically. Moreover, we regard MolTalk as a potential tool for benchmark analysis, i.e. for protein structure prediction methods and model evaluation, respectively. MolTalk may also serve as a database front end, as demonstrated with PDBChainSaw, to extract information encoded in PDB files, e.g. sequence from co-ordinates.
Availability and Requirements
Operating system
Linux and other Unix derivates, Windows and MacOSX
License
GNU General Public License
Any restrictions to use by non-academics
Free of charge as long as GNU GPL is respected
Declarations
Acknowledgements
AVD was partially supported by GlaxoSmithKline. Both authors are grateful to the Swiss Institute of Bioinformatics.
Authors' Affiliations
(1)
University of Lausanne and Swiss Institute of Bioinformatics, Switzerland
(2)
University of Geneva and Swiss Institute of Bioinformatics, Centre Médicale Universitaire, Geneva 4, Switzerland
Copyright
© Diemand and Scheib; licensee BioMed Central Ltd. 2004
This article is published under license to BioMed Central Ltd. This is an Open Access article: verbatim copying and redistribution of this article are permitted in all media for any purpose, provided this notice is preserved along with the article's original URL.