Research article

Open Access
Interaction profile-based protein classification of death domain
BMC Bioinformatics
2004
5:75
Received: 07 February 2004
Accepted: 09 June 2004
Published: 09 June 2004
Abstract
Background
The increasing number of protein sequences and 3D structure obtained from genomic initiatives is leading many of us to focus on proteomics, and to dedicate our experimental and computational efforts on the creation and analysis of information derived from 3D structure. In particular, the high-throughput generation of protein-protein interaction data from a few organisms makes such an approach very important towards understanding the molecular recognition that make-up the entire protein-protein interaction network. Since the generation of sequences, and experimental protein-protein interactions increases faster than the 3D structure determination of protein complexes, there is tremendous interest in developing in silico methods that generate such structure for prediction and classification purposes. In this study we focused on classifying protein family members based on their protein-protein interaction distinctiveness. Structure-based classification of protein-protein interfaces has been described initially by Ponstingl et al. [1] and more recently by Valdar et al. [2] and Mintseris et al. [3], from complex structures that have been solved experimentally. However, little has been done on protein classification based on the prediction of protein-protein complexes obtained from homology modeling and docking simulation.
Results
We have developed an in silico classification system entitled HODOCO (Homology modeling, Docking and Classification Oracle), in which protein Residue Potential Interaction Profiles (RPIPS) are used to summarize protein-protein interaction characteristics. This system applied to a dataset of 64 proteins of the death domain superfamily was used to classify each member into its proper subfamily. Two classification methods were attempted, heuristic and support vector machine learning. Both methods were tested with a 5-fold cross-validation. The heuristic approach yielded a 61% average accuracy, while the machine learning approach yielded an 89% average accuracy.
Conclusion
We have confirmed the reliability and potential value of classifying proteins via their predicted interactions. Our results are in the same range of accuracy as other studies that classify protein-protein interactions from 3D complex structure obtained experimentally. While our classification scheme does not take directly into account sequence information our results are in agreement with functional and sequence based classification of death domain family members.
Keywords
Death Domain
Putative Complex
Death Effector Domain
Family Membership
Rigid Body Docking
Background
The genomic revolution has provided vast protein data resources now waiting to be transformed into usable knowledge that can be applied to solve pressing biological problems. Classification remains a favorite method for performing such transformations because of its intuitiveness and robustness against errors. Several schemes have now been proposed for automatic classification of proteins [4, 5]. They range from simple amino acid sequence comparisons, through more localized motif-based methods [6–8] further improved by position specific scoring matrices [9] and finally to hidden Markov model profile-based methods [10]. Alternatively, structure-based classification provides a more direct means of inferring function, albeit on the much smaller structural databases [11, 12]. Recently, groups have taken an integrated approach that blends the advantages of the methods discussed above [13, 14].
The high-throughput generation of protein-protein interaction data from a few organisms has been carried out [15–18]. This wealth of experimental data requires new computational mining approaches to help us understand molecular recognition in protein-protein interaction networks. Since the generation of sequences and experimental protein-protein interactions increases faster than the 3D structure determination of protein complexes, there is tremendous interest in developing in silico methods that could predict macromolecular structures and assembly for prediction and classification purpose.
For example, computational approaches based on sequence, expression and literature abstract data have been developed to predict protein-protein interactions [19]. These methods are based on the assumption that non-homologous pairs of genes that show correlated behavior across data from different sources should interact with each other. In addition, structure-based classification of protein-protein interfaces has been described initially by Ponstingl et al. [1] and more recently by Valdar et al. [2] and Mintseris et al. [3], from complex structures that have been solved experimentally.
The last decade has seen enormous progress in the reliability and accuracy of 3D structure-based in silico techniques including 3D structure prediction based on sequence homology and macromolecular docking. Competitions in both domains have spurred the ingenuity necessary for tackling these challenging problems [20, 21]. In this study we combine these two approaches to perform protein classification.
To efficiently dock two molecules that participate in a protein-protein or protein-ligand interaction, a certain number of steps have to be determined [22]. The process first involves an efficient search and matching algorithm that covers the conformational space, and then one or more selective scoring functions that can eliminate efficiently between native and non-native solutions. Docking algorithms are defined and classified by the extent of flexibility that they attempt to address (1) Rigid body docking, where the two molecules are rigid solid bodies, (2) Semi-flexible docking where one molecule, the receptor, is considered a rigid body while the ligand, generally smaller, is considered flexible, and finally (3) flexible docking where both molecules are considered flexible. Flexible docking is now becoming more popular because it takes into account conformational changes that generally occur when proteins interacts with each other. However, rigid body docking simulation has already been widely employed and used successfully in the docking of protein-protein complexes [22, 23]. In this method flexibility can be incorporated through a "soft belt" into which atoms from the second molecule can penetrate, reducing drastically the complexity [22] and increasing the speed of the simulation. Rigid body docking is based on the observation that 3D protein complexes reveal a close geometric match at the interface of a receptor and a ligand. Since many false positives with better scores than the true solution are very often obtained, additional rescoring functions have been introduced to eliminate these wrong solutions [24].
In this study, rigid body docking is applied to the classification of protein-protein interactions in the death domain superfamily. We chose rigid body docking because of its higher speed. The scheme uses in silico protein-protein interaction predictions, applied to 3D protein structures built using homology modeling, as its exclusive means of performing classifications. We implemented the approach in a system called HODOCO (HOmology modeling, DOcking, and Classifying Oracle), and used Residue Pair Interaction Profiles (RPIPs) as a means to summarize protein interaction characteristics. The system was applied successfully to the problem of classifying members of the human death domain superfamily. We show that despite the limited reliability of current docking algorithm, interaction profile-based classification of this family can be obtained with 90% accuracy.
Results and Discussion
Great care was taken during the model building process to ensure that the highest quality models were accepted. This degree of caution was required to avoid the risk of propagating inaccuracies throughout the system. GRAMM was chosen as the docking engine for its ability to obtain raw putative complexes that have not been further filtered, thereby allowing us to estimate a signal-to-noise ratio from the raw data and in turn allowing us to devise a procedure for reducing the search space. Docking algorithm was used to build a database that could be mined for specific complexes with properties unique to a given family. We chose to perform docking only between members of the same family as the intrafamily complexes provided a broad enough sampling to yield high accuracy rates and limit our computational cost. Keeping in mind GRAMM's asymmetric algorithm, 212 + 102 + 212 + 122 = 1126 docking simulations were conducted each offering 1000 putative complexes, for a total of over 1.1 million putative complexes.
Conclusions
The goal of this work was to show that in silico interaction-based protein classification can be obtained reliably for the death domain superfamily. We developed a classification pipeline that allows us to obtain protein classification.
While others have used in silico interaction profiles to characterize the docking ability of small molecules binding to experimentally determined 3D structures [39], or to discover novel protein interactions using known 3D complexes [40], our method is unique in that it applies to 3D molecular models of proteins complexes, and it not only considers multiple binding partners, but also multiple interfaces for each partner.
In future, there is much further work that can be done. Similar to [39], RPIPs could be used to cluster models rather than classify them. Here the goal would be to find alternative "families" based on interaction data, without regard to sequence homology. For example, discovering groups of models, sharing a common interaction interface or that are an outlier with a unique interface. Such a property has been highlighted by the constant misclassification of the CARD domain of APAF1 obtained in this study that has unique binding properties in the family.
It is very important to note that this study is only as powerful as the methods it builds upon. In particular, docking is still a highly active area of research with much work remaining to be done on model flexibility, solvent simulation, and force field optimization. Similarly, model building of the protein complex remains a difficult procedure requiring great care, making it difficult to accurately automate [41]. Our results have shown that despite the introduction of error in the classification pipeline due to the reliability of the underlying tools, interaction-profile based protein classification can be obtained with confidence. The fact that multiple parties have independently begun researching the potential of interaction profiles suggests that it may become a popular method for biological data mining in the future.
Methods
HODOCO is an
in silico
protein characterization and classification system consisting of three parts, a model building subsystem, a classifier building subsystem, and the classifier itself. An overview of the three major components is shown in Figure
1
. When building the classifier the input to the system is a set of 3D structures, termed models (μ
1
through μ
m
), that belong to the superfamily of interest. Since 3D structures for the majority of proteins are unsolved, a major aspect of the system is the model building subsystem (Figure
1(a)
). Once the models are built, docking is performed to find putative complexes, which are then used to find what we call informative interfaces (ι
1
through ι
n
to be discussed later). The informative interfaces are directly related to calculating the RPIPs, which in turn are used to build the classifier (Figure
1(b)
). The model building subsystem and the classifier building subsystem have been designed to be fully independent so that improvements to their respective underlying tools can be applied to one without necessitating changes to the other. The final subsystem, the classifier, however is tightly bound to the second subsystem, and its distinction is mostly conceptual (Figure
1(c)
). Each step in the system is now explained in detail.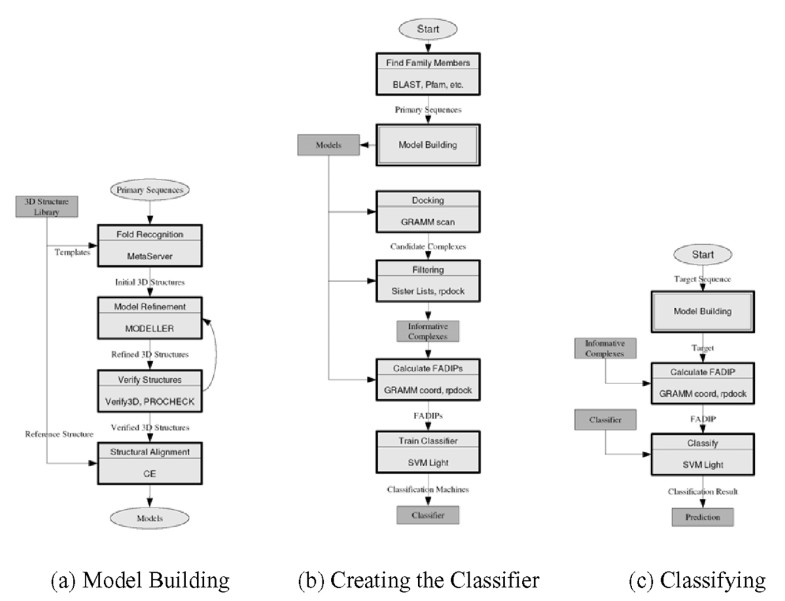 Declarations
Acknowledgments
We would especially like to thank Maggie Lau and Tony Zhan for performing much of the pre-analytical data gathering, and the SFU Co-operative Education Program for making their employment possible. D.L.'s stipend was provided by the Canadian Institute for Health Research (CIHR) and by the Michael Smith Foundation. We are also grateful for funding support from the Natural Sciences and Engineering Research Council of Canada (NSERC) and by the British Columbia Advanced Systems Institute (BC ASI).
Authors' Affiliations
(1)
Department of Computer Science, Simon Fraser University, Burnaby, Canada
(2)
Department of Molecular Biology and Biochemistry, Simon Fraser University, Burnaby, Canada
Copyright
© Lett et al; licensee BioMed Central Ltd. 2004
This article is published under license to BioMed Central Ltd. This is an Open Access article: verbatim copying and redistribution of this article are permitted in all media for any purpose, provided this notice is preserved along with the article's original URL.