We're sorry, something doesn't seem to be working properly.
Please try refreshing the page. If that doesn't work, please contact us so we can address the problem.
Correlation analysis of two-dimensional gel electrophoretic protein patterns and biological variables
BMC Bioinformatics
2006
7:198
Received: 05 December 2005
Accepted: 10 April 2006
Published: 10 April 2006
Abstract
Background
Two-dimensional gel electrophoresis (2DE) is a powerful technique to examine post-translational modifications of complexly modulated proteins. Currently, spot detection is a necessary step to assess relations between spots and biological variables. This often proves time consuming and difficult when working with non-perfect gels. We developed an analysis technique to measure correlation between 2DE images and biological variables on a pixel by pixel basis. After image alignment and normalization, the biological parameters and pixel values are replaced by their specific rank. These rank adjusted images and parameters are then put into a standard linear Pearson correlation and further tested for significance and variance.
Results
We validated this technique on a set of simulated 2DE images, which revealed also correct working under the presence of normalization factors. This was followed by an analysis of p53 2DE immunoblots from cancer cells, known to have unique signaling networks. Since p53 is altered through these signaling networks, we expected to find correlations between the cancer type (acute lymphoblastic leukemia and acute myeloid leukemia) and the p53 profiles. A second correlation analysis revealed a more complex relation between the differentiation stage in acute myeloid leukemia and p53 protein isoforms.
Conclusion
The presented analysis method measures relations between 2DE images and external variables without requiring spot detection, thereby enabling the exploration of biosignatures of complex signaling networks in biological systems.
Keywords
Acute Myeloid LeukemiaAcute Lymphoblastic LeukemiaCorrelation ImageAcute Myeloid Leukemia CellExternal Variable
Background
Two-dimensional gel electrophoresis (2DE) has been a successful technique for identification and visualization of post-translational modifications [1] (reviewed in [2]), and is increasingly used to determine accessible parts of the proteome in human cells [3]. To a certain extent has 2DE been used to propose diagnosis or clinical classification in diseases [4–9], including differentiating acute myeloid leukemia (AML) from acute lymphoblastic leukemia (ALL) [10]. The amount and complexity of data obtained from 2DE patterns have led to the development of analysis software for digitalized images [11–13], but human interpretation and validation of the data is usually necessary. Typically, one of the steps in 2DE analysis is the selection of spots followed by description of their position, volume and other variables. Current methods for spot detection assume regular spot shapes [14] or model spots as bivariate Gaussian densities [15], and therefore cannot discriminate spot shapes and irregularity [16, 17]. In this paper we present a method that omits the spot detection phase and does not require human interpretation on a gel-to-gel basis.
Given a set of gel images, the technique measures correlation between every pixel position and an external variable. This makes it possible to study the 2DE protein distribution as well as the actual relation to the external variable. The method has been rigorously tested on a set of simulated 2DE images with different levels of background, additional noise and outliers. Biological evaluation of the technique was performed by testing the correlation analysis on p53 protein isoform profiles in cell samples from patients with well-characterized hematological malignancies.
Different hematological malignancies, like ALL and AML [18] are characterized by distinct mutations or expression of genes involved in cell signaling [19, 20]. The TP53 gene is frequently mutated in many cancers and mutations in signaling pathways acting on p53 protein are found both in sporadic and hereditary cancers [21]. The p53 protein is a sequence specific transcription factor that can regulate differentiation, growth and cell death, and is highly regulated by post-translational modifications caused by multiple signaling networks that directly or indirectly target the protein [22, 23]. During differentiation, p53 undergoes modifications like phosphorylation and acetylation and is suggested to be involved in differentiation of AML [24, 25]. Because of this large range of activities and complex regulatory functions, we relied on analysis of the post-translationally modified p53 protein to illustrate our method. The p53 protein biosignatures in 39 AML patients and 8 ALL patients were analyzed by 2DE immunoblot. Distinct p53 biosignatures correlated with cancer type (AML versus ALL) and, within the AML group, p53 biosignatures correlated with the level of differentiation, using the French-American-British (FAB) classification.
Results
Overview of the method
The presented method relies on the basic assumption that if spots on 2DE images have biological relevance, then so must the pixels comprised within those spots. Therefore it must be possible to analyze 2DE images for correlation, without performing a spot detection step. The method requires the availability of a properly aligned stack of gel images. Each of the images must have an associated parameter
t
. Practically,
t
can represent any biological variable such as life expectancy, differentiation stage of a cell sample, age of an organism, origin of a cancer cell sample, effect of cancer therapy, cell size or even variables such as time, temperature, pressure, and so on. For every coordinate in the 2DE image stack, a correlation analysis is performed between the pixel data gathered at that position and the external variable
t
. The correlation image is then created by repeating this process at every possible position. The work-flow and the concept behind the correlation method is illustrated in Fig.
1
. A movie of the method is available [see
Additional file 1
].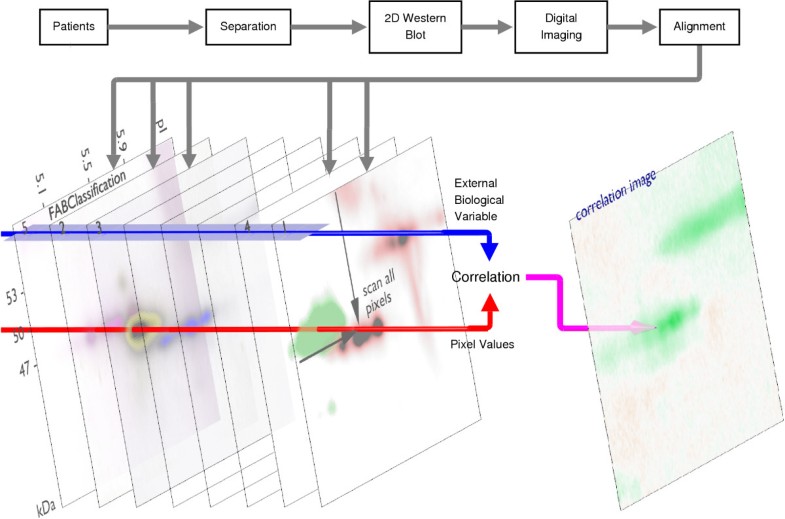 To illustrate how the correlation images ought to be interpreted, a simulated gel stack with defined spot characteristics in function of an external variable
t
was created (Fig.
2
). This simulation reassured a controlled environment in which the algorithmic behavior was observed.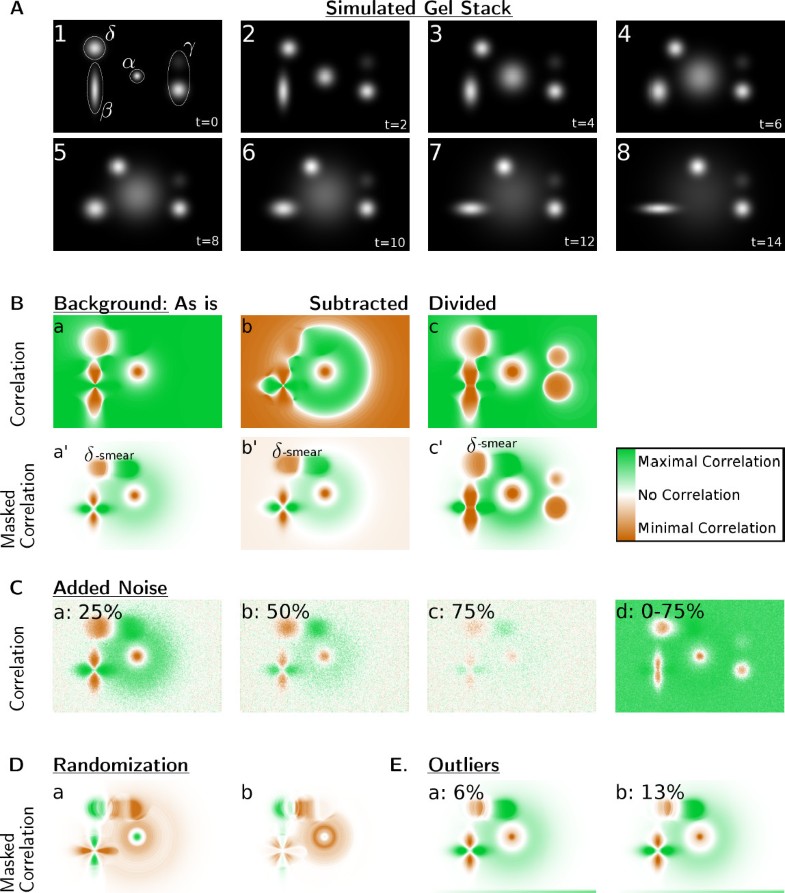 Correlation analysis of p53 biosignatures in acute leukemia
Recently we demonstrated that signaling networks may be altered and potentiated in cancer cells suggesting a prognostic meaningful classification [28, 29]. This includes altered p38 MAP-kinase signaling, known to phosphorylate p53. The application of the presented method was tested on p53 biosignatures of human primary cancer cells. The p53 biosignature is probably formed by the combinations of splice forms of p53 and various post-translational modifications [22, 30]. The p53 protein is also involved in several positive and negative feedback networks [23]. This has ignited the hypothesis that p53 integrates information from various signaling networks [31].
We investigate two different relations. One illustrates a relation between the overall p53 intensity and AML/ALL classification, the other illustrates detection of p53-isoform biosignatures related to the AML FAB classification.
Correlation of p53 protein biosignatures towards AML/ALL
ALL and AML comprise different genetic abnormalities [
32
,
33
], and analysis of growth factor receptor expression and global gene expression has pointed out that the expression of receptor tyrosine kinases and signaling modulators are different [
34
,
35
]. Therefore, since the p53 protein is implied in various cancer related signaling networks, we expected to find distinct correlations between p53 expression and the AML/ALL variable. Gels of AML patients were marked with
t
= 0, while ALL variants were marked with
t
= 1. The correlations are shown in Fig.
3A
. It reveals
overall
intensity increase of p53 in AML compared to ALL. There is no previous data from acute leukemia that supports this observation. To examine whether the 2DE p53 correlations analysis reflected actual p53 protein expression differences in the lymphoid and myeloid cell lineages, we examined normal lymphocytes, neutrophile granulocytes and monocytes by 2DE (Fig.
3Ba-c
) and one-dimensional immunoblot (Fig.
3d
). This confirmed the intensity-differences detected by the correlation analysis by reflecting actual attenuated p53 protein levels in lymphocytes compared to myeloid cells.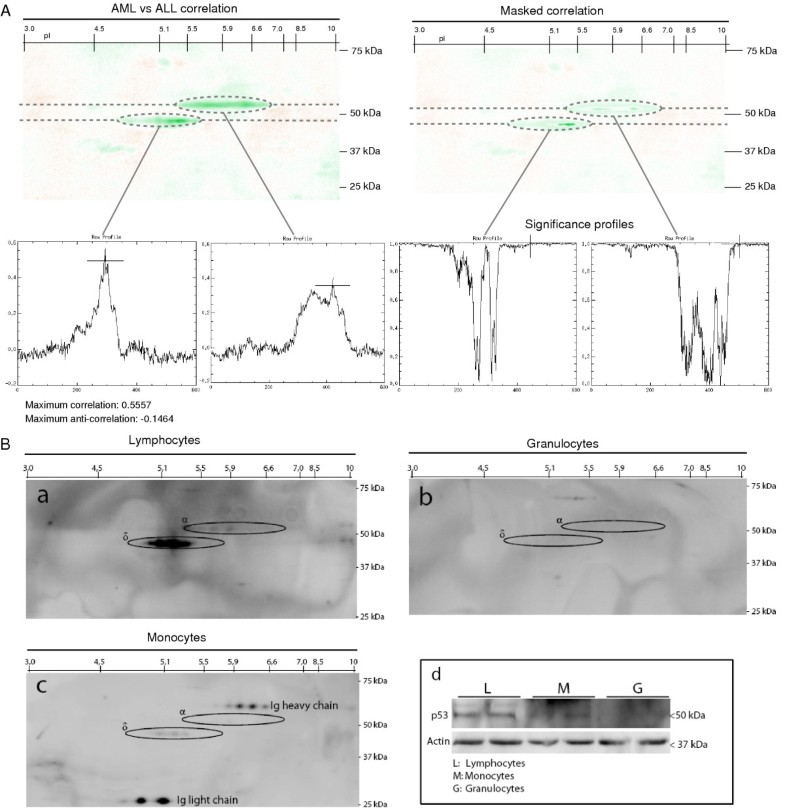 The impact of wrong ALL versus AML diagnosis was examined by random swapping ALL and AML labels in the AML/ALL versus 2DE image correlations. This results in lower correlation values as expected [see Additional file 3].
Correlation of p53 protein isoforms towards the AML differentiation level
The French-American-British (FAB) classification of AML is based on the morphologically determined stage of myeloid maturation and direction of maturation [36, 37]. Recent reports indicate that the FAB classification, in particular the distinction between M1–2 and M4–5 in maturation level and direction of maturation, is associated with certain gene classes in unsupervised clustering of gene expression profiles [38, 39]. It is previously described in several reports that p53 is involved in leukemic cell differentiation [24, 25, 40, 41]. Phosphorylation of p53 Ser315 is necessary for differentiation in mouse embryonic stem cells [42], and p53 is able to direct differentiation in AML cell lines [25, 41]. The p53-deficient HL-60 cell line has potential for both monocytic and granulocytic differentiation, and introduction of wild type p53 directs differentiation in the granulocytic direction [40]. Based on these reports we hypothesized that the p53 biosignatures should reflect the stage and direction of myeloid differentiation. Therefore, we measured correlations between the established routine morphological differentiation classification of AML (FAB) [21, 22, 35] and the p53 2DE biosignatures of the cancer cells.
We assigned to every class a separate
t
-value: M0 (
t
= 0), M1 (
t
= 1), M2 (
t
= 2), M3 (
t
= 3), M4 (
t
= 4) and M5 (
t
= 5). Using 73 gels we found specific correlations (Fig.
4
). Image A is the masked correlation landscape, image B is the raw correlation image. The observations were: a) The tail of the p53-
α
isoform correlates negatively to the FAB classification (profile 4, region g and h). b) The p63 area correlates positively towards the FAB classification (profile 3, the i region), c) The p53-
δ
region has four positively correlating articulated spots (profile 1, a-d, r = 0.2), d) the p53 sub-
δ
region has two negatively correlating spots (profile 2e, f). The combination of a positive correlation at the p53-
δ
region and a negative correlating sub-
δ
region indicates a spot shift from one area to another. Additionally, the e) presence of the super-
δ
negative correlating region indicates that a change of spot shape also occurs. When the p53-
δ
spots are larger and diffuse then the patient is classified as M0, M1 or M2. If the spots in the
δ
region are clear articulated and smaller, the patient is either M4 or M5. None of the above correlations are strong (
r
= 0.25 using the stringent Spearman rank order correlation). Nonetheless they can be observed in the 2DE images, which means that they can form an important tool in stratification of patients. Based on these correlation measurements, we performed further tests to verify and confirm the relation between mass-differences and the FAB classification (See section Intra-image correlations and [see
Additional file 2
]). The presented correlation includes M3, a distinct subgroup of AML with signs of granulocytic differentiation, featuring the translocation t(15;17) and responsiveness to retinoic acid therapy [
32
]. FAB M3 is therefore a separate entity in the recent WHO classification [
43
]. The correlations were weaker when M3 was removed (data not shown), which suggests that it is the pre-neutrophile granulocytic differentiation stage of M3 that comprises a distinct p53 isoform profile from M0/1 p53, thereby contributing to a greater splitting of the patients into subgroups.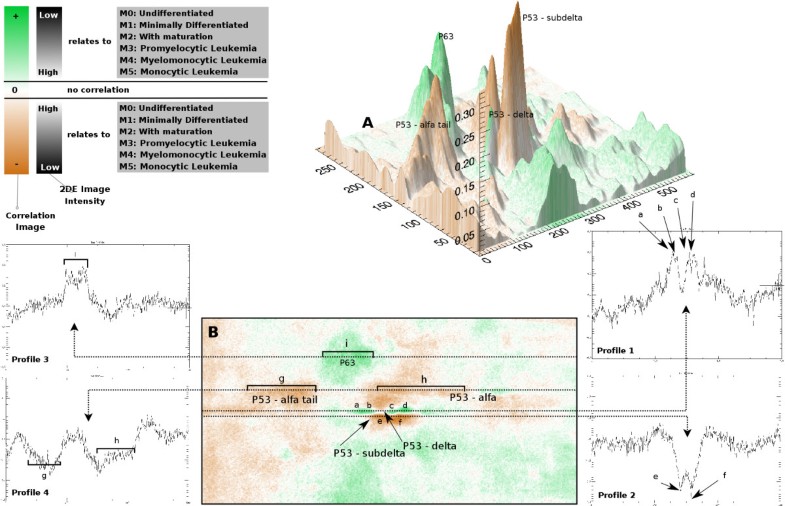 Conclusion
The presented results demonstrated that the correlation method can provide valuable information about complexly regulated proteins in biological systems. The analysis technique can be used to measure and visualize relations between 2DE images and external (biological) variables. The correlation image is calculated based on an aligned stack of 2DE images. The resulting image can be naturally interpreted and offers information that might otherwise be unavailable (such as relevant changes in spot shape). The technique is robust, general applicable to different object types (tails, spots, areas), and allows a natural amount of spot location jitter. We also investigated calibration factors and it turned out that normalization factors barely influence the analytical power of the method.
The correlation analysis of p53 biosignatures on AML and ALL cancer cells illustrated that the method can measure relations involving the overall intensity of the biosignature. The novel findings of ALL- and AML-specific p53 bioprofiles were verified on normal cells from the lymphoid and myeloid lineages. The positive correlation for full-length and δ- p53 in ALL was reflected by the presence of these p53 forms in lymphocytes, while these p53 forms were absent in the myeloid granulocytes. This analysis of normal cells suggest that the p53-distinction between ALL and AML is correct.
A second analysis illustrated that the correlation method differentiates between different protein isoforms. The relation between p53 biosignature and the AML FAB classification was more complex, which allowed us to explain how intra-image relations could answer specific questions. Doing so, we observed that a mass-difference in the p53 biosignature correlated strongly towards the FAB classification, suggesting that post-translational modifications of P53 relate to AML differentiation.
Future development of the method could include adjustments and corrections for hardware-parameters such as camera warping and different kinds of noise. Canonical correlations could be used to integrate information offered by similar neighboring correlation pixels [48, 49]. It could also be possible to insert clustering algorithms to pseudo-color the final image or use image segmentation algorithms to classify areas automatically [50, 51]. In its present form we believe the method provides a valuable tool to explore and analyze complex biosignatures and responses from signaling networks.
Availability and requirements
Project name: 2DE Correlation Analysis
Project home page: http://bio4.itek.norut.no/coradd06/
Operating system(s): Platform independent
Programming language: IDLv6.1 [60]
License: All licensing inquiries should be directed towards TTO Nord AS (Forskningsparken, 9294 Tromsø, Norway. Phone: +47 776 29418). The method can be freely used in academic environments. The source material [see Additional file 5] includes correlation analysis, image coloring, Gaussian bumps and the simulated images. A user friendly version of the software is being developed at http://www.sigtrans.org/2dgels.
Abbreviations
A :

Capital letters are used to denote image matrices. An image is an element of ℝw × h. w and h are the width and height of the image.
ALL:

acute lymphoblastic leukemia
AML:

acute myeloid leukemia
2DE:

two-dimensional gel electrophoresis
FAB:

The standardized French-American-British AML differentiation classification.
Declarations
Acknowledgements
The expert help of Nancy Gerits in preparing this manuscript and the expert technical assistance of Siv Lise Bedringaas, Steinar Sørnes and Stein-Erik Gullaksen is highly appreciated. This study was supported by The National Program for Research in Functional Genomics in Norway (FUDGE grant no. 151859) at The Research Council of Norway, Innovation Norway and a Norut IT intramural grant.
Authors' Affiliations
(1)
Bioinformatics Group, Norut IT, Research Park Tromsø, Tromsø, Norway
(2)
lnstitute of Medicine, Hematology Section University of Bergen, Bergen, Norway
(3)
Earth Observation Group, Norut IT, Research Park Tromsø, Troms0, Norway
(4)
Department of Internal Medicine, Hematology Section Haukeland University Hospital, Bergen, Norway
Copyright
© Van Belle et al; licensee BioMed Central Ltd. 2006
This article is published under license to BioMed Central Ltd. This is an Open Access article distributed under the terms of the Creative Commons Attribution License (http://creativecommons.org/licenses/by/2.0), which permits unrestricted use, distribution, and reproduction in any medium, provided the original work is properly cited.