Methodology article

Open Access
Determination of strongly overlapping signaling activity from microarray data
BMC Bioinformatics
2006
7:99
Received: 22 September 2005
Accepted: 28 February 2006
Published: 28 February 2006
Abstract
Background
As numerous diseases involve errors in signal transduction, modern therapeutics often target proteins involved in cellular signaling. Interpretation of the activity of signaling pathways during disease development or therapeutic intervention would assist in drug development, design of therapy, and target identification. Microarrays provide a global measure of cellular response, however linking these responses to signaling pathways requires an analytic approach tuned to the underlying biology. An ongoing issue in pattern recognition in microarrays has been how to determine the number of patterns (or clusters) to use for data interpretation, and this is a critical issue as measures of statistical significance in gene ontology or pathways rely on proper separation of genes into groups.
Results
Here we introduce a method relying on gene annotation coupled to decompositional analysis of global gene expression data that allows us to estimate specific activity on strongly coupled signaling pathways and, in some cases, activity of specific signaling proteins. We demonstrate the technique using the Rosetta yeast deletion mutant data set, decompositional analysis by Bayesian Decomposition, and annotation analysis using ClutrFree. We determined from measurements of gene persistence in patterns across multiple potential dimensionalities that 15 basis vectors provides the correct dimensionality for interpreting the data. Using gene ontology and data on gene regulation in the Saccharomyces Genome Database, we identified the transcriptional signatures of several cellular processes in yeast, including cell wall creation, ribosomal disruption, chemical blocking of protein synthesis, and, criticially, individual signatures of the strongly coupled mating and filamentation pathways.
Conclusion
This works demonstrates that microarray data can provide downstream indicators of pathway activity either through use of gene ontology or transcription factor databases. This can be used to investigate the specificity and success of targeted therapeutics as well as to elucidate signaling activity in normal and disease processes.
Keywords
Gene OntologyMarkov Chain Monte CarloSingular Value DecompositionTranscriptional SignatureTranscription Factor Analysis
Background
Many diseases develop because of errors in signaling, and newer therapeutics specifically target proteins involved in cellular signaling [1, 2]. However, these therapies are not always effective [3], and the reason for failure, whether inherent poor interaction or complex cellular response, is unknown. In order to understand the development of disease and drug resistance in these cases, the recovery of the process that led to the specific cellular malfunction must be identified. Such errors generally involve the cellular signaling networks that control cell growth, differentiation, apoptosis, and motility [4, 5]. Because of the extreme underlying biological complexity of these pathways, diseases that involve errors in signaling processes arise from a myriad of different cellular malfunctions, for example in cancers [6, 7] and diabetes [8, 9]. It is from this complex background that functional genomics attempts to glean insight to improve our understanding of diseases.
One of the major uses of microarrays has been elucidation of gene expression in cancer, often focused on refining cancer identification using computational and statistical approaches [10–12]. In addition, the discovery of biomarkers in the form of differential levels of production of mRNA has been a focus in a number of studies [13–15]. The fact that determination of the mRNA levels of a single gene is easier than using an entire array has driven the shift to the use of arrays to generate potential biomarkers, so that the expression levels of these individual genes can be screened for in a more economical way (see, for example, [16]). For diabetes, microarrays have been used to elucidate gene expression in both type I and type II diseases, and customized chips targeting genes of interest have been developed [17].
Many tools for statistical inference, pattern recognition, and data mining have been developed for microarray data analysis. Statistical tests include SAM [18], VERAandSAM [19], ANOVA techniques [20, 21], Bayesian approaches [22, 23], and rank tests [24]. Pattern recognition and data mining techniques comprise both unsupervised techniques, such as hierarchical clustering [25], singular value decomposition [26], multidimensional scaling [27], Bayesian mixture models [28, 29], and other clustering methods [30–34], and supervised techniques, such as support vector machines [35] and artificial neural networks [36], (for a review see [37]).
While these techniques are useful, they have certain limitations as regards more advanced uses in the elucidation of mechanisms operating in diseased tissues. New therapeutics specifically target proteins involved in cellular signaling [1–3, 38–40]. As noted above, these therapies are not always effective, and a method to understand the reason for their ineffectiveness is highly desirable. If the failure modes for the targeted therapeutics are understood, new therapeutics can be designed or combination therapies undertaken. In addition, to design new therapies that work alone or in combination with other therapies, an understanding of signaling networks is required. Microarray measurements can provide insight into these issues.
Unfortunately, the recovery of pathway information from transcriptional data requires complex analysis, since signaling protein activity is not generally linked to the mRNA expression levels of genes encoding the signaling proteins themselves [41], nor are protein levels tightly coupled to transcript levels even in yeast [42, 43]. This makes it impossible to directly link an increase in mRNA expression of the gene encoding a signaling protein, such as the therapeutic target, with activity of the protein and therefore of the signaling pathway. Instead, an analysis must treat changes in mRNA levels as downstream indicators of activity.
An important issue to resolve in order to correctly interpret patterns in microarray data is the underlying dimensionality of the data, since statistical analysis of genes in groups relies on correct separation. The dimensionality provides an estimate of the number of patterns required to explain the variation in the data not related to noise, which is equivalent to the number of basis vectors required mathematically to describe the data or the number of principal components required to span the data.
We present here a new application of Bayesian Decomposition [
44
–
48
] and ClutrFree [
49
] that estimates dimensionality by measuring the consistency of assignment of genes to patterns. With this approach, transcriptional signatures are linked to signaling activities through gene ontology [
50
] using the MIPS database [
51
] and through analysis of transcription factor activity [
52
]. We demonstrate this technique on the Rosetta deletion mutant dataset [
53
], which is a compendium of genome-wide transcription measured for 6300 genes across 300 conditions (mostly deletion mutants, but some chemical treatments). Figure
1
details the workflow of our analysis. Previous studies of the compendium were performed using hierarchical clustering [
53
], non-negative matrix factorization [
54
], and Bayesian Decomposition [
44
]. The dimensionality of the data was estimated in various ways in these studies leading to estimates from 7 to 50 dimensions.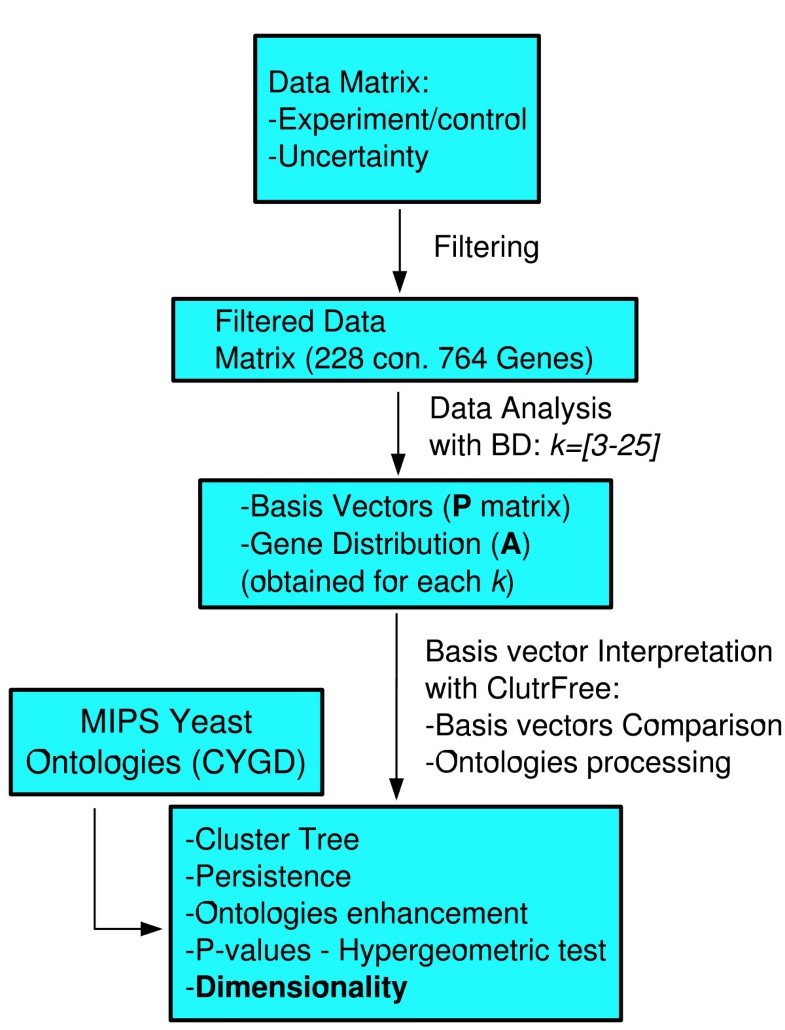 Discussion
Microarrays and GeneChips™ have become the tools of choice for the investigation of genome-wide transcription in most biological systems. The resulting data comprises noisy estimates of transcription levels for roughly 6,000 genes in yeast to more than 20,000 genes in typical mammalian studies. Numerous statistical and data mining methods have been applied to this data in order to identify individual genes showing differential expression, to identify patterns related to physiological states, and to identify groups of genes comprising biological processes. These studies generally have not focused on the estimation of cellular signaling from the data, despite the prevalence of cellular signaling in many diseases.
As noted in the introduction, the recovery of signaling pathway information from transcription data requires complex analysis, since protein levels do not correlate well with mRNA levels and signaling protein activity is not generally linked to the mRNA expression levels of genes encoding the signaling proteins themselves. As such, changes in mRNA levels are limited to being a downstream indicator of activity. If a complete model for the transcription of genes, including all known transcriptional regulators and biological processes regulating transcription, was available, the inference of activity would be straightforward. Unfortunately, the network models and even gene annotations are still far from being complete. In addition, the growing evidence supporting the important role of non-coding RNAs in regulation of gene expression (including antisense transcripts and micro-RNAs, see for example [63–65]) further undermines the potential of using mRNA species as markers for proteins and their activities [66].
In order to overcome this incompleteness, we have created the method described here. We couple identification of transcriptional signatures with our Bayesian Decomposition algorithm to a consistency analysis for gene assignment to patterns determined by comparison of different dimensionalities using ClutrFree. This allows the identification of the correct dimensionality to be applied to subsequent ontology and transcription factor analyses. ClutrFree is also used to determine the ontological terms enhanced within each pattern and to obtain a list of genes tied to this pattern, which can then be linked to specific transcription factors. In this way, the biological processes associated with conditions can be identified, and inferences can be made on the activity of specific transcription factors. This then allows inference on the activity of signaling pathways, which cannot be obtained with methods previously applied to microarray data. Overall, the method requires many separate steps, each modeling an aspect of the biological system, in order to make proper inferences on signaling from the data.
In the application to the Compendium data presented here, our analysis was able to extract the common features for a set of mutants that eliminated related pathways. As in previous studies, the global transcriptional repressor complex Ssn6-Tupl has been isolated in a single group. In addition, patterns for cell-wall synthesis, ribosomal function, and the global functions necessary for continued viability of yeast were isolated. In contrast to previous analyses of this data, two pathways related to the MAPK cascade were isolated, one related to mating and the other to filamentation. Once the correct dimensionality was determined, Bayesian Decomposition was able to identify transcriptional signatures unique for each pathway. The assignment was validated by an investigation of the deletion mutants known to adversely affect these pathways.
Conclusion
Microarray studies have been widespread in biological and medical research, often focusing on identification of genes significantly correlated with various disease states. However, many diseases arise from disruptions in cellular signaling, and in these cases gene expression only provides a downstream indicator of signaling activity. This greatly complicates the analysis. The new approach introduced here recovered signatures allowing us to make validated inferences on strongly overlapping signaling pathways.
The results demonstrate that for Saccharomyces cerevisiae, the mating and filamentation pathways can be distinguished from transcriptional signatures determined from analysis of microarray data, despite the intrinsic high noise, confounding transcriptional activity, and tightly coupled nature of the pathways. The next step will be to apply these methods to more complex signaling networks in worms, flies, and mammals.
Declarations
Acknowledgements
We thank the National Institutes of Health, National Library of Medicine (LM008309 to mfo) and National Cancer Institute (CCCG CA06927 supporting mfo), and the Pennsylvania Department of Health (grant to mfo). JMC and KS acknowledge the support from the Réseau National des Génopoles (RNG).
Authors' Affiliations
(1)
Fox Chase Cancer Center, Philadelphia, USA
(2)
Structural and Genomic Information Laboratory, UPR2589-CNRS, Marseille, France
(3)
Center for Bioinformatics, Department of Genetics, University of Pennsylvania School of Medicine, Philadelphia, USA
Copyright
© Bidaut et al; licensee BioMed Central Ltd. 2006
This article is published under license to BioMed Central Ltd. This is an Open Access article distributed under the terms of the Creative Commons Attribution License (http://creativecommons.org/licenses/by/2.0), which permits unrestricted use, distribution, and reproduction in any medium, provided the original work is properly cited.