Improving the Performance of SVM-RFE to Select Genes in Microarray Data
BMC Bioinformatics
2006
7(Suppl 2):S12
Published: 26 September 2006
Abstract
Background
Recursive Feature Elimination is a common and well-studied method for reducing the number of attributes used for further analysis or development of prediction models. The effectiveness of the RFE algorithm is generally considered excellent, but the primary obstacle in using it is the amount of computational power required.
Results
Here we introduce a variant of RFE which employs ideas from simulated annealing. The goal of the algorithm is to improve the computational performance of recursive feature elimination by eliminating chunks of features at a time with as little effect on the quality of the reduced feature set as possible. The algorithm has been tested on several large gene expression data sets. The RFE algorithm is implemented using a Support Vector Machine to assist in identifying the least useful gene(s) to eliminate.
Conclusion
The algorithm is simple and efficient and generates a set of attributes that is very similar to the set produced by RFE.
Keywords
Support Vector Machine
Simulated Annealing
Acute Lymphoblastic Leukemia
Support Vector Machine Classifier
Prediction Rate
Background
In many machine learning applications, a prediction is to be made from a data set of historical information. Gene expression data sets have been constructed with the goal of predicting whether or not disease is present (e.g. colon cancer), or which type of disease exists in the patient. One of the primary difficulties in working with gene expression data sets is the large number of attributes (genes). A major focus of gene expression analysis is in the area of feature selection or dimension reduction. Most of the algorithms for elucidating models for prediction are less effective when the number of genes is too large. There are many approaches for reducing the size of the feature set, and among them is recursive feature elimination (RFE). The idea of RFE is to start with all features, select the "least useful" feature (using some metric or heuristic), remove that feature, and repeat until some stopping condition is met. There are many variations of RFE based on how the feature to be removed is selected, and when to stop.
RFE is well-studied for use in gene expression studies [1–3]. Finding an optimal subset of features is combinatorially prohibitive, so RFE reduces the complexity of feature selection by being "greedy". That is, once a feature is selected for removal, it is never reintroduced. Most studies have found RFE to select very good gene sets, but with 12000 or more genes to select from, when the number of samples (patients) is large, RFE takes considerable computation time. Recursive feature elimination is extremely computationally expensive when only one least useful feature is removed during each iteration. A modified version of RFE, RFE-Annealing, is proposed here, aimed at greatly reducing the computational time required to perform the RFE ranking process while maintaining comparable performance with respect to prediction accuracy. Instead of removing only one feature at a time, RFE-Annealing removes a set of features each time, with the number of features removed decreasing in each iteration. As its name implies, the process is similar to the well-known method of simulated annealing [4–6].
Simulated annealing has its roots in metallurgy and thermodynamics. Annealing is used in metallurgy to create materials with fewer defects. In thermodynamics, annealing is used to find an optimal state which has minimum energy. The basic process has two steps: heat to a high temperature and then cool very slowly. The annealing schedule, which is the heart of the process, defines how to reduce the temperature during the cooling phase. Simulated annealing is a metaheuristic (not problem specific) that is used in many combinatorial optimization problems. Combinatorial search techniques have difficulty distinguishing between local minima (or maxima) and global minima (or maxima). Simulated annealing is used in a search by selecting a random state to start and using the annealing schedule to guide the search. Early in the search there is a higher probability of making a move in the search space to a solution that is worse than the one before. This is appropriate since the initial solution was random and the optimal solution may be far off. As the search proceeds, the probability of making a move to a worse solution is decreased slowly. The temperature decrease corresponds to the decreasing probability of moving to a worse solution. RFE-Annealing uses the annealing schedule idea to remove a large number of genes in the initial iterations (when it is easy to identify unimportant genes). In later iterations, the number of genes removed is reduced so that important genes are not removed. The simple schedule of removing

of the remaining genes during iteration i is used. That is, half are removed in the first iteration, one-third in the second, one-fourth in the third, and so on. Details of the algorithm can be found in the Methods section.
Vladimir Vapnik invented Support Vector Machines (SVMs) in 1979 [7]. SVMs often achieve superior classification performance compared to other learning algorithms across most domains and tasks. They are efficient enough to handle very large-scale classification in both number of samples and number of variables [8]. SVMs are generated in two steps. First, the data vectors are mapped to a high-dimensional space. Second, the SVM tries to find a hyperplane in this new space with maximum margin separating the classes of data. Sometimes it is not possible to find a separating hyperplane even in a very high-dimensional space. In this case, a trade-off is introduced between the size of the separating margin and penalties for every vector that is within the margin [9]. The margin denotes the distance from the boundary to the closest data point in the feature space.
In its simplest, linear form, a SVM is a hyperplane that separates two classes of examples (postive and negative) with maximum margin (see Figure
1
). The SVM creates and outputs a weight vector, where each dimension (feature) is assigned a weight. The weight vector is used to determine the least important feature, which is defined to be the one with the
smallest
weight in the weight vector. The least important feature is selected for removal in each iteration of the recursive feature elimination procedure.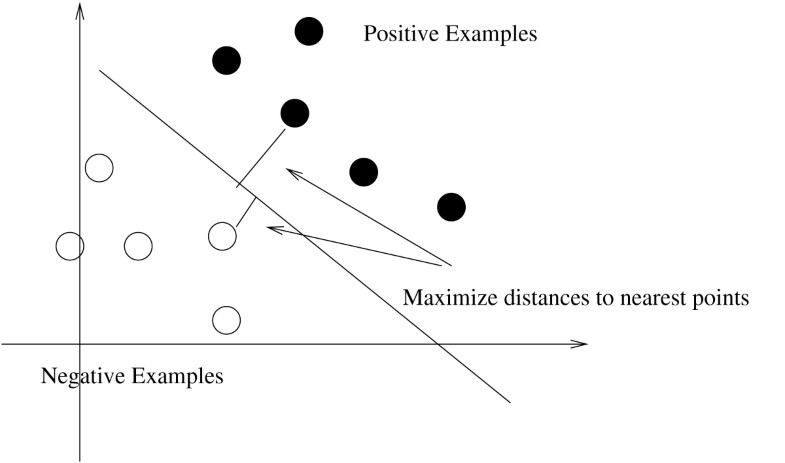 Results and Discussion
Biological analysis
In order to investigate the biological meaning of the selected important genes in the SJCRH data, table
2
shows the pathways derived from NetAffx [
13
] to which the 200 genes selected by the algorithms belong. RFE and RFE-Annealing are very similar in the pathways represented by the genes selected. The primary differences are between SQRT-RFE and the other two algorithms. The pathways "Calcium regulation in cardiac cells", "G Protein Signaling", "Inflammatory Response Pathway", "Inositol Phosphate metabolism", and "Smooth muscle contraction" have the least consistency.
Table 2
Pathways associated with the selected genes in SJCRH data
| Pathway | RFE | RFE- Annealing | SQRT-RFE |
| --- | --- | --- | --- |
| Apoptosis | 2 | 2 | 2 |
| Apoptosis_GenMAPP | 3 | 3 | 3 |
| Apoptosis_KEGG | 2 | 2 | 2 |
| Arginine and proline metabolism | 2 | 2 | 2 |
| Biosynthesis of steroids | 1 | 1 | 1 |
| Calcium signaling pathway | 19 | 18 | 17 |
| Calcium_regulation_in_cardiac_cells | 6 | 4 | 4 |
| Cell_cycle_KEGG | 8 | 8 | 9 |
| Cholesterol_Biosynthesis | 1 | 1 | 1 |
| Circadian_Exercise | 2 | 2 | 2 |
| DNA_replication_Reactome | 0 | 0 | 1 |
| Electron_Transport_Chain | 1 | 1 | 1 |
| Fructose and mannose metabolism | 1 | 1 | 1 |
| Gl_to_S_cell_cycle_Reactome | 6 | 6 | 7 |
| G_Protein_Signaling | 6 | 4 | 4 |
| Galactose metabolism | 1 | 1 | 1 |
| Glutathione metabolism | 1 | 1 | 1 |
| Glycerolipid metabolism | 1 | 1 | 1 |
| Glycerophospholipid metabolism | 3 | 3 | 3 |
| Glycine, serine and threonine metabolism | 2 | 2 | 2 |
| Glycolysis/Gluconeogenesis | 1 | 1 | 1 |
| Glycolysis_and_Gluconeogenesis | 1 | 1 | 1 |
| GPCRDB_Class_A_Rhodopsin-like | 0 | 1 | 0 |
| Hypertrophy _model | 1 | 1 | 1 |
| Inflammatory_Response_Pathway | 1 | 1 | 4 |
| Inositol phosphate metabolism | 4 | 4 | 0 |
| Integrin-mediated_cell_adhesion_KEGG | 4 | 4 | 4 |
| MAPK_Cascade | 1 | 1 | 1 |
| mRNA_processing_Reactome | 2 | 2 | 3 |
| Nicotinate and nicotinamide metabolism | 1 | 1 | 1 |
| Ovarian_Infertility_Genes | 3 | 3 | 3 |
| Oxidative phosphorylation | 1 | 1 | 1 |
| Pentose phosphate pathway | 1 | 1 | 1 |
| Phosphatidylinositol signaling system | 4 | 4 | 3 |
| Prostaglandin_synthesis_regulation | 1 | 0 | 1 |
| Proteasome_Degradation | 1 | 1 | 1 |
| Purine metabolism | 3 | 2 | 2 |
| Pyrimidine metabolism | 2 | 2 | 2 |
| Smooth_muscle_contraction | 12 | 10 | 10 |
| Statin_Pathway_PharmGKB | 0 | 0 | 1 |
| TGF_Beta_Signaling_Pathway | 4 | 4 | 4 |
| Terpenoid biosynthesis | 1 | 1 | 1 |
| Type I diabetes mellitus | 4 | 5 | 5 |
| Ubiquitin mediated proteolysis | 2 | 2 | 2 |
| Urea cycle and metabolism of amino groups | 2 | 2 | 2 |
| Wnt_signaling | 3 | 3 | 2 |
Conclusion
In general, RFE-Annealing allows an enormous increase in the efficiency of the algorithm without a decrease of classification accuracy. Thus the gene selection process is made much more practical in domains with a large number of features, such as gene expression data. This improvement is especially important as the number of samples available increases.
Methods
SVM-RFE-Annealing
Guyon introduced Recursive Feature Elimination (RFE) for Support vector machines (SVM) in [1]. SVM-RFE performs feature selection by iteratively training a SVM classifier with the current set of features and removing the least important feature indicated by the SVM [14]. In the linear case, the separating hyperplane (decision function) is D (

) = (

) + b. The feature with the smallest weight w2 contributes the least to the resulting hyperplane and can be discarded. Due to the heavy computational cost of RFE, several variants have been introduced to speed up the algorithm. Instead of removing only one least important feature at every iteration, removing a big chunk of features in each iteration will speed up the process. The goal is to remove more features during each iteration, but not to eliminate the important features. SQRT-RFE removes

features at each step, where S is the number of remaining features in each iteration. Another variant is Entropy-based RFE (E-RFE) which eliminates features based on the structure of the weight distribution [2, 3]. An entropy function H is introduced as a measure of the weight distribution.
We introduced RFE-Annealing which eliminates larger sets of features at the beginning steps, but as the algorithm proceeds, the number of features removed is reduced in each step. The basic idea is: in the n th iteration, train a SVM on the active features and remove l/(n + 1) of least important features. This process continues until only m features are left, where m is a user defined variable. This method is simple and easy to implement.
Algorithm SVM-RFE-Annealing: (Variation of SVM-RFE [1])
Inputs:
Training examples
X0 = [x1, x2, ...x k , ...x l ]T
Class labels
y = [y1, y2, ....y k , ....y l ]T
Initialize:
Subset of surviving features
s = [l, 2, ...n]
Feature ranked list
r = []
Repeat until s = []
Restrict training examples to good feature indices
X = X0(:, s)
Train the classifier
α = SV M - train(X, y)
Compute the weight vector of dimension length(s)
w = Σ k α k y k X k
Compute the ranking criteria
c i = (w i )2, for all i
Find the feature with smallest ranking criterion
f = argmin(c)
Update feature ranked list
r = [S(f), r]
Eliminate the feature with smallest ranking criterion
s = s(l : f - 1, f + 1 : length(s))
end
end
Output:
Feature ranked list r.
Models
Data is split into training data and test data with proportion 80% training and 20% test (except the smaller Alon data, which is split with 75%/25%). As shown in Figure
7
, based on training data, a linear SVM is built. The implementation of SVM in Weka [
15
] was used for all testing. Genes with the smallest weight are removed iteratively, according to the gene selection algorithms (RFE, RFE-Annealing and SQRT-RFE). We will have
m
genes left, where
m
is a user defined parameter, and the ranking of genes is based on the order they are removed. If
m
= 0, we will get the ranking of all of the genes. The user can select the
m
most important genes and build a SVM classifier based on the training data. The SVM is then run on the test data and an estimated prediction accuracy rate is obtained. Since running the RFE algorithm on large data sets like the SJCRH data takes more than 50 hours, this train/test process was performed only once on each data set. The algorithms are deterministic, so the accuracy is fixed for the particular train/test split used. The machine was unloaded except for the particular program being tested, so the time estimates are relatively stable.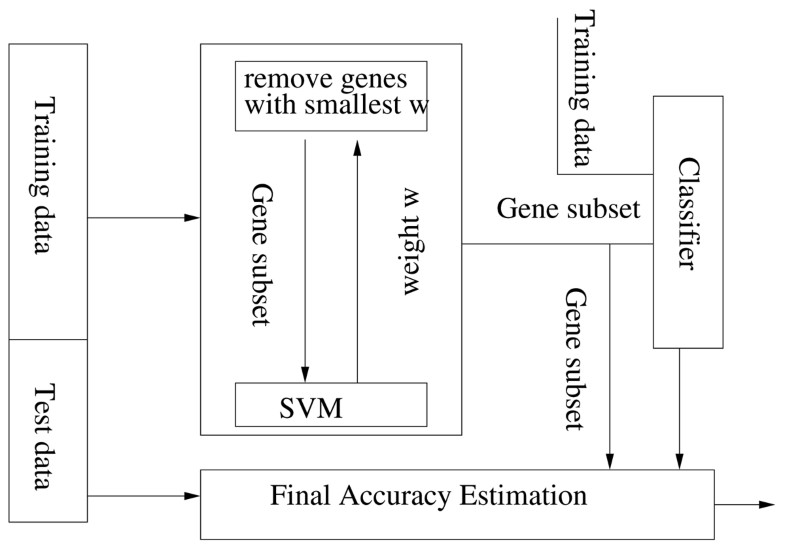 In our experiments, we let m = 1, 2, ...200 for the SJCRH and Bhattacharjee data sets and m = 1, 2, ....50 for the Alon data, since the Alon data only had 2000 genes initially and the other two had more than 12,000 genes.
In order to test the performance of the RFE-Annealing algorithm, for each m, m genes were selected by RFE, SQRT-RFE and RFE-Annealing respectively, and the SVM models were built and the prediction rates on the test data were compared. The overall process is explained in the diagram in Figure 7.
Declarations
Acknowledgements
This project was funded in part by NIH grant R01-AI049770-03. We thank the participants of MCBIOS 2006, and the anonymous referees for their suggestions.
Authors' Affiliations
(1)
Computer & Information Science Department, The University of Mississippi, University, USA
Copyright
© Ding & Wilkins; licensee BioMed Central Ltd. 2006
This article is published under license to BioMed Central Ltd. This is an open access article distributed under the terms of the Creative Commons Attribution License (http://creativecommons.org/licenses/by/2.0), which permits unrestricted use, distribution, and reproduction in any medium, provided the original work is properly cited.