Integrated olfactory receptor and microarray gene expression databases
BMC Bioinformatics
2007
8:231
Received: 12 December 2006
Accepted: 30 June 2007
Published: 30 June 2007
Abstract
Background
Gene expression patterns of olfactory receptors (ORs) are an important component of the signal encoding mechanism in the olfactory system since they determine the interactions between odorant ligands and sensory neurons. We have developed the Olfactory Receptor Microarray Database (ORMD) to house OR gene expression data. ORMD is integrated with the Olfactory Receptor Database (ORDB), which is a key repository of OR gene information. Both databases aim to aid experimental research related to olfaction.
Description
ORMD is a Web-accessible database that provides a secure data repository for OR microarray experiments. It contains both publicly available and private data; accessing the latter requires authenticated login. The ORMD is designed to allow users to not only deposit gene expression data but also manage their projects/experiments. For example, contributors can choose whether to make their datasets public. For each experiment, users can download the raw data files and view and export the gene expression data. For each OR gene being probed in a microarray experiment, a hyperlink to that gene in ORDB provides access to genomic and proteomic information related to the corresponding olfactory receptor. Individual ORs archived in ORDB are also linked to ORMD, allowing users access to the related microarray gene expression data.
Conclusion
ORMD serves as a data repository and project management system. It facilitates the study of microarray experiments of gene expression in the olfactory system. In conjunction with ORDB, ORMD integrates gene expression data with the genomic and functional data of ORs, and is thus a useful resource for both olfactory researchers and the public.
Keywords
Gene Expression Data
Sensory Neuron
Olfactory Bulb
Microarray Experiment
Olfactory Receptor
Background
The mammalian olfactory system, with its ability to detect numerous odor molecules in the environment, helps animals locate food, mates, and predators. The detection sensitivity and specificity largely depend on the olfactory receptors (ORs) expressed in the primary sensory neurons within the neuroepithelium in the nose [1]. In rodents, there are approximately 10 million sensory neurons expressing > 1000 different types of OR genes in each nostril [2]. Each neuron expresses only one specific OR, which exhibits an optimal response to specific odorants [3]. Axons from the sensory neurons that express the same OR converge onto one or a few glomeruli per olfactory bulb [4]. The expression patterns of OR genes and the unique projection of their sensory neurons provide a molecular basis for olfactory signal coding in the brain.
Diverse sets of data have resulted from olfactory research carried out at the cellular, functional and behavioral levels [5–9]. Since the first identification of rat OR genes in 1991, thousands of ORs have been found, some in tissues not associated with the olfactory system [10, 11]. Functional imaging in the olfactory bulb has produced two-dimensional "odor maps" (unique activity patterns) in the glomerular layer [12–14]. Three key databases in the SenseLab [ORDB (OR database), OdorDB (odor database) and OdorMapDB (odor map database)], housed at the Yale University School of Medicine, provide an integrated, multidisciplinary model for the olfactory pathway [15–18]. The information contained in these databases illustrates the chain of events that starts from the exposure of the animals to odorous environment, to the binding of odorant ligands with specific ORs, and to the resulting spatial activity patterns in the olfactory bulb.
Recent microarray studies using Affymetrix (Santa Clara, CA) gene-chips have resulted in the accumulation of a large amount of OR gene expression data. These data show the differential expression of OR genes in the olfactory and non-olfactory tissues [11]. Building an efficient microarray database specific for the ORs and integrating it with the SenseLab system has been challenging. There are many large-scale and well-established databases, e.g., ArrayExpress at the European Bioinformatics Institute [19], the Stanford Microarray Database [20], and the Gene Expression Omnibus (GEO) at the National Center for Biotechnology Information (NCBI) [21], for public data repositories of the microarray experiments. However, they do not fit the needs specific to the chemosensory research community, i.e., to have a domain-specific database integrated with the SenseLab system.
This paper describes the Olfactory Receptor Microarray Database (ORMD), an informatics tool dedicated to disseminating information related to rodent OR microarray experiments. Currently archived in the ORMD are gene expression data of ORs in the olfactory epithelium as well as other tissues. ORMD is integrated with ORDB (which relies on an architecture that is common to all databases in SenseLab), through dynamic link in the webpage for each OR. Both databases are designed to facilitate the experimental research on elucidating the mechanisms underlying perception of smell.
Discussion
This paper describes a database system for the storage and presentation of microarray gene expression data of olfactory receptors. The database is integrated with the olfactory databases in the SenseLab system. It is designed to facilitate experimental research in the olfactory field.
Database integration
Investigating how odor information is transduced and processed by the olfactory system is essential to our understanding of the sense of smell. In essence, SenseLab uses the olfactory system as a model to develop informatics tools to facilitate experimental neuroscience research. The OdorDB, ORDB, and OdorMapDB in SenseLab archive the odor types, ORs, and odor map images, respectively. These olfactory databases are integrated, allowing a clear description of the chain of events from the odor stimuli to the unique activity pattern in the brain.
SenseLab has been developed to be flexible. Its common architecture allows adding new databases and integrating with other systems [
22
]. ORMD, the creation and development of which is described in this study, is a database associated with olfaction that archives the OR gene expression data from microarray experiments. ORMD is linked to the ORDB in SenseLab through webpages providing genomic, proteomic and associated information for individual receptor genes (Figure
5
). Since they store different, yet complimentary, types of data, the links that integrate ORMD and ORDB are beneficial to both databases. Users of ORMD may have easy access to the SenseLab to request gene information (for which microarray experiments have been carried out) that includes the nucleotide sequence, protein sequence, and odorant ligands known to interact (excite or inhibit) these ORs. On the other hand, users of ORDB may access microarray experiments and the related gene expression data for their OR gene of interest.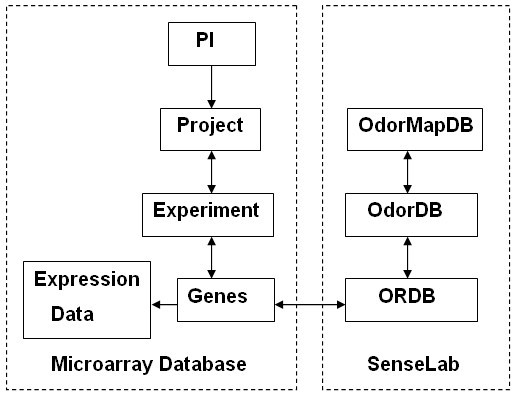 ORMD and ORDB differ not only in the type of data archived but also in the scope of user accessibility. ORDB is a knowledge-based database, with its content originating from published data. The data include the "normal" genetic information of the receptors in a given species. The volume of the ORDB grows as investigators identify new genes or extend their research into new species. On the other hand, ORMD archives gene expression data from diverse microarray experiments, dependent on tissue source and affected by biological or disease conditions. Whereas ORDB primarily provides a resource to the research community and general public (though facilities for private storage of cloned OR gene data prior to publication or deposition into GenBank exists), ORMD provides a data repository, management and sharing tool for researchers with user accounts and also allows public access to dedicated datasets.
Informatics tools for experimental olfactory research
The eventual utility of both ORDB and ORMD in olfactory research will be evident as the microarray approach is increasingly used to investigate the gene expression patterns of ORs in the olfactory system [11, 25]. Receptor genes archived in ORDB are characterized by their sequences, species, chromosome locations, etc. The expression of the receptor genes, however, depends on species, developmental stage, and tissue source. Strong expression of some genes in certain regions may help researchers uncover the relationships between animal behaviors and the stimulating odor types. Since the OR gene family contains hundreds to thousands of members in each species, the gene-chip approach provides a high-throughput, combinatorial, and powerful tool to examine the expression of the identified genes in the species simultaneously. The integrated olfactory databases described in this paper help archive and present large amounts of gene expression data, thus facilitating experimental research in understanding the molecular mechanism underlying olfactory detection and discrimination.
ORs have also been found in many other organs, such as testes, liver, and spleen. For example, the olfactory receptor hOR17-4 is found in human spermatogenic cells and may play a role in chemical communication between sperm and egg [26]. The expression of olfactory receptors in non-olfactory tissues may be due to the fact that the ORs are members of a superfamily of membrane receptors known as G-protein-coupled receptors [27]. Although the functions of ORs in other body organs remain elusive, a comprehensive investigation of ORs using microarray techniques will enhance our understanding of signal transduction in biological systems beyond olfaction.
A generic data management system
Although ORMD is currently a data depository and management system for Affymetrix gene-chip data, it can serve as an open-source database easily adapted to house other types of microarray data. Many journals require that published microarray data conform to the MIAME Consortium. ORMD primarily serves as a private data repository, not as a portal for publication of experimental results. Although the database does not enforce the requirements set by the Consortium for private data, it allows owners to annotate the data made public according to the MIAME checklist. In general, storing good quality data always remains a high priority from system administrative as well as scientific points of view. It will be helpful that a workgroup of account users recommend and enforce the MIAME compliance as a requirement for all data made accessible to the public.
As an informatics tool, ORMD is a secure management system for microarray projects and experiments. It can be used to facilitate microarray studies in olfactory as well as other systems. The authenticated login to access the private data and the regular backup of the database ensure security of the system and protection of the data.
Conclusion
We have described the development of ORMD and its integration with the established OR gene database ORDB. ORDB provides information on the receptor genes and proteins, while ORMD provides microarray gene expression data of the ORs. These databases include hyperlinks that connect the genes and their expression data. Together, they provide a resource for researchers using different investigative approaches to understand how mammalian organisms perceive odors.
Availability and requirements
Project name: ORMD
Project home page: http://neurolab.med.yale.edu/ormd/
ORDB home page: http://senselab.med.yale.edu/ORDB/
Operating system(s): Platform independent
Programming language: SQL, Java
Other requirements: Access to Oracle database
License: The SQL schema is freely available from the website
Any restrictions to use by non-academics: None
Declarations
Acknowledgements
The work was supported by NIH grants K22LM008422, T15LM07056, P20LM07253, P01DC04732 and R01DC06213. The authors thank Dr. Rixin Wang and Ms. Jin Yang for technical support and Mr. George Michel for critical reading of the manuscript.
Authors' Affiliations
(1)
Center for Medical Informatics, Yale University School of Medicine, New Haven, USA
(2)
Department of Anesthesiology, Yale University School of Medicine, New Haven, USA
(3)
Department of Neurobiology, Yale University School of Medicine, New Haven, USA
(4)
Department of Neuroscience, University of Pennsylvania School of Medicine, Philadelphia, USA
(5)
Department of Genetics, University of Alabama at Birmingham, Birmingham, USA
Copyright
© Liu et al; licensee BioMed Central Ltd. 2007
This article is published under license to BioMed Central Ltd. This is an Open Access article distributed under the terms of the Creative Commons Attribution License (http://creativecommons.org/licenses/by/2.0), which permits unrestricted use, distribution, and reproduction in any medium, provided the original work is properly cited.