Research article

Open Access
Reuse of structural domain–domain interactions in protein networks
BMC Bioinformatics
2007
8:259
Received: 23 February 2007
Accepted: 18 July 2007
Published: 18 July 2007
Abstract
Background
Protein interactions are thought to be largely mediated by interactions between structural domains. Databases such as i Pfam relate interactions in protein structures to known domain families. Here, we investigate how the domain interactions from the i Pfam database are distributed in protein interactions taken from the HPRD, MPact, BioGRID, DIP and IntAct databases.
Results
We find that known structural domain interactions can only explain a subset of 4–19% of the available protein interactions, nevertheless this fraction is still significantly bigger than expected by chance. There is a correlation between the frequency of a domain interaction and the connectivity of the proteins it occurs in. Furthermore, a large proportion of protein interactions can be attributed to a small number of domain interactions. We conclude that many, but not all, domain interactions constitute reusable modules of molecular recognition. A substantial proportion of domain interactions are conserved between E. coli, S. cerevisiae and H. sapiens. These domains are related to essential cellular functions, suggesting that many domain interactions were already present in the last universal common ancestor.
Conclusion
Our results support the concept of domain interactions as reusable, conserved building blocks of protein interactions, but also highlight the limitations currently imposed by the small number of available protein structures.
Keywords
Protein Interaction
Domain Interaction
Protein Interaction Network
Protein Pair
Experimental Interaction
Background
One way to understand a protein's function is to look at its composition of conserved domains. Such families of related sequence regions, collected in the Pfam database [1], usually constitute structurally and functionally conserved modules. It is assumed that binding interfaces, too, are conserved evolutionary modules that are reused between proteins of different functions and retained during evolution [2, 3].
Therefore, domain–domain interactions are often regarded as the currency of protein–protein interactions. Based on this assumption, Ng et al. described an approach to predict domain–domain interactions using literature curation, evolutionary history and the distribution of domains in protein interactions [4]. Wuchty et al. compared the relationship between this set of predicted interacting domain pairs to the domain coocurrence network [5]. More recently, other groups have come up with sophisticated statistical methods to estimate putatively interacting domain pairs, based on the assumption of domain reusability [6–10]. However, none of these approaches offers structural evidence that the predicted domain pairs are able to form an interaction.
For complexes with known structure, it has been shown that domains can mediate interactions [11, 12]. Such interactions between pairs of domains are stored in the i Pfam database [13]. The structural evidence lends strong support to the inferred domain pair, resulting in a high confidence set of domain pairs.
Unfortunately, the selection of complexes in the PDB database of protein structures [14] is rather small and biased [15]. There is often only a single structure that shows a certain protein pair to interact, while other complexes like haemoglobin have been crystalized dozens of times. This makes it difficult to assess whether some domain pairs act as reusable modules in protein interactions from PDB data alone.
High-throughput experiments [16–18] and extensive literature curation efforts [19] have yielded large databases of protein interactions [20–24]. Despite the continuing growth of protein interaction databases, even the best studied protein interaction network of S. cerevisiae is thought to be incomplete and inaccurate [25–27]. Given that this network already comprises around 60000 interactions, questions arise as to how such networks have evolved and how they are organised. Furthermore, methods for assessing the quality of high-throughput experimental results are in high demand due to the error prone nature of the methods used.
In this study, we investigate how pairs of protein families taken from i Pfam are distributed in experimental protein interactions from five major model species. This allows us to address a number of questions: what proportion of each organism's protein interaction network, its interactome, can be attributed to a known domain–domain interaction? How conserved are domain–domain pairs between species, and how many interacting domain pairs are still unknown?
Conclusion
In this study, we addressed the utility of current knowledge about structural domain interactions in order to interpret experimental protein interactions. Disappointingly, only a small fraction of all experimental interactions can be attributed to a known domain interaction. Within this subset of interactions, we nevertheless made several reassuring observations: structural domain pairs are enriched in experimental protein interactions. Some of the domain pairs seem to mediate a large number of protein interactions, thus acting as reusable connectors. This property is also conserved between species. Taken as a whole, this further underlines that solving structures of protein complexes should be an important focus for future structural genomics projects. Targeting the most frequent domain pairs would increase the coverage of databases such as i Pfam, shedding more light onto the molecular mechanisms underpinning cellular networks.
Methods
Protein interaction data
The complete interaction sets from BioGRID [20], DIP [21], HPRD [22], IntAct [23] and MPact [24] were downloaded. A wide range of databases were used to cover as many distinct experimental data sets as possible. BioGRID for example contains a large manually curated set of protein interactions for S. cerevisiae [19]. Similarily, HPRD hosts a set of manually curated protein interactions for H. sapiens. IntAct on the other hand contains results from high-throughput screens and integrates data from other protein interaction databases as part of the IMEx collaboration. The MPact database combines the manually curated S. cerevisiae protein complexes data set formerly known as the MIPS complexes with other high-throughput interaction experiments data. Taken together, these databases represent most of the protein interactions currently stored in machine-accessible form.
Despite great efforts to unify access to protein interaction data [32], acquiring large data sets from diverse sources is still far from trivial and error prone. The PSI-MI XML data exchange format provided by the aforementioned databases was used to generate a local relational database of protein interactions. All entries were mapped to UniProt [33] by either relying on existing annotations from the source databases or by pair-wise sequence alignment to all UniProt proteins from the same species as the query protein. The direct sequence comparison was performed using pmatch, a very fast pairwise alignment algorithm developed by Richard Durbin (unpublished, source code available [34]).
Species
To allow cross-species comparisons, the data were split into five distinct species sets: E. coli, S. cerevisiae, C. elegans, D. melanogaster and H. sapiens. It should be noted that the proportion of proteins for which an interaction is known varies greatly between the species, see Table 1. This might affect the results if there is a systematic bias on the composition of a protein interaction set.
To prevent bias from multiple alternative versions of the same protein, all interacting proteins were mapped to reference proteomes as defined by Integr8 [35], again using pmatch. An average of ≈ 16% of interaction entries were lost in the mapping process, either if no sequence was provided with the original entry or if no significant matching sequence could be found in Integr8. The total number of missing proteins will be lower, as several entries from different databases refer to the same sequence.
iPfam
The
i
Pfam database is derived from protein structures deposited in the PDB. Regions in every protein structure that match a Pfam domain are scanned for interactions with residues in another Pfam domain. All such interacting domain pairs are stored in a database together with detailed information on the residues involved [
13
]. Every
pair
of Pfam families that are found to interact in a PDB structure are called an
iPfam domain pair
throughout the text. Single Pfam families that are part of an
i
Pfam domain pair are then called
iPfam domains
. For example, in PDB entry 1k9a the two
i
Pfam domains SH2 (Pfam accession PF00017) and Pkinase_Tyr (PF07714) interact, therefore they form an
i
Pfam domain pair. In this study,
i
Pfam version 21 was employed, containing 2837
i
Pfam domains, forming 4030
i
Pfam domain pairs. Figure
5
shows the species distribution of
i
Pfam domain pairs.
H. sapiens
,
E. coli
and
S. cerevisiae
are clearly over-represented compared to the other 1113 species with less than 179 complex structures. Some
i
Pfam domain pairs are seen to form interactions between distinct peptide chains in the structure (
interchain
), while others form an interaction between two distinct domains within the same chain (
intrachain
). In
i
Pfam version 21, there are 3407 interchain and 1171 intrachain domain pairs, which means that 548 domain pairs mediate both inter- and intrachain interactions. In this analysis, both types of domain interactions were used equivalently, assuming that intrachain interactions can become interchain interactions and
vice-versa
as a result of a gene-fission/fusion events.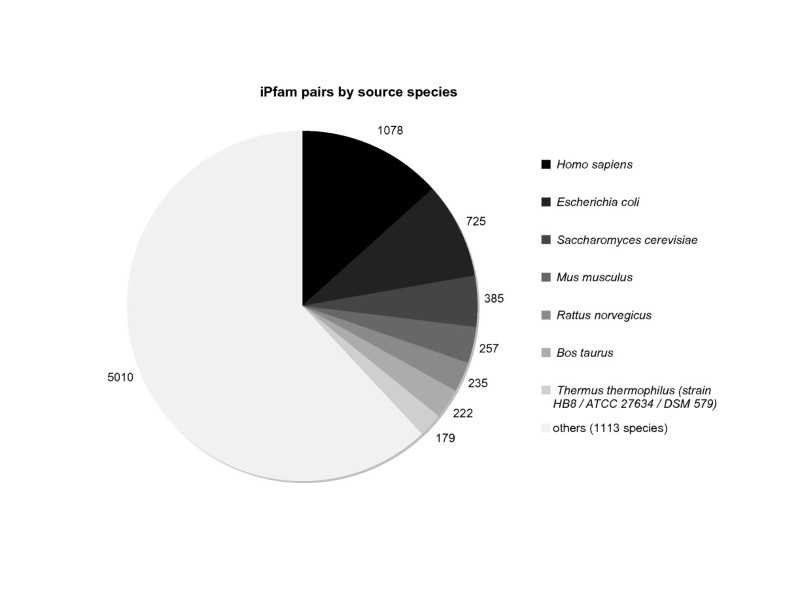 Filtering
There are many types of experiments used to derive protein interactions, with different properties and error rates. For this analysis, solely the properties of physically interacting proteins is of interest. Therefore, only interactions between exactly two proteins per experiment were considered. That means all protein complex data that were derived by co-purification methods were removed, unless a particular experiment had identified exactly two binding partners. All genetic interactions were also removed.
Random networks
Randomised protein interaction networks with identical degree distributions were generated from the original filtered experimental interaction data for each species. In each randomisation step, a mapping is created that assigns every node a randomly chosen replacement node. In this way the edges of the network remain in place, while the nodes are shuffled randomly. It should be noted that the degree distribution per node is not maintained. Instead, this behaviour simulates a network with a high false positive rate.
P values
P values for observations x were calculated as P(X ≥ x) = f(x; μ, σ), where f(x; μ, σ) is the probability density function of the normal distribution with mean μ and standard deviation σ. μ and σ are estimated through the randomisation experiments. The density function thus provides the probability that a value less than or equal to x is observed by chance, given the distribution estimated by a random resampling method. Where appropriate, the inverse probability P(X > x) = 1 - f(x; μ, σ) was applied.
Declarations
Acknowledgements
The authors thank Robert Finn for valuable comments and suggestions. We are grateful for the numerous detailed comments and suggestions by the anonymous reviewers. BSB and AB are funded by the Wellcome Trust.
Authors' Affiliations
(1)
Wellcome Trust Sanger Institute, Wellcome Trust Genome Campus, Hinxton, UK
Copyright
© Schuster-Böckler and Bateman; licensee BioMed Central Ltd. 2007
This article is published under license to BioMed Central Ltd. This is an Open Access article distributed under the terms of the Creative Commons Attribution License (http://creativecommons.org/licenses/by/2.0), which permits unrestricted use, distribution, and reproduction in any medium, provided the original work is properly cited.