Research article

Open Access
Accuracy of structure-based sequence alignment of automatic methods
BMC Bioinformatics
2007
8:355
Received: 04 June 2007
Accepted: 20 September 2007
Published: 20 September 2007
Abstract
Background
Accurate sequence alignments are essential for homology searches and for building three-dimensional structural models of proteins. Since structure is better conserved than sequence, structure alignments have been used to guide sequence alignments and are commonly used as the gold standard for sequence alignment evaluation. Nonetheless, as far as we know, there is no report of a systematic evaluation of pairwise structure alignment programs in terms of the sequence alignment accuracy.
Results
In this study, we evaluate CE, DaliLite, FAST, LOCK2, MATRAS, SHEBA and VAST in terms of the accuracy of the sequence alignments they produce, using sequence alignments from NCBI's human-curated Conserved Domain Database (CDD) as the standard of truth. We find that 4 to 9% of the residues on average are either not aligned or aligned with more than 8 residues of shift error and that an additional 6 to 14% of residues on average are misaligned by 1–8 residues, depending on the program and the data set used. The fraction of correctly aligned residues generally decreases as the sequence similarity decreases or as the RMSD between the C α positions of the two structures increases. It varies significantly across CDD superfamilies whether shift error is allowed or not. Also, alignments with different shift errors occur between proteins within the same CDD superfamily, leading to inconsistent alignments between superfamily members. In general, residue pairs that are more than 3.0 Å apart in the reference alignment are heavily (>= 25% on average) misaligned in the test alignments. In addition, each method shows a different pattern of relative weaknesses for different SCOP classes. CE gives relatively poor results for β-sheet-containing structures (all-β, α/β, and α+β classes), DaliLite for "others" class where all but the major four classes are combined, and LOCK2 and VAST for all-β and "others" classes.
Conclusion
When the sequence similarity is low, structure-based methods produce better sequence alignments than by using sequence similarities alone. However, current structure-based methods still mis-align 11–19% of the conserved core residues when compared to the human-curated CDD alignments. The alignment quality of each program depends on the protein structural type and similarity, with DaliLite showing the most agreement with CDD on average.
Keywords
Residue Pair
Alignment Accuracy
Reference Alignment
Shift Error
Test Alignment
Background
Accurate sequence alignments for homologous proteins are essential for constructing accurate motifs and profiles, which are used in motif- or profile-based protein function search models [1–3] and in building homology models[4, 5]. When sequence similarity is low, however, it is difficult to obtain the correct sequence alignment based on sequence similarity alone [3, 4]. Since it is well known that proteins can have similar structures even in the absence of any detectable sequence similarity, structural alignments have been used to guide sequence alignments and are used as the gold standard for sequence alignment evaluation [5, 6].
Many pairwise structure alignment programs have been developed, but their performance has often been measured by how well the programs reproduce an expert-curated structure classification, such as SCOP or CATH [7, 8]. It has been shown that some programs do not produce high quality individual alignments, as measured by geometric match measures such as SAS or GSAS, even when they perform well in classification tests [9]. It is also known that structure-based sequence alignments produced by different programs can be different even when the superimposed structures are similar [4, 5, 10–12]. Nonetheless, as far as we know, there is no report of a systematic evaluation of commonly used structural alignment programs in terms of the sequence alignment accuracy, perhaps because it has been difficult to find a fully human-curated and reasonably difficult reference alignment set [13, 14].
There are a number of sequence alignment databases that are augmented by structural alignments, including CAMPASS[15], HOMSTRAD[16], PALI[17, 18], DBAli[19], PASS2[20], CDD[21], SUPFAM[22], BAliBase[19], OXBench[23], PREFAB[24], SABmark[25] and S4[13]. The extent of similarity of the structures in these databases varies and so does the degree with which the alignments were curated by human experts after they were initially generated by automatic methods and/or imported from outside sources.
Zhu and Weng[26] used HOMSTRAD database to measure the performance of their structure alignment program, FAST, and reported an average accuracy of 96%, measured as the percentage of correctly aligned residues among all aligned residues in the reference alignment. But our study reported herein indicates that such high accuracy is generally not obtained unless the structures are highly similar.
In this study, we evaluate the accuracy of structure-based sequence alignments produced by seven pairwise structure alignment programs, using the human-curated sequence alignments from NCBI's CDD [21] as the standard of truth. This is an expert-curated database, built by importing sequence alignments from outside sources, which are manually modified by considering structure-based alignments. In addition to the family-level alignments, where protein sequences are highly similar, it also provides fully curated superfamily-level alignments, where sequence similarity is not so high[21].
Conclusion
The accuracy of the sequence alignments produced by 7 commonly used structure alignment programs was evaluated using the sequence alignments from NCBI's human-curated Conserved Domain database as the standard of truth and the "correctly" aligned fraction of residues as the alignment quality measure. These programs mis-align 11–19% of the conserved core residues on average for structure pairs in the same CDD root node but not in the same child node. DaliLite gave the best results among the programs tested. The alignment quality varied depending on the program used, on the protein structural type (SCOP Classes), and on the degree of sequence and structural similarity.
Methods
Reference alignment sets
Since CDD includes hundreds of families imported directly from outside sources, such as Pfam, COGs and SMART, we collected only the expert-curated CD (Conserved Domain) families, whose names always begin with "cd" [21]. There were 2,009 such CDs (CDD v.2.07 as of 04/04/2006) organized in a hierarchical manner: 285 singleton CDs (without children or parents), 146 CDs from root nodes, 1,440 CDs from terminal nodes, and 138 CDs from internal nodes (between root and terminal nodes in CD hierarchy). We selected 828 CDs with at least two 3D structures and, using cddalignview from the NCBI c++ toolkit, extracted multiple sequence alignments from their ".acd" files. This subset includes 220 singletons, 135 root nodes, 367 terminal nodes and 106 internal nodes. Total 21,140 pairwise alignments were prepared from these multiple alignments. Each sequence in the alignments included all the unaligned residues at both termini, since -lefttails and -righttails options were used with cddalignview.
CDD uses curated domains based on MMDB [30–32]. For this study, we adopted the ASTRAL SCOP domains (ASTRAL SCOP 1.69) because they were better documented. The ASTRAL domain sequences and structures were downloaded from ASTRAL web site [33]. Finding the ASTRAL domain corresponding to a CDD domain, however, is not trivial, because domain definitions do not always coincide. In order to determine which ASTRAL domain is associated with which CDD domain, we used a sequence alignment procedure (Lobster package[34]). First, each sequence in a given CDD alignment was aligned to all the ASTRAL domain sequences derived from the same PDB structure. An ASTRAL domain was selected if at least 70% of its residues were covered by the CDD aligned span. A CDD aligned span is the sequence segment spanned by the first and the last aligned residues in the CDD alignment. This means that a CDD sequence can correspond to more than one ASTRAL domain. When this happened, all the domains were kept, which meant that the single CDD domain was effectively split into more than one domain according to ASTRAL SCOP definition. If an ASTRAL domain was not assigned to a sequence of a CDD aligned sequence pair, the pair was omitted. We also required that the aligned region between the domain spans include at least 20 residue pairs and cover at least 70% of the shorter span. A domain span here is defined for each ASTRAL domain as the region from the first to the last aligned residues within the boundaries of the domain. Its length is the number of the residues and gaps in the span. After this procedure, the dataset contained 6,425 pairwise alignments from the root nodes, 2,351 from the internal nodes, 2,809 from the terminal nodes, and 2,979 from the singletons. Each reference alignment is associated with a pair of ASTRAL domains and the pair-wise CDD sequence alignment.
We used only the root and terminal node sets. In order to select alignments specific to the root node set, the alignments were excluded from the root node set if their domain pair was also included in the internal or terminal node set. The pairs with 80% or more sequence identity (among aligned residue pairs) were also removed from both the root and the terminal node sets. If a structure in the aligned pair did not contain the side chains or was derived by NMR, the pair was also eliminated. The final reference alignment sets consisted of 2,199 alignment pairs for the terminal node set and 4,017 pairs for the root node set (Additional file 3).
Structure alignment programs
For various reasons, we could not evaluate all known structure alignment programs. We selected programs mainly based on their availability. Some programs were difficult to use because they failed for some of the structure pairs for unknown reasons or generated sequence alignments that were different from what were implied by other measures such as RMSD values. Finally we included CE (Algorithm 1.0, Alignment calculator 1.02)[35], DaliLite_2.4.1 [29], LOCK2 [36], FAST [26], MATRAS (version 1.2)[37], VAST (directly from Dr. Gibrat) [31] and SHEBA-4.0 [38]. SSEARCH from FASTA3 package [27] was used for pure sequence alignment. The MATRAS and VAST were kindly given to us by the authors; others were downloaded from their websites.
Each program was run with its default setting. CE needs SEQRES sequence to recognize the residues as they are in the PDB file. Since such information is not included in PDB-style ASTRAL domain files, the three-letter symbols were derived from the ATOM records in the PDB-style files. When the secondary structure information is explicitly required, DSSP[39] was used. VAST includes companion programs, which derive the secondary structures and SCOP domains from the original PDB files containing the whole structure. When a program generates more than one alignment for a given structure pair as in DaliLite and VAST, the first alignment in the output file was chosen for the evaluation.
Sequence alignment quality measure
A test alignment was generated for each reference alignment by running the structure alignment program on the two ASTRAL domains assigned to the reference alignment. The test alignment generated then need to be compared to the reference alignment for quality assessment. However, the protein sequence in the test alignment is often not identical to that in the reference alignment. For example, residues missing in the crystal structure do not appear in the test alignment. Some non-standard amino acids are simply removed (FAST) or marked with the extended amino acid symbols (LOCK2) – B, Z or X. Also, CE removes unaligned N-terminal and C-terminal residues. These and other sequence related issues involved in comparing different sequence alignments have been addressed before [4]. In this study, we used a sequence alignment procedure (see below) in order to establish the correspondence between residues in the test and the reference alignment sequences. In principle, there are cases when an unambiguous correspondence cannot be made even by the sequence alignment. For instance, if there are tandem repeats in the sequence and one of these contains a gap, the gap can be relocated without cost by the sequence alignment procedure. Fortunately, we have not detected such ambiguity in the aligned regions of any of our reference alignments.
We used the C++ class library included in the Lobster package to handle sequence alignments [34]. Two sequences derived from the same protein, one from the test and the other from the reference alignments, were aligned. The lengths and the one-letter symbols of these sequences can be different even though both are for the same protein. Then the serial numbers of the residues in the reference alignment sequence were assigned to the residues in the test alignment sequence. After this step, residues were identified by means of the assigned serial numbers alone, so that different symbols for the same residue were allowed. Also, the residues in the reference alignment sequence that do not appear in the test alignment sequence, either because the residue is missing in the crystal structure or because the ASTRAL domain spans less than the whole reference aligned span, are marked as unaligned in the reference sequence and not considered further.
For a residue R in sequence A that is aligned in both the reference and test alignments, its shift error,
δ
, is defined as the difference in the serial number of the two residues of sequence B that are aligned to R in the reference and test alignments (Figure
17
). We consider only the residues that are aligned in the reference alignment. If a residue aligned in the reference alignment is not aligned in the test alignment, the shift error was not defined (Figure
17
).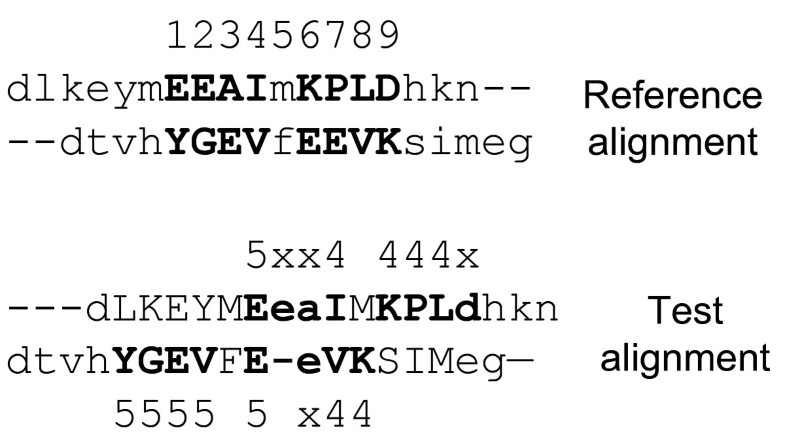 For each structure pair, let r and t be the number of aligned residue pairs in the reference and test alignments, respectively, and let m(δ) be the number of aligned residues in both sequences with shift error up to δ. We define the fraction of "correctly" aligned residues, f car (δ), and the relative alignment length, l, as

and

. The f car (δ = 0) is the same as fD, which Sauder et al. [4] called the "developer's viewpoint" score. This has also been called the sensitivity of sequence alignment [40, 41].
Abbreviations
Program names
CE, C ombinatorial E xtension; DaliLite, standalone version of DALI (D istance mA trix ALI gnment); DSSP, D efinition of S econdary S tructure of P roteins given a set of 3D coordinates; FAST, Recursive acronym for F AST A lignment and S earch T ool; FASTA3, DNA and Protein sequence alignment software package; LOCK2, Improvements over LOCK (Hierarchical protein structure superposition); MATRAS, MA rkovian TRA nsition of protein S tructure; SHEBA, S tructural H omology by E nvironment-B ased A lignment; SSEARCH, Smith-Waterman search; VAST, V ector A lignment S earch T ool.
Database names
ASTRAL, compendium for protein structure and sequence analysis; BaliBase, B enchmark Ali gnment dataBase; CATH, Hierarchical classification of protein domain structures, which clusters proteins at four major levels, Class (C), Architecture (A), Topology (T) and Homologous superfamily (H); CAMPASS, CAM bridge database of P rotein A lignments organised as S tructural S uperfamilies; COGs, C lusters of O rthologous G roups of proteins; DBAli, D ataB ase of structure Ali gnments; HOMSTRAD, HOM ologous STR ucture A lignment D atabase; MMDB, M olecular M odelling D ataB ase; OXBench, benchmark for evaluation of protein multiple sequence alignment accuracy; PALI, database of P hylogeny and ALI gnment of homologous protein structures; PASS2, P rotein A lignments organised as S tructural S uperfamilies (version 2); Pfam, multiple sequence alignments and HMM-profiles of protein domains; PDB, P rotein D ata B ank; PREFAB, P rotein REF erence A lignment B enchmark; S4, S tructure-based S equence alignments of S COP S uperfamilies; SABmark, S equence A lignment B enchmark; SCOP, S tructural C lassification of P roteins; SMART, S imple M odular A rchitecture R esearch T ool; SUPFAM, database of potential protein SUP erFAM ily relationships.
Alignment quality measure
GSAS, G apped SAS; SAS, S tructural A lignment S core.
General
RMSD, Root-mean-square of C α distances between aligned pairs after structural superposition; NCBI, N ational C enter for B iotechnology I nformation; CD, Conserved Domain in CDD; CDD, NCBI's Conserved Domain Database.
Declarations
Acknowledgements
We thank Dr. Aron Marchler-Bauer for reading the manuscript and for the many valuable comments. We also thank the authors of CHIMERA and of the structure alignment programs for making their programs available. This research was supported by the Intramural Research Program of the NIH, National Cancer Institute, Center for Cancer Research.
Authors' Affiliations
(1)
Laboratory of Molecular Biology, Center for Cancer Research, National Cancer Institute National Institutes of Health, Bethesda, USA
Copyright
© Kim and Lee; licensee BioMed Central Ltd. 2007
This article is published under license to BioMed Central Ltd. This is an Open Access article distributed under the terms of the Creative Commons Attribution License (http://creativecommons.org/licenses/by/2.0), which permits unrestricted use, distribution, and reproduction in any medium, provided the original work is properly cited.