Methodology article
Open Access
Normalization method for metabolomics data using optimal selection of multiple internal standards
BMC Bioinformatics
2007
8:93
Received: 17 November 2006
Accepted: 15 March 2007
Published: 15 March 2007
Abstract
Background
Success of metabolomics as the phenotyping platform largely depends on its ability to detect various sources of biological variability. Removal of platform-specific sources of variability such as systematic error is therefore one of the foremost priorities in data preprocessing. However, chemical diversity of molecular species included in typical metabolic profiling experiments leads to different responses to variations in experimental conditions, making normalization a very demanding task.
Results
With the aim to remove unwanted systematic variation, we present an approach that utilizes variability information from multiple internal standard compounds to find optimal normalization factor for each individual molecular species detected by metabolomics approach (NOMIS). We demonstrate the method on mouse liver lipidomic profiles using Ultra Performance Liquid Chromatography coupled to high resolution mass spectrometry, and compare its performance to two commonly utilized normalization methods: normalization by l2 norm and by retention time region specific standard compound profiles. The NOMIS method proved superior in its ability to reduce the effect of systematic error across the full spectrum of metabolite peaks. We also demonstrate that the method can be used to select best combinations of standard compounds for normalization.
Conclusion
Depending on experiment design and biological matrix, the NOMIS method is applicable either as a one-step normalization method or as a two-step method where the normalization parameters, influenced by variabilities of internal standard compounds and their correlation to metabolites, are first calculated from a study conducted in repeatability conditions. The method can also be used in analytical development of metabolomics methods by helping to select best combinations of standard compounds for a particular biological matrix and analytical platform.
Keywords
Standard CompoundRepeatability ConditionLipid SpeciesMetabolomics DataIndividual Molecular Species
Background
Metabolomics is a discipline dedicated to the global study of metabolites, their dynamics, composition, interactions, and responses to interventions or to changes in their environment, in cells, tissues, and biofluids. Concentration changes of specific groups of metabolites may be descriptive of systems responses to environmental or genetic interventions, and their study may therefore be a powerful tool for characterization of complex phenotypes [1–3] as well as for development of biomarkers for specific physiological responses [4, 5].
Study of the variability of metabolites in different states of biological systems is therefore an important task of systems biology. As we are primarily interested in systems responses resulting in metabolite level regulation as related to diverse genetic or environmental changes, it is important to separate such interesting biological variation from obscuring sources of variability introduced in experimental studies of metabolites. Since multiple experimental platforms are commonly applied in the studies of metabolites [6, 7], the sources of the obscuring variation are many and platform specific [8]. Such sources include variability arising from inhomogeneity of samples, their lability and inevitable minor differences in sample preparation. In mass spectrometry based detection, the sources include the variations in the ion source as well as matrix specific effects such as ion suppression [9]. Following the measurement, the data preprocessing steps such as peak detection, peak integration and alignment may introduce an additional error.
Chemical diversity of metabolites, leading for example to different recoveries during extraction or responses during ionization in mass spectrometer, makes separation of interesting and obscuring variation a difficult task. Quantitative analytical methods have commonly relied on utilization of isotope labeled internal standard for each metabolite measured. However, in broad metabolic profiling approaches this is not practical. The number of metabolites is large, they are chemically too diverse to afford a common labeling approach, and many of them may not even be known. The availability of stable isotope labeled references is generally also very limited.
Strategies for normalization of metabolic profile data can be divided into two major categories:
Statistical models used to derive optimal scaling factors for each sample based on complete dataset [10], such as normalization by unit norm [11] or median [12] of intensities, or the maximum likelihood method [2] adopted from the approach developed for gene expression data [13].

Normalization by a single or multiple internal or external standard compounds based on empirical rules, such as specific regions of retention time [14].
The statistical approach suffers from the lack of an absolute concentration reference for different metabolites. In addition, constraining the data to a specific norm based on total signal affects its covariance structure, therefore requiring special caution when pursuing multivariate analysis of such data [
15
]. Metabolites as physiological end-points, largely affected by the environment, do not posses the
self-averaging
property, i.e. concentration increase in a specific group of metabolites is generally not balanced by a decrease of another group. The Figure
1
illustrates this statement. Two total ion chromatograms from Ultra Performance Liquid Chromatography coupled to Mass Spectrometry (UPLC/MS) lipidomics profiling of two different mouse liver samples are shown, one from an obese ob/ob mouse model and one from a lean wild type mouse. The ob/ob mouse model was developed by spontaneous mutation in
ob
gene resulting in lack of leptin [
16
] and is commonly studied as a model for early onset of severe obesity. Both types of mice have similar levels of phospholipids, but the amount of storage fat in the form of triacylglycerols is markedly increased in the obese mouse. If one would normalize this data based on total signal, such approach would lead to a conclusion that the phospholipids are decreased in the obese mouse (wrong conclusion), while the triacylglycerols are slightly increased (correct qualitatively, but not quantitatively). More sophisticated approaches to normalize metabolomics data based on full profile data have been adopted [
2
], but the fundamental problem as described above remains.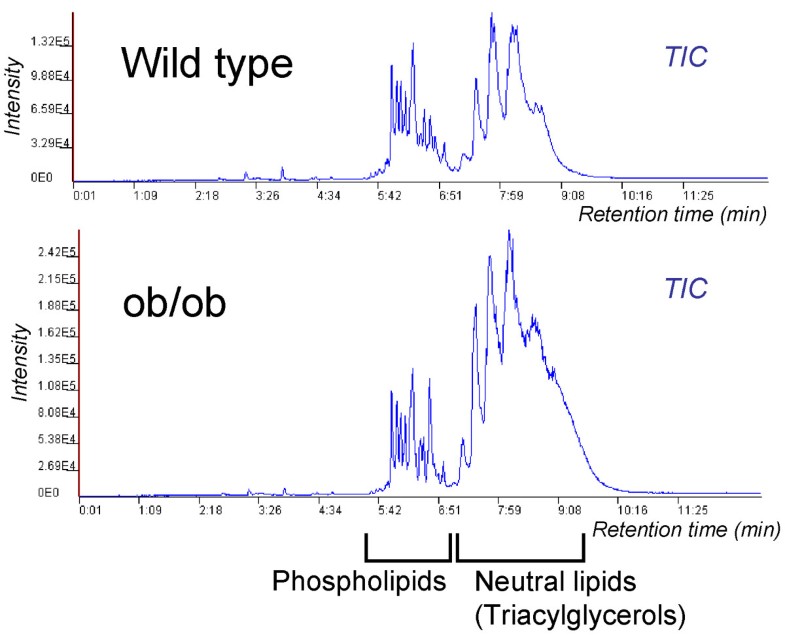 The choice of multiple internal (added to sample prior to extraction) and external (added to sample after extraction) standard compounds may be a more reasonable choice, but even in that case the assignment of the standards to normalize specific peaks remains unclear. One possible approach is to assign a specific standard to metabolite peaks based on similarity in specific chemical property such as retention time in liquid chromatography (LC) column. For example, Bijlsma and colleagues utilize three external standard references for lipid profiling, chosen as mono-, di-, and tri-acyl lipid species representing most abundant lipid classes in their respective region of retention time [14]. Such approach still suffers from at least two problems:
The retention time is not necessarily descriptive of all matrix and chemical properties leading to obscuring variation. For example, in the lipid separation based on reverse phase LC diverse lipid species such as ceramides, sphingomyelins, diacylglycerols, and several phospholipid classes, are overlapping in retention time, and it is not reasonable to assume same normalization factor can be applied to all these species. The situation is even more complex when analyzing water soluble metabolites.

The normalization by a single molecular component is very sensitive to its own obscuring variation, which becomes a problem in very complex samples where matrix specific effects such as ion suppression may play an important role.
Recently we introduced a related approach for liquid chromatography – mass spectrometry (LC/MS) that normalizes metabolites based on multiple internal standards, with the normalization factor based on distance to the metabolite peaks both in the retention time and mass-to-charge ratio (m/z) [17]. While such method partially resolves the second issue listed above, it still suffers from the ad hoc assignments of internal standard(s) for each component based on a subset of relevant chemical properties.
None of the normalization methods mentioned above systematically take advantage of the obscuring variability that can be learned from the measured data itself. For example, monitoring multiple standard compounds across multiple sample runs may help determine how the standards are correlated, which variation is specific to a particular standard, and which patterns of variation are shared between the measured metabolites and the standards so they can be removed. In this paper we present a new approach to normalization of metabolomics data aiming to address these issues and develop a mathematical model that optimally assigns normalization factors for each metabolite measured based on internal standard profiles. We demonstrate the approach on mouse liver lipid profiling using UPLC/MS, and compare its performance to two other commonly utilized approaches: normalization by l2 vector norm and by retention time region specific standard compounds. We discuss method performance and several application possibilities.
Conclusion
We introduced a new method for normalization of metabolomics data which utilizes variability information from multiple internal standard compounds to find optimal normalization factor for each individual molecular species detected (NOMIS). The method proved superior to two other commonly utilized normalization strategies in its ability to reduce variability across the full spectrum of metabolites.
The NOMIS method can be used directly as a one-step normalization method or as a two-step method where the normalization parameters containing information about the variabilities of internal standard compounds and their association to variabilities of metabolites are first calculated from a study carried in repeatability conditions. Additionally, the method can be used to select standard compounds for normalization and evaluate their influence on variability of all detected metabolites.
While we focused on applications of NOMIS to LC/MS based approaches; we believe the same strategy can be applied to other analytical platforms used in metabolomics, as well as to other levels of molecular profiling such as mass spectrometry based proteomics.
Methods
Liver LC/MS based lipid profiling
An aliquot of 20 μl of an internal standard mixture (5 reference compounds at concentration level 83–10 μg/ml), 50 μl of 0.15 M sodium chloride and chloroform: methanol (2:1) (200 μl) was added to the tissue sample (203–30 mg). The sample was homogenized, vortexed (2 min) let to stand (1 hour for liver) and centrifuged at 10000 RPM for 3 min. From the separated lower phase, an aliquot was mixed with 10 μl of a labelled standard mixture (3 stable isotope labelled reference compounds at concentration level 93–11 μg/ml) and 0.53–1.0 μl injection was used for LC/MS analysis.
Total lipid extracts were analysed on a Waters Q-Tof Premier mass spectrometer combined with an Acquity Ultra Performance LC™ (UPLC). The column, which was kept at 50°C, was an Acquity UPLCTM BEH C18 10 × 50 mm with 1.7 μm particles. The binary solvent system (flow rate 0.200 ml/min) included A. water (1% 1 M NH4Ac, 0.1% HCOOH) and B. LC/MS grade (Rathburn) acetonitrile/isopropanol (5:2, 1% 1 M NH4Ac, 0.1% HCOOH). The gradient started from 65% A/35% B, reached 100% B in 6 min and remained there for the next 7 min. The total run time per sample, including a 5 min re-equilibration step, was 18 min. The temperature of the sample organizer was set at 10°C.
Mass spectrometry was carried out on Q-Tof Premier (Waters, Inc.) run in ESI+ mode. The data was collected over the mass range of m/z 3003–1600 with a scan duration of 0.08 sec. The source temperature was set at 120°C and nitrogen was used as desolvation gas (800 L/h) at 250°C. The voltages of the sampling cone and capillary were 39 V and 3.2 kV respectively and collision energy 5 V, respectively. Reserpine (50 μg/L) was used as the lock spray reference compound (10 μl/min; 10 sec scan frequency).
Data processing including peak detection, alignment, and de-isotoping, was performed using the MZmine software version 0.60 [17]. Identification was performed based on an internal reference database of lipid species. The implementation of normalization methods and data analysis were performed using Matlab version 7.2 (Mathworks, Inc.).
Abbreviations
MS:

Mass spectrometry.
UPLC™:

Ultra Performance Mass Spectrometry (Waters, Inc.).
LC/MS:

Liquid chromatography – mass spectrometry.
GC/MS:

Gas chromatography – mass spectrometry.
QTof:

Quadrupole – time of flight mass spectrometer.
CV:

Coefficient of variance.
MCV:

Median coefficient of variance.
m/z:

Mass-to-charge ratio (m is molecular mass and z is charge of the ion).
NOMIS:

Normalization using Optimal selection of Multiple Internal Standards (the method introduced in this paper).
3STD:

Normalization by retention-time-region-specific standard compounds.
L2N:

Sum of squares normalization.
LPC:

lysophosphatidylcholine
Cer:

ceramide
PC:

phosphatidylcholine
PE:

phosphatidylethanolamine
TAG:

triacylglycerol
Declarations
Acknowledgements
This work was funded by Academy of Finland Grants 111338 and 8207492, and by the Marie Curie International Reintegration Grant from the European Community. The authors thank to Tuulikki Seppänen-Laakso and Tapani Suortti for performing the analytical work.
Authors' Affiliations
(1)
VTT Technical Research Centre of Finland, Espoo, Finland
(2)
Turku Centre for Biotechnology, Turku, Finland
Copyright
© Sysi-Aho et al; licensee BioMed Central Ltd. 2007
This article is published under license to BioMed Central Ltd. This is an Open Access article distributed under the terms of the Creative Commons Attribution License (http://creativecommons.org/licenses/by/2.0), which permits unrestricted use, distribution, and reproduction in any medium, provided the original work is properly cited.