GlycomeDB – integration of open-access carbohydrate structure databases
BMC Bioinformatics
2008
9:384
Received: 04 April 2008
Accepted: 19 September 2008
Published: 19 September 2008
Abstract
Background
Although carbohydrates are the third major class of biological macromolecules, after proteins and DNA, there is neither a comprehensive database for carbohydrate structures nor an established universal structure encoding scheme for computational purposes. Funding for further development of the Complex Carbohydrate Structure Database (CCSD or CarbBank) ceased in 1997, and since then several initiatives have developed independent databases with partially overlapping foci. For each database, different encoding schemes for residues and sequence topology were designed. Therefore, it is virtually impossible to obtain an overview of all deposited structures or to compare the contents of the various databases.
Results
We have implemented procedures which download the structures contained in the seven major databases, e.g. GLYCOSCIENCES.de, the Consortium for Functional Glycomics (CFG), the Kyoto Encyclopedia of Genes and Genomes (KEGG) and the Bacterial Carbohydrate Structure Database (BCSDB). We have created a new database called GlycomeDB, containing all structures, their taxonomic annotations and references (IDs) for the original databases. More than 100000 datasets were imported, resulting in more than 33000 unique sequences now encoded in GlycomeDB using the universal format GlycoCT. Inconsistencies were found in all public databases, which were discussed and corrected in multiple feedback rounds with the responsible curators.
Conclusion
GlycomeDB is a new, publicly available database for carbohydrate sequences with a unified, all-encompassing structure encoding format and NCBI taxonomic referencing. The database is updated weekly and can be downloaded free of charge. The JAVA application GlycoUpdateDB is also available for establishing and updating a local installation of GlycomeDB. With the advent of GlycomeDB, the distributed islands of knowledge in glycomics are now bridged to form a single resource.
Keywords
Monosaccharide
Carbohydrate Structure
Local Database
Source Database
Taxonomic Annotation
Background
A common problem for medieval European city-states was their autonomous regulations, currencies, weights and measures, which hampered trade exchange. An analogous lack of standardization is also a major obstacle in research projects using databases and bioinformatics services [1]. This problem is especially evident for carbohydrate databases, where sequence information is spread in incompatible formats over several unconnected databases. Here we report the results and the peculiarities of a data integration effort which aims to overcome the disadvantages inherent in the scattering of data in isolated carbohydrate databases.
The first publicly available carbohydrate structure database and the mother of all carbohydrate sequence databases is the Complex Carbohydrate Structure Database (CCSD), often called CarbBank in reference to the retrieval software used to access the data [2, 3]. CarbBank was developed and maintained by the Complex Carbohydrate Research Center of the University of Georgia (USA). In the 1990s, it was the largest effort to collect glycan structures, mainly through retrospective manual extraction from the literature. However, funding for further development and maintenance of CarbBank was terminated in 1997, and the database has not been updated since then. Nevertheless, with about 50000 entries and more than 23000 different sequences, the CarbBank is still the largest repository of glycan data available.
After funding for CarbBank ceased, several other initiatives created new databases which imported subsets of CarbBank, e.g. GLYCOSCIENCES.de [4], the Bacterial Carbohydrate Structure Database (BCSDB) [5] and the glycan database of the Kyoto Encyclopedia of Genes and Genomes (KEGG) [6]. Each of these initiatives added new sequences, derived from retrospective literature analysis or new experimental evidence. Other databases for carbohydrate structures were created independently of CarbBank. Some of these were developed by commercial enterprises, i.e. GlycoSuite [7, 8] and GlycoMinds [9], while others were created by scientific research groups or organizations, i.e. GlycoBase from the National Institute for Bioprocessing Research and Training (NIBRT) [10] (in the following listed as GlycoBase (Dublin)) and GlycoBase from the Université des Sciences et Technologies de Lille [11] (GlycoBase (Lille)). The Consortium for Functional Glycomics (CFG) [12, 13] also established a glycan database using the commercial GlycoMinds data as a seed, to which they added new structures based on experimental evidence.
Almost all of the initiatives developed their own individual sequence encoding formats tailored to their specific needs, including the use of different naming conventions for the carbohydrate residues. Furthermore, the annotations (e.g. taxonomic information) are in different formats, and most of the databases offered no routines or strategy for automated data access, so that interested researchers were forced to crudely extract information directly from HTML pages ("screen scraping" [1]), for example. Consequently, each of the existing carbohydrate structure databases was an isolated island with a different "language", and comparison of the content was virtually impossible.
There were a few efforts to overcome this isolation problem: e.g. automated comparison of sequences implemented as a cross-link from the CFG to GLYCOSCIENCES.de (unpublished) or a cross-database search between GLYCOSCIENCES.de and BCSDB [14]. Some databases kept manually curated mappings of IDs from other databases (e.g. GlycoBase (Lille)) or the original references to CarbBank (e.g. KEGG). Generally, the cross-linking solutions implemented up to now have limitations since they are pairwise oriented only. Another problem of almost all recent databases is the lack of a tightly controlled and systematic vocabulary for the monosaccharides and their substituents. With thousands of different residues present in carbohydrate sequences, namespace inconsistencies can easily arise even within single databases.
Our work aims to integrate all available carbohydrate sequences into a single new database. Seven of the established carbohydrate structure databases follow an open-access strategy and are, thus, candidates for our data integration effort: BCSDB, CarbBank, CFG, GlycoBase (Dublin), GlycoBase (Lille), GLYCOSCIENCES.de and KEGG. We have implemented a JAVA software application called GlycoUpdateDB, which downloads the public databases listed above, reads their sequence notations, translates them to the GlycoCT encoding format [15] and a variant of Glyde [16], and stores the encoded sequences and corresponding IDs from the source databases in a new database called GlycomeDB. In addition, we have gathered and harmonized all of the taxonomic annotations available from the various databases. GlycomeDB, which is updated on a weekly basis, and GlycoUpdateDB are now publicly available and can be downloaded free of charge http://www.glycome-db.org/downloads/.
Construction and content
Our goal was to integrate the heterogeneous resources of seven open-access carbohydrate databases into one central database called
GlycomeDB
(Figure
1
). Approximately 100000 database records with 73341 sequences are accessible in the public domain. The following subsections describe the workflow implemented in the application called
GlycoUpdateDB
: data acquisition, integration of structural and taxonomic data and generation of the final database.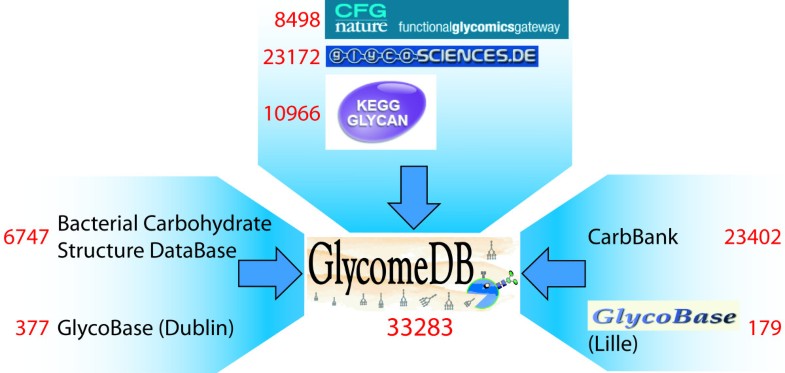 Utility and discussion
All numbers in the figures, tables and text relating to GlycomeDB are based on the version of GlycomeDB compiled in August 2008. This includes the numbers of residues, numbers of structures in the various source databases and GlycomeDB and the numbers of taxonomic annotations. Note that these numbers are subject to change as the database is periodically updated.
Conclusion
We have created a new database, called GlycomeDB, which integrates the structural and taxonomic data of all major carbohydrate databases available in the public domain (BCSDB, GLYCOSCIENCES.de, CFG, KEGG, GlycoBase (Dublin), GlycoBase (Lille) and CarbBank). GlycomeDB is now the most comprehensive source for carbohydrate structures worldwide, and it will be updated at weekly intervals with the newest structures available from the source databases. The current GlycomeDB database contents and the application GlycoUpdateDB for the local installation and updating of GlycomeDB are now available via download and can be utilized by interested scientists.
The need for database development in glycomics has been emphasized frequently: "We need to be able to search databases for what is out there. Imagine genomics and proteomics without GenBank" (Ajit Varki) [35]. With this project we hope to provide a major step forward in the development of standardized, open-access databases for carbohydrate structures and related information pertinent to applications in the glycosciences.
Availability and requirements
Three different mechanisms can be accessed via the web portal [34] for the distribution of the GlycomeDB contents and the application GlycoUpdateDB. Detailed installation instructions can be found on the download web pages http://www.glycome-db.org/downloads/.
Download of structure data files
A compressed zip archive (3.3 MB) is available, containing all structures that have been integrated into GlycomeDB. The structures are stored in regular XML files according to the GlydeII specification and can be used by any software which supports this format. With these data the user is totally independent of our database and our internal structure encoding (GlycoCT).
Download of an SQL dump
The second download possibility is a PostgreSQL dump (54 MB), which contains the complete GlycomeDB including all schemata and tables. This dump can be imported to local PostgreSQL installations.
Distribution of installation routines
Finally, the JAVA application GlycoUpdateDB and a core database dump with dictionaries are available for download (2.5 MB). After installation of the core database, the local database can be filled using GlycoUpdateDB. A local PostgreSQL database and JAVA JRE 1.5 are required. Thus, the user can update the local installation of GlycomeDB at any time to obtain the newest structures available from the original source databases.
For example, GlycoUpdateDB needs about 5 hours to generate the complete GlycomeDB database on a computer with a 3 GHz Intel Pentium 4 processor, 1 GB RAM and Internet access. The procedure involves the downloading of approximately 50 MB of data which are temporarily stored in the local file system. Operations on the NCBI taxonomy tree require about 100 min. Finally, about 3 hours are needed for the data integration stage.
Declarations
Acknowledgements
The authors would like to give special thanks to Dr. William E. Hull (DKFZ) for his helpful comments and a thorough editing of the manuscript. We wish to express our sincere gratitude to all of the carbohydrate database initiatives involved and, in particular, to their individual curators, who provided open access to their data and made this project successful. In addition, we want to thank the members of the EUROCarbDB project who helped us with fruitful discussions and comments.
This work was supported by the EU (6th Research Framework Program, RIDS contract number 011952) and the German Research Foundation (DFG BIB 46 HDdkz 01-01).
Authors' Affiliations
(1)
German Cancer Research Center (DKFZ), Core Facility: Molecular Structural Analysis, Heidelberg, Germany
(2)
University of Heidelberg, Institute for Medical Biometry und Informatics, Heidelberg, Germany
Copyright
© Ranzinger et al; licensee BioMed Central Ltd. 2008
This article is published under license to BioMed Central Ltd. This is an Open Access article distributed under the terms of the Creative Commons Attribution License (http://creativecommons.org/licenses/by/2.0), which permits unrestricted use, distribution, and reproduction in any medium, provided the original work is properly cited.