EzArray: A web-based highly automated Affymetrix expression array data management and analysis system
BMC Bioinformatics
2008
9:46
Received: 14 September 2007
Accepted: 24 January 2008
Published: 24 January 2008
Abstract
Background
Though microarray experiments are very popular in life science research, managing and analyzing microarray data are still challenging tasks for many biologists. Most microarray programs require users to have sophisticated knowledge of mathematics, statistics and computer skills for usage. With accumulating microarray data deposited in public databases, easy-to-use programs to re-analyze previously published microarray data are in high demand.
Results
EzArray is a web-based Affymetrix expression array data management and analysis system for researchers who need to organize microarray data efficiently and get data analyzed instantly. EzArray organizes microarray data into projects that can be analyzed online with predefined or custom procedures. EzArray performs data preprocessing and detection of differentially expressed genes with statistical methods. All analysis procedures are optimized and highly automated so that even novice users with limited pre-knowledge of microarray data analysis can complete initial analysis quickly. Since all input files, analysis parameters, and executed scripts can be downloaded, EzArray provides maximum reproducibility for each analysis. In addition, EzArray integrates with Gene Expression Omnibus (GEO) and allows instantaneous re-analysis of published array data.
Conclusion
EzArray is a novel Affymetrix expression array data analysis and sharing system. EzArray provides easy-to-use tools for re-analyzing published microarray data and will help both novice and experienced users perform initial analysis of their microarray data from the location of data storage. We believe EzArray will be a useful system for facilities with microarray services and laboratories with multiple members involved in microarray data analysis. EzArray is freely available from http://www.ezarray.com/.
Keywords
Microarray DataGene Expression OmnibusMicroarray Data AnalysisBioconductor PackageNovice User
Background
One of the major problems that life science researchers have to cope with is the management of huge amounts of data, which is ever increasing with advances in robotics and microarray technologies. More and more laboratories have begun adopting Structured Query Language (SQL)-based relational databases, such as Oracle and MySQL, to solve life sciences data management problems. Another major problem in life sciences is secure and efficient data sharing, especially when the data is in large scale. A common temporary solution is using shared folders on the internet or intranet; however, this option provides minimal data security and is accompanied by difficulties in associating information with files. Therefore, novel, easy-to-use, and powerful data management and sharing systems are needed in the life sciences.
Though microarray-based experiments are becoming popular in life science research, microarray data management and analysis are still challenging tasks for many biologists. Researchers often use manual or custom developed systems for microarray data management and analysis, which are limited by developers' knowledge of computer sciences, biostatistics, and life sciences. Commercial products for microarray data analysis are being released, such as GeneSpring GX from Agilent Technlogies, Santa Clara, CA 95051 and GeneSifter from VizX Labs, Seattle, WA 98119. However, these products are often complicated, expensive, and/or lack data sharing capabilities. For biostatisticians and experienced analysts, R language [1] and Bioconductor [2] are the main microarray data analysis tools. R is a widely used open source language for statistical computing and graphics. Bioconductor, which is primarily based on the R programming language, is an open development software project for the analysis and comprehension of genomic data. Currently, hundreds of Bioconductor packages have been developed, providing comprehensive functionalities for all aspects of microarray data analysis. For example, affy is often used for low-level analysis of Affymetrix GeneChip data, while multtest is useful in detecting differentially expressed genes. Currently, web-based systems based on R and Bioconductor packages are being developed, such as CARMAweb [3], MAGMA [4], GEPAS [5], Asterias [6], ArrayPipe [7], MIDAW [8], RACE [9], WebArray [10], and Expression Profiler [11]. While these systems have made microarray data analysis much easier for experienced users, much improvement is needed to further automate the common data analysis processes so that they can be readily accessible to novice users.
In order to provide an easy-to-use microarray system for researchers with little pre-knowledge of microarray data analysis as well as experienced analysts, we have designed a web-based system, EzArray, based on the most recent web technologies, R, and Bioconductor. EzArray is intended to provide: 1) a centralized location to store original microarray data with security; 2) an easy and secure way to share raw data and analyze results among team members; 3) a highly automated data analysis system for instant on-line data analysis; 4) an expandable system to integrate new data management and analysis tools.
Implementation
To implement EzArray, we adopted the popular database and web application software bundle LAMP which refers to L inux operating system, A pache web server, M ySQL database, P HP programming language. Selecting these technologies is mainly based on features such as low technical requirements for webmasters, programmers, and end users, open source, rapid application development, low total cost of ownership, and extremely large resources for free application source codes. In addition, we heavily incorporated Ajax (Asynchronous Javascript And XML) technologies to increase the system's interactivity, speed, functionality, and usability.
On EzArray server, PHP scripts deal with communication between users and the server, dynamically generate R scripts based on user input, execute R scripts in the background, and parse R output and present results to end users as HTML webpages. User information, data files, project information and analysis results are stored in database and server file system. EzArray comes with a web-based file management tool (My Files) and a request job management tool (Job List). On the client end, users logically follow these steps: register, logon, create or join a user group, create projects, import sample information and upload microarray data, submit analysis requests and browse results. The analysis tools (PreQ, ProS, and RepA) can be used in orders as shown in Figure
1
. Users can perform each type of analysis multiple times with modified parameters.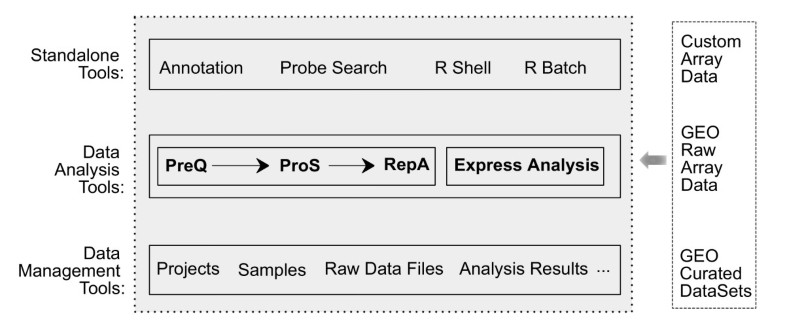 Figure
2A
shows a screenshot of the EzArray (version 2) homepage, Figure
2B
shows a screenshot of the integrated file management tool, and Figure
2C
shows a screenshot of the project browsing and searching tools.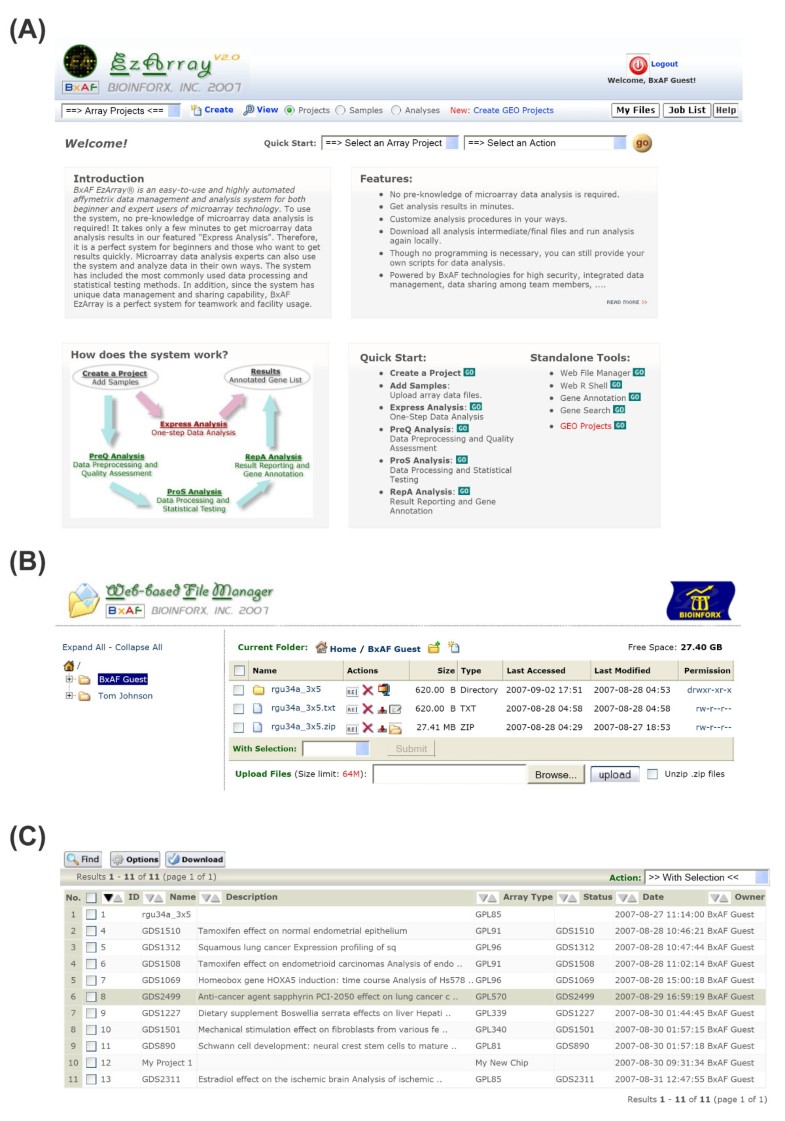 Discussion
EzArray is a web-based Affymetrix expression array data management and analysis system implemented in an open source environment. Since the same technologies are often used to build database-powered websites, EzArray can be easily integrated with users' existing websites. In summary, EzArray takes advantages of modern web technologies, provides multiple user support, has group-based data sharing capabilities, contains tools for highly automated data analysis, and has user-friendly interfaces. These features distinguish EzArray from most other standalone and web-based microarray programs.
Most microarray data analysis tools have been implemented as Bioconductor R packages that run from the command line or have simple point-and-click graphic interfaces. Both R packages limma [24] and affy offer R users a command-line interface to state-of-the-art microarray data analysis techniques. The R packages affylmGUI [25] and webbioc offer simple point-and-click interfaces to many of the limma and affy functions. It seems these programs simply analyze data instead of providing comprehensive data management capabilities.
Recently, more and more web-based microarray systems have been developed. MAGMA [4] is a Java-based web application that provides a simple and intuitive interface to identify differentially expressed genes from two-channel microarray data. MAGMA does not support databases, and the results are file-based. Though MAGMA provides for each user a separate workspace for storing and analyzing microarray data, MAGMA lacks tools for data sharing among users. Similar to EzArray, MAGMA automatically generates R-scripts that document the entire data processing steps. However, EzArray takes it further by allowing the users to download all input and output files together with R-scripts. This guarantees the user to regenerate all results in his local R installation. In terms of data analysis, MAGMA does not contain the gene annotation step and the results are tab-delimited text files and graphic plot files. The RepA program in EzArray generates HTML webpages with hyperlinks to public life science databases. In addition, compared to EzArray, MAGMA does not include algorithms to automatically select data analysis methods and parameters, and therefore, the analysis process is less automated. GEPAS [5] has been designed to provide an intuitive web-based interface that offers diverse analysis options from data preprocessing to gene selection, gene clustering, gene annotation, and more. Instead of taking advantages of existing R and Bioconductor packages, GEPAS has incorporated many newly developed programs written in 'C' languages. The web interfaces of GEPAS are Perl CGIs. The most recent version of GEPAS (v4.0) has included very simple tools for user registration as well as data file browsing. In addition, due to the abundance of novel programs and low level of automation in data analysis, using GEPAS requires in-depth knowledge of the system and many microarray data analysis algorithms. Asterias [6] is an open source and web-based suite for the analysis of gene expression and aCGH data. Asterias is the only web-based application that uses parallel computing. Asterias also takes advantages of many R and Bioconductor packages including limma. The web interfaces of Asterias are mostly written in Python. Though a few applications in Asterias support MySQL database, Asterias does not contain any tools for user or data management. The input data to all applications are plain text files that are uploaded "on the fly" during analysis. The web application CARMAweb [3] was implemented in Java based on J2EE (Java 2 Enterprise Edition) software technology. It supports Affymetrix GeneChips, spotted two-color microarrays and Applied Biosystems (ABI) microarrays. CARMAweb has a simple user management tool that guarantees password protected access to the user's data and analysis results. All user data are stored as files in the user data directory. Currently, CARMAweb does not support databases and group-based data sharing. WebArray [10] is another microarray system implemented with technologies similar to those used in EzArray (WebArray used Python instead of PHP programming language). WebArray provides a user-friendly interface for accessing a wide range of key functions of limma and other Bioconductor packages. WebArray is an excellent free open source software system for microarray analysis that can be used by an average biologist after moderate training. Nevertheless, WebArray has limited capabilities in data management and data sharing. WebArray is not project-oriented and all data are stored as files in one user data directory. Though WebArray allows users to download output files (tab-delimited text files and graphic plots), it does not allow downloading of executed R scripts. When compared to these web microarray systems, EzArray features much more intuitive user interfaces, more powerful data management capabilities, and significantly higher levels of automation in the analysis processes.
EzArray was designed to be operating system-independent due to the cross-platform features of Apache and PHP. EzArray is also expected to be database platform-independent due to the adoption of a database abstraction library ADOdb [26] that supports most SQL-based databases. This provides the flexibility for end users to select convenient operating systems and database servers. So far, we have fully tested EzArray on the Linux operating system (Fedora 7) with MySQL database, and we are planning to test EzArray on other operating systems with various databases.
The current version of EzArray stores only minimal experimental information. We are planning to develop new database tables and corresponding web interfaces for storing MIAME [27]-compliant microarray data.
Due to the modular structures and open source features of EzArray, extensions or new functionalities can be rapidly implemented on top of EzArray. We have already started designing web-based tools for analyzing Agilent and Nimblegen microarray data. Even with Affymetrix expression data, our analysis procedures can be further improved. For example, for data with two sample groups and just a few replicates per group, the current version of EzArray simply uses Fold Changes to select differentially expression genes. In next EzArray version, we plan to enhance the data analysis procedures with more established algorithms and programs, such as limma, SAM [28–30], and EBArrays [31, 32].
Conclusion
EzArray is an Affymetrix expression array data management, analysis, and sharing system. Besides tools for users to organize their own microarray data online and perform instant data analysis, EzArray contains tools for re-analyzing previously published microarray data deposited in GEO. EzArray can not only help novice users perform initial analysis of their microarray data, but also allow experienced users to perform custom analysis from the location of data storage. In summary, EzArray will be a useful system for facilities with microarray services and laboratories with multiple members involved in microarray projects.
Availability and requirements
EzArray is released under General Public License and can be freely used at website http://www.ezarray.com/. To install EzArray locally, users need to set up a Linux server running Apache and MySQL. Experienced users may be able to install EzArray on Mac or Windows operating systems with different database servers. Recent versions of R and Bioconductor should be pre-installed and properly configured.
Declarations
Acknowledgements
Wei Xu was supported in part by Susan Komen Breast Cancer Foundation grant number BCTR95306. We would like to thank Emily Powell for the critical review the manuscript. Finally, we would like to thank the developers and maintainers of R and Bioconductor packages that are extensively used in EzArray, and anonymous reviewers for helpful comments and suggestions.
Authors' Affiliations
(1)
Research and Development, BioInfoRx, Inc., Middleton, USA
(2)
Department of Oncology, Georgetown University, Washington DC, USA
(3)
Department of Oncology, University of Wisconsin-Madison, Madison, USA
Copyright
© Zhu et al; licensee BioMed Central Ltd. 2008
This article is published under license to BioMed Central Ltd. This is an Open Access article distributed under the terms of the Creative Commons Attribution License (http://creativecommons.org/licenses/by/2.0), which permits unrestricted use, distribution, and reproduction in any medium, provided the original work is properly cited.