MOSAIC: an online database dedicated to the comparative genomics of bacterial strains at the intra-species level
BMC Bioinformatics
2008
9:498
Received: 11 September 2008
Accepted: 27 November 2008
Published: 27 November 2008
Abstract
Background
The recent availability of complete sequences for numerous closely related bacterial genomes opens up new challenges in comparative genomics. Several methods have been developed to align complete genomes at the nucleotide level but their use and the biological interpretation of results are not straightforward. It is therefore necessary to develop new resources to access, analyze, and visualize genome comparisons.
Description
Here we present recent developments on MOSAIC, a generalist comparative bacterial genome database. This database provides the bacteriologist community with easy access to comparisons of complete bacterial genomes at the intra-species level. The strategy we developed for comparison allows us to define two types of regions in bacterial genomes: backbone segments (i.e., regions conserved in all compared strains) and variable segments (i.e., regions that are either specific to or variable in one of the aligned genomes). Definition of these segments at the nucleotide level allows precise comparative and evolutionary analyses of both coding and non-coding regions of bacterial genomes. Such work is easily performed using the MOSAIC Web interface, which allows browsing and graphical visualization of genome comparisons.
Conclusion
The MOSAIC database now includes 493 pairwise comparisons and 35 multiple maximal comparisons representing 78 bacterial species. Genome conserved regions (backbones) and variable segments are presented in various formats for further analysis. A graphical interface allows visualization of aligned genomes and functional annotations. The MOSAIC database is available online at http://genome.jouy.inra.fr/mosaic.
Keywords
Bacterial GenomeGenome AlignmentVariable SegmentBackbone SegmentMauve Alignment
Background
The increasing number of publicly available, completely sequenced bacterial genomes provides an opportunity for original comparative genomics approaches, especially at short-term evolutionary scales. During the last decade, several algorithms have been developed to respond to the challenging task of aligning whole genomes at the nucleotide level (see, for instance, references [1–3], and [4]). Some algorithms, such as MGA, are limited to collinear genomes [1]. Others, however, such as the MAUVE aligner [2], allow alignments of multiply rearranged (i.e., inverted or translocated) genomic sequences. These powerful tools enable novel exploration of bacterial genome structure and evolution. However, the use of these algorithms presents certain difficulties in practice. First, adjustment of alignment parameters is not straightforward. Second, no statistical or empirical criteria are available to evaluate the quality of genome alignments. Third, displaying, browsing, and analyzing genomic sequence alignments are challenging (for review see reference [5]).
To provide easy access to the genomic structure of closely related bacterial species, we have developed a comprehensive database termed MOSAIC. Several resources have been made available in the area of bacterial comparative genomics (for a review see [6]), but most are dedicated to a given species or group of species (e.g., the Enterix tools [7]). Moreover, these resources are often restricted to pairwise genome comparisons (e.g., xBASE2 [8]). The MOSAIC database is a generalist resource that aims to provide easy access to pairwise and multiple bacterial genome comparisons at the intra-species level. Compared to the previous release [9], the new version of MOSAIC includes several improvements in comparison strategies and database content that allow for a broader definition of the nature of conserved and variable segments in bacterial genomes. Genomes are now extracted from the EBI Genome Reviews database [10] instead of the NCBI RefSeq database [11]. Comparisons are based on two genome aligners: MGA [1] for collinear genomes and MAUVE [2] for rearranged genomes. To facilitate interpretation, genome alignments are post-processed to define backbone segments (i.e., regions conserved in all compared strains) and variable segments (i.e., regions that are either specific to or variable in one of the aligned genomes). These segments are easily accessible through the MOSAIC interface, which allows browsing and genome comparison visualization using three graphical modes: Genome Comparison Viewer, Physical Linear Map, and Circular Map.
Construction and content
Comparison strategy
The comparison strategy is summarized in Figure
1
.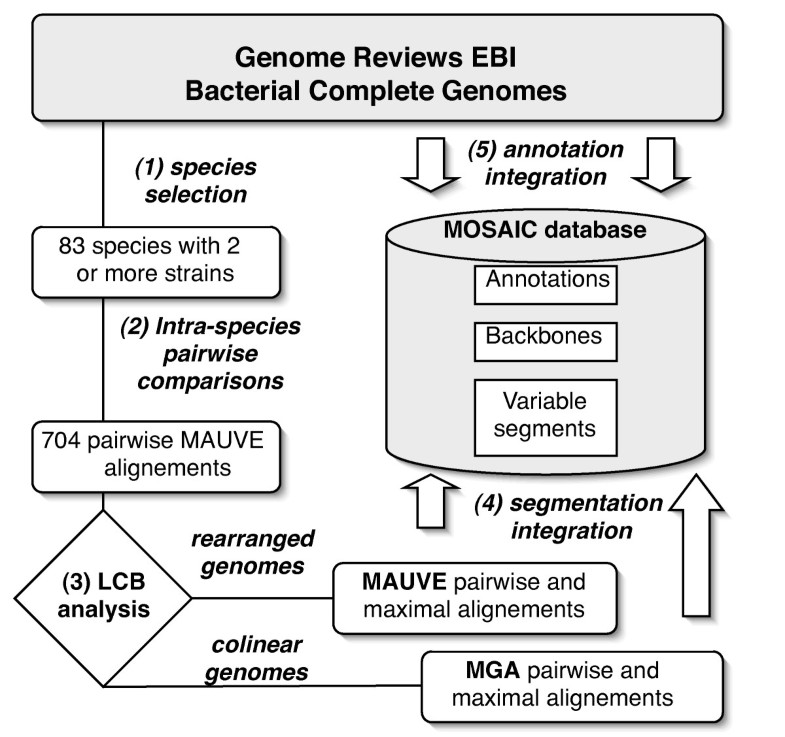 Database design and genome alignments
The MOSAIC database is implemented on the relational management database system PostgreSQL (version 8.2.4). The Web interface is designed using the standard Perl modules DBI and CGI.
Genome alignments were processed on a cluster of 160 CPU either with MGA version 2003-03-18 or with MAUVE version 1.2.3. MGA parameters were set up as follows: l = 50–20 and gl = 3000. MAUVE parameter settings were: Seed-size = 19, island-size = 20, backbone-size = 20, max-backbone-gap = 20, gapped-aligner=clustal, max-gapped-aligner-length = 10000, min-recursive-gap-length = 5000, and weight = 5000.
Improvements to the Web interface
Compared to the previous version, the updated MOSAIC database provides several improvements in the Web interface. First, the "Genome Comparison Viewer" (performed using MuGeN [13]) now shows a global view of rearrangements through the visualization of the LCB structure of all compared genomes. Once an LCB is chosen on the first genome, it is easy to browse the Backbone/Variable Segment structure inside the selected LCB in all compared genomes. When the compared genomes do not show rearrangements, the unique LCB is displayed (as a single purple block) and needs to be selected to access the Backbone/Variable segment structure. Second, the "Circular Map Viewer" (developed using CGView [14]), now allows the user to obtain an interactive circular visualization of the Backbone/Variable Segment structure of a particular chromosome. Third, Specific facilities are provided to visualize and extract coordinates and sequences of "Intervals" (defined by MAUVE as LCBs, and including "Insertions"; see above for insertion definition) in any set of genomes compared with MAUVE.
Utility and discussion
Access to comparisons through the Web interface
The main access for browsing MOSAIC bacterial genome comparisons directs the user to choose a species in the MOSAIC main page. Figure
2
presents examples of genome comparison visualization of 12
Streptococcus pyogenes
genomes through the species access mode.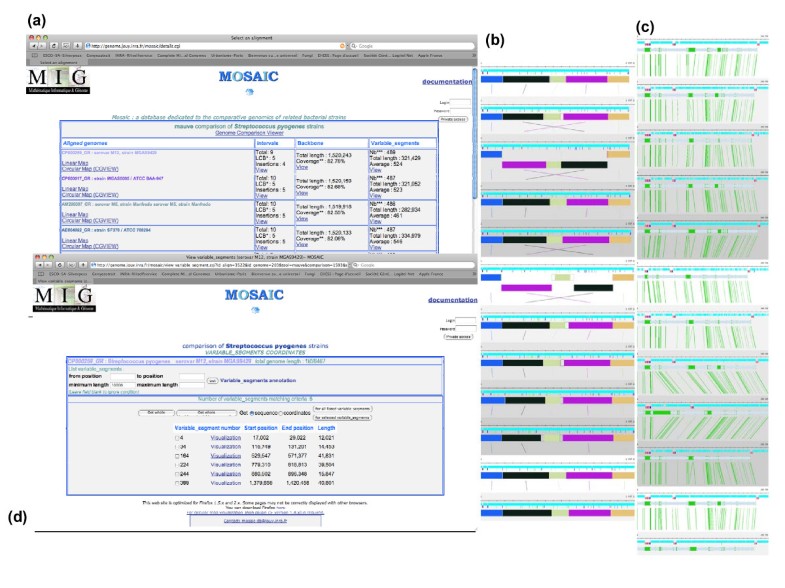 Once a species is selected, the list of MOSAIC pairwise and multiple genome comparisons available for this species is displayed. The user can then select a comparison to obtain a Table describing the general properties of the comparison (Figure 2a). This table provides the length and backbone coverage, as well as the number, cumulative length, and average length of variable segments, for all aligned genomes. If the comparison was obtained using MAUVE, an additional column lists the number of "Intervals" detected by the alignment procedure. Intervals include LCBs and "Insertions".
The table also gives access to graphical visualization of the aligned genomes. Figure 2b shows an example of the graphical global representation of all aligned genomes using the Genome Comparison Viewer. Once the global view of all aligned chromosomes is generated with the viewer, it is possible to click on each LCB of the first chromosome and then to browse collinear regions of all compared chromosomes. This allows visualization of the backbone and variable segments, together with genome annotations as shown in Figure 2c. Lastly, the table includes links to the detailed list of backbones, variable segments, and, when available, intervals, via the item "View". By following the links it is possible to download these elements in various formats (Figure 2d).
Case study
Using MOSAIC to compare 12 S. pyogenes chromosomes, one can observe that the chromosomes are mostly collinear, with the notable exception of large inversions in strains Manfredo and SSI-1 (Figure 2b). This comparison allowed us to define a backbone 1,500 kb long corresponding to approximately 80% of the total length of the compared chromosomes. The backbone is interrupted by about 480 variable segments whose lengths vary from 20 bp (the MOSAIC minimal threshold) to about 40 kb. In strain MGAS9429, the largest variable segment is 41 kb in length. Using the "visualisation" command (Figure 2d), and the annotation data provided when clicking on each Open Reading Frame (ORF), one can observe that this segment contains numerous ORFs annotated as bacteriophage proteins, indicating that the region may represent integration of a prophage.
Conclusion
The MOSAIC database aims to provide a powerful resource permitting systematic chromosome comparisons of related bacterial strains.
MOSAIC currently includes chromosome comparisons of 78 bacterial species. MOSAIC has been used to perform 493 pairwise chromosome comparisons (147 processed with MGA and 346 processed with MAUVE), and 35 multiple maximal chromosome comparisons (5 processed with MGA and 30 processed with MAUVE). Of particular interest, three species include multiple alignments of many strains. These are Staphylococcus aureus (14 genomes compared), E. coli/Shigella (13 genomes compared), and S. pyogenes (12 genomes compared). Except for a few cases for which genomes are too divergent to be aligned (such as in strains of the endosymbiotic species Buchnera aphidicola), all bacterial species for which at least two strains are sequenced are included in MOSAIC. The MOSAIC database can be used for a variety of comparative analyses and applications. To date, the database has been employed to predict motifs involved in bacterial chromosome maintenance in four species by analyzing backbone regions [15]. MOSAIC has also being used to analyze the mechanisms of genetic variability in E. coli, S. aureus, and S. pyogenes, and to analyze recombination, using an alignment of backbones obtained from a comparison of 20 E. coli/Shigella strains sequenced by the ColiScope consortium [16].
Future developments will include complete automation of releases, comparison of divergent genomes using a dedicated strategy, integration of statistical criteria for evaluation of chromosome comparisons, and development of Web services to provide standard exchanges with other resources.
Availability and requirements
The database is available at http://genome.jouy.inra.fr/mosaic.
This web site is optimized for Firefox 1.5.x and 2.x. Note that some pages may not be correctly displayed with other browsers.
Declarations
Acknowledgements
We are grateful to the INRA MIGALE bioinformatics platform http://migale.jouy.inra.fr for providing help and computational resources. We are grateful to Dr J. Yang for communicating the coordinates of rearrangements detected in Shigella genomes. We thank Drs G. Aguileta, J. Garnier, J.F. Gibrat and A. Gruss for valuable comments on the manuscript. This work is supported by the French "Agence Nationale de la Recherche" projects CoCoGen (BLAN07-1_185484) and MIGADI (07PFTV010).
Authors' Affiliations
(1)
INRA UR1077, Unité Mathématique, Informatique & Génome, Jouy-en-Josas, France
(2)
INRA UR888, Unité des Bactéries Lactiques et Pathogènes Opportunistes, Jouy-en-Josas, France
Copyright
© Chiapello et al; licensee BioMed Central Ltd. 2008
This article is published under license to BioMed Central Ltd. This is an Open Access article distributed under the terms of the Creative Commons Attribution License (http://creativecommons.org/licenses/by/2.0), which permits unrestricted use, distribution, and reproduction in any medium, provided the original work is properly cited.