Research article
Open Access
An efficient genetic algorithm for structural RNA pairwise alignment and its application to non-coding RNA discovery in yeast
BMC Bioinformatics
2008
9:521
Received: 02 September 2008
Accepted: 05 December 2008
Published: 05 December 2008
Abstract
Background
Aligning RNA sequences with low sequence identity has been a challenging problem since such a computation essentially needs an algorithm with high complexities for taking structural conservation into account. Although many sophisticated algorithms for the purpose have been proposed to date, further improvement in efficiency is necessary to accelerate its large-scale applications including non-coding RNA (ncRNA) discovery.
Results
We developed a new genetic algorithm, Cofolga2, for simultaneously computing pairwise RNA sequence alignment and consensus folding, and benchmarked it using BRAliBase 2.1. The benchmark results showed that our new algorithm is accurate and efficient in both time and memory usage. Then, combining with the originally trained SVM, we applied the new algorithm to novel ncRNA discovery where we compared S. cerevisiae genome with six related genomes in a pairwise manner. By focusing our search to the relatively short regions (50 bp to 2,000 bp) sandwiched by conserved sequences, we successfully predict 714 intergenic and 1,311 sense or antisense ncRNA candidates, which were found in the pairwise alignments with stable consensus secondary structure and low sequence identity (≤ 50%). By comparing with the previous predictions, we found that > 92% of the candidates is novel candidates. The estimated rate of false positives in the predicted candidates is 51%. Twenty-five percent of the intergenic candidates has supports for expression in cell, i.e. their genomic positions overlap those of the experimentally determined transcripts in literature. By manual inspection of the results, moreover, we obtained four multiple alignments with low sequence identity which reveal consensus structures shared by three species/sequences.
Conclusion
The present method gives an efficient tool complementary to sequence-alignment-based ncRNA finders.
Keywords
Pairwise AlignmentSaccharomyces Genome DatabaseGenetic Algorithm OperatorConsensus Secondary StructurencRNA Candidate
Background
The RNA worlds in both experimental and computational fields have recently grown rapidly, and non-coding RNAs (ncRNAs) have increased their importance in life sciences. One of the most important breakthrough from the experimental side is the high-throughput experiments which have unveiled the existence of many non-protein coding transcripts in various species [1, 2]. While function-known ncRNAs, which often harbor family-specific conserved secondary structure, such as tRNAs and miRNAs have been intensively studied in detail, no functional annotation has been assigned to a number of known non-protein coding transcripts yet. Since experimental assessment whether all known non-protein coding transcripts are functional or not is quite time-consuming, computational screening for finding the ncRNAs with conserved secondary structure is an important step for determining not only expressed but also functional transcripts. Computational comparative genomics is a powerful approach to identify ncRNA candidates with conserved secondary structure from genomic sequences. To date, sequence-alignment-based ncRNA finders such as RNAz [3], QRNA [4] and EvoFold [5] have been successfully applied to ncRNA discoveries from various complete genomes [6–10]. While these methods are so efficient that they can be applied to genome-scale analysis, sequence-alignment-based methods need a pre-computed alignment as an input data. In other words, they implicitly assume that an adequately accurate RNA sequence alignment can be obtained by using pure sequence alignment method (e.g. ClustalW) which does not explicitly consider conserved secondary structure. Although this assumption is acceptable for the RNA sequences with relatively high sequence identity, sequence-alignment-based methods can fail to indentify the ncRNAs with low sequence identity; this is because conserved secondary structure should be taken into account to accurately align structured RNA sequences which are poorly conserved at sequence level.
Finding related structured RNA sequences with low sequence identity from genomic sequences is more challenging compared to the case of high sequence identity. This is mainly due to the high computational complexities of structural RNA sequence alignment algorithms which explicitly take secondary structure into account (in the present paper, the term "structural RNA sequence alignment" is used to indicate "simultaneously determining RNA sequence alignment and conserved secondary structure without pre-defined secondary structure annotation"). For example, the computational complexities of Sankoff's algorithm which is the most basic algorithm for structural RNA sequence alignment are O(N3M) in time and O(N2M) in space, where N and M are the length and the number of RNA sequences to be aligned, respectively [11]. Even when one performs pairwise alignment, Sankoff's algorithm needs O(N6) in time and O(N4) in space. To improve the computational speed and memory usage of structural RNA sequence alignment, various variations of Sankoff's algorithm have been intensively studied [12–21].
So far, Dynalign [13] and Foldalign [14] which are variations of Sankoff's algorithm, have been applied to the pairwise comparative genomics for novel ncRNA discoveries[22, 23]. Indeed these 'structure-based' ncRNA finders have successfully predicted a number of ncRNA candidates with low sequence identities, these calculations needed long computational times and large computational resources. Although these programs have been updated recently and the latest versions are faster compared to their older versions, it is still time consuming to apply these programs to genome-scale applications. Recently an efficient structural RNA sequence alignment algorithm, LocARNA, has been proposed[15]. To our knowledge, however, there is no report related to the ncRNA discovery by using LocARNA. Since genomic scans by previous structural RNA sequence alignment methods are time consuming and need large computational resources in general, further development of efficient and accurate structural RNA sequence alignment algorithm is important to accelerate the genome-scale prediction of the ncRNAs with low sequence identities. Recently, CMfinder, which is structural RNA sequence alignment algorithm not for pairwise but for multiple RNA sequence alignment, has successfully predicted a number of novel structured RNA motifs from the ENCODE regions with low sequence identities [24].
In the present paper, we propose an improved genetic algorithm (GA), Cofolga2, for structural RNA pairwise alignment which uses the base pairing probabilities (BPPs) by RNAfold[25] to evaluate the structural term of the objective function instead of directly using the free energy parameters as its version 1 does [21]. Since the present algorithm is efficient in both time and memory usage, we applied the algorithm to the pairwise comparisons between eukaryotic complete genomes to search for novel ncRNA candidates from low sequence identity regions. The rest of the present paper is organized as follows. First we describe the present structural RNA sequence alignment algorithm and a strategy for our comparative genomics in the 'Methods' section. In the next section, we show the results of the benchmark and the comparison between the present algorithm and previous ones, discussing the performance of our alignment algorithm. Finally, we present the detail of the ncRNA candidates obtained by the pairwise genome comparisons between S. cerevisiae and other six fungi.
Methods
In Cofolga2 algorithm, we employ a GA to search for the optimal solution of structural RNA pairwise alignment. Cofolga2 is an updated version of the previously proposed GA [21] which performs structural RNA pairwise alignment based on minimization of free energy and the GA frameworks proposed in RAGA [26] (in the present paper, we call the previous version as Cofolga1). Cofolga2 runs much faster compared to Cofolga1; this is mainly due to the improvement in the formulation of objective function and introduction of a new technique for random alignment generation. In standard GA, various GA operators (crossovers and mutations) are iteratively applied to a population of individuals (solutions) to search for the optimal solution with the highest value of a given objective function (OF) [27]. In the Cofolga algorithms, an individual of GA is represented by a pairwise alignment. This is because structural RNA sequence alignment problem can be decomposed into sequence alignment and alignment folding, and the optimal alignment folding is uniquely defined for a given alignment. As a result, the conformational space to be explored in the present structural RNA pairwise alignment is reduced to that of non-structural pairwise sequence alignment.
The OF of Cofolga2 is represented by the following formula:
f = s + wP, (1)
where s is a sequence alignment score, P is a term for consensus secondary structure; w is a parameter for controlling the weights of s and P.
For a given pairwise alignment of RNA sequence A and B, the P in Equation 1 is evaluated as follows.
First an averaged BPP matrix
B
is constructed:
In Equation
2
,
b
ij
is the matrix element of
B
, where
i
and
j
indicate the column positions in the pairwise alignment;
k
i
and
l
j
(
m
i
and
n
j
) are the nucleotide positions in sequence A (sequence B) corresponding to column position
i
and
j
in the pairwise alignment, respectively. The BPPs of single sequence A and B, and , are computed by RNAfold [
25
]. Secondly, the
P
is evaluated by taking a summation of the elements in matrix
B
:
It is noteworthy that Equation 3 can be applied to any type of pseudoknotted structure without modification. This means that once the BPP matrixes taking pseudoknots into account are given, Cofolga2 algorithm can perform structural RNA sequence alignment of pseudoknotted RNAs without an increase of computational costs compared to the case of non-pseudoknotted RNAs.
The flowchart of Cofolga2 algorithm is shown in Figure
1
. In accordance with the standard GA, first, initialization is done to randomly generate an initial population, and then evaluation and reproduction procedures are iteratively performed to update the population. This iteration stops when the number of iterations reaches a user-defined maximum number or when no improvement has been observed for a user-defined number of iterations.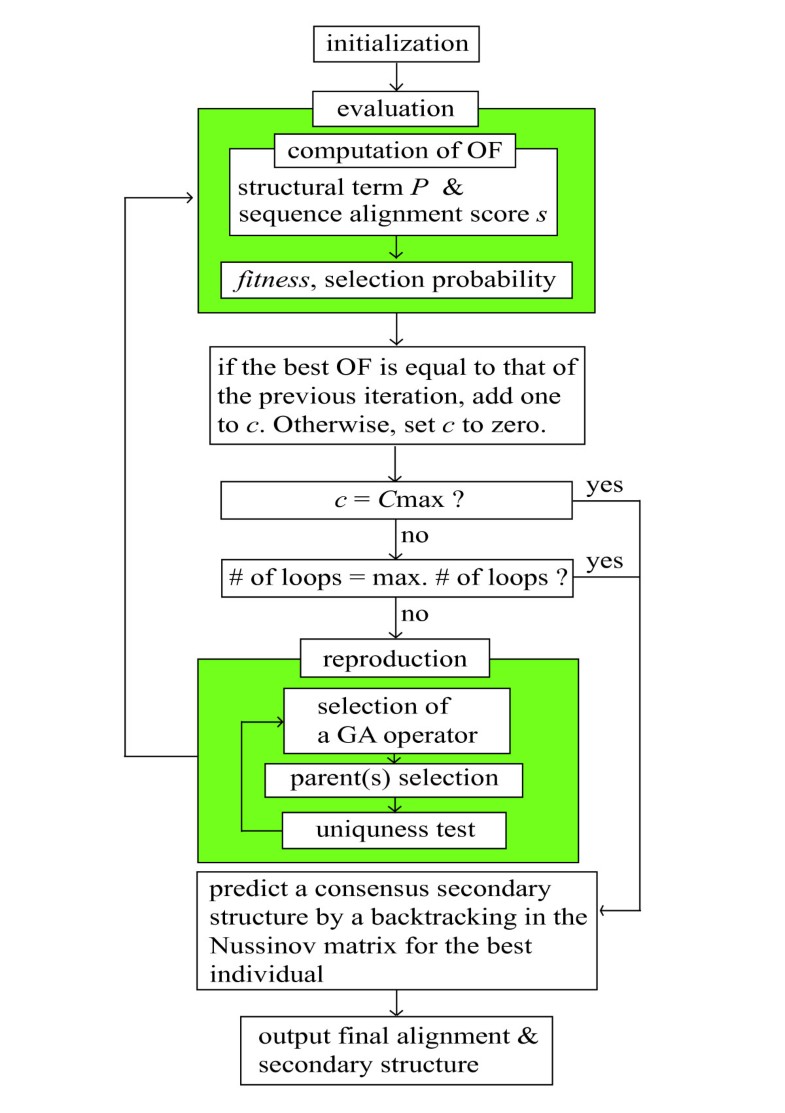 As mentioned above, Cofolga2 was developed based on Cofolga1. In the following subsections, we will focus on explaining the detail of algorithms newly introduced for Cofolga2. Algorithmically common parts between the two versions will be briefly explained.
Conclusion
As can be known from a number of recent papers describing various structural RNA sequence alignment programs, it is a difficult problem to find a good RNA alignment with low sequence conservation. In the present study, we developed a new efficient GA for constructing structural RNA pairwise alignment with a new objective function and random alignment generation algorithm. The new GA is accurate and efficient in both time and memory usage, hence we applied it to the comparative ncRNA discovery between S. cerevisiae and related species using a SVM trained with the sequences and alignments taken from BRAliBase 2.1. As a result, we successfully obtained ncRNA candidates located at 714 intergenic regions and 1,311 protein-coding regions including antisense sequences, > 92% of which is novel candidates since they show no overlaps with the genomic positions of the previous predictions and known ncRNAs. Indeed, our approach is not suitable for identifying all ncRNA sequences embedded in a genome, it gives a valuable tool complementary to the sequence-alignment-based ncRNA finders such as RNAz and QRNA, since the present method often found the ncRNA candidates which cannot be found by such sequence-alignment-based ncRNA finders. The results of the present study indicate that still a number of structured RNA transcripts with significant structural and evolutional signals is hidden in genomic sequences, and further exploration for novel ncRNAs using computational methods is inevitable to unveil the RNomics of genomes.
Availability and requirements
Non-profit, academic users can download and use the executable files at the Cofolga2 website [40].
Declarations
Acknowledgements
This work was partially supported by the Ministry of Education, Science, Sports and Culture, Grant-in-Aid for Young Scientists (B), 17700289, 2005–2006, Grant-in-Aid for Young Scientists (B), 19700272, 2007–2008, Grant-in-Aid for Scientific Research (B), 18380028, 2006–2008, and a "Grant for Priority Research Designated by the President of Hirosaki University".
Authors' Affiliations
(1)
Graduate School of Science and Technology, Hirosaki University, Hirosaki, Japan
Copyright
© Taneda; licensee BioMed Central Ltd. 2008
This article is published under license to BioMed Central Ltd. This is an Open Access article distributed under the terms of the Creative Commons Attribution License (http://creativecommons.org/licenses/by/2.0), which permits unrestricted use, distribution, and reproduction in any medium, provided the original work is properly cited.