Research article
Open Access
Analysis of plasmid genes by phylogenetic profiling and visualization of homology relationships using Blast2Network
BMC Bioinformatics
2008
9:551
Received: 18 June 2008
Accepted: 21 December 2008
Published: 21 December 2008
Abstract
Background
Phylogenetic methods are well-established bioinformatic tools for sequence analysis, allowing to describe the non-independencies of sequences because of their common ancestor. However, the evolutionary profiles of bacterial genes are often complicated by hidden paralogy and extensive and/or (multiple) horizontal gene transfer (HGT) events which make bifurcating trees often inappropriate. In this context, plasmid sequences are paradigms of network-like relationships characterizing the evolution of prokaryotes. Actually, they can be transferred among different organisms allowing the dissemination of novel functions, thus playing a pivotal role in prokaryotic evolution. However, the study of their evolutionary dynamics is complicated by the absence of universally shared genes, a prerequisite for phylogenetic analyses.
Results
To overcome such limitations we developed a bioinformatic package, named Blast2Network (B2N), allowing the automatic phylogenetic profiling and the visualization of homology relationships in a large number of plasmid sequences. The software was applied to the study of 47 completely sequenced plasmids coming from Escherichia, Salmonella and Shigella spps.
Conclusion
The tools implemented by B2N allow to describe and visualize in a new way some of the evolutionary features of plasmid molecules of Enterobacteriaceae; in particular it helped to shed some light on the complex history of Escherichia, Salmonella and Shigella plasmids and to focus on possible roles of unannotated proteins.
The proposed methodology is general enough to be used for comparative genomic analyses of bacteria.
Keywords
Protein ClusterPhylogenetic ProfilePlasmid SequenceJaccard DistanceJaccard Similarity Coefficient
Background
Despite the huge amount of available sequences, few papers reported comparative analyses of entire plasmids with the aim of a complete classification of the functions they code for [1–4], and none considered all the sequences coming from entire genera or more inclusive taxonomic groups.
Nevertheless, plasmids are extremely important in microbial evolution, because they can be transferred between organisms, representing natural vectors for the transfer of genes and functions they code for [[5, 6] and references therein]. In medical epidemiology and microbial ecology plasmids are thoroughly investigated because they often carry genes encoding adaptive traits such as antibiotic resistance, pathogenesis or the ability to exploit new environments or compounds [[7–9] and references therein].
While bacterial chromosomes show a relatively high conservation of their architecture, plasmid molecules are more variable concerning gene content and/or organization, even at short evolutionary distances. Indeed, plasmid genes can be considered to be under differential selection, while moving around the bacterial community. Moreover they have a dynamic structure, i.e. genes can be gained or lost from the plasmid molecule. Actually, the same plasmid can be hosted by different organisms inhabiting different environments (e.g.: pH, temperature and chemical composition) and cohabiting with different genetic backgrounds. These factors may shape both the functional role(s) of the proteins, and the compositional features of plasmid DNA, such as GC or oligomers contents, some of the last being a very specific signature even at close phylogenetic distances [10].
Despite their key role in the microbial world, at least two main issues concerning plasmids remain poorly investigated: i) the function of proteins they code for (see Additional file 1, more than 25% of proteins do not have assigned COG) and ii) the evolutionary dynamics of plasmids including their importance in bacterial evolution [11].
This latter point is often analyzed using phylogenetic methods that make use of rigorous statistical approaches to model the evolution of sequences (such as Maximum Likelihood or Bayesian inference). However, such methods are of restricted use in the case of plasmid molecules: they are computationally expensive when thousands of amino acid or nucleotide sequences are analyzed, and, moreover, require a set of homologous and universally shared sequences, that could be unavailable when studying plasmids.
To overcome these limitations we have developed a bioinformatic package (Blast2Network, B2N) having three main aims:
1)

to reconstruct the evolutionary history of plasmids molecules by identifying those having the most similar gene content;

2)

to assign a putative function to previously uncharacterized proteins. This task is fulfilled in two ways: by means of sequence similarity of unknown or hypothetical proteins to known ones and through a phylogenetic profiling approach. In this case the function of a protein is inferred by observing co-occurrence patterns. This is based on the idea that proteins involved in the same metabolic process or macromolecular complex tend to be maintained (or lost) together and that proteins which often occur together are likely to be functionally linked [12].

3)

to provide an immediate visualization of the similarities existing among sequences. In fact, one of the outputs of the program is a network of sequence similarities in a format readable by the visualization software Visone http://visone.info/.
To test the package, we focused the attention on plasmids harbored by members of the Enterobacteriaceae family of γ-Proteobacteria, which is one of the most studied divisions of bacteria and includes Escherichia, Shigella, and Salmonella genera, whose biomedical importance [13] has allowed to record a relatively high number of completely sequenced plasmids in a few species. Moreover, horizontal transfer of plasmids between them has been described [14], complicating the phylogenetic information on plasmids; lastly, several pathogenesis-associated phenotypes are plasmid-borne [15]. Consequently, the application of B2N to this dataset could allow to reveal the presence of relationships between known pathogenesis-associated proteins and those which have not been characterized yet.
Results and discussion
Visual representation of sequence homology network
B2N was used to study the relationships existing between homologous proteins from all the completely sequenced plasmids available from three γ-Proteobacterial genera:
Escherichia
,
Shigella
,
Salmonella
. The dataset contains a total of 3701 ORFs, from 47 different plasmids (Table
1
). To our knowledge, no attempt was made to describe in a meta analysis the overall body of plasmid sequence data in these species. Figure
2
shows the graphical representation of two networks generated with B2N using protein sequences in our dataset and using an aminoacid sequence identity threshold of 90% or 100% (Figure
2a
and
2b
respectively, where the thresholds are particularly high and the number of plasmids reduced to 39 out of 47 for clarity purposes). Proteins from the same plasmid are circularly arranged around the same centre and share the same color; proteins from the same genus are represented by the same shape (Figure
2c
). The networks, obtained choosing an E-value threshold of 0.0001 and a minimum alignment length of 70 residues, have been visualized using the software Visone. The size of the nodes is proportional to the number of links they have. The analysis of Figure
2
revealed that most plasmids are strongly connected to others, but there are also plasmids exhibiting just few connections (see the section Phylogenetic profiling).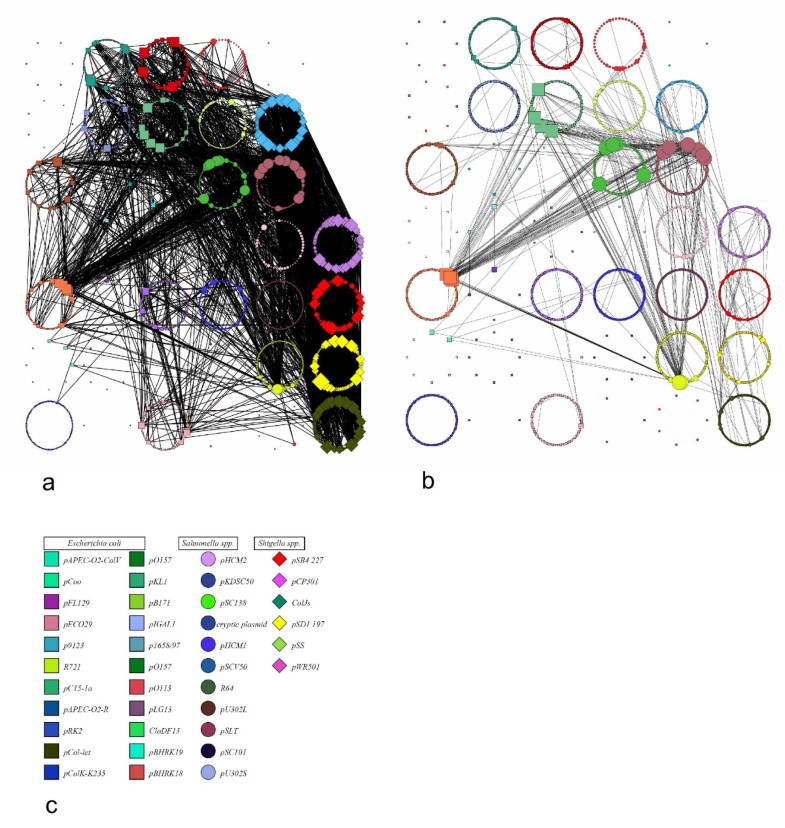 Focusing on protein clusters instead of plasmids, we can arrange nodes in an uniform visualization, where nodes are clustered together if they directly or indirectly share at least one link (Figure
3
, with a threshold of 40% identity). Quite interestingly, clustering of similar sequences at lower thresholds permits to assign a putative function to unknown or hypothetical proteins, and to discover the presence (if any) of functional classes or metabolic pathways that are more common in the network.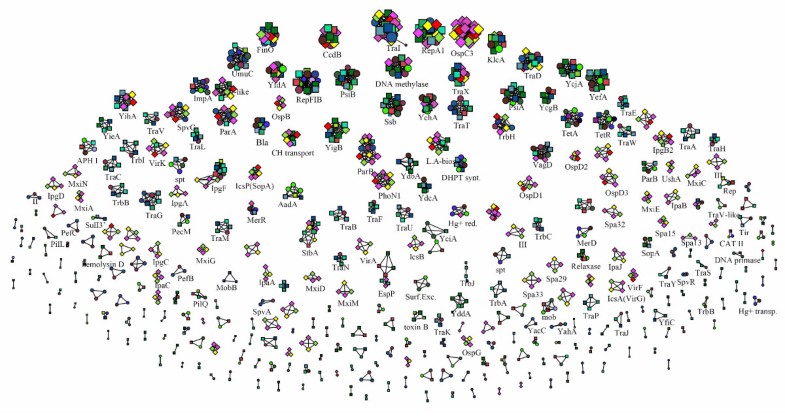 One of the problems faced with such complex data is the reduction of the dimensionality, so that important relationships can be more easily identified. Similarities in gene content between different plasmids can be better visualized by collapsing all the proteins belonging to the same plasmid in a single node. In this way a hypergraph is obtained where each node represents a single plasmid. The connection can be obtained from the plasmid vs plasmid Jaccard distance matrix or better, they can reflect the p-values matrix, so that each link in the hypergraph quantifies the significance of a given association between plasmids (showed in Additional file 2) and a simple hard thresholding allows changing the stringency for the inclusion of edges in the hypergraph.
Network data analysis
The analysis of the network data represented in Figures
2
and
3
revealed several interesting features of the relationships among the sequenced plasmids of the three genera under investigation:
1)

Out of a total of 3701 proteins in the dataset, we found 1633 (44%) and 2471 (66.7%) isolated nodes at a threshold of 90% or 100% of identity for links, respectively (Figure 2a and 2b).

2)

Most plasmids contain at least some gene coding for highly interconnected proteins; however, some of them (e.g. pRK2, ColJs Cjl, pLG13, CloDF13) exhibited only few connections. Hence, these plasmids share few genes with the other members of the dataset at these threshold levels. This, in turn, may suggest that they might have experienced less recombination events than others.

3)

Several proteins (about 40% of all the connected nodes) were found to be mobile elements (transposases, IS and transposons -related sequences), representing the most highly connected proteins in the network.

4)

As shown in Figure 3, proteins shared by Escherichia, Salmonella and Shigella plasmids included: a) the antirestriction protein KlcA involved in the broad-host range of IncP plasmids [20]; b) the RNA chaperone FinO, related to repression of sex pilus formation [21, 22]; c) the CcdB protein, which is involved in plasmid stability by killing bacteria that lose the plasmid [23].

5)

Several clusters were composed by proteins shared by Shigella spp. and Escherichia coli; this finding is in agreement with the notion that they are considered to belong to the same species [24]. Moreover, several proteins were shared only by E. coli and Salmonella plasmids, including: the genetic determinants for antibiotic resistance such as TetA and TetR [25], β-lactamases (Bla) [25, 27], genes for resistance to amino glycosides (AadA) and sulphonamides (DHPT synthase). A similar scenario was observed for sex pilus related proteins, such as Tra and Trb proteins: out of 22 different Tra groups, 21 contain proteins coming from E. coli and Salmonella, but 3 groups only (TraDI for DNA transport and TraX for pilin acetylation) have Shigella sequences. Likewise, out of 5 different Trb groups, we observed Shigella plasmid sequences in a single cluster (TrbH). Moreover, the proteins TraP, TrbA and TrbJ seem to be only present in plasmids from E. coli, while all the other sex pilus related proteins are shared with Salmonella. These data are in agreement with evidences for recent transfer of plasmid genes between enteroinvasive Escherichia and Salmonella [26, 27].
Concerning the pathogenesis-related genes, Shigella plasmids seem to have a specific set of these genes, comprising at least some of the proteins of the type III secretion system (TTS), e.g.: Mxi, Spa, Ipa, Ipg and Osp proteins.
Finally, on the overall observation it appeared that besides the closer phylogenetic relationships existing between E. coli and Shigella, plasmid content appeared more similar among E. coli and Salmonella for what is concerned with antibiotic resistance and sex pilus formation.
Phylogenetic Profiling
Data discussed in the previous paragraphs, that is which proteins join a given cluster, were stored by B2N into a text file, which represent the phylogenetic profile of the dataset used; this can be further used by the program to calculate two matrices storing the distances between profiles in the two dimensions (i.e. for plasmids and for proteins), as described in Methods. The corresponding neighbor-joining dendrograms, that describe the similarity in gene content of the plasmids and protein co-occurrence patterns are shown in Figure
4
, Figure
5
and Additional file
4
. Data reported in Figure
4
revealed that most of plasmids does not form tight clusters coherent with the taxonomic status of their respective host species (
E. coli
,
Salmonella
or
Shigella
). This finding suggests a complex evolutionary history of such plasmid replicons with massive horizontal transfer and gene rearrangements. In particular, plasmid pSFD10 from
Salmonella
grouped with two
E. coli
plasmids (pRK2 and pLG13).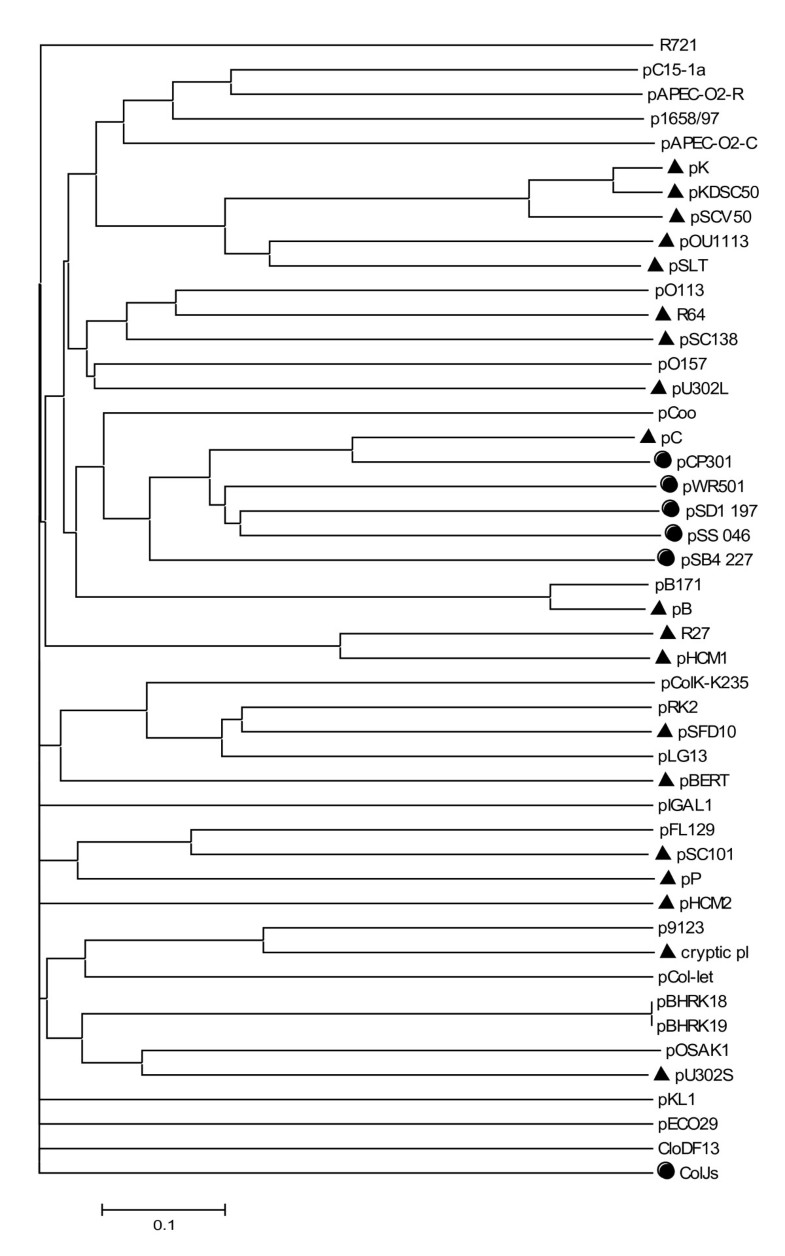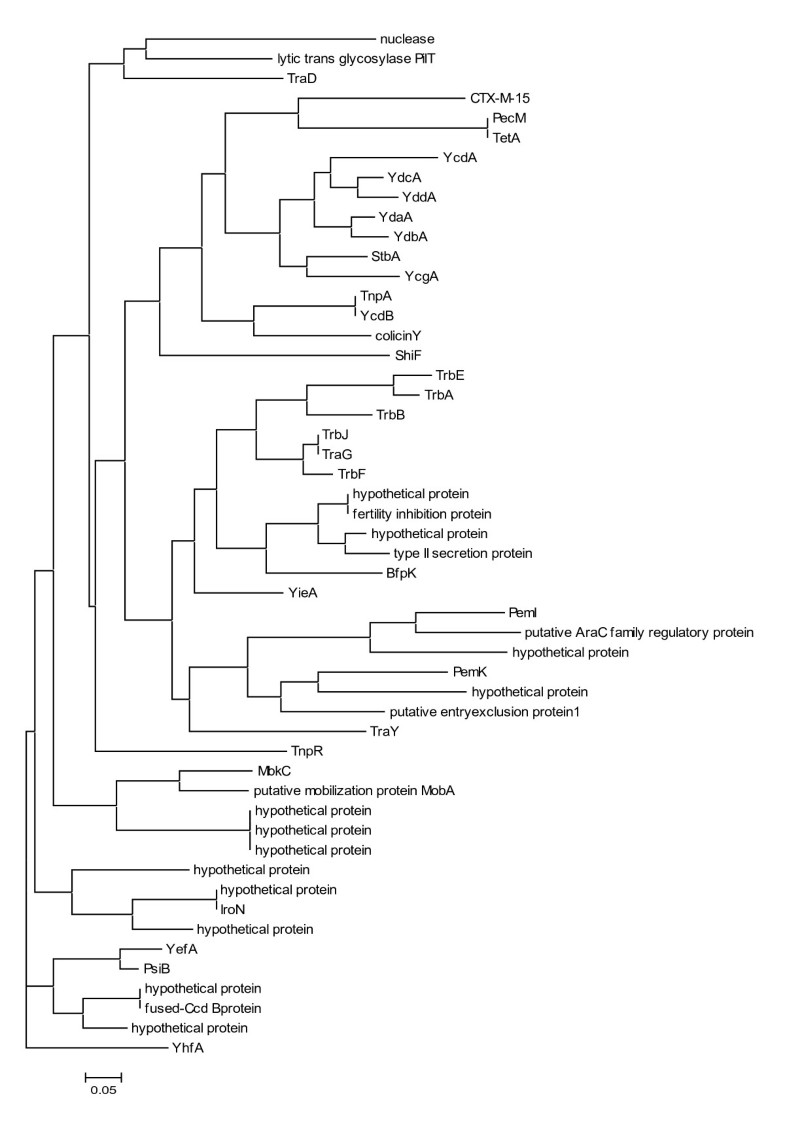 A relevant exception is represented by five Shigella plasmids (pCP301, pSB4 227, pSD1 197, pWR501, and pSS 046) that form a unique clade (which, however, also includes pC plasmid from Salmonella enterica).
Figure 5 and Additional file 3 report the co-occurrence clustering for the protein dataset of the selected plasmids. In general, plasmids are believed to share very few common functions (mainly related to their replication and mobility), several accessory genes and a complex history of recombination events among either them or the host chromosome(s) [28]. Here, we actually show that most of the co-occurrence clusters are due to protein related to plasmid transfer (e.g. Trb and Tra proteins). Nevertheless, several clusters are present showing the co-occurrence of hypothetical proteins with proteins with predicted functions such as type II secretion proteins and pilins (BfpK), or with proteins involved in mobilization (MobA, MbkC) and virulence factors (IroN). These analyses may help in addressing experimental analyses for elucidating the functional role of these proteins.
Conclusion
In conclusion, we report that the tools implemented by B2N allow to describe and to visualize in a new way some of the evolutionary features of plasmid molecules of Enterobacteriaceae; the most important results obtained by B2N on the Enterobacteriaceae dataset are related to the possibility, by means of phylogenetic profiling and network relationships of proteins, to uncover some of the molecular history, which shaped the evolution of this group of plasmids. In particular, data obtained suggested a large amount of horizontal transfer and rearrangement of plasmid molecules between E. coli, Salmonella and Shigella. Moreover, interestingly some plasmids from Shigella share a common history with Salmonella and several hypothetical proteins form co-occurrence clusters, suggesting possible roles in plasmid maintenance and/or pathogenesis, which could be investigated by conventional genetic techniques.
The proposed method is general enough to be proposed as a new tool for comparative genomic analyses of bacteria and can work at least within the range of phylogenetic distances enabling Blast to find homologs. For this reason, the B2N approach could help solving some questions linked to the presence of (few) well conserved functions within plasmid datasets from wide taxonomic ranges (e.g. functions related to transfer or replication). Moreover, possible applications of the method could include also chromosomal replicons, trying to depict histories of gene rearrangement and integration from plasmid to chromosomes and viceversa.
Abbreviations
B2N:

Blast2Network
TTS:

type III secretion system.
Declarations
Acknowledgements
This work was supported by the Italian Ministry of Research, FISR founding "Soil sink". MBr was supported by a post doc fellowships of the University of Firenze.
Authors' Affiliations
(1)
Department of Evolutionary Biology, University of Florence, Florence, Italy
(2)
Computer Laboratory, University of Cambridge, Cambridge, UK
(3)
Laboratoire de Biometrie et Biologie Evolutive, UMR CNRS 5558, Lyon, France
Copyright
© Brilli et al; licensee BioMed Central Ltd. 2008
This article is published under license to BioMed Central Ltd. This is an Open Access article distributed under the terms of the Creative Commons Attribution License (http://creativecommons.org/licenses/by/2.0), which permits unrestricted use, distribution, and reproduction in any medium, provided the original work is properly cited.