Methodology Article
Open Access
MARZ: an algorithm to combinatorially analyze gapped n-mer models of transcription factor binding
BMC Bioinformatics
2015
16:30
Received: 20 August 2014
Accepted: 24 November 2014
Published: 31 January 2015
Abstract
Background
A key challenge in understanding the molecular mechanisms that control gene regulation is the characterization of the specificity with which transcription factor proteins bind to specific DNA sequences. A number of computational approaches have been developed to examine these interactions, including simple mononucleotide and dinucleotide position weight matrix models.
Results
Here we develop a novel, unbiased computational algorithm, MARZ, that systematically analyzes all possible gapped matrices across a fixed number of nucleotides. In addition, to evaluate the ability of these matrix models to predict in vivo binding sites, we utilize a new scoring system and, in combination with established scoring methods and statistical analysis, test the performance of 32 different gapped matrices on the well characterized HUNCHBACK transcription factor in Drosophila.
Conclusions
Our results indicate that in many cases gapped matrix models can outperform traditional models, but that the relative strength of the binding sites considered in the analysis can profoundly influence the predictive ability of specific models.
Keywords
Transcription factorBinding sitePosition weight matrixGene regulation
Background
To understand the biological process of gene expression at the molecular level we must comprehend the nature of the chemical binding events that occur between proteins and DNA. More specifically, in the field of transcriptional regulation, the identification of transcription factor (TF) binding sites is crucial to our understanding of cis-regulatory modules and their function in the control of gene regulation.
For over three decades, computational biologists have been working to develop better approaches to predict the binding events that take place between TF proteins and DNA. One of the most widely used approaches, the Position Weight Matrix (PWM) model was introduced in the 1980's [1-3]. This approach relies on two key assumptions [3]. The first is that DNA sequences that share the same physical binding affinity for a specific TF are equally likely to be present in the genome. The second is that the binding energies for TF contacts with each individual nucleotide in a binding site are additive (i.e., nucleotide positions within the TF binding site are independent of each other).
The approximation of the binding energy of a nucleotide at a particular position within a sequence depends on both the frequency at which that nucleotide is observed in the experimentally determined protein binding sites (recorded in the PWM), and the background frequency corresponding to that nucleotide (i.e., the genome-wide nucleotide distribution) [4]. In many cases, the binding affinity of any particular sequence is calculated relative to the consensus sequence, the sequence constructed from the most commonly found nucleotide at each position in the binding site. These simple PWM models have been effectively implemented and shown to provide reliable approximations for binding of a range of different prokaryotic and eukaryotic TFs [5-8]. However, in more recent biochemical studies, dependencies between neighboring nucleotides in binding sites have been observed and many groups have begun to take such dependencies into account by building more complex models of protein-DNA binding [9-18]. Current experimental methodologies do not allow for the single base-pair or strand-specific resolution of binding sites, emphasizing the need to employ a systematic and non-bias approach to investigate the composition of TF binding sites.
Two general extensions to traditional PWM models are dinucleotide and n-mer models. These approaches are implemented in a similar way to the traditional mononucleotide PWM, but weaken the assumption of independence of contiguous nucleotides in the binding site. Dinucleotide models consider dependence between adjacent nucleotides, while n-mer models consider a contiguous group of n nucleotides, instead of the traditional single nucleotide [13,15,19].
There are now many publicly available algorithms for determining TF-DNA binding specificity. Weirauch et al, in their 2013 publication, systematically compare 26 different algorithms on protein binding microarray (PBM) data from 66 different mouse TFs [20]. The 26 models they analyze include traditional PWM-based models, dinucleotide models, and n-mer models. Their results support the idea that, for some TFs, n-mer models may perform better overall than simpler models. However, their study also highlights the important roles that the specific experimental data used, as well as the evaluation criteria, play in such a comparison. They state that, although surprising, "the appearance and information content of a motif has little bearing on its accuracy" [20].
Even more recent approaches addressing nucleotide dependence have used a variety of different techniques [16-18]. In these studies, results are shown to illustrate the improvement these different approaches give over traditional PWMs and/or other standard approaches. One may note that each of these recent studies still considers contiguous nucleotide dependence, with some flexibility for gaps between half sites, but none of these studies has systematically looked at different combinations of non-adjacent nucleotide dependence. These conclusions have led us to investigate the role of nucleotide dependence in binding sites and develop a novel and intuitive scoring method for comparing all possible models of nucleotide dependence with no inherent biases.
To better understand nucleotide dependencies in TF binding sites, we begin with a systematic approach aimed at comparing weight matrices produced by each possible gapped n-mer across a fixed number of nucleotides. This approach allows for any specific number and arrangement of nucleotides within a sequence to be ignored when considering dependent/independent binding. We have developed a new algorithm, MARZ (combinatorial Matrix Analysis and Ranking inspired by Zero-knowledge proofs), which allows us to investigate all possible gapped n-mers of a particular length, test them on in vivo TF binding data, and statistically compare their performances with standard mononucleotide-based (PWM) and dinucleotide-based models [1-3,13,17,21].
Methods
The complete MARZ algorithm is illustrated in the flow chart shown in Figure
1
. What follows is a detailed description of each individual component of the algorithm.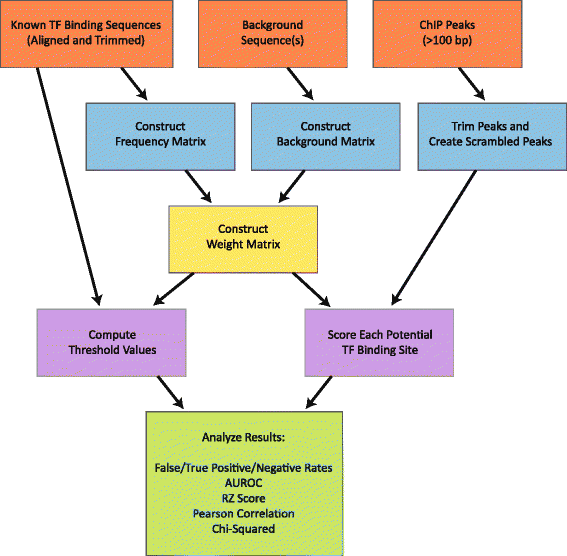 Conclusions
There are several key conclusions drawn from our implementation of the MARZ algorithm. First, we see that an unbiased and systematic analysis of the predictions from all 32 matrices in the algorithm, including the traditional mononucleotide, dinucleotide and n-mer models, and the novel gapped n-mer models we developed in this study, is critical to identifying the most robust matrix models. In the case of the HB TF, the performance of many of the gapped n-mer models differs significantly from their n-mer counterparts. Second, we see that the threshold position at which the analysis is conducted (i.e., the relative strength of the in vivo binding sites included in the algorithm, see Figure 1) can profoundly impact the performance of the different matrix models (Figure 4). For example, the gapped mkkkkm matrix outperforms all non-gapped n-mer models at the 0.01 threshold position (which considers 99% of the known HB binding sites), but does not perform as well at higher thresholds (Figure 5). This observation emphasizes the need for careful consideration of the threshold position in experimental design when investigating TF-DNA binding interactions. A strength of the MARZ algorithm is that it integrates analysis of the predictions of all 32 matrix models across all thresholds for any given TF.
The significant variation in the performance of the 32 matrix models across different threshold positions (Figure 7) highlights the need for rigorous performance assessment methods. In this study, we develop the RZ score to address this goal, in addition to applying existing scoring mechanisms such as AUROC. The RZ scoring method allows for the simple analysis of each of the matrix models at each threshold independently. This approach facilitates the rapid identification of the best performing matrix model(s) and threshold(s) in any given experimental application.
Previous studies on the binding sites for Drosophila TFs have indicated that the flanking sequences around identified binding sites may also be important for TF-DNA interactions [34,35]. Using flanking genomic sequences to extend experimentally identified footprints that do not appear to contain a hit to the existing PWM can reveal an extended binding site motif [34]. For many Drosophila TFs, including HB, the number of such cases is small (5-10%). In the case of HB, the extension of the consensus motif does not alter the core 7bp binding site, but is achieved through the addition of two neighboring nucleotides (TG), resulting in an extended 9bp motif (TTTTTT(A/G)TG) [34] (http://autosome.ru/DMMPMM/). Application of this extended HB PWM provides increased predictive ability for in vivo binding sites when compared to the core 7bp PWM [34,35].
Given the intrinsic difficulty in reliably identifying HB binding sites it will be critical to also consider parallel bioinformatic approaches. Of particular interest will be the clustering of HB sites in the genome [36]. The HB protein has two groups of C2H2-type zinc finger DNA binding domains, separated by over 350 amino acids. One model is that the two groups of zinc-fingers may be capable of contacting distinct binding sites in a stereotypical manner [35]. The topology of these TF-DNA interactions may determine the spatial distribution of the binding sites and therefore it may be important to search for groups of properly spaced and oriented binding sites.
Here we have analyzed a single TF protein, HB. An interesting observation regarding this particular TF is that sequences found to bind HB experimentally all contain a string of T's. Thus, predictive models often find HB binding to score as well as sites that are offset by a single basepair. This is highlighted by the fact that the best performing gapped n-mer at low thresholds, mkkkkm, has a string of gapped nucleotides, thus potentially allowing for some wiggle room when binding HB. In the future, it will be very interesting to run a similar analysis on TFs with more information-rich binding sites with less flexibility in their recognition sequences.
A potential limitation for the wider application of the MARZ algorithm to analyze additional TFs is the current lack of availability of either known defined binding sites or genome-wide binding locations from ChIP studies. However, as the cost and technical challenges of such studies diminish in the genomic-era, the availability of these datasets will increase in the coming years. In such cases, the MARZ algorithm will provide a systematic approach to analyze the performance of different matrix models on predicting TF-DNA interactions. As such, it will be critically important to investigate whether the predictive patterns observed for HB-DNA binding with the MARZ algorithm are a common biological feature, by expanding the analysis to include additional TFs in future studies.
Availability of supporting data
The data set supporting the results of this article is included within the article (and its additional files).
Declarations
Acknowledgements
We would like to thank Lily Li and Daniel Bork for their contributions to the initial stages of this project, and members of the Drewell laboratory for thoughtful discussions. This work was funded by National Institutes of Health (GM090167) and National Science Foundation (IOS-0845103) grants to RAD, Howard Hughes Medical Institute Undergraduate Science Education Program grants (52006301 and 52007544) to the Biology department at Harvey Mudd College, startup funds from Amherst College to JMD, and start-up funds from Clark University to RAD.
Authors' Affiliations
(1)
Department of Computer Science, Harvey Mudd College, Claremont CA, USA
(2)
Department of Mathematics, Harvey Mudd College, Claremont CA, USA
(3)
Biology Department, Clark University, Worcester MA, USA
(4)
Department of Mathematics and Statistics, Amherst College, Amherst MA, USA
Copyright
© Zellers et al.; licensee BioMed Central. 2015
This is an Open Access article distributed under the terms of the Creative Commons Attribution License (http://creativecommons.org/licenses/by/2.0), which permits unrestricted use, distribution, and reproduction in any medium, provided the original work is properly credited. The Creative Commons Public Domain Dedication waiver (http://creativecommons.org/publicdomain/zero/1.0/) applies to the data made available in this article, unless otherwise stated.