Research Article

Open Access
A multiple kernel learning algorithm for drug-target interaction prediction
BMC Bioinformatics
BMC series – open, inclusive and trusted
2016
17:46
Received: 23 July 2015
Accepted: 5 January 2016
Published: 22 January 2016
Abstract
Background
Drug-target networks are receiving a lot of attention in late years, given its relevance for pharmaceutical innovation and drug lead discovery. Different in silico approaches have been proposed for the identification of new drug-target interactions, many of which are based on kernel methods. Despite technical advances in the latest years, these methods are not able to cope with large drug-target interaction spaces and to integrate multiple sources of biological information.
Results
We propose KronRLS-MKL, which models the drug-target interaction problem as a link prediction task on bipartite networks. This method allows the integration of multiple heterogeneous information sources for the identification of new interactions, and can also work with networks of arbitrary size. Moreover, it automatically selects the more relevant kernels by returning weights indicating their importance in the drug-target prediction at hand. Empirical analysis on four data sets using twenty distinct kernels indicates that our method has higher or comparable predictive performance than 18 competing methods in all prediction tasks. Moreover, the predicted weights reflect the predictive quality of each kernel on exhaustive pairwise experiments, which indicates the success of the method to automatically reveal relevant biological sources.
Conclusions
Our analysis show that the proposed data integration strategy is able to improve the quality of the predicted interactions, and can speed up the identification of new drug-target interactions as well as identify relevant information for the task.
Keywords
Artificial intelligenceSupervised machine learningKernel methodsMultiple kernel learningDrug discovery
Background
Drug-target networks are receiving a lot of attention in late years, given their relevance for pharmaceutical innovation and drug repositioning purposes [1–3]. Although the amount of known interactions between drugs and target proteins has been increasing, the number of targets for approved drugs is still only a small proportion (<10 %) from the human proteome [1]. Recent advances on high-throughput methods provide ways for the production of large data sets about molecular entities as drugs and proteins. There is also an increase in the availability of reliable databases integrating information about interactions between these entities. Nevertheless, as the experimental verification of such interactions does not scale with the demand for innovation, the use of computational methods for the large scale prediction is mandatory. There is also a clear need for systems-based approaches to integrate these data for drug discovery and repositioning applications [1].
Recently, an increasing number of methods have been proposed for drug-target interaction (DTI) prediction. They can be categorized in ligand-based, docking-based, or network-based methods [4]. The docking approach, which can provide accurate estimates to DTIs, is computationally demanding and requires a 3D model of the target protein. Ligand-based methods, such as the quantitative structure activity relationship (QSAR), are based on a comparison of a candidate ligand to the known ligands of a biological target [5]. However, the utility of these ligand-based methods is limited when there are few ligands for a given target [2, 4, 6]. Alternatively, network based approaches use computational methods and known DTIs to predict new interactions [4, 5]. Even though ligand-based and docking-based methods are more precise when compared to network based approaches, the latter are more adequate for the estimation of new interactions from complete proteomes and drugs catalogs [1]. Therefore, it can indicate novel candidates to be evaluated by more accurate methods.
Most network approaches are based on bipartite graphs, in which the nodes are composed of drugs (small molecules) and biological targets (proteins) [
3
,
7
,
8
]. Edges between drugs and targets indicate a known DTI (Fig.
1
). Given a known interaction network, kernel based methods can be used to predict unknown drug-target interactions [
2
,
9
–
11
]. A
kernel
can be seen as a similarity matrix estimated on all pairs of instances. The main assumption behind network kernel methods is that similar ligands tend to bind to similar targets and vice versa. These approaches use
base kernels
to measure the similarity between drugs (or targets) using distinct sources of information (e.g., structural, pharmacophore, sequence and function similarity). A
pairwise kernel
function, which measures the similarity between drug-target pairs, is obtained by combining a drug and a protein base kernel via kernel product.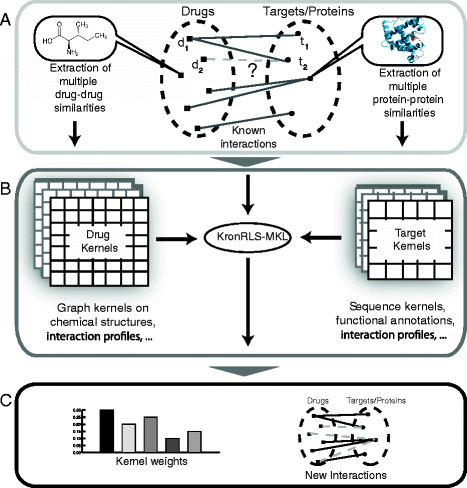 The majority of previous network approaches use classification methods, as Support Vector Machines (SVM), to perform predictions over the drug-target interaction space [2, 4]. However, such techniques have major limitations. First, they can only incorporate one pair of base kernels at a time (one for drugs and one for proteins) to perform predictions. Second, the computation of the pairwise kernel matrix for the whole interaction space (all possible drug-target pairs) is computationally unfeasible even for a moderate number of drugs and targets. Moreover, most drug target interaction databases provide no true negative interaction examples. The common solution for these issues is to randomly sample a small proportion of unknown interactions to be used as negative examples. While this approach provides a computationally trackable small drug-target pairwise kernel, it generates an easier but unreal classification task with balanced class size [12].
An emerging machine learning (ML) discipline focused on the search for an optimal combination of kernels, called Multiple Kernel Learning (MKL) [13]. MKL-like methods have been previously proposed to the problem of DTI prediction [14–16] and the closely related protein-protein interaction (PPI) prediction problem [17, 18]. This is extremely relevant, as it allows the use of distinct sources of biological information to define similarities between molecular entities. However, since traditional MKL methods are SVM-based [13, 19], they are subject to memory limitations imposed by the pairwise kernel, and are not able to perform predictions in the complete drugs vs. protein space. Moreover, MKL approaches used in PPI prediction problem [17, 18] and protein function prediction [20, 21] can not be applied to bipartite graphs, as the problem at hand. Currently, we are only aware of two recent works [19, 22] proposing MKL approach to integrate similarity measures for drugs and targets.
Drug-target prediction fits a link prediction problem [4], which can be solved by a Kronecker regularized least squares approach (KronRLS) [10]. A single kernel version of this method has been recently applied to drug-target prediction problem [10, 11]. A recent survey indicated that KronRLS outperforms SVM based methods in DTI prediction [2]. KronRLS uses Kronecker product algebraic properties to be able to perform predictions on the whole drug-target space, without the explicit calculation of the pairwise kernels. Therefore, it can cope with problems on large drugs vs. proteins spaces. However, KronRLS can not be used on a MKL context.
In this work, we propose a new MKL algorithm to automatically select and combine kernels on a bipartite drug-protein prediction problem, the KronRLS-MKL algorithm (Fig 1). For this, we extend the KronRLS method to a MKL scenario. Our method uses L2 regularization to produce a non-sparse combination of base kernels. The proposed method can cope with large drug vs. target interaction matrices; does not requires sub-sampling of the drug-target network; and is also able to combine and select relevant kernels. We perform an empirical analysis using drug-target datasets previously described [23] and a diverse set of drug kernels (10) and protein kernels (10).
In our experiments, we considered three different scenarios in the DTI prediction [2, 11, 24]: pair prediction, where every drug and target in the training set have at least one known interaction; or the 'new drug' and 'new target' setting, where some drugs and targets are present only in the test set, respectively. A comparative analysis with top performance single kernel approaches [2, 8, 10, 25–27] and all competing integrative approaches [14, 15, 22] demonstrates that our method is better or competitive in the majority of evaluated scenarios. Moreover, KronRLS-MKL was able to select and also indicate the relevance of kernels, in the form of weights, for each problem.
Methods
In this work, we propose an extension of the KronRLS algorithm under recent developments of the MKL framework [28] to address the problem of link prediction on bipartite networks with multiple kernels. Before introducing our method, we will describe the RLS and the KronRLS algorithms (for further information, see [10, 11]).
Conclusions
We have presented a new Multiple Kernel Learning algorithm for the bipartite link prediction problem, which is able to identify and select the most relevant information sources for DTI prediction. Most previous MKL methods mainly solve the problem of MKL when kernels are built over the same set of entities, which is not the case for the bipartite link prediction problem, e.g. drug-target networks. Regarding predictions in drug-target networks, the sampling of negative/unknown examples, as a way to cope with large data sets, is a clear limitation [2]. Our method takes advantage of the KronRLS framework to efficiently perform link prediction on data with arbitrary size.
In our experiments, the KronRLS-MKL algorithm demonstrated an interesting balance between accuracy and computational cost in relation to other approaches. It performed best in the "pair" prediciton problem and the "new target" problem. In the 'new drug' and 'new target' prediction tasks, BLM-KA was also top ranked. This method has a high computational cost. This arises from the fact it requires a classifier for each DT pair [2]. Moreover, it obtained poor results in the evaluation scenario to predict novel drug-protein pairs interactions.
The convex constraint estimation of kernel weights correlated well with the accuracy of a brute force pair kernel search. This non-sparse combination of kernels possibly increased the generalization of the model by reducing the bias for a specific type of kernel. This usually leads to better performance, since the model can benefit from different heterogeneous information sources in a systematic way [33]. Finally, the algorithm performance was not sensitive to class unbalance and can be trained over the whole interaction space without sacrificing performance.
Endnotes
1 http://sideeffects.embl.de/.
2 NRWRH cannot be applied to the pair prediction [8], by which this method was not considered in such context.
Declarations
Acknowledgements
The authors thank the authors of the studies by [23] for making their data publicly available. This work was supported by the Interdisciplinary Center for Clinical Research (IZKF Aachen), RWTH Aachen University Medical School, Aachen, Germany; DAAD; and Brazilian research agencies: FACEPE, CAPES and CNPq.
Open Access This article is distributed under the terms of the Creative Commons Attribution 4.0 International License(http://creativecommons.org/licenses/by/4.0/), which permits unrestricted use, distribution, and reproduction in any medium, provided you give appropriate credit to the original author(s) and the source, provide a link to the Creative Commons license, and indicate if changes were made. The Creative Commons Public Domain Dedication waiver(http://creativecommons.org/publicdomain/zero/1.0/) applies to the data made available in this article, unless otherwise stated.
Authors' Affiliations
(1)
Center of Informatics, UFPE, Recife, Brazil
(2)
Department of Statistics and Informatics, UFRPE, Recife, Brazil
(3)
IZKF Computational Biology Research Group, Institute for Biomedical Engineering, RWTH Aachen University Medical School, Aachen, Germany
(4)
Aachen Institute for Advanced Study in Computational Engineering Science (AICES), RWTH Aachen University, Aachen, Germany