Research article

Open Access
A method for identification of highly conserved elements and evolutionary analysis of superphylum Alveolata
BMC Bioinformatics
BMC series – open, inclusive and trusted
2016
17:385
Received: 5 May 2016
Accepted: 13 September 2016
Published: 20 September 2016
Abstract
Background
Perfectly or highly conserved DNA elements were found in vertebrates, invertebrates, and plants by various methods. However, little is known about such elements in protists. The evolutionary distance between apicomplexans can be very high, in particular, due to the positive selection pressure on them. This complicates the identification of highly conserved elements in alveolates, which is overcome by the proposed algorithm.
Results
A novel algorithm is developed to identify highly conserved DNA elements. It is based on the identification of dense subgraphs in a specially built multipartite graph (whose parts correspond to genomes). Specifically, the algorithm does not rely on genome alignments, nor pre-identified perfectly conserved elements; instead, it performs a fast search for pairs of words (in different genomes) of maximum length with the difference below the specified edit distance. Such pair defines an edge whose weight equals the maximum (or total) length of words assigned to its ends. The graph composed of these edges is then compacted by merging some of its edges and vertices. The dense subgraphs are identified by a cellular automaton-like algorithm; each subgraph defines a cluster composed of similar inextensible words from different genomes. Almost all clusters are considered as predicted highly conserved elements. The algorithm is applied to the nuclear genomes of the superphylum Alveolata, and the corresponding phylogenetic tree is built and discussed.
Conclusion
We proposed an algorithm for the identification of highly conserved elements. The multitude of identified elements was used to infer the phylogeny of Alveolata.
Keywords
Phylogeny
Ultraconserved element
Highly conserved element
Dense subgraph
Apicomplexan parasites
Alveolates
Methods
Following the Data subsection, we describe our major result, the method for highly conserved element identification.
Results and Discussion
As mentioned above, our major result is the method for HCE identification set forth in the Methods section. The phylogeny of Alveolata section below discusses the results obtained by this method for biological data on the superphylum Alveolata.
All computing was made using the following parameters: M = 30, N = 1.97 ⋅ 108, l = 65, k = 16, t = 200, δ s  = 1, δ id  = 2.1, ε = 17.5, D = 2, r = 2.2, d = 40, and m = 3.
Comparison with LASTZ program
The first stage of our method has much the same goal as the pairwise alignment of genomes in many papers cited in the Background section. We used protists data to compare the results of our first stage with those of LASTZ with default parameters. The comparison was conducted in uniprocessor mode on a 2 GHz Linux workstation. Specifically, the longest (6.99 Mbp) chromosome of Neospora caninum was collated in turn with three well-assembled full genomes: Babesia microti of 4 chromosomes (6.39 Mbp in total), Cryptosporidium parvum of 8 chromosomes (9.1 Mbp), and Plasmodium falciparum of 16 chromosomes (23.3 Mbp). It took respectively 2 m 16 s, 11 m 35 s, and 30 h 47 m for LASTZ to process these three data sets. Our Algorithm 1 worked for 1 m 9 s, 1 m 30 s, and 20 m 26 s, respectively. It is arguable that our algorithm is faster and its complexity grows with input data volume not nearly as rapid as for LASTZ. The memory consumption was 130–204 MB for LASTZ and 620–645 MB for our algorithm. For the first data set, the number of pairs of similar words (aligned or identified) was 501 (LASTZ) and 108 (our algorithm). However, among of 501 alignments found by LASTZ, at least 202 were of low complexity regions; while our algorithm rejected such words. Remaining 299 alignments included less than a half (47 of 108) of word pairs found by our algorithm. This can be attributed to essentially different functionals used by the two approaches. Our algorithm looks for pairs of words that have the maximum length and the edit distance below the threshold, which results in words with the length of 61–109 bp (75 bp on average) and 72-85 % (77 % on average) of identity (similarity). LASTZ finds longer alignments (53–3117 bp; 273 bp on average), but with a lower identity (43-96 %; 66 % on average). The alignments identified by LASTZ included only 84 ones with the identity greater than 70 %, which is less than our algorithm has found. A similar situation is observed for two other data sets: LASTZ and our algorithm have found 36013 vs 7512 word pairs for the second set and 2.24 million vs 944 thousand word pairs for the third set, respectively.
The second and third stages of our method transit from a pairwise genome analysis towards building HCEs for a set of genomes. The authors are not aware of freely available counterparts of these tools. Generally speaking, they may not be necessary when HCEs are identified using a multiple alignment of genomes; each element becomes evident in many genomes [4]. In case of UCEs, the search using pairwise genome alignments can be based on intersections of pairwise elements [9]. In the general case, synthenic chains of elements in orthologous parts of genomes can be selected [5, 22].
The phylogeny of Alveolata
The species tree predicted using the derived HCE data (Table
3
) is shown in Fig.
5
and discussed below. The phylum Ciliophora was used as an outgroup to root the tree.
| HCE type (label) | Count | Description |
| --- | --- | --- |
| protein | 8 988 | A protein according to the GenBank annotation |
| tRNA | 26 | A transfer RNA |
| tRNA-Sec | 1 | Selenocysteine transfer RNA |
| LSU_rRNA | 15 | Large subunit ribosomal RNA |
| SSU_rRNA | 5 | Small subunit ribosomal RNA |
| 5_8S_rRNA | 1 | 5.8S ribosomal RNA |
| U1 | 1 | U1 spliceosomal RNA |
| U2 | 1 | U2 spliceosomal RNA |
| ACEA_U3 | 1 | ACEA small nucleolar RNA U3 |
| U4 | 1 | U4 spliceosomal RNA |
| U5 | 1 | U5 spliceosomal RNA |
| U6 | 3 | U6 spliceosomal RNA |
| Protozoa_SRP | 1 | Protozoan signal recognition particle RNA (aka 7SL, 6S, 4.5S) |
| RNaseP_nuc | 2 | Nuclear ribonuclease P (RNase P) |
| snoR07 | 1 | Small nucleolar RNA snoR07 |
| snoR10 | 1 | Small nucleolar RNA snoR10 |
| SNORD36 | 1 | Small nucleolar RNA SNORD36 |
| intron | 163 | Non-coding region of a gene |
| unknown UCE | 706 | Not gene nor RNA predicted |
| Total | 9919 | |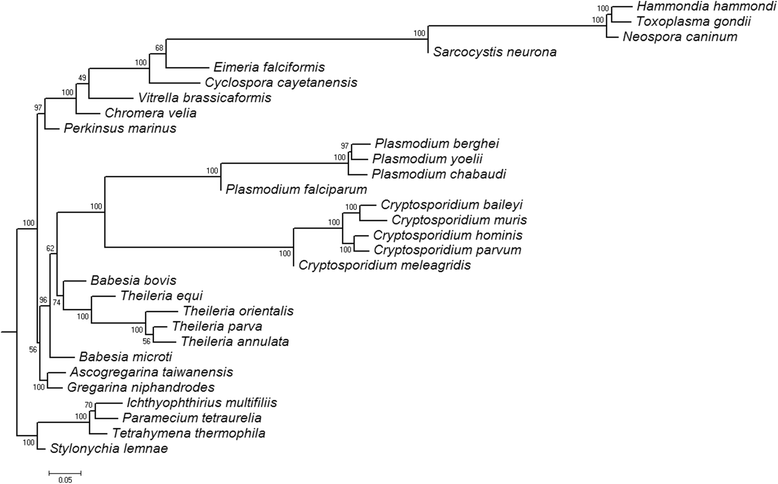 Comparison of the complete genomes from Table 1 and generation of the source graph (Stage 1 of our method) were conducted on supercomputers MVS-100 K and MVS-10P in the Joint Supercomputer Center of the Russian Academy of Sciences [64], which required about 200 h on up to 512 processors. The subsequent compaction of the graph and identification of dense subgraphs (Stages 2 and 3 of the method) was conducted on a 32-core server with 256 GB RAM and required less than 20 h.
The source graph contained 32,028,631 vertices and 386,307,036 edges. Merging of properly overlapped vertices and removing duplicated edges yielded the initial graph with 3,867,747 vertices and 338,034,279 edges. After 185 steps of the algorithm for dense subgraph identification, the final graph included 2,153,534 vertices and 291,812,518 edges, which formed 9920 connected components. The giant cluster included 96.9 % vertices. It has not been analyzed in detail; however, some preliminary investigation demonstrated that many words in it contain low complexity regions. Complexity evaluation of individual regions in a word with overall allowable complexity is another problem not considered here. The remaining 9919 clusters included 67564 vertices. Detailed data on the obtained clusters including their words and summary data on clusters are available in Additional files 2 and 3, respectively.
All found words from HCEs were further analyzed using the following two resources.
1. Genome annotations available in GenBank (converted into GFF format); it was tested if a word of interest overlaps with the regions of a gene and its coding sequence (CDS). If both conditions are satisfied, the word corresponds to a protein (in this case, the data on both gene and its CDS are included in the Additional file 2); if only the first condition is satisfied, the word belongs to a gene untranslated region such as an intron (in this case, only the data on the gene is included in the Additional file 2).
2. Rfam database [65]; it was tested if the word is a fragment of a known non-protein-coding RNA. In this case, Additional file 2 specifies the RNA name and other data.
Additional file 3 summarizes the data on each cluster including the HCE type. Specifically, (1) if any of cluster words was found in Rfam, the cluster corresponds to a known RNA such as tRNA, snRNA, etc. and is labeled as this RNA; (2) otherwise if any of cluster words overlaps with a CDS, it corresponds to a protein (exon) and is labeled as "protein"; (3) otherwise if any of cluster words overlaps with a gene, it corresponds to an intron or other untranslated region and is labeled as "intron"; (4) otherwise the cluster describes an unknown HCE (no label).
Table 3 demonstrates that more than 90 % of identified HCEs correspond to proteins or known RNAs. Nevertheless, no data were found for 706 elements of unknown function as well as for 163 elements corresponding to non-coding gene regions. Although many of the latter genes are known or were reliably predicted, HCEs lie in their untranslated regions rather than exons (according to GenBank annotations). Many of such clusters include only a single word annotated as a presumable gene. These can be errors of automatic annotation. Anyway, these 163 HCEs deserve a thorough consideration together with those for which no data are available.
The above 163 clusters are largely small, i.e., the corresponding elements are conserved in a small number of species (12 at maximum and 3.08 on average). The number of clusters with 12, 6, 5, 4, and 3 species is 1, 2, 15, 28, and 823, respectively.
RAxML v. 8.2.4 [66] generated a tree (Fig. 5) using a matrix with 30 rows and 9919 columns corresponding to the number of nuclear genomes (species) specified in Table 1 and HCEs identified by our algorithm listed in Table 3. Cell value of 1 and 0 in the matrix indicates the presence or absence in a genome of an HCE-representing word, respectively. Branch lengths have standard meaning of estimated average number of substitutions (0 instead of 1 and vice versa) per site (between ancestral and descendant sequences). Thus, maximum likelihood search followed by rapid bootstrapping was performed in RAxML using binary substitution model with maximum likelihood estimate for the base frequencies. Frequency-based criterion was satisfied after 250 bootstrap replicates. All other RAxML parameters were left in default setting.
For all genera of apicomplexan parasites, their species group together in the tree. The only exception is Babesia spp. A separate position of Babesia microti relative to other species of the order Piroplasmida in the HCE-based tree is in agreement with its isolated position in the plastid tree [67]. At the same time, B. orientalis is closely related to other Piroplasmida species in agreement with [68].
The genus Cryptosporidium is not included in the class Coccidia in agreement with [69, 70]. It is closely related to the genus Plasmodium.
Two coral-endosymbiotic phototrophic algae Chromera velia and Vitrella brassicaformis are closely related, which agrees with [45]. Species from the subclass Coccidia have many common HCEs with phototrophic algae as well as with Perkinsus marinus. Here our result is in agreement with [52] as well as with an early observation by Levine [51].
Two species Gregarina niphandrodes and Ascogregarina taiwanensis are also closely related and compose an early diverged branch of the group of Apicomplexa.
According to our HCE-based tree, we can propose that the common ancestor of all the apicomplexans had no plastids. Thus, plastids could appear after the Gregarinasina isolation, while early apicomplexans with plastids were photosynthetic algae. Later these plastids were lost in Cryptosporidium spp.
Note a good agreement between the trees based on HCEs and all proteins encoded in the plastids of Apicomplexa and Chromerida species [71] as well as with chromosomal structures [72].
The isolated position of coccidians agrees with the results of comparative analysis of apicoplast-targeted proteins [73].
Conclusions
We presented a novel algorithm to identify highly conserved DNA elements; it was applied to the superphylum Alveolata. The multitude of identified elements was used to infer the phylogeny of Alveolata which turned out to be in agreement with other available data. The described method for the identification of highly conserved elements is applicable to other fields where any texts are compared including natural language analysis targeted to identify the author, style, borrowings, etc. [74].
Abbreviations
HCE:

Highly conserved element
UCE:

Ultraconserved element
Declarations
Acknowledgements
We are very grateful to the reviewers for their thorough and valuable comments, which allowed us to substantially improve the manuscript. The authors are obliged to Leonid Rusin, who arouse their interest in ultraconserved elements.
The research was supported by the Russian Science Foundation, project no. 14-50-00150.
Availability of data and materials
All input data used in this article are publicly available (ref. Table 1). The developed algorithms are implemented in the software package freely downloadable at [40]. Output data obtained with help of this package are presented in two additional supporting files.
Authors' contribution
LIR, AVS and VAL proposed the algorithms; LIR developed the software; LIR and OAZ performed computations on supercomputers; OAZ retrieved databases and built phylogenetic trees; VAL, LIR and AVS analyzed the results and wrote the manuscript. All authors read and approved the final manuscript.
Competing interests
The authors declare that they have no competing interests.
Consent for publication
Not applicable.
Ethics approval and consent to participate
Not applicable.
Open AccessThis article is distributed under the terms of the Creative Commons Attribution 4.0 International License (http://creativecommons.org/licenses/by/4.0/), which permits unrestricted use, distribution, and reproduction in any medium, provided you give appropriate credit to the original author(s) and the source, provide a link to the Creative Commons license, and indicate if changes were made. The Creative Commons Public Domain Dedication waiver (http://creativecommons.org/publicdomain/zero/1.0/) applies to the data made available in this article, unless otherwise stated.
Authors' Affiliations
(1)
Institute for Information Transmission Problems (Kharkevich Institute), Russian Academy of Sciences, Moscow, Russia