GPCRs from fusarium graminearum detection, modeling and virtual screening - the search for new routes to control head blight disease
BMC Bioinformatics
BMC series – open, inclusive and trusted
2016
17(Suppl 18):463
Published: 15 December 2016
Abstract
Backgound
Fusarium graminearum (FG) is one of the major cereal infecting pathogens causing high economic losses worldwide and resulting in adverse effects on human and animal health. Therefore, the development of new fungicides against FG is an important issue to reduce cereal infection and economic impact. In the strategy for developing new fungicides, a critical step is the identification of new targets against which innovative chemicals weapons can be designed. As several G-protein coupled receptors (GPCRs) are implicated in signaling pathways critical for the fungi development and survival, such proteins could be valuable efficient targets to reduce Fusarium growth and therefore to prevent food contamination.
Results
In this study, GPCRs were predicted in the FG proteome using a manually curated pipeline dedicated to the identification of GPCRs. Based on several successive filters, the most appropriate GPCR candidate target for developing new fungicides was selected. Searching for new compounds blocking this particular target requires the knowledge of its 3D-structure. As no experimental X-Ray structure of the selected protein was available, a 3D model was built by homology modeling. The model quality and stability was checked by 100 ns of molecular dynamics simulations. Two stable conformations representative of the conformational families of the protein were extracted from the 100 ns simulation and were used for an ensemble docking campaign. The model quality and stability was checked by 100 ns of molecular dynamics simulations previously to the virtual screening step. The virtual screening step comprised the exploration of a chemical library with 11,000 compounds that were docked to the GPCR model. Among these compounds, we selected the ten top-ranked nontoxic molecules proposed to be experimentally tested to validate the in silico simulation.
Conclusions
This study provides an integrated process merging genomics, structural bioinformatics and drug design for proposing innovative solutions to a world wide threat to grain producers and consumers.
Keywords
G-protein coupled receptors
Fusarium graminearum
Structural bioinformatics
Fusarium head blight
Background
The ascomycete Fusarium graminearum (FG) is a filamentous fungus dwelling on and in a wide range of plant species, on crop debris and within soil. This fungus causes Fusarium head blight (FHB) disease on wheat, barley. FG is also responsible for various corn and rice diseases [1]. FG is a highly destructive pathogen of cereals reduces grain quality rather than grain production. FG causes two main problems: first, seed quality is reduced, and secondly, infection produces mycotoxin-contaminated grains. Among the various sesquiterpenoid trichothecene toxins produced by FG, deoxynivalenol, also known as vomitoxin, is one of the most important [2]. Deoxynivalenol contaminated grains are often considered unfit for animals and/or human consumption leading to considerable economic losses [3, 4].
Fungicide applications are only moderately effective at controlling FHB and often intrinsic resistance problems have been encountered [5, 6]. The identification of new fungicides is urgently required to limit FG development. In the search for new, efficient and selective fungicides able to control the development of the pathogen, the first step is to find relevant targets [7, 8].
G-protein coupled receptors (GPCRs) are the starting point for the control of several signaling pathways and are therefore considered a potentially rich source of innovation as drug targets and for drug design to alleviate many human diseases of genetic and / or biotic origins [9]. GPCRs, which are activated by a large panel of factors ranging from light, small amines to hormones and chemokines, initiate signaling cascades resulting in multiple cell responses. GPCRs constitute a large family of proteins, the signature of which consists of a transmembrane domain embedded within the plasma membrane and possess seven transmembrane helices. Their functions are to detect extracellular signals and to activate intracellular mediated signal transduction pathways and appropriate cellular responses. GPCRs classically transmit a signal via the activation of heterotrimeric G proteins. The sustained stimulation leads to the activation of G protein-coupled receptor kinases and the recruitment of arrestin proteins, which engage alternative signaling pathways [10].
In fungi, GPCRs are known to be implicated in biological processes including vegetative growth, sporulation, stress responses and pathogenicity [11]. GPCRs have been the subject of numerous bioinformatics studies to explore their potential suitability as drug targets [12]. As a result, the entire set of GPCRs encoded by various fungi has been predicted for several fungi including Saccharomyces cerevisae, Schizosaccharomyces pombe, the saprobes Aspergillus spp., Neurospora crassa, and Trichoderma spp., the plant pathogens Magnaporthe grisea and Verticillium spp., and the human/animal infecting pathogen Cryptococcus neoformans [13–21]. Ma et al. previously explored the GPCRs repertoire for Fusarium species, but only sequence alignments were used for these predictions [22]. As GPCRs are known not to share a high sequence similarity, such predictions may increase the risk of occurrence of false positives [23, 24].
The primary goal of this study was to detect GPCR s in the predicted FG proteome, to select the best candidates for potential use to control this pathogen and to identify potential inhibitors. Several in silico predictive filters were used leading to the selection of one of the most relevant GPCR target. Prior to the rational screening of putative active compounds, the three-dimensional structure of this GPCR should be known. As no FG GPCRs' 3D structures are presently available, we used homology modeling and molecular dynamics simulations in order to obtain a convincing model for the selected GPCR candidate. Then, stable conformations of this model were used to identify potential inhibitors using the virtual screening approach [25, 26].
Conclusion
For this study we have used a bespoke analysis pipeline called GPCRpipe followed by a stepwise funnel strategy to identify, select and model one putative GPCR protein that could be of possible use as drug target to design new compounds active against Fusarium graminearum. This iterative search procedure is innovative because it has combined the use of genomics and molecular protein modeling approaches. Considering the 117 GPCRs candidates previously predicted in the FG genome sequencing [22] and nine sequences initially obtained by our strategy, we anticipated that a few false positives were retained. Therefore, we used additional filters based on structural and functional criteria to predict the most authentic GPCR candidates. Our selection of the nine resulting FG GPCR candidates was based not only on sequence similarity but on Molecular Dynamic modelling of the 3D protein structure. In addition, literature mining and a phylogeny analysis was used to explore the potential biological processes associated/proposed for each GPCR. For the final sequence retained, namely FGSG_02655, the molecular dynamics simulations proved to be an efficient method to choose between several alignments between the putative FG GPCR query and the template used in the homology modeling process as only one of the three predicted models came through the extended 100 ns MD stimulation intact. Furthermore, a method developed to model GPCR was recently published [32] and may be interesting to use in future studies.
The receptor conformational flexibility highlighted by the MD simulation on the retained final robust model was used for running next an efficient ensemble docking structure-based virtual screening which provides interesting hypothetical hits to be now proposed for experiments. The whole in silico selection funnel presented in this study provide an example of an integrated process merging genomics, structural bioinformatics and drug design and leading to propose valuable and innovative solutions to a world-wide threat to grain producers and consumers.
Methods
Our in silico experimental approach was composed of three main steps as illustrated in Fig.
9
. The first step was related to the identification of GPCRs in the FG genome using several GPCRs prediction tools. Next, having identified putative GPCRs, these were classified according to their function to select a limited set of possible targets for designing new and innovative compounds against FG. The third step of this funnel consisted of a molecular modeling approach to building the three-dimensional models of these targets. The last step corresponds the virtual screening. Binding pockets were detected in stable models identified in the previous step. Then, a large compound library was used with a docking program to find putative inhibitors. All calculations were performed on a 64 cores computer.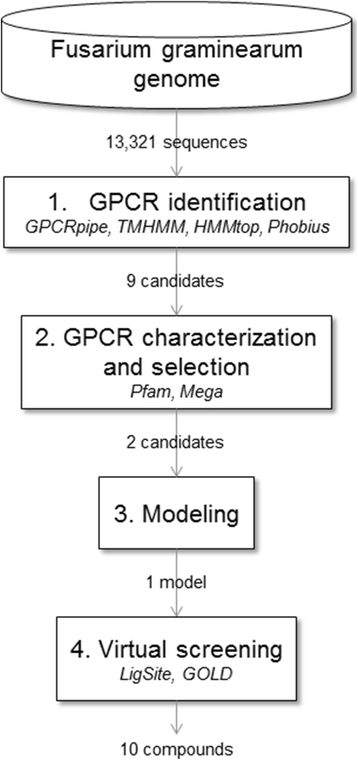 Abbreviations
3D:

Tri-dimensional
DOPE:

Discrete optimized protein energy
FG:

Fusarium graminearum
FHB:

Fusarium head blight
GPCR:

G-protein coupled receptor
MD:

Molecular dynamics
PDB:

Protein databank
RMSD:

Root mean square deviation
TCL:

Tool command language
TM:

Transmembrane
VMD:

Visual molecular dynamics
Declarations
Funding
E. Bresso was supported by a CAPES postdoc fellowship (#51/2013). Rothamsted Research receives grant-aided support from the BBSRC. M.U. and K.H.K. receive additional support from within the BBSRC Institute Strategy Grant 20:20 Wheat (BB/J/00426X/1). NF Martins was supported at Rothamsted Research by an EMBRAPA senior fellowship. BM was supported by CNPq grant 400432/2012-9. Publication of this article was funded by CNPq (funding grant 400432/2012), University of Brasília and CAPES for postdoc fellowship (#51/2013).
Availability of data and materials
The datasets during and/or analyzed during the current study are available from the corresponding author on reasonable request.
Authors' contributions
EB carried out the GPCR identification, modeling, virtual screening and drafted the manuscript. NFM drafted the manuscript, supervised the project. BM drafted the manuscript, molecular dynamics, implemented virtual screening and designed the strategy and conceived the study. RT performed database management and integration of bioinformatics tools MU performed complementary bioinformatics analysis. KHK conceived of the study. All authors reviewed and approved the final manuscript.
Competing interests
The authors declare no competing financial interests.
Consent for publication
Not applicable.
Ethics approval and consent to participate
Not applicable.
Open AccessThis article is distributed under the terms of the Creative Commons Attribution 4.0 International License (http://creativecommons.org/licenses/by/4.0/), which permits unrestricted use, distribution, and reproduction in any medium, provided you give appropriate credit to the original author(s) and the source, provide a link to the Creative Commons license, and indicate if changes were made. The Creative Commons Public Domain Dedication waiver (http://creativecommons.org/publicdomain/zero/1.0/) applies to the data made available in this article, unless otherwise stated.
Authors' Affiliations
(1)
EMBRAPA Genetic Resources and Biotechnology, Brasília, Brazil
(2)
Department of Plant Biology and Crop Science, Rothamsted Research, Harpenden, Hertfordshire, UK
(3)
CAPSID Team, LORIA, UMR 7503, CNRS, Lorraine University, Vandœuvre-lès-Nancy, France