Methodology article
Open Access
An internet-based bioinformatics toolkit for plant biosecurity diagnosis and surveillance of viruses and viroids
BMC Bioinformatics
BMC series – open, inclusive and trusted
2017
18:26
Received: 12 July 2016
Accepted: 15 December 2016
Published: 11 January 2017
Abstract
Background
Detection and preventing entry of exotic viruses and viroids at the border is critical for protecting plant industries trade worldwide. Existing post entry quarantine screening protocols rely on time-consuming biological indicators and/or molecular assays that require knowledge of infecting viral pathogens. Plants have developed the ability to recognise and respond to viral infections through Dicer-like enzymes that cleave viral sequences into specific small RNA products. Many studies reported the use of a broad range of small RNAs encompassing the product sizes of several Dicer enzymes involved in distinct biological pathways. Here we optimise the assembly of viral sequences by using specific small RNA subsets.
Results
We sequenced the small RNA fractions of 21 plants held at quarantine glasshouse facilities in Australia and New Zealand. Benchmarking of several de novo assembler tools yielded SPAdes using a kmer of 19 to produce the best assembly outcomes. We also found that de novo assembly using 21–25 nt small RNAs can result in chimeric assemblies of viral sequences and plant host sequences. Such non-specific assemblies can be resolved by using 21–22 nt or 24 nt small RNAs subsets. Among the 21 selected samples, we identified contigs with sequence similarity to 18 viruses and 3 viroids in 13 samples. Most of the viruses were assembled using only 21–22 nt long virus-derived siRNAs (viRNAs), except for one Citrus endogenous pararetrovirus that was more efficiently assembled using 24 nt long viRNAs. All three viroids found in this study were fully assembled using either 21–22 nt or 24 nt viRNAs. Optimised analysis workflows were customised within the Yabi web-based analytical environment. We present a fully automated viral surveillance and diagnosis web-based bioinformatics toolkit that provides a flexible, user-friendly, robust and scalable interface for the discovery and diagnosis of viral pathogens.
Conclusions
We have implemented an automated viral surveillance and diagnosis (VSD) bioinformatics toolkit that produces improved viruses and viroid sequence assemblies. The VSD toolkit provides several optimised and reusable workflows applicable to distinct viral pathogens. We envisage that this resource will facilitate the surveillance and diagnosis viral pathogens in plants, insects and invertebrates.
Keywords
BioinformaticsPlant biosecurityNext generation sequencingPlant viruses and viroidsQuarantineviRNAsVirus diagnosisYabiSmall RNA-SeqWorkflows
Background
Increases in global trade and movement are placing significant pressure on post entry quarantine systems, with an increase in the frequency of incursions of pathogens causing the emergence of diseases and pests that are both difficult and costly to eradicate and control [1]. The challenge of maximising the benefits of global trade whilst minimising the negative impacts of biosecurity threats is one faced by most nations [2]. Historically, the geographical isolation of Australia and New Zealand, coupled with stringent quarantine screening measures, has provided protection from the introduction of exotic pests and pathogens that have the potential to harm human health, agriculture, the environment and the economy.
Plant biosecurity is defined as "a set of measures designed to protect crops from emergency plant pests at national, regional and individual farm level" [1, 3]. The diagnosis of viral pathogens is a crucial component of plant biosecurity surveillance, required to prevent the potential introduction of exotic plant viruses and viroids. Existing 'specific' serological and molecular detection methods such as enzyme-linked immunosorbent assay (ELISA), polymerase chain reaction (PCR), or nucleic acid spot hybridization, while highly sensitive, are limited by their ability to detect only known plant viruses/viroids. These methods lack the capacity to detect unknown, poorly characterised or highly variable viral pathogens [4, 5]. Furthermore the host range of many viral pathogens is not defined and known exotic viruses/viroids could be missed if these infect new plant species for which standard screening assays are not applied. If pathogens are not initially detected via these methods, more 'investigational' techniques may be applied, such as electron microscopy, host plant inoculation, or PCR using degenerate primers [5]. The time and effort taken to screen imported plants using these existing methods has a direct economic impact, with plants that are currently imported into Australia and New Zealand spending up to two years in quarantine (https://bicon.agriculture.gov.au/BiconWeb4.0).
Recent studies have demonstrated both the detection of viral pathogens and the identification of novel viruses by the deep sequencing of small RNAs (small RNA-Seq) of plant species [4–7]. RNA silencing is a natural anti-viral defence system present in plants, insects and invertebrates that recognise dsRNA viral genomes and/or viral intermediate sequences, and cleave them into small interfering RNAs (siRNA) of 21-24 nt in length [8]. These virus-derived siRNAs (viRNAs) accumulate in the small RNA fraction of host plants making it amenable to identify viruses through a next generation sequencing (NGS) approach, even at extremely low viral titres and in symptomless infections [9, 10]. Small RNA NGS screening of viral pathogens is more cost- and time-effective compared with current detection methods. The bottleneck for the uptake of NGS technology for routine surveillance and diagnosis of viral sequences is the lack of an automated bioinformatics pipeline that enables users to evaluate, scrutinize and modify all key steps of the analysis workflow including de novo assembly parameters with access to intermediate outputs [10, 11]. This is key to optimise and increase the confidence in the de novo assembled sequences with similarity to viral genomes.
Two such automated pipelines have recently been made available, one designed to detect known and novel viruses through de novo assembly [VirFind, 11], and the other, limited to extract viRNAs through mapping onto a priori known viral reference genomes [12]. VirFind is available as a web-based graphical front-end interface, with users completing a sequence submission form and uploading sequence files via the VirFind ftp server. Users are able to set their own parameters at several selected stages of the pipeline, such as choosing to map to a host reference genome, the expected value for BLASTN and BLASTX, or choosing to search conserved domains.
L Miozzi and V Pantaleo [12] developed a pipeline to extract viRNAs through the open source Galaxy web-based platform [13]. This pipeline uses a reference guided approach to map reads to reference viral or viroid genomes, therefore viRNAs that correspond to viruses or viroids not present in public databases will be missed. Users upload a fastq file, and filter the results of the mapping to specific viruses or viroids of interest. The resulting SAM file can then be downloaded, and visualised using the java standalone tool MISIS [14].
An automated, yet customisable bioinformatics pipeline for the detection and screening of viruses and viroids is required for the adoption of NGS technology by agencies without established bioinformatics expertise. Previously, we presented Yabi, an analysis workflow environment that is able to create and reuse workflows, as well as manage large amounts of raw and processed data in a secure and flexible environment [15]. Yabi is accessed via a simple 'drag and drop' web-based environment by researchers without bioinformatics expertise or through the Yabi command line for advanced users. Individual tools can be configured and easily incorporated into sophisticated workflows in real time. Importantly, comprehensive provenance for each workflow is kept, including input files and the parameters used for each tool, enabling researchers to track previous analyses performed and share optimised workflows with others. Files can be managed across different high performance computing storage infrastructures.
This study presents a novel automated internet-based bioinformatics toolkit for the detection of viruses and viroids utilising the online research environment Yabi. This toolkit offers users the flexibility to process small RNA-Seq samples using existing optimised workflows and/or to further customise available tools or add new tools into the web-based analytical environment. It is envisaged that this resource will significantly reduce post entry quarantine ongoing costs and quarantine lead times. Furthermore, the web-based bioinformatics toolkit is customized to meet quarantine expectations, facilitate collaborations and inform policy makers.
Methods
Sample collection, RNA extraction and NGS sequencing
Imported plants and positive control samples were grown in quarantine glasshouse facilities until sample collection. Plants were grown under natural lighting with a daytime temperature of approximately 22 °C. For each plant sample one or more leaves were collected prior to RNA extraction. Total RNA and/or small RNA enriched fraction (<200 bp) were extracted from approximately 10 mg of tissue using the mirVana microRNA isolation kit (Ambion, LifeTechnologies) following manufactures instructions. Collected samples were stored at -80 °C within quarantine facilities until shipped to the Beijing Genomics Institute (BGI, Hong Kong). Libraries were prepared using the TruSeq Small RNA Sample Prep Kit (Illumina) and sequenced with 50 bp single-end (SE) reads deep sequencing of collected small RNA samples (small RNA-Seq) on an Illumina HiSeq2000. We sequenced 21 quarantined plant samples (Additional file 1). Small RNA-Seq datasets has been submitted to the Short Read Archive (SRA) under the BioProject PRJNA325594.
Selection of small RNA assembler and scaffolding tools
We compared Velvet [16], SPAdes [17], ABySS [18] and SOAPdenovo [19] assemblers using twelve selected small RNA-Seq samples collected from distinct plant species generated in this study (Additional file 1). We tested de novo assembly using individual kmer lengths of 15 (K15), 17 (K17), 19 (K19) and 21 (K21) as well as combined kmer sets of 15,17,19 (K15-17-19) and 15,17,19,21 (K15-17-19-21). Assembled contigs were further scaffolded using CAP3 using optimised parameters for short overlaps (-o 16, -p 90, -i 30, -j 31, -s 300) [20]. Additionally, merging and scaffolding of contigs produced by two or all three assemblers were also evaluated. Assembly statistics were calculated using the Quality Assessment Tool for Genome Assemblies (QUAST) [21].
Overview of the automated viral diagnosis and surveillance toolkit
The viruses and viroids surveillance and diagnosis (VSD) bioinformatics toolkit was developed utilising Yabi [15], an open source internet-based analytical environment that allows for the customisation of tools and scripts into analysis workflows [22]. Yabi has five tabs, namely, 'Jobs', 'Design', 'Files', 'Account' and 'Admin' tabs, where the later is only visible to a person or group responsible for the maintenance and further customisation of the Yabi platform [15]. The 'Jobs' tab allows visualising and downloading results from prior jobs. The 'Design' tab enables re-use of existing optimised workflows, design of modified versions of existing workflows, and the construction of new analysis workflows. The 'Files' tab present files and directories of all available backend resources (i.e. HPC and/or cloud instances) to the user [15]. The 'Account' tab enables a user to easily modify their password information to their Yabi account. The 'Admin' tab facilitates the management and addition of new computational tools into the Yabi environment. New features of the Yabi platform include: i) save and share workflows; ii) fetch data from public repositories; iii) submission of processed data to specialised databases such as National or International Patient Registries; and iv) enables 'bioinformatics on demand' analyses through the deployment of cloud instance at the beginning of a computational workflow and its obliteration at the final step of the data processing and analysis workflow.
The VSD toolkit has three versions of the 'virus and viroid detection' workflows (Fig.
1
), with users able to choose from three subsets of small RNA read lengths (21–25 nt, 21–22 nt, or 24 nt length reads). Existing automated workflows can be reused or modified and saved (Additional file
2
). Additional workflows such as the 'detecting novel viroids' and 'mapping reads onto a reference genome' are also available, and can be run as a separate job, or added to the 'virus and viroid detection' workflows (Additional file
2
).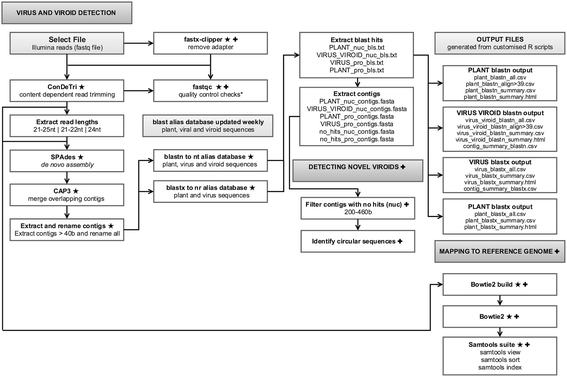 Conclusions
We have implemented an automated viral surveillance and diagnosis toolkit using the Yabi web-based analytical environment that enables improved detection of viruses and viroids pathogens. We found that all single stranded RNA (+) viruses found in this study were assembled using exclusively 21–22 nt small RNAs, while viroids were equally assembled using 21–22 nt or 24 nt subsets. The use of specific small RNA subsets increases specificity of the identified viral sequences as it reflects the antiviral response activity of the plant hosts.
Abbreviations
ABySS:

A parallel assembler for short read sequence data
ACV (RT):

Arisotelia chilensis virus 1 (Reverse transcriptase)
AcVB:

Actinidia virus B
AWS:

Amazon web services
BLAST:

Basic local alignment search tool
ConDeTri:

A content dependent read trimmer for illumina data
CTV:

Citrus tristeza virus
CVd-VI:

Citrus viroid VI
EC2:

Elastic compute cloud
ELISA:

Enzyme-linked immunosorbent assay
EPRV:

Endogenous pararetrovirus sequences
GFkV:

Grapevine fleck virus
GLRaV-3:

Grapevine leafroll-associated virus
GRSPaV:

Grapevine rupestris stem pitting-associated virus
GVB:

Grapevine virus B
HSVd:

Hop stunt viroid
K15:

de novo assembly using kmer size of 15
K15-17-19:

de novo assembly using a combined kmer set of 15, 17 and 19
K15-17-19-21:

de novo assembly using a combined kmer set of 15, 17, 19 and 21
K17:

de novo assembly using kmer size of 17
K19:

de novo assembly using kmer size of 19
K21:

de novo assembly using kmer size of 21
MCDV:

Maize chlorotic dwarf virus
NGS:

Next generation sequencing
PCR:

Polymerase chain reaction
PCV (RdRp):

Persimmon cryptic virus (RNA dependent RNA polymerase)
PEQ:

Post entry quarantine
PNRSV:

Prunus necrotic ringspot virus
PVY:

Potato virus Y
RBDV:

Raspberry bushy dwarf virus
RNA-Seq:

RNA sequencing
RYNV:

Rubus yellow net virus
SAM:

Sequence alignment/map format
siRNA:

Small interference small RNA
SMoV:

Strawberry mottle virus
SOAPdenovo:

Short oligonucleotide analysis package for short read de novo assembly
SPAdes:

A genome assembly algorithm
SPSMV-1:

Sweetpotato symptomless mastrevirus 1
SrMV:

Sorghum mosaic virus
ssRNA:

Single-strand RNA
TVCV:

Tobacco vein-clearing virus
Velvet:

Algorithm package for de novo genome assembly and short read alignment
VirFind:

Virus find pipeline
viRNA:

Virus-derived siRNA
VSD:

Viral surveillance and diagnosis toolkit
Yabi:

Yet another bioinformatics interface
Declarations
Acknowledgements
We would like to acknowledge Jane Moran (Plant Biosecurity CRC) for facilitating the implementation of this project as a multidisciplinary and multinational collaboration. We acknowledge the Plant Biosecurity CRC for funding this study. We are grateful to end-users in Australia and New Zealand from a broad range of institutions that participated and provided feedback in toolkit hands-on training workshops. We would also like to acknowledge Adrian Dinsdale, Joanne Mackie and Leanne Woodward for their assistance with PEQ samples.
Funding
This project was funded in part by the Plant Biosecurity Cooperative Research Centre (PBCRC). Grant number CRC2064 was awarded to RAB, MIB, and SB. The PBCRC was not involved in the study design, sample collection, analysis or interpretation of the data. The PBCRC revised and approved the publication of the manuscript. In-kind contributions were provided by the Centre for Comparatives Genomics- Murdoch University, The New Zealand Institute for Plant Food & Research Limited, Department of Agriculture and Water Resources – Australia, and the Ministry for Primary Industries – New Zealand.
Availability of data and materials
Raw datasets generated in this study were deposited in the Short Read Archive (SRA) database under the BioProject PRJNA325594.
Authors' contributions
RAB designed and contributed to testing computational workflows, conducted data analysis, workflow optimisation and wrote the manuscript. KN customised the Yabi environment, conducted bioinformatics processing of samples, assisted in workflow optimisation and wrote the manuscript. JC, SB, SK, RAF and LL collected total RNA and/or enriched small RNA samples from quarantined plants samples. JC contributed to the experimental design. AH and TS assisted in the customisation and implemented new features to the Yabi toolkit. MIB, MW, LL and LW provided guidance and revised the manuscript. All authors tested the implemented bioinformatics toolkit and read the manuscript. All authors read and approved the final manuscript.
Competing interests
The authors declare that they have no competing interests.
Consent for publication
Not applicable.
Ethics approval and consent to participate
Not applicable.
Open AccessThis article is distributed under the terms of the Creative Commons Attribution 4.0 International License (http://creativecommons.org/licenses/by/4.0/), which permits unrestricted use, distribution, and reproduction in any medium, provided you give appropriate credit to the original author(s) and the source, provide a link to the Creative Commons license, and indicate if changes were made. The Creative Commons Public Domain Dedication waiver (http://creativecommons.org/publicdomain/zero/1.0/) applies to the data made available in this article, unless otherwise stated.
Authors' Affiliations
(1)
Centre for Comparative Genomics, Murdoch University, Murdoch, Australia
(2)
Plant Biosecurity Cooperative Research Centre, Canberra, Australia
(3)
Department of Agriculture and Water Resources, Mickleham, Australia
(4)
Ministry for Primary Industries, Wellington, New Zealand
(5)
The New Zealand Institute for Plant Food and Research Limited, Better Border Biosecurity, Lincoln, New Zealand