ReTrOS: a MATLAB toolbox for reconstructing transcriptional activity from gene and protein expression data
BMC Bioinformatics
BMC series – open, inclusive and trusted
2017
18:316
Received: 5 December 2016
Accepted: 18 May 2017
Published: 26 June 2017
Abstract
Background
Given the development of high-throughput experimental techniques, an increasing number of whole genome transcription profiling time series data sets, with good temporal resolution, are becoming available to researchers. The ReTrOS toolbox (Reconstructing Transcription Open Software) provides MATLAB-based implementations of two related methods, namely ReTrOS–Smooth and ReTrOS–Switch, for reconstructing the temporal transcriptional activity profile of a gene from given mRNA expression time series or protein reporter time series. The methods are based on fitting a differential equation model incorporating the processes of transcription, translation and degradation.
Results
The toolbox provides a framework for model fitting along with statistical analyses of the model with a graphical interface and model visualisation. We highlight several applications of the toolbox, including the reconstruction of the temporal cascade of transcriptional activity inferred from mRNA expression data and protein reporter data in the core circadian clock in Arabidopsis thaliana, and how such reconstructed transcription profiles can be used to study the effects of different cell lines and conditions.
Conclusions
The ReTrOS toolbox allows users to analyse gene and/or protein expression time series where, with appropriate formulation of prior information about a minimum of kinetic parameters, in particular rates of degradation, users are able to infer timings of changes in transcriptional activity. Data from any organism and obtained from a range of technologies can be used as input due to the flexible and generic nature of the model and implementation. The output from this software provides a useful analysis of time series data and can be incorporated into further modelling approaches or in hypothesis generation.
Keywords
Gene transcription
Time series
Transcriptional switches
Circadian timing
Background
Analyzing the temporal dynamics of mRNA and protein expression is a key ingredient to the study of gene function within the cell. The widespread adoption of high-throughput transcriptomic and proteomic technologies, such as microarrays, fluorescent imaging, transcriptional reporter constructs and sequencing, has enabled the generation of large numbers of high-resolution genome-scale time series data sets. The processing, analysis and summarising of such time series data has a number of theoretical and computational difficulties to overcome. If, for example, a protein reporter construct is used, what is the relationship between the observed reporter protein and the mRNA expression dynamics of the gene of interest? Moreover, allowing for the process of mRNA and protein degrading, what is the actual transcriptional activity?
Here, we present a software toolbox called ReTrOS (Reconstructing Transcription Open Software) which provides several approaches for processing and analysing both gene or protein expression time series data sets, with an easy-to-use graphical interface for user interaction. The software is written in the cross-platform MATLAB®; environment. The approach used in ReTrOS is based on a differential equation model [
1
] to account for transcription and degradation of mRNA molecules and translation and degradation of protein molecules. The model has been the basis to a number of novel methodologies to study the dynamics of gene expression [
2
–
6
]. The ReTrOS software currently provides two methods for the processing, reconstruction and analysis of gene transcription dynamics:
ReTrOS-Smooth: based upon the algorithm introduced in Harper et al. (2011) [2]. ReTrOS-Smooth outputs a smooth reconstruction of transcription activity from a non-parametric representation of the transcriptional process. The algorithm is extended to incorporate both variability of measurement error and uncertainty about model parameters with credibility envelopes simulated through a bootstrap procedure.

ReTrOS-Switch: based upon the algorithm introduced in Jenkins et al. (2013) [3]. ReTrOS-Switch outputs a reconstruction of transcriptional activity using a temporal "switch" model where transcription rates are subject to temporal jumps at unknown time points. A Bayesian inference algorithm using reversible jump Markov Chain Monte Carlo is provided for modeling mRNA data as in [3], and has, for the purpose of this article, been extended to model protein dynamics.
This article introduces and describes the underlying model and the two algorithms implemented in ReTrOS. We briefly discuss the data requirements and compare the applicability of the two methods. Following the methods overview, we present several cases of applying ReTrOS concluding with some final remarks summarising the software and its uses.
Results
The algorithms used in the ReTrOS toolbox have previously been applied to a number of different mRNA and protein reporter data sets, in addition to those in [1]. The study in [2] used the ReTrOS-Smooth to investigate the transcriptional dynamics of two protein-reporter systems, firefly luciferase (luc) and destabilized enhanced green fluorescent protein (EGFP), under identical promoter control in mammalian cells. The study in [3] used ReTrOS-Switch to explore correlations between discrete transcriptional 'switch events' and promoter structure and also obtained updated degradation rate estimates for 200 genes displaying a circadian rhythm in Arabidopsis thaliana leaf samples. Here we also present a new case study applying ReTrOS to recently published mRNA and protein-reporter time series of a selection of central Arabidopsis thaliana circadian clock-related genes. Circadian clocks and rhythms are present in most living organisms and provide a regulatory method for many important processes. A common feature of circadian clocks is that they consist of both transcriptional and translational components. We use the ReTrOS software to explore the oscillatory nature of the mRNA expression and protein reporter time series data from the model plant Arabidopsis thaliana.
Identifying temporal events in the
Arabidopsis thaliana
circadian 'repressilator' circuit
Using the simplified core 'repressilator' model (shown in Fig.
6
top) introduced by Pokhilko et al. [
11
], we aim to identify the direct and indirect regulatory interactions caused by the double-negative feedback in terms of transcriptional switch timing. We selected 10 core clock genes (Table
1
) including several from each broad gene group, LHY/CCA1, PRRs and Evening Complex (EC), and analysed mRNA microarray data from the 2-day wild-type time series dataset [
12
] using ReTrOS-Switch (shown in Fig.
6
). The temporal switch distributions (shown at ±1.96
σ
with darker colours representing more frequently sampled switches) clearly show the circadian nature of the transcriptional profiles: for example LHY has three transcriptional switches, at approximately 6, 10 and 20 h, during the first 24-h observation period, followed by three switches of the same types at approximately the same times during the second 24-h period. However, not all of the analysed profiles displayed identifiable expression dynamics (specifically ELF3) and as such a clear transcriptional switch profile could not be obtained. The putative interactions of the repressilator model can be visually identified in many cases: for example the regulatory interactions by the LHY/CCA1 group (shown in black) can be identified with positive regulation of several PRR genes (increasing transcription switch event to increasing transcriptional switch event) and negative regulation of several EC genes (increasing transcriptional switch event to decreasing transcriptional switch event). The temporal flow of transcriptional regulation in waves can also be identified, with the LHY/CCA interactions followed by the PRR interactions which are followed by the EC interactions.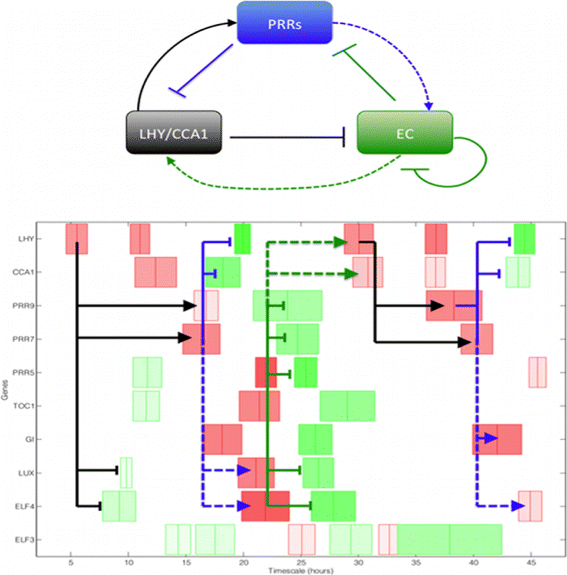 Table 1
Selected Arabidopsis thaliana clock genes
| Gene | Group | Locus |
| --- | --- | --- |
| LHY | LHY/CCA1 | AT1G01060 |
| CCA1 | LHY/CCA1 | AT2G46830 |
| PRR9 | PRRs | AT2G46790 |
| PRR7 | PRRs | AT5G02810 |
| PRR5 (NI) | PRRs | AT5G24470 |
| TOC1 | - | AT5G61380 |
| GI | - | AT1G22770 |
| LUX | EC | AT3G46640 |
| ELF4 | EC | AT2G40080 |
| ELF3 | EC | AT2G25930 |
Effects of light and temperature conditions on circadian marker genes
We analysed protein luciferase reporter data from a 4-day time series dataset of the circadian-controlled CCR2 and CAB2 promoters in a range of wild-type and mutant lines, temperature conditions and light regimes [
13
]. Applying the ReTrOS-Smooth algorithm to the detrended data and combining replicate observations from the same lines yields clear rhythmic back-calculated transcriptional profiles under most experimental conditions. Figure
7
shows the back-calculated transcription profiles for the wild-type CCR2(3) line (shown by the black line) and the
cry1 cry
CCR2(3) double-mutant line (shown by the red line at temperatures of 12, 17 and 27 °C and blue (BL), red (RL) and mixed red-blue (RBL) light conditions. We observe similar behaviours to those identified within the original study, such as an increased period in the
cry1 cry2
CCR2 mutant line at 27 °C under RBL conditions, however, the back-calculated transcription profile of the
cry1 cry2
CCR2 still shows damped rhythmic dynamics. As the back-calculation model takes into account the degradation processes of the luceriferase reporter, finer-scale structures in the time series are able to be extracted which may allow, for instance, increased accuracy in periodicity inference when using methods robust to asymmetric oscillations such as spectrum resampling [
14
].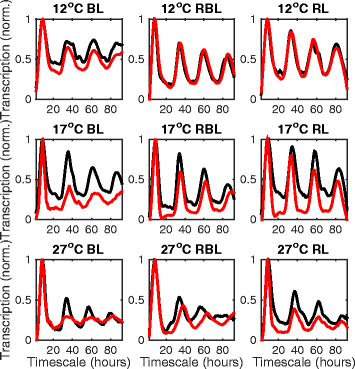 Conclusions
Analysis of large-scale and high-throughput data is becoming an increasingly common task for many researchers. We provide an easy-to-use toolbox for the analysis of mRNA or protein-reporter time series data, that generates a fine-scale profile of transcriptional activity by removing the effects of degradation processes from the observed data (Additional file 1). The ReTrOS toolbox has been applied to a variety of datasets from a range of different technologies and platforms. ReTrOS can be easily incorporated into a computational or analysis pipeline as either, a data preprocessing step for rapidly obtaining high-resolution back-calculated transcriptional profiles which are then used in other analysis steps, or directly as an analysis tool extracting distributions of transcriptional 'switching' activity and degradation rate estimates. There are a number of possible extensions to the analysis including parallelisation of the ReTrOS-Smooth bootstrap procedure and parallel MCMC sampling in the ReTrOS-Switch algorithm, the application of further analysis methods such as clustering on the model outputs and the use of Bayesian hierarchical modelling for multiple time series [3]. The methodology for a stochastic transcriptional switch model is considerably more challenging and has recently been developed in [5] and [6].
Availability and requirements
Abbreviations
BL:

Blue light
CAB2:

Chlorophyll A/B-binding protein 2
CCA1:

Circadian clock associated 1
CCR2:

Cold, circadian rhythm, and RNA binding 2
EC:

Evening complex
EGFP:

Destabilized enhanced green fluorescent protein
GUI:

Graphical user interface
LHY:

Late elongated Hypocotyl
luc:

firefly luciferase
MCMC:

Markov Chain Monte Carlo
mRNA:

Messenger Ribonucleic acid
ODE:

Ordinary differential equation
PRR:

Pseudo-response regulator
RBL:

Mixed red-blue light
ReTrOS:

Reconstructing transcription open software
RL:

Red light
Declarations
Acknowledgments
This research is part of the PRESTA (Plant Responses to Environmental STress in Arabidopsis) and the ROBUST (Regulation Of Biological Signalling by Temperature) projects and we thank the groups for high-resolution Arabidopsis thaliana microarray and luciferase time series data and for helpful discussions and advice. We thank S. Calderazzo, K. Hey, P. Brown and D. Woodcock for discussions on the methodology and software.
Funding
This work was supported through providing funds by the Biotechnology and Biological Sciences Research Council [BB/F005806/1, BB/F005237/1]; and the Engineering and Physical Sciences Research Council [EP/C544587/1 to DAR]. None of the funding bodies have played any part in the design of the study, in the collection, analysis, and interpretation of the data, or in the writing the manuscript.
Authors' contributions
GM developed ReTrOS-Switch for protein data; DJJ developed ReTrOS-Switch for mRNA data; HM and MJC developed ReTrOS-Smooth; DJJ, HM, MJC and GM all programmed and implemented relevant parts of the software; DJJ implemented final version of software with user manual; GM tested the final version of software; DAR provided guidance on mathematical modeling; BF suggested and provided statistical guidance on statistical methodology; GM, BF and DJJ wrote the manuscript with the help from all authors; All authors read and approved manuscript submitted.
Competing interests
The authors declare that they have no competing interests.
Consent for publication
Not applicable.
Ethics approval and consent to participate
Not applicable.
Publisher's Note
Springer Nature remains neutral with regard to jurisdictional claims in published maps and institutional affiliations.
Open Access This article is distributed under the terms of the Creative Commons Attribution 4.0 International License (http://creativecommons.org/licenses/by/4.0/), which permits unrestricted use, distribution, and reproduction in any medium, provided you give appropriate credit to the original author(s) and the source, provide a link to the Creative Commons license, and indicate if changes were made. The Creative Commons Public Domain Dedication waiver(http://creativecommons.org/publicdomain/zero/1.0/) applies to the data made available in this article, unless otherwise stated.
Authors' Affiliations
(1)
Systems Biology Centre, University of Warwick, Coventry, UK
(2)
Department of Statistics, University of Warwick, Coventry, UK
(3)
Mathematics Institute, University of Warwick, Coventry, UK
(4)
School of Life Sciences, University of Warwick, Coventry, UK