CIPHER: a flexible and extensive workflow platform for integrative next-generation sequencing data analysis and genomic regulatory element prediction
BMC Bioinformatics
BMC series – open, inclusive and trusted
2017
18:363
Received: 26 January 2017
Accepted: 30 July 2017
Published: 8 August 2017
Abstract
Background
Next-generation sequencing (NGS) approaches are commonly used to identify key regulatory networks that drive transcriptional programs. Although these technologies are frequently used in biological studies, NGS data analysis remains a challenging, time-consuming, and often irreproducible process. Therefore, there is a need for a comprehensive and flexible workflow platform that can accelerate data processing and analysis so more time can be spent on functional studies.
Results
We have developed an integrative, stand-alone workflow platform, named CIPHER, for the systematic analysis of several commonly used NGS datasets including ChIP-seq, RNA-seq, MNase-seq, DNase-seq, GRO-seq, and ATAC-seq data. CIPHER implements various open source software packages, in-house scripts, and Docker containers to analyze and process single-ended and pair-ended datasets. CIPHER's pipelines conduct extensive quality and contamination control checks, as well as comprehensive downstream analysis. A typical CIPHER workflow includes: (1) raw sequence evaluation, (2) read trimming and adapter removal, (3) read mapping and quality filtering, (4) visualization track generation, and (5) extensive quality control assessment. Furthermore, CIPHER conducts downstream analysis such as: narrow and broad peak calling, peak annotation, and motif identification for ChIP-seq, differential gene expression analysis for RNA-seq, nucleosome positioning for MNase-seq, DNase hypersensitive site mapping, site annotation and motif identification for DNase-seq, analysis of nascent transcription from Global-Run On (GRO-seq) data, and characterization of chromatin accessibility from ATAC-seq datasets. In addition, CIPHER contains an "analysis" mode that completes complex bioinformatics tasks such as enhancer discovery and provides functions to integrate various datasets together.
Conclusions
Using public and simulated data, we demonstrate that CIPHER is an efficient and comprehensive workflow platform that can analyze several NGS datasets commonly used in genome biology studies. Additionally, CIPHER's integrative "analysis" mode allows researchers to elicit important biological information from the combined dataset analysis.
Keywords
ChIP-seqMNase-seqRNA-seqDNase-seqGRO-seqATAC-seqEnhancersPredictionNext-generation sequencingWorkflowPipelineTranscriptionGene regulationChromatin statesMachine-learning
Background
Understanding the precise regulation of transcriptional programs in human health and disease requires the accurate identification and characterization of genomic regulatory networks. Next-generation sequencing (NGS) technologies are powerful, and widely applied tools to map the in vivo genome-wide location of transcription factors (TFs), histone modifications, nascent transcription, nucleosome positioning, and chromatin accessibility features that make up these regulatory networks. Although NGS technologies can be used in diverse ways to investigate numerous aspects of genome biology, reaching sound biological conclusions requires the exhaustive analysis of these datasets to recognize and account for many potential biases [
1
] including abnormal fragment size distribution due to sonication, bias in enzyme digestion in MNase and DNase samples, PCR amplification bias and duplication, sequencing errors, incorrect software usage, and inaccurate read mappings. These problems, combined with the unprecedented amount of data generated by sequencing platforms, have provided unique opportunities for the development of computational pipelines to automate time-consuming data analysis processes such as ChiLin [
2
], HiChIP [
3
], Galaxy [
4
], MAP-RSeq [
5
], and bcbionextgen [
6
], among others (Fig.
1
).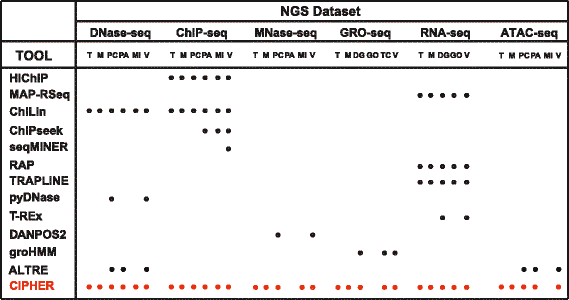 Properly implemented pipelines are essential to genome and chromatin biology studies, but often fail to implement the features required to overcome five major challenges: (1) quickly processing large batches of data with minimal user input, (2) remaining highly customizable for different experimental requirements, (3) conducting comprehensive quality control assessments of sequencing datasets to identify potential areas of bias, (4) reducing the issues associated with building, maintaining, and installing multiple pipelines and bioinformatics software, and (5) increasing reproducibility among researchers.
Despite the many computational approaches that already exist to analyze NGS datasets, there are no currently available tools designed to tackle all five challenges simultaneously. ChiLin, HiChIP, bcbio-nextgen, and MAP-RSeq offer powerful command-line data analysis pipelines, but are limited to chromatin immunoprecipitation (ChIP) coupled with sequencing (ChIP-seq) and whole transcriptome sequencing (RNA-seq) studies. Galaxy, an open, web-based platform for data analysis [4], offers an impressive number of bioinformatics tools and workflows that can be used to process various NGS datasets, but severely limits the size and number of files that can be processed at once.
To overcome these previous obstacles, we devised CIPHER, an integrated workflow platform that automates the processing and analysis of several commonly used NGS datasets including ChIP-seq, RNA-seq, Global Run On sequencing (GRO-seq) [7], micrococcal nuclease footprint sequencing (MNase-seq) [8], DNase hypersensitivity sequencing (DNase-seq) [9], and transposase-accessible chromatin using sequencing ATAC-seq [10] datasets. In addition, CIPHER also provides an easy-to-use "analysis" mode that accomplishes complex bioinformatics tasks such as enhancer prediction using a random forest-based machine-learning model and provides functions to integrate various NGS datasets together. By combining Nextflow [11, 12] - a powerful workflow language based on the Unix pipe concept, Docker [13] - a container-based virtualization technology, open source software and custom scripts, we provide a robust, and powerful toolkit that simplifies NGS data analysis and provides a significant improvement over currently available pipelines in terms of flexibility, speed and ease of use.
CIPHER manages to overcome the five previously mentioned obstacles by: (1) parallelizing all the steps in a typical pipeline therefore taking full advantage of a desktop's or cluster's available RAM and CPUs, (2) providing command line flags to alter the majority of parameters at each step, (3) incorporating extensive quality control software and providing detailed QC reports specific to each pipeline, (4) combining pipelines for several of the most commonly used NGS techniques into a single, standalone tool, and (5) using a lightweight Docker containers to package all the required software dependencies to run CIPHER into a standardized environment.
In this report, we demonstrate that CIPHER is a fast, reproducible, and flexible tool that accurately processes and integrates NGS datasets by recreating the results of two published studies, and comparing CIPHER's speed and ease of use to two other ChIP-seq and RNA-seq pipelines. We further validate CIPHER's built-in random-forest based enhancer prediction model by identifying potentially functional enhancers in various human cell lines.
Implementation
Many previously described NGS workflows are developed using scripting languages such as Python or Perl as a 'glue' to parse datasets, and automate the series of commands that make up a processing pipeline. In contrast to these approaches, CIPHER was designed using Nextflow, a specialized, and new workflow language that is built around the Unix pipe concept [11]. By using Nextflow as the underlying language for the CIPHER platform, we gain access to several useful features, including automatic parallelization, Docker and GitHub support, the capacity to run locally on a desktop or on a cluster, and the ability to seamlessly integrate custom scripts in a variety of programming languages.
CIPHER can be run with default settings by specifying the "--mode", "--config", "--readLen", "--lib", "--fasta", and "--gtf" flags. The "--mode" flag indicates the type of NGS pipeline you wish to run from the currently available workflows (e.g. "--mode chip" for ChIP-seq analysis), while the "--config", "--readLen" and "--lib" flags provide information regarding file locations, read length and type of sequencing (e.g. single-ended or pair-ended), respectively, so that the pipeline runs the appropriate processes. Finally, the "--fasta" and "--gtf" flags indicate reference annotation information that is required for mapping and downstream exploration such as differential gene expression (DGE) analysis. In the case that the user is not familiar with reference FASTA and GTF files or where to acquire them, providing the "--download_data" flag will automatically download the appropriate Ensembl/Gencode reference files for a specified organism, if it exists (e.g. "--download_data hg19" will download Gencode fasta and gtf files for the hg19 human genome).
In addition, there are various other flags that can be set to customize the analysis further. More information regarding these flags can be found by setting the "--help" flag or by visiting CIPHER's online documentation (available at: cipher.readthedocs.io). By default, CIPHER will output processed files into a "./report" directory (which can be changed by specifying the "--outdir" flag). The output includes various files and is largely dependent on the pipeline mode specified, but in general provides quality control reports in pdf or html format, gzipped fastq files of raw sequences after trimming and adapter removal, sorted BAM files of mapped and unmapped alignments along with various files that contain detailed statistics regarding the number of unique, multimapped, and low-quality reads, as well as normalized track files in bigWig format for visualization. Further pipeline dependent downstream analysis such as narrow and broad peak calls for ChIP-seq, differential gene expression lists for RNA-seq, nucleosome positions and DNase hypersensitive sites (DHS) for MNase-seq and DNase-seq respectively, unannotated transcription units for GRO-seq, and chromatin accessible sites for ATAC-seq are also output. Notably, unlike other published pipelines (Fig. 1), CIPHER is the first platform that merges multiple workflows and complicated bioinformatics tools into a single, easy to use, parallelized, and scalable toolkit, removing the obstacles that arise from finding, building, maintaining, and updating multiple workflows. This approach can be applied to data generated through both pair-ended and single-ended sequencing to map genomic elements and regulatory features in diverse organisms.
CIPHER's pipelines conduct extensive quality and contamination control checks, as well as comprehensive downstream analysis (Fig.
2
). A typical CIPHER workflow can be split into two major stages: a fastq sequence filtering, adapter trimming, and read mapping stage, and a downstream analysis stage. During the 'sequence filtering, trimming, and mapping' stage, raw sequences are trimmed of adapters and low-quality reads using BBDuk [
14
], and are then mapped to a reference genome (Fig.
2a
). CIPHER allows the user to choose between three different aligners for non-splice aware datasets: BBMap [
14
], the Burrow-Wheeler Aligner (BWA) [
15
] and Bowtie2 [
16
], and three different aligners for splice aware datasets: BBMap [
14
], STAR [
17
], and HISAT2 [
18
] via the "--aligner" flag. After mapping, the 'downstream analysis' stage consists of running the samples through various steps to extract biological information including peak calling for narrow (MACS2) and broad binding domains (EPIC), peak annotation and motif identification (HOMER) [
19
] for ChIP-seq; DGE analysis for RNA-seq (RUVSeq, edgeR, and DESeq2); analysis of nascent transcription from GRO-seq (groHMM); nucleosome positioning for MNase-seq (DANPOS2); positioning/strength of DHS (MACS2), site annotation (HOMER), and motif identification (HOMER) for DNase-seq; and chromatin accessibility peak calling (MACS2), and annotation for ATAC-seq (HOMER) (Fig.
2b
). Overall, CIPHER ensures comprehensive, reproducible, customizable, and accurate automated NGS dataset processing (see below).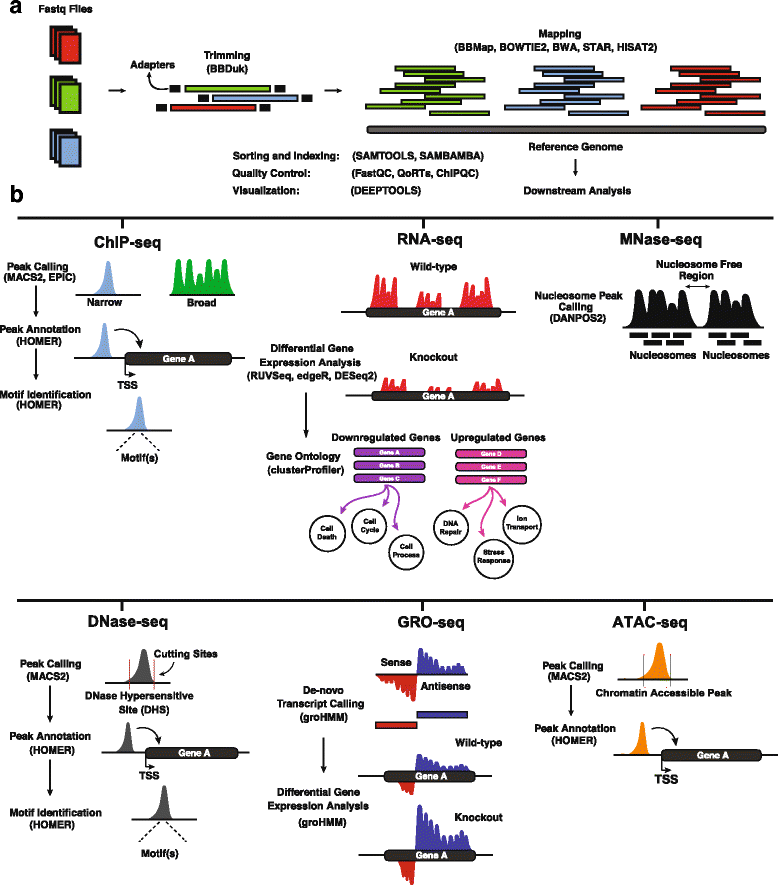 Results
To validate CIPHER's potential in NGS data analysis, we used data from the Gene Expression Omnibus repository (GEO) to re-create two previously published studies: a ChIP-seq study from McNamara et al. [42] and a GRO-seq study from Liu et al. [43]. Furthermore, we briefly compared CIPHER's speed, and ease of use to alternative pipelines such as HiChIP and MAP-RSeq. Next, we used real and simulated data to evaluate and describe how to compare the performance of various adapter decontamination tools (BBDuk, Cutadapt and Trimmomatic) and DNA mappers (BBMap, BWA, and Bowtie2) using ENCODE datasets. Finally, we confirm CIPHER's enhancer-prediction model by calling enhancers in three human cell lines. Performance tests were run on a 32 core, dual-core Intel Xeon E5 with 128GB RAM WhisperStation.
Conclusions
CIPHER is a robust, and comprehensive NGS data analysis workflow suite with numerous functions and quality control metrics. It integrates pipelines for several of the most commonly generated datasets used in current genome biology studies and features an "analysis" mode that conducts complex bioinformatics challenges such as enhancer identification and integrative dataset analysis functions. CIPHER is extremely easy to run and makes use of Docker containers so there are no dependency issues. Entire datasets can be reproduced among researchers starting from raw data in a single command. Here we re-created the results of two published studies, briefly compared CIPHER's ease of use and speed to two other automated pipelines and provided performance metrics for several adapter decontamination and mapping tools. We further validate CIPHER's enhancer-prediction model in various human cell lines.
Although CIPHER has combined several comprehensive and thorough pipelines for commonly used NGS approaches, there are still quite a few challenges that remain to be addressed. CIPHER's current RNA-seq pipeline is largely optimized for typical two-type experimental designs (e.g. WT versus KO) and must be rewritten to ensure multi-design experiment DEG analysis and time-series analysis. We also plan to include pipelines for genome-wide association studies (GWAS) and de novo transcriptome assembly in the near future. Additionally, CIPHER currently only runs entire workflows, but we are aware that individuals may prefer to use only a subset of tools to complete certain tasks, thus it will be beneficial to allow this type of modular tool selection in the near future. As new or improved methods/software become available, the modular design of CIPHER will enable their smooth integration into our existing pipelines.
Abbreviations
BAM:

Binary alignment/mapping
BWA:

Burrows-wheeler aligner
ChIP-seq:

Chromatin immunoprecipitation followed by deep sequencing
CPU:

Central processing unit
hg19:

Human genome build 19
hg38:

Human genome build 38
Indel:

Insertion/deletion
MAQ:

Mapping and assembly with qualities
NGS:

Next-generation sequencing
RAM:

Random access memory
RNA-seq:

RNA sequencing
SNP:

Single nucleotide polymorphism
Declarations
Acknowledgements
We thank the reviewers, Jonathan Reeder, Christian Forst, Chi Pak, and members of the D'Orso lab for critical reading of the manuscript and suggestions.
Funding
Research reported in this publication was supported by the National Institute of Allergy and Infectious Diseases (NIAID) of the NIH under award number R01AI114362 to Iván D'Orso. The funding body played no role in the design or conclusion of the study.
Availability of data and materials
Project name: CIPHER.
Project home page: https://github.com/c-guzman/cipher-workflow-platform.
Operating system(s): Linux, MacOS.
Programming language: Nextflow, R.
Other requirements: Docker, Nextflow.
License: GPL.
Any restrictions to use by non-academics: No restrictions.
Availability of data and materials: The following NGS datasets were used in this study: H3K4me1 ChIP-seq (ENCSR000EUS), DNase-seq (ENCSR000ENM), GRO-seq (GSE38140), Liu et al. datasets (GSE51633), McNamara et al. datasets (GSE72622), and ENCODE datasets (ENCSR309SGV).
Authors' contributions
CG developed the idea. CG and ID outlined the manuscript. CG performed data analysis, and built the platform. CG and ID created the Figures. CG and ID interpreted the results and wrote the manuscript. Both authors read, contributed and approved the final manuscript.
Ethics approval and consent to participate
Not applicable.
Consent for publication
Not applicable.
Competing interests
The authors declare that they have no competing interests.
Publisher's Note
Springer Nature remains neutral with regard to jurisdictional claims in published maps and institutional affiliations.
Open AccessThis article is distributed under the terms of the Creative Commons Attribution 4.0 International License (http://creativecommons.org/licenses/by/4.0/), which permits unrestricted use, distribution, and reproduction in any medium, provided you give appropriate credit to the original author(s) and the source, provide a link to the Creative Commons license, and indicate if changes were made. The Creative Commons Public Domain Dedication waiver (http://creativecommons.org/publicdomain/zero/1.0/) applies to the data made available in this article, unless otherwise stated.
Authors' Affiliations
(1)
Department of Microbiology, The University of Texas Southwestern Medical Center, Dallas, USA
(2)
Present address: Bioinformatics and Systems Biology Graduate Program, University of California, San Diego, USA