VAliBS: a visual aligner for bisulfite sequences
BMC Bioinformatics
BMC series – open, inclusive and trusted
2017
18(Suppl 12):410
Published: 16 October 2017
Abstract
Background
Methylation is a common modification of DNA. It has been a very important and hot topic to study the correlation between methylation and diseases in medical science. Because of the special process with bisulfite treatment, traditional mapping tools do not work well with such methylation experimental reads. Traditional aligners are not designed for mapping bisulfite-treated reads, where the un-methylated 'C's are converted to 'T's.
Results
In this paper, we develop a reliable and visual tool, named VAliBS, for mapping bisulfate sequences to a genome reference. VAliBS works well even on large scale data or high noise data. By comparing with other state-of-the-art tools (BisMark, BSMAP, BS-Seeker2), VAliBS can improve the accuracy of bisulfite mapping. Moreover, VAliBS is a visual tool which makes its operations more easily and the alignment results are shown with colored marks which makes it easier to be read. VAliBS provides fast and accurate mapping of bisulfite-converted reads, and a friendly window system to visualize the detail of mapping of each read.
Conclusions
VAliBS works well on both simulated data and real data. It can be useful in DNA methylation research. VALiBS implements an X-Window user interface where the methylation positions are visual and the operations are friendly.
Keywords
DNA methylationBisulfite mappingVisual alignment
Background
Cytosine in CG dinucleotide (C in the 5′ end, G in the 3′ end) can be converted into 5-methyl cytosine under the enzyme by adding a methyl, which is called cytosine methylation of DNA. Cytosine methylation widely influences the expression of genes. Recent researches have shown that methylation is associated with many diseases, such as cancer, and methylation is heritable, which can be passed on to children from their parents [1]. One popular method in cytosine methylation research is bisulfite treatment.
As shown in Fig.
1
, in order to obtain methylation information, the DNA was dissolved into two single strands, where the underlined letter C marked the methylated cytosine. After bisulfite treated, non-methylated cytosine (C) will convert into uracil (U). Then PCR makes U converted into thymine (T), at the same time a double strand is synthesized based on each single strand (as shown in step 2 of Fig.
1
). Different from normal mapping, the bisulfite mapping allows T to match C and A to match G in the reference.

By comparing un-bisulfite-treated to bisulfite-treated sequences, we can identify where cytosine is methylated. It has been shown by Deng et al. [2] that targeted bisulfite sequencing reveals changes in DNA methylation associated with nuclear reprogramming. Bisulfite conversion of genomic DNA combined with next-generation sequencing has been widely used to measure the methylation state of a whole genome and the study of complex diseases, such as cancer. A survey for analyzing the cancer methylome through targeted bisulfite sequencing is reported in reference [3]. Now the genome-wide bisulfite sequencing can also be used in single-cell [4], which provides a robust platform for molecular diagnotics [5]. Gu et al. optimized bisulfite sequencing and analyzed clinical samples with genome-scale DNA methylation mapping at single-nucleotide resolution [6]. Thus, it is of great interest to find the correct positions of bisulfite reads.
Recent years, great progresses have been made in the mapping tools for un-bisulfite-treated sequences [7]. Several tools have been developed including Bowtie [8], Bowtie2 [9], BWA [10], RAUR [11], etc., which have been used widely in the genome assembly [12, 13], contig error correction [14] and structural variation detection [15]. The existing mapping tools for bisulfite-treated sequences can be categorized into two groups: wild-card aligners and three-letter aligners [16, 17]. The common character of wild-card aligners is to replace cytosines in the sequenced reads with wild-card Y nucleotides to allow bisulfite mismatches. BSMAP [18], RMAPBS [19], GSNAP [20], and Segemehl [21] all employed this strategy. BSMAP was developed by Xi et al. based on a modified version of a general mapping tool SOAP [22]. BSMAP [18] adopted hashing and fast lookup methods to the octamer seeds converted from the reference genome and used a bit-mapping strategy to highlight mismatches from methylation and sequencing errors. RMAPBS [19] was developed by Smith et al. based on the RMAP program for mapping single-end bisulphite reads. GSNAP [20] was developed by Wu et al., which can be used for both single- and paired-end reads mapping and can detect short- and long-distance splicing, including interchromosomal splicing.
On the other hand, three-letter aligners, such as bsmapper (https://sourceforge.net/projects/bsmapper/), BS-Seeker [23], Bismark [24], BRAT [25], BRAT-BW [26] and MethylCoder [27], convert C to T in both sequenced reads and genome reference prior to performing the reads mapping by using modified conventional aligners. Bismark [24] was developed by Krueger et al. based on the mapping tool Bowtie2 [9], which was not only for bisulfite sequence mapping but also for methylation call. Three-letter strategy makes it easier to reuse non-bisulfite aligner as an internal module, with these non-bisulfite aligners improved, it is convenient to replace the internal module. BRAT-BW [26] developed by Harris et al. is a fast, accurate and memory-efficient mapping tool which maps the bisulfite-treated short reads by using FM-index (Burrows-Wheeler transform). MethylCoder [27] developed by Pedersen et al. is a flexible software tool for mapping bisulfite-treated short reads, which supports both paired- and single-end reads in color space or nucleotide formats. MethylCoder provides the option to user with two existing short-read aligners: Bowtie [8] and GSNAP [20].
Most of the three-letter aligners are fast, accurate, memory-efficient, and flexible. They are based on the modified conventional aligners and have been widely used. So, we believe that new tools for bisulfite-treated sequences with higher recall and precision could be implemented with the development of general mapping tools. In this paper, we developed a new tool VAliBS based on the three-letter strategy for mapping bisulfite-treated short reads by integrating two latest excellent mapping tools of Bowtie2 [9] and BWA [10]. Moreover, VAliBS is a visual tool, in which the alignment results are shown with colored marks which make it easier to be read.
Methods
VAliBS has three stages: pre-processing, mapping, and post-processing. The schematic diagrams of VAliBS is shown in Fig.
2
. In the following subsections we will introduce the three stages in detail.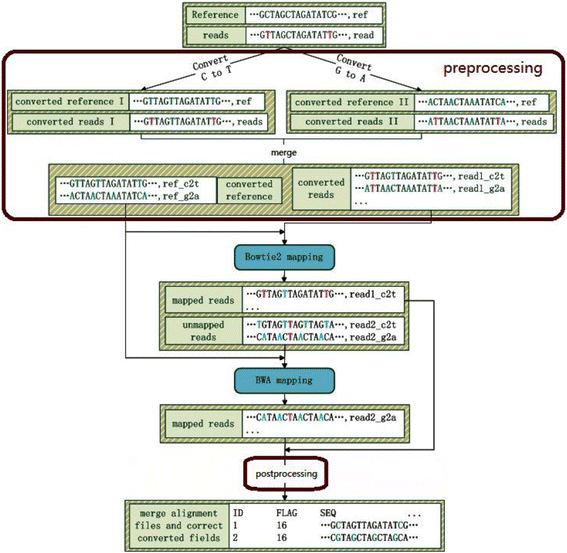 Conclusions
DNA methylation is very important to the research of diseases. In this paper, we have designed and implemented a visual tool VAliBS for bisulfite sequence alignment based on base conversions. VAliBS is fast, memory-efficient and reliable, which can be useful in DNA methylation research. More importantly, VAliBS is a visual tool where the alignment results and the methylation positions are visual while the operations are friendly. In addition, pre-processing and post-processing are decoupled with Bowtie2 and BWA, to make them easily updating modularity. As MapReduce frame has been used widely in bioinformatics [32], the efficiency performance of VAliBS can even be improved by parallel processing in the future.
Declarations
Acknowledgments
VAliBS is based on the open source software BWA and Bowtie2. We would like to thank Dr. H. Li, and Dr. R. Durbinfor the source code and documentation of BWA and also are thankful to Dr. B. Langmead and coworkers for the source code and documentation of Bowtie2.
Part of this paper, an abridged two-page abstract, has been published in the Lecture notes in computer science: Bioinformatics research and applications [33].
Funding
This work was funded by the National Natural Science Foundation of China under Grants No. 61379108 and No.61232001. The National Natural Science Foundation of China supported the publication fee of this paper.
Authors' contributions
ML and XDY designed the schematic diagram of VAliBS including pre-processing, mapping, and post-processing. PH and XDY obtained the data and implemented the tool. ML and XDY analyzed the experimental results. ML, PH, XDY, JXW YP and FXW participated in revising the draft. All authors have read and approved the final manuscript.
Ethics approval and consent to participate
Not applicable.
Consent for publication
Not applicable.
Competing interests
The authors declare that they have no competing interests.
Publisher's Note
Springer Nature remains neutral with regard to jurisdictional claims in published maps and institutional affiliations.
Open AccessThis article is distributed under the terms of the Creative Commons Attribution 4.0 International License (http://creativecommons.org/licenses/by/4.0/), which permits unrestricted use, distribution, and reproduction in any medium, provided you give appropriate credit to the original author(s) and the source, provide a link to the Creative Commons license, and indicate if changes were made. The Creative Commons Public Domain Dedication waiver (http://creativecommons.org/publicdomain/zero/1.0/) applies to the data made available in this article, unless otherwise stated.
Authors' Affiliations
(1)
School of Information Science and Engineering, Central South University, Changsha, China
(2)
Department of Computer Science, Georgia State University, Atlanta, USA
(3)
Division of Biomedical Engineering and Department of Mechanical Engineering, University of Saskatchewan, Saskatoon, Canada