SimBA: A methodology and tools for evaluating the performance of RNA-Seq bioinformatic pipelines
BMC Bioinformatics
BMC series – open, inclusive and trusted
2017
18:428
Received: 20 January 2017
Accepted: 8 September 2017
Published: 29 September 2017
Abstract
Background
The evolution of next-generation sequencing (NGS) technologies has led to increased focus on RNA-Seq. Many bioinformatic tools have been developed for RNA-Seq analysis, each with unique performance characteristics and configuration parameters. Users face an increasingly complex task in understanding which bioinformatic tools are best for their specific needs and how they should be configured. In order to provide some answers to these questions, we investigate the performance of leading bioinformatic tools designed for RNA-Seq analysis and propose a methodology for systematic evaluation and comparison of performance to help users make well informed choices.
Results
To evaluate RNA-Seq pipelines, we developed a suite of two benchmarking tools. SimCT generates simulated datasets that get as close as possible to specific real biological conditions accompanied by the list of genomic incidents and mutations that have been inserted. BenchCT then compares the output of any bioinformatics pipeline that has been run against a SimCT dataset with the simulated genomic and transcriptional variations it contains to give an accurate performance evaluation in addressing specific biological question. We used these tools to simulate a real-world genomic medicine question s involving the comparison of healthy and cancerous cells. Results revealed that performance in addressing a particular biological context varied significantly depending on the choice of tools and settings used. We also found that by combining the output of certain pipelines, substantial performance improvements could be achieved.
Conclusion
Our research emphasizes the importance of selecting and configuring bioinformatic tools for the specific biological question being investigated to obtain optimal results. Pipeline designers, developers and users should include benchmarking in the context of their biological question as part of their design and quality control process. Our SimBA suite of benchmarking tools provides a reliable basis for comparing the performance of RNA-Seq bioinformatics pipelines in addressing a specific biological question. We would like to see the creation of a reference corpus of data-sets that would allow accurate comparison between benchmarks performed by different groups and the publication of more benchmarks based on this public corpus. SimBA software and data-set are available at http://cractools.gforge.inria.fr/softwares/simba/.
Keywords
RNA-SeqTranscriptomicsBenchmarkPipeline optimization
Background
RNA-seq technology: power and versatility
The unprecedented evolution of next-generation sequencing (NGS) technologies in transcriptomics (RNA-Seq) has shaped computational biology and facilitated new advances in genomic medicine [1]. RNA-Seq examines the dynamic nature of the cell's transcriptome, the portion of genome that is actively transcribed into RNA molecules which allows researchers to determine when and where genes are turned on or off in a variety of cell types and circumstances.
RNA-Seq offers benefits in the detection of novel transcripts as it does not require context-specific probes rendering it more flexible than microarrays that cannot be modified to reflect evolving requirements. However, for RNA-Seq to evolve beyond the realm of analytic research to clinical use, performance benchmarking of the RNA-Seq-specific bioinformatic tools are needed to ensure accuracy and reproducibility [2].
RNA-seq analysis process: dependence on the biological question
Given the increasing variety of biological questions being investigated using RNA-Seq analysis [3], the community has developed a broad range of bioinformatic tools to address specific needs. This growing selection of tools should, in theory, make it possible for users to design highly optimized pipelines that deliver best results for any specific biological question. The traditional process of the RNA-Seq analysis [4] consists of a multi-step pipeline - starting with mapping, followed by the quantification of known transcript or gene and finally statistical analysis of the expression including differential expression analysis and clustering. RNA-Seq can also be used to identify new genes and transcript variants including splice junctions, SNVs, indels or gene fusions predictions that are of particular relevance in the study of cancer [5].
An important consideration in analyzing RNA-Seq is that, due to the complexity of interpretation, pipelines must be optimized to the biological question being investigated to yield meaningful results. Some analyses require more sensitivity while others put emphasis on precision. Other factors such as the sequencing protocol and compute resources available also have to be considered. However, despite all the work done in optimizing specific tools, few people have sufficient understanding of their characteristics to make informed choices on the best ones to include in a given pipeline, or how they should be configured. To make matters worse, the number of distinct permutations of pipeline components and configurations creates a real combinatorial challenge.
One strategy that helps the researcher address this problem is the systematic evaluation of software alternatives based on a set of simulated reads. For instance, in a recent benchmarking study [6], the authors assessed RNA-Seq alignment tools on three human and malaria datasets at the read, junction and base levels. However, their benchmark suffered from limitations that could impact their conclusions. We question the relevance of the metrics used in their comparisons: the way multiple alignments are discarded (those do not use the standard NH tag in the SAM file), the fact that highly-expressed junctions have more weight in the junction-level analysis than under-expressed ones, and the fact the the authors rely solely on the CIGAR string to assess the alignment (while some ambiguous alignments might have distinct CIGAR strings). The authors use the dataset with the highest mutation rate of 3% to tune the parameters., so RNA-Seq benchmarking efforts to-date have tended to provide a review of the pipeline tools available at a given time, with a focus on individual components such as aligners [7–10], variant callers [11–13] or quantification methods [7, 14].
Other comparison strategies are based on modeling rules and computing metrics from real data sets of reads [15, 16] as it is assumed that simulating NGS reflecting the biological complexity and technical biases associated with sequencing is impossible. Recently, an original approach, TEASER, was introduced [17] to compare genomic aligners in a dynamic and flexible manner using a platform with a simple SaaS application to generate reports automatically. However, TEASER is not applicable to RNA-seq analysis. It can be complicated to transpose a specific benchmarking result to another biological context and to use results to optimize configuration a selected pipeline. As a result, many researchers rely on well known, highly publicized pipelines using standard configurations that may be ill-adapted to examining their particular biological question. As an example, it is not uncommon to see researchers using, for instance, TopHat2 with default parameters1. We believe that SimBA will make it easier to conceive benchmarks adapted to a specific biological question.
RNA-seq challenge: The need for standard data-sets and benchmarking methodology
Combining a set of tools to create a complete analysis pipeline requires expertise and familiarity with the characteristics of each candidate software component of the workflow. This has implications for researchers and clinicians alike, as using the right pipeline, correctly configured, limits false positives and ensures that relevant genomic events are surfaced. This emphasizes the need for a benchmarking methodology that provides concrete information on the pipeline and configuration settings that yield best results for a given biological question.
Traditional simulation approaches like BEERS [10] or Flux Simulator (Flux) [18] aim to model RNA-Seq experiments in silico by sequencing reads from a reference genome according to annotated transcripts and by modeling different experimental behaviors. BEERS is an easy-to-use simulator of simplified reads, whose main weakness is that it does not take into account the preparation of the library that precedes the sequencing itself (fragmentation, RT-PCR, etc.). Flux provides a more realistic view as it models the wet-lab process and the type of sequencer and simulates sequence errors using techniques based on heuristic models. Flux also benefits from excellent documentation and a high configurability of each step of the simulation. However, though it does an excellent job in simulating the expression profile, library preparation and sequencing, it does not take into account the underlying biological significance of the reference transcriptome (genome modifications, cancerous cells, etc.). Other approaches to simulating cancerous data directly in sequenced reads using BAMSurgeon [19], rather than modifying a reference genome and its annotations.
Many of these approaches do not allow tools to be benchmarked in the context of a specific biological question [10]. This drives users to develop new methods based on their own private data-sets. Some initiatives have emerged such as Dream Challenge that provide sets of data for benchmarking but without the curation that provides test data relevant to each requirements that would enable consistent and reproducible comparisons.
Implementation
We have developed
SimBA
(Simulation & Benchmarking Analysis), a software suite designed to evaluate the performance of an entire RNA-Seq pipeline in the context of a specific biological question.
SimBA
provides an integrated environment (see Fig.
1
) that lets the users generate benchmark reports that evaluate the workflow of their choice. It is comprised of two components: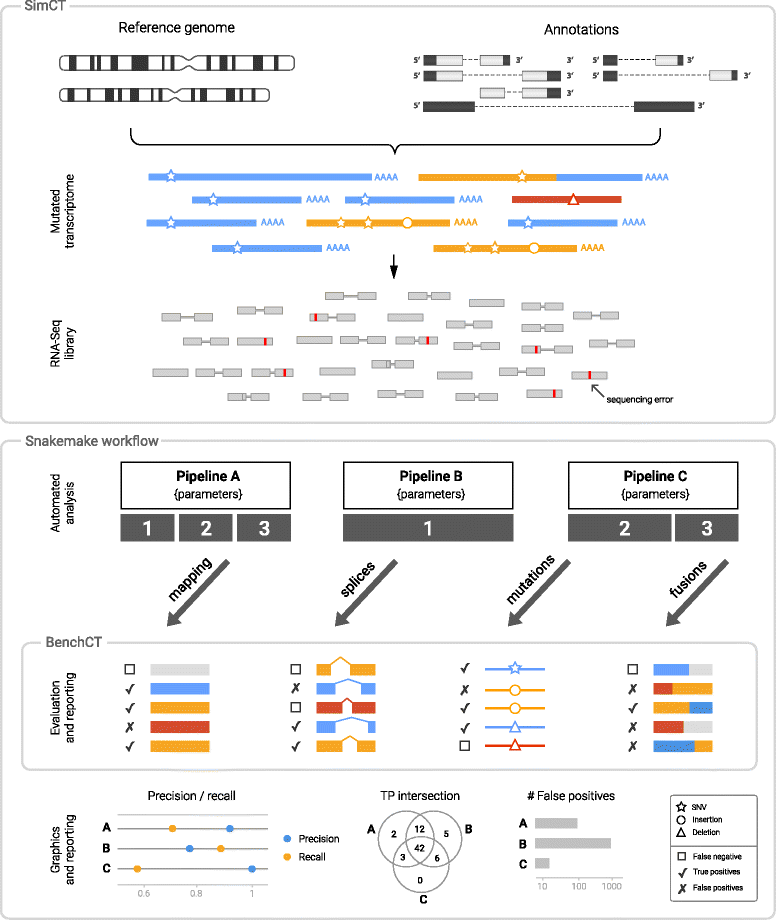 SimCT A configurable generator of simulated RNA-Seq data that can emulate specific biological mechanism (ie. SNVs, indels, fusions) and provide robust data sets covering cases such as fusion genes (or fusions). BenchCT A qualitative evaluation tool which assess any pipeline results against a simulated dataset to obtain a clear understanding of its performance characteristics in answering a particular biological question. In this paper, we illustrate how this vision applies in genomic medicine by building a set of RNA-Seq data simulations of a somatic condition and propose an automated workflow using Snakemake [20] to compare tools in three qualitative RNA-Seq use cases: SNVs, indels and fusion genes. The Snakefile used to generate all results presented in the article is available at https://github.com/jaudoux/simba-publication-pipeline.
Results
Our objective was to create a use-case relevant to genomic medicine by creating realistic simulated RNA-Seq data-sets and using them to compare performance of twelve state-of-the-art pipelines. Our benchmarks determined the ability of each pipeline to detect biological events relevant to the needs of genomic medicine.
Discussion
Limitation of benchmarked tools studies
Numerous benchmarking studies of RNA-Seq analysis tools have since been conducted the appearance of RNA-Seq. The problem is that each study relies on its own simulated data-sets as a basis for the comparison of tools rendering comparisons between tools evaluated in different studies difficult. The methodology used to assess how close the predictions are to the truth also varies from one study to another. A further source of difficulty is that the tools themselves are constantly being upgraded making it virtually impossible to obtain a reliable, updated view of the performance of all the available tools on the market at a given moment in time. This means that it is impossible to reliably compare performance figures between studies to draw conclusions on the best pipelines to use to answer a specific biological question. As an example, the RGASP project [8] only represents a picture of benchmarked tools at the time of the study, though most of the tools benchmarked have been upgraded since. Such difficulties underline the need for a benchmark methodology that can reflect results of latest software versions.
We believe that in order to have an accurate picture of performance of available tools, the community must have access to a corpus of realistic simulated data-sets that emulate various biological conditions. The impact of results on the variant calling (see "Benchmarking performance in SNV detection" section) according to the mutation rate of the input data-set illustrates the need to have standardized reference data-sets that allow an equitable, accurate benchmarking of all tools according to a biological context.
Need a solution to benchmark tools
Because the examination of some biological questions require more sensitivity while others require higher precision or must be capable of running using limited computational resources, users need a solution that offer possibility to choose the right bioinformatic components for an analysis depending on the specific biological question and computational environment available.
To illustrate this, our study relies on two standard cases of biological questions; variant calling and gene fusion detection. The proposed approach changes the focus of bioinformatic benchmarking from evaluations of discrete algorithmic components to an evaluation of a complete pipeline's ability to provide meaningful answers to genomic medicine problems. This facilitates the evaluation of new tools by the community fostering more rapid innovation in this field.
Even if an original approach based on this principle [17] was announced, enabling users to quickly compare genomic aligners in a dynamic and flexible manner, the proposed approach is only dedicated to the benchmark of genomic aligners. Thus, to the best of our knowledge, there is no modular, interactive solution to benchmarking RNA-Seq software.
SimBA a modular benchmarking workflow
We have designed SimBA, as two independent components, SimCT and BenchCT, that were conceived in a modular fashion with the objective of extending their features and scope of relevance.
SimCT's modular design makes it possible to include other read simulators to handle emerging sequencing technologies such as "Oxford Nanopore" or "PacBio" sequencers via a "plug-in" architecture. A similar "plug-in" approach to profile simulators has also been adopted. SimCT is not restricted to RNA-Seq as WGS or exome sequencing simulators could be integrated to produce multi-omics analysis benchmarks. The modularity of SimCT, makes it easy to extend it in the near-term to the sequencing of multi-clonal tumoral transcriptomes, where a sample contains a heterogenous mixture of cancer cell clones that have emerged from a common ancestor.
BenchCT is a complete solution, featuring an easy installation, advanced algorithms, fast execution, multi-core architecture support. BenchCT is also highly configurable thanks to its YAML setup file. BenchCT was designed to provide an easy way to benchmark tools with interpretable metrics, sensitivity and precision. However, we plan to incorporate the evaluation of expression estimates into SimBA as the community defines more standardized comparison metrics [7, 14]. In future, we also intend to include other qualitative evaluation cases, such as transcript reconstruction.
Conclusion
We propose SimBA, an open benchmarking solution that can be used to generate simulated data-sets with high configurability as well as a means to evaluate the performances of analysis pipelines as they relate to various qualitative questions such as read alignment, variant calling and gene fusion detection.
In this paper, we have created a means for comparison of results related to questions relevant to genomic medicine by producing reference data-sets that mimic cancerous cells and the investigation of important events in this type of pathology such as mutations, indels and fusions. The results described in our paper emphasize the need for a benchmarking tool that can: (i) Simulate reference data-sets emulating a specific biological context, (ii) Calibrate a pipeline for a data-set specific to a biological question, (iii) Aggregate and compare results of a variety of bioinformatic tools to explore how the combination of various tools impacts the overall performance.
By contrast to the existing work on the RNA-seq analysis, we focused on the necessity of proposing a flexible and integrated benchmarking suite that helps users optimize their workflows for biological questions. SimBA gives a standard analysis methodology and benchmark data-sets which guarantee a high level of accuracy and reproducibility.
Availability and requirements
Endnote
1 A preliminary search on Google Scholar with "Tophat2 'default parameters"' returns about 1000 results compared to 4,500 for TopHat2 alone
Abbreviations
BAM:

Binary sequence alignement/map (SAM) format
BED:

Browser extensible data format
Flux:

FluxSimulator
FN:

False negative
FP:

False positive
Fusion:

Gene fusion
GI:

Genomic interval
GI-tree:

Genomic interval-tree
GTF:

Gene transfer format
Indel:

Insertion and deletion
NGS:

Next generation sequencing
NA-Seq:

RNA-Sequencing
SaaS:

Software as a service
SNV:

Single nucleotive variant
TP:

True positive
VCF:

Variant call format
YAML:

YAML ain't markup language
WGS:

Whole genome sequencing
Declarations
Acknowledgments
We thank Anthony Boureux, for supporting the computing infrastructure used to generate the results in this study. We also thank Vincent Maillol and Eric Rivals for earlier work on this project.
Funding
JA is a doctoral fellow of the Fondation pour la Recherche Médicale (FRM, BIOINFO2013 call, grant noDBI20131228566). SB is fellowship of SATT AxLR, la Région Occitanie, and Montpellier Métropole Méditerranée. Institute of Computational Biology, Investissement d'Avenir.
Authors' contributions
JA, TC, MS and NP initiated the project. JA, MS and NP performed the analytic work and implementation of the pipeline. JA, SB and NP performed the experimental work and contributed to pipeline testing. JA, CG, JMH and NP contributed to the writing of the paper. All authors read and approved the final manuscript.
Ethics approval and consent to participate
Not applicable.
Consent for publication
Not applicable.
Competing interests
The authors declare that they have no competing interests.
Publisher's Note
Springer Nature remains neutral with regard to jurisdictional claims in published maps and institutional affiliations.
Open Access This article is distributed under the terms of the Creative Commons Attribution 4.0 International License (http://creativecommons.org/licenses/by/4.0/), which permits unrestricted use, distribution, and reproduction in any medium, provided you give appropriate credit to the original author(s) and the source, provide a link to the Creative Commons license, and indicate if changes were made. The Creative Commons Public Domain Dedication waiver (http://creativecommons.org/publicdomain/zero/1.0/) applies to the data made available in this article, unless otherwise stated.
Authors' Affiliations
(1)
SeqOne, IRMB, CHRU de Montpellier -Hopital St Eloi, Montpellier, France
(2)
Institute of Computational Biology, Montpellier Cedex 5, France
(3)
University Lille, CNRS, Centrale Lille, Inria, UMR 9189 - CRIStAL - Centre de Recherche en Informatique Signal et Automatique de Lille, Lille, France
(4)
University Bordeaux, Bordeaux, France