CEMiTool: a Bioconductor package for performing comprehensive modular co-expression analyses
BMC Bioinformatics
BMC series – open, inclusive and trusted
2018
19:56
Received: 20 September 2017
Accepted: 7 February 2018
Published: 20 February 2018
Abstract
Background
The analysis of modular gene co-expression networks is a well-established method commonly used for discovering the systems-level functionality of genes. In addition, these studies provide a basis for the discovery of clinically relevant molecular pathways underlying different diseases and conditions.
Results
In this paper, we present a fast and easy-to-use Bioconductor package named CEMiTool that unifies the discovery and the analysis of co-expression modules. Using the same real datasets, we demonstrate that CEMiTool outperforms existing tools, and provides unique results in a user-friendly html report with high quality graphs. Among its features, our tool evaluates whether modules contain genes that are over-represented by specific pathways or that are altered in a specific sample group, as well as it integrates transcriptomic data with interactome information, identifying the potential hubs on each network. We successfully applied CEMiTool to over 1000 transcriptome datasets, and to a new RNA-seq dataset of patients infected with Leishmania, revealing novel insights of the disease's physiopathology.
Conclusion
The CEMiTool R package provides users with an easy-to-use method to automatically implement gene co-expression network analyses, obtain key information about the discovered gene modules using additional downstream analyses and retrieve publication-ready results via a high-quality interactive report.
Keywords
Co-expression modulesGene networksModular analysisLeishmaniasisTranscriptomics
Background
Cellular processes are controlled by a host of interacting molecules whose activity and levels are frequently co-regulated or co-expressed. Detecting the groups (i.e. modules) of co-expressed genes in a myriad of biological conditions has generated important insights in brain evolution [1], coronary artery disease [2], and macrophage activation [3], among many other biological conditions.
Following evidence that genes interact with each other in a scale-free fashion [4], Zhang and Horvath developed an R package named WGCNA (Weighted Gene-Coexpression Network Analysis) that identifies co-expressed gene modules [5]. Although tutorials and examples are available for using the package, following its workflow verbatim is time-consuming and tiresome. Moreover, users are often required to manually select parameters and to filter the input genes prior running WGCNA. This hinders workflow automation and can impact reproducibility since different researchers may utilize different parameters, obtaining distinct results for the same data set. More importantly, WGCNA is limited in terms of the functional analyses available for the package users.
After identifying co-expressed gene modules, researchers are often interested in performing functional and integrative analyses. Over-representation analysis (ORA) can be used to reveal if a set of co-expressed genes is enriched for genes belonging to known pathways or functions. In addition, gene set enrichment analysis (GSEA) [6] can associate the activity of a module with the study phenotypes (i.e. sample group). Finally, integrating co-expression information with protein-protein interaction data can be useful to identify main regulators or hubs. Such analyses, however, require the combination of several packages and programs, and considerable bioinformatics skills.
To address these issues, we developed the Co-Expression Modules identification Tool (CEMiTool), an R package that allows users to easily identify and analyze co-expression modules in a fully automated manner. CEMiTool provides users with a novel unsupervised gene filtering method, automated parameter selection for identifying modules, enrichment and module functional analyses, as well as integration with interactome data. Our tool then reports everything in HTML web pages with high-quality plots and interactive tables.
Using the same real datasets, we compared the features of CEMiTool against existing tools, and showed that our tool outperforms them in several aspects. We also applied CEMiTool to over 1000 microarrays and RNA-seq datasets, demonstrating its power in automating the generation of co-expression gene modules and subsequent analyses. Finally, to gain a better insight of the pathophysiology of Leishmania infection, we ran CEMiTool on a novel RNA-seq dataset, which was generated from the blood of infected patients. Our analyses revealed that several modules contained genes not previously associated with Leishmaniasis. The R package is freely available in Bioconductor (DOI: https://doi.org/10.18129/B9.bioc.CEMiTool), and as a Docker image file as well (https://hub.docker.com/r/csblusp/cemitool).
Implementation
CEMiTool is an easy-to-use package, automating within a single R function (
cemitool
) the entire module discovery process - including gene filtering and functional analyses (Fig.
1
). The process begins with a gene expression file containing the genes as rows and the samples as columns. This file is the only required input for CEMiTool's analyses. An unsupervised filtering method based on the inverse gamma distribution (Additional file
1
: Text) will then select the genes used in the analyses. Next, a soft-thresholding power β [
5
] is chosen using our modified algorithm (Additional file
1
: Text), and this value is used to determine a similarity criterion between pairs of genes. The genes are then separated into modules using the Dynamic Tree Cut package [
5
,
7
]. If an optional file containing gene interactions (e.g. protein-protein interaction data) is provided, the package will return network graphs composed of interacting genes within the same module. Additionally, if the user provides a sample annotation file, CEMiTool can perform gene set enrichment analysis (GSEA), allowing users to visualize which modules are induced or repressed in the different phenotypes. Finally, given an optional file containing gene sets, CEMiTool will perform an over representation analysis (ORA) based on the hypergeometric test to determine the most significant module functions.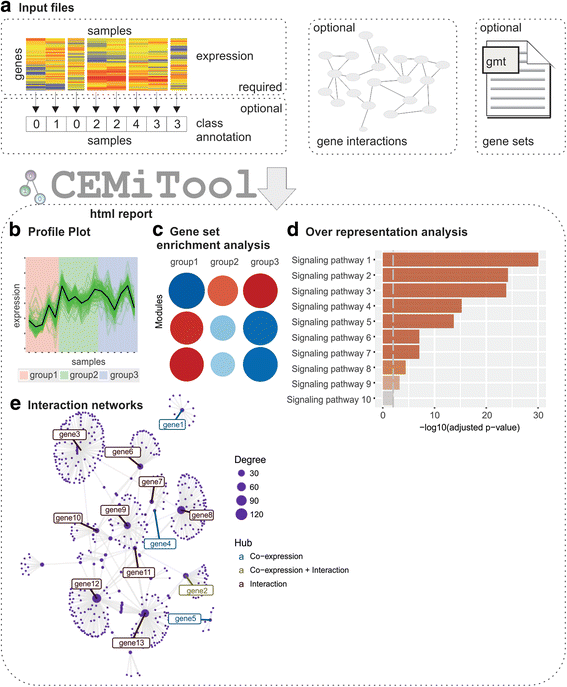 Over representation analysis of modules
To determine the biological functions possibly related to each module, CEMiTool is able to take a user-provided gene pathway list and perform an over representation analysis (ORA) via the clusterProfiler R package [8]. CEMiTool will then report the adjusted p-value negative logarithm for the top gene sets enriched on each co-expression module based on the hypergeometric test. This analysis is also available in the WGCNA package via the userListEnrichment function, however its output is in tabular form, while CEMiTool returns both a table and a bar graph of the most significantly enriched pathways for each module.
Association of module activity to sample phenotypes
If the user submits a sample annotation file describing the phenotypes (i.e. disease, healthy, treated, etc) of samples, CEMiTool performs a gene set enrichment analysis using the fgsea (Fast Gene Set Enrichment Analysis) R package [9]. In this analysis, genes from co-expression modules will be treated as gene sets and the z-score normalized expression of the samples within each phenotype will be treated as rankings on the analysis. The results will assess if the activity of a module is altered across different phenotypes.
Adding gene interactions to modules
Users can also provide a gene interaction file to visualize the interactions between the genes in each co-expression module. This allows users to customize their module graphs according to different interaction databases. The top ten network hubs (genes with the highest connectivities) are highlighted in the graph. The resulting network is provided as a graph (one per module) in the HTML report.
We compared the features provided by CEMiTool with existing tools for co-expression module identification and analysis, namely WGCNA, Petal [
10
], CoP [
11
], GeNET [
12
], DiffCoEx [
13
], CoXpress [
14
], DICER [
15
] and DINGO [
16
], as shown in Table
1
. However, none of the tools evaluated have all the features provided by CEMiTool.
Table 1
Features Provided by Programs that Identify Co-Expression Modules. Over representation analysis of CoP, and GeNET programs is considered "limited" because they only allow the usage of specific gene sets (GO, Pfam or KEGG). The runtime of 2 studies using the same computer and default settings are shown for CEMiTool, WGCNA, and Petal
| Features | CEMiTool | WGCNA | Petal | CoP | GeNET | DiffCoEx | CoXpress | DICER | DINGO |
| --- | --- | --- | --- | --- | --- | --- | --- | --- | --- |
| Automatic Gene Filtering | yes | no | no | no | no | no | no | no | no |
| Over representation analysis | yes | yes | no | limited | limited | no | no | no | no |
| Gene set enrichment analysis | yes | no | no | no | yes | no | no | no | no |
| Integration with interactome | yes | no | no | no | no | no | no | no | no |
| Report in HTML | yes | no | no | yes | no | no | no | no | no |
| Native plots | yes | yes | no | no | yes | no | no | no | no |
| Search for a gene or gene list | yes | no | yes | yes | yes | no | no | no | no |
| Merging modules | yes | yes | no | no | no | yes | no | yes | no |
| Allows 2+ sample groups | yes | yes | yes | yes | yes | no | no | no | no |
| R package | yes | yes | yes | no | no | no | yes | no | yes |
| Year of last update | 2017 | 2017 | 2017 | 2010 | Unknown | Unknown | 2013 | Unknown | Unknown |
| Runtime for study GSE18090 | 2min12s | 3min10s | 17min18s | – | – | – | – | – | – |
| Runtime for study GSE43777 | 3min03s | 4min33s | 40min10s | – | – | – | – | – | – |
Conclusions
Given the inherently modular profile of biological systems, gene co-expression networks have been extensively used in order to better understand how specific groups of genes are able to orchestrate the several different metabolic pathways present in organisms, as well as identify how they change in response to different conditions and diseases. CEMiTool can identify biologically relevant gene co-expression modules in an automated and easy-to-use way, as well as to perform a comprehensive set of analyses to better understand the biological functions present in the underlying system.
Methods
Soft-threshold selection and gene module discovery
Although WGCNA provides a function named pickSoftThreshold that can automatically select the soft-threshold β value, we have created an alternative algorithm, which is based on the concept of Cauchy sequences [17], that improves the automatic selection of this parameter, allowing for more reliable and consistent results. Moreover, our algorithm allows a lower threshold for R2 (R2 > 0.8) when compared to WGCNA's default threshold (R2 > 0.85). This, in turn, allows for lower values of β. Once a β value is chosen, subsequent steps for creating modules follow standard WGCNA procedure.
Assuming the reader is familiar with the language of Langfelder and Horvath [
37
], we define the notation
R
2
(
β
) to denote the value of
R
2
obtained for a given
β
. With the
R
2
×
β
curve in hand, we should pick a threshold τ. WGCNA's method consists of taking the smallest
β
such that
R
2
(
β
) > τ . Suppose that this value is
β
1
, and it corresponds to
R
2
(
β
1
) = τ + δ for some δ > 0 (i.e., the equivalent
R
2
value is only slightly above τ). Take now the next value,
β
2
. If
R
2
(
β
2
) ≈
R
2
(
β
1
), then WGCNA's choice was a good one, as there is little to be gained by raising the soft-threshold any further and much to be lost in terms of network connectivity – this case is shown in Fig.
9
. This becomes the majority of cases when τ is close to one, but this comes at the price of unnecessarily high values of β when
R
2
→ 1 in a slow fashion (or worse, it fails to select a soft-threshold).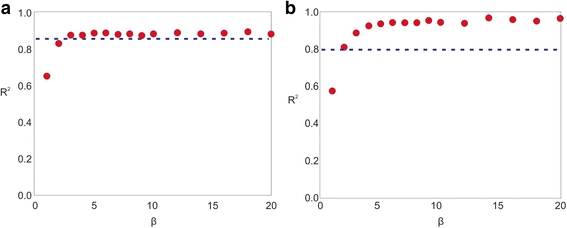 On the other hand, selecting a lower value of τ leads to a loss of "scale-freeness" (indicated by R2) if R2 (β2) is significantly larger than R2 (β1) – say, R2 (β2) = R2 (β1) + ∆, for ∆ > δ, as shown in Fig. 9. CEMiTool's algorithm avoids such cases by interrogating whether | R2 (β1) − R2 (β2)| < ϵ for a pre-defined value of ϵ – if not, then CEMiTool rejects β1 as a soft-threshold and moves on, stopping when the curve appears to stabilize. This means that it exploits all possible significant gains of "scale-freeness" before settling on a value, which allows us to use a lower value of τ without settling for poor values of R2.
Abbreviations
BCR:

B-cell antigen receptor
CCL2:

Chemokine C-C motif ligand 2
CCR5:

C-C chemokine receptor type 5
CD79:

Cluster of differentiation 79
CEMiTool:

Co-expression modules identification tool
CES:

Combined enrichment score
CoP:

Co-expressed biological processes
CPM:

Counts per million
DF:

Dengue fever
DHF:

Dengue haemorragic fever
diceR:

Diverse cluster ensemble in R
DINGO:

Differential network analyis in genomics
fgsea:

Fast gene set enrichment analysis
FPKM:

Fragments per kilobase million
GEO:

Gene expression omnibus
GSEA:

Gene set enrichment analysis
IFN:

Interferon
ORA:

Over-representation analysis
RPKM:

Reads per kilobase million
VL:

Visceral leishmaniasis
VST:

Variance stabilizing transformation
WGCNA:

Weighted gene co-expression network analysis
Declarations
Acknowledgements
We are grateful to members of the CSBL and LIB labs who have tested CEMiTool and the financial support of the funding agencies.
Funding
FAPESP grants No 2012/19278-6, 2013/08216-2, 2015/20897-0, 2017/05762-7, 2014/19323-7, 2014/24162-2, 2015/25825-8;
CNPq grants 443719/2014-4;
CAPES grants No. 1496888 and No. 1572872
FONDECYT-CONICYT grant 11161020
PAI-CONICYT grant PAI79170021
Availability of data and materials
Project name: CEMiTool
Project home page: https://github.com/csbl-usp/CEMiTool
Operating system(s): Platform independent
Programming language: R
License: GPL-3
Authors' contributions
Conceptualization: HIN. Data curation: PSTR, GRF, FMP, ML, RAC, VMC. Formal analysis: PSTR, GRF. Funding acquisition: HIN. Methodology: HIN, PSTR, GRF. Project Administration: HIN. Resources: HIN, JSS, VMC. Software: PSTR, GRF, LEC, MCB, DSL, TDCH, RAC. Supervision: HIN. Validation: PSTR, GRF, TDCH, DSL, RAC, SRM, KFF, JSS. Writing – original draft: HIN, PSTR, GRF. Writing – review & editing: PSTR, GRF, LEC, MCB, TDCH, DSL, FMP, RAC, ML, VMC, HIN. All authors read and approved the final manuscript.
Ethics approval and consent to participate
All procedures involving humans were approved by the Ethics Committee of the University Hospital of the Federal University of Sergipe and Comissão Nacional de Ética em Pesquisa, Brazil (CONEP).
Consent for publication
Not applicable.
Competing interests
The authors declare that they have no competing interests.
Publisher's Note
Springer Nature remains neutral with regard to jurisdictional claims in published maps and institutional affiliations.
Open AccessThis article is distributed under the terms of the Creative Commons Attribution 4.0 International License (http://creativecommons.org/licenses/by/4.0/), which permits unrestricted use, distribution, and reproduction in any medium, provided you give appropriate credit to the original author(s) and the source, provide a link to the Creative Commons license, and indicate if changes were made. The Creative Commons Public Domain Dedication waiver (http://creativecommons.org/publicdomain/zero/1.0/) applies to the data made available in this article, unless otherwise stated.
Authors' Affiliations
(1)
Department of Clinical and Toxicological Analyses, School of Pharmaceutical Sciences, University of São Paulo, São Paulo, Brazil
(2)
Advanced Center for Chronic Diseases (ACCDiS), Facultad de Ciencias Químicas y Farmacéuticas, Universidad de Chile, Santiago, Chile
(3)
Department of Biochemistry, Immunology, and Cell Biology, University of São Paulo, Ribeirão Preto, Brazil