Research article

Open Access
A computational evaluation of over-representation of regulatory motifs in the promoter regions of differentially expressed genes
BMC Bioinformatics
2010
11:267
Received: 3 July 2009
Accepted: 20 May 2010
Published: 20 May 2010
Abstract
Background
Observed co-expression of a group of genes is frequently attributed to co-regulation by shared transcription factors. This assumption has led to the hypothesis that promoters of co-expressed genes should share common regulatory motifs, which forms the basis for numerous computational tools that search for these motifs. While frequently explored for yeast, the validity of the underlying hypothesis has not been assessed systematically in mammals. This demonstrates the need for a systematic and quantitative evaluation to what degree co-expressed genes share over-represented motifs for mammals.
Results
We identified 33 experiments for human and mouse in the ArrayExpress Database where transcription factors were manipulated and which exhibited a significant number of differentially expressed genes. We checked for over-representation of transcription factor binding sites in up- or down-regulated genes using the over-representation analysis tool oPOSSUM. In 25 out of 33 experiments, this procedure identified the binding matrices of the affected transcription factors. We also carried out de novo prediction of regulatory motifs shared by differentially expressed genes. Again, the detected motifs shared significant similarity with the matrices of the affected transcription factors.
Conclusions
Our results support the claim that functional regulatory motifs are over-represented in sets of differentially expressed genes and that they can be detected with computational methods.
Keywords
Transcription Start Site
Microarray Experiment
Default Parameter Setting
Phylogenetic Footprinting
Target Matrice
Background
Patterns of differential gene expression in organisms are known to result from a complex and dynamic gene regulatory network, where the interactions between transcription factors (TFs) and their target genes take center stage. Therefore, the activation or deactivation of TFs in specific signaling pathways triggers up- or down-regulation of their direct targets. Those effects have been subject of numerous studies dealing with different signaling pathways such as development and hormone signaling [1–4]. For some of these processes, it is well understood how TFs directly transform regulatory signals into gene expression levels by binding to proximal or distal promoters of genes.
The roles of TFs in regulating gene expression have been widely observed in microarray experiments, in which TF genes were knocked out, over-expressed, or stimulated with ligands [5–21]. These studies generally investigated the change of gene expression induced by altering the activity of certain TFs and approved the roles of TFs in gene expression. Furthermore, computational studies have also demonstrated that genes with common regulatory binding sites are more likely to have similar expression profiles [22, 23]. The importance of TFs in gene expression regulation naturally raises the question to what degree differential expression of genes under different conditions indicates the presence of shared regulatory motifs. If so, this provides a useful theoretical foundation for novel motif prediction and functional studies. Indeed, it has been a widely used and accepted hypothesis that co-expressed genes share common regulatory motifs. It serves as a useful working hypothesis in many scenarios, and numerous computational tools for regulatory motif discovery built with considerable success on this hypothesis [24–36]. While it has been fully explored and approved in yeast [37–39], little is known about the applicability of this working hypothesis for mammals.
Considering the rather anecdotal basis for its acceptance, the hypothesis of co-expressed genes sharing common regulatory motifs calls for a systematic evaluation. In fact, microarray experiments in public databases are now widely available, providing expression profiles of thousands of genes under numerous different conditions on a genome-wide scale. As these data are a popular basis for regulatory motif discovery, there is a big demand for a systematic evaluation of the underlying hypothesis.
In this work, we analyzed differentially expressed genes in microarray experiments from the ArrayExpress database [40] that were related to transcription factor activity modifications. We particularly analyzed such experiments, where the perturbation was aimed at a transcription factor. This setting allows us to test whether we are able to recover binding sites of the altered transcription factor from the differential genes alone. This is clearly not trivial because the set of differential genes will encompass a whole cascade of up- or down-regulated genes due to the initial perturbation. Although the microarray database contains many more experiments from which co-expressed genes could be derived, we focus on the ones where we know the identity of the causal transcription factor, such that we can evaluate the success rate of our recovery method.
We study two approaches toward checking whether the binding sites of the affected TFs are over-represented in the differentially expressed genes. In the first approach, we use
oPOSSUM
[
25
] to analyze the over-representation of
Jaspar
matrices [
41
,
42
], which represent profiles of binding sites derived from known TF binding sites. Among these matrices, we focus our attention on the matrices corresponding to the affected TFs, which we will hence refer to as
target matrices
throughout the rest of this paper. We apply
oPOSSUM
to evaluate the over-representation of target matrices in the promoter regions of differentially expressed genes according to a probabilistic scoring scheme. The second approach we investigate is based on
de novo
predictions using
Weeder
[
43
]. This motif finding tool computes
de novo
motif predictions, which allow us to compare the similarity between those predictions and matrices in the
Jaspar
database. High similarity suggests that affected TF binding sites were recovered in
de novo
prediction. Figure
1
shows the basic workflow of these two approaches.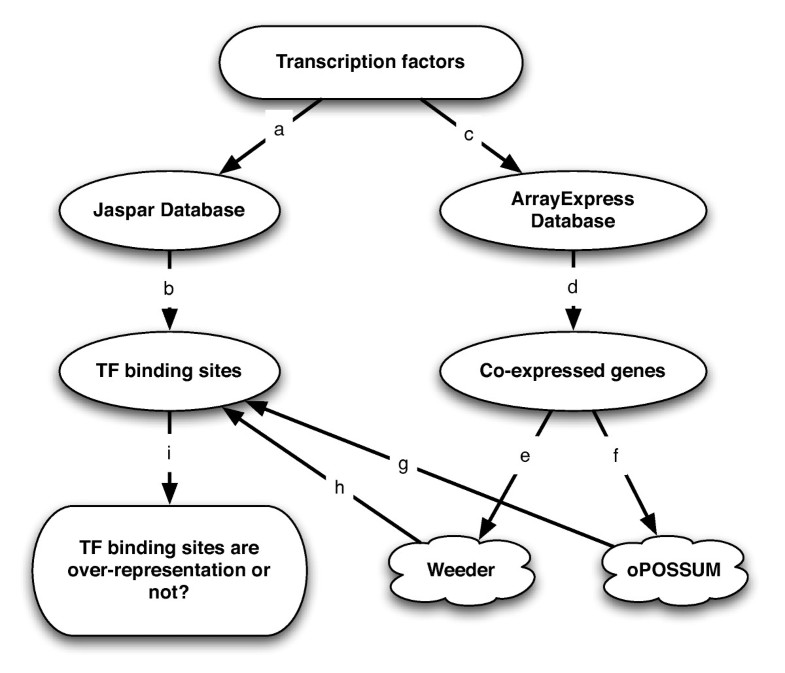 Conclusions
In this work, we report a computational evaluation on recovering TF binding sites from differentially expressed genes using two different methods. Our over-representation analysis with oPOSSUM proves successful in 25 out of 33 experiments exhibiting differential expression patterns as a consequence of activating or deactivating TFs, indicating that TF binding site recovery is generally possible with computational methods when dealing with one single manipulated transcription factor. Our evaluation of de novo prediction for all experiments succeeds in recovering motifs similar to the binding site of the affected TFs in about 73% of all cases with a cutoff of similarity percentage of 75%. This allows the conclusion that TF binding site recovery may even be achieved using a de novo approach, though less reliable than oPOSSUM over-representation analysis.
In general, our findings support the hypothesis that the over-representation of TF binding sites in the promoter regions of differentially expressed genes can be detected with computational tools and it confirms that TF binding sites can be predicted by utilizing information of differential expression. With the increasing availability of microarray data in public databases, it will be a useful theoretical foundation for novel TF binding site prediction and functional studies.
In this work, we could also specify the influence of input gene numbers and promoter length and their importance for the sensitivity of computational methods, which indicates the different properties of TF regulating gene expression. More specifically, we could observe very particular regulatory effects such as the critical effect of downstream ESR1 binding sites on gene expression.
Declarations
Acknowledgements
No specific funding was obtained for this study.
Authors' Affiliations
(1)
CAS-MPG Partner Institute and Key Laboratory for Computational Biology, Shanghai Institutes for Biological Sciences, Shanghai, China
(2)
Max Planck Institute for Mathematics in the Sciences, Leipzig, Germany
(3)
Max Planck Institute for Molecular Genetics, Berlin, Germany
Copyright
© Meng et al; licensee BioMed Central Ltd. 2010
This article is published under license to BioMed Central Ltd. This is an Open Access article distributed under the terms of the Creative Commons Attribution License (http://creativecommons.org/licenses/by/2.0), which permits unrestricted use, distribution, and reproduction in any medium, provided the original work is properly cited.