PeakAnalyzer: Genome-wide annotation of chromatin binding and modification loci
BMC Bioinformatics
2010
11:415
Received: 14 April 2010
Accepted: 6 August 2010
Published: 6 August 2010
Abstract
Background
Functional genomic studies involving high-throughput sequencing and tiling array applications, such as ChIP-seq and ChIP-chip, generate large numbers of experimentally-derived signal peaks across the genome under study. In analyzing these loci to determine their potential regulatory functions, areas of signal enrichment must be considered relative to proximal genes and regulatory elements annotated throughout the target genome Regions of chromatin association by transcriptional regulators should be distinguished as individual binding sites in order to enhance downstream analyses, such as the identification of known and novel consensus motifs.
Results
PeakAnalyzer is a set of high-performance utilities for the automated processing of experimentally-derived peak regions and annotation of genomic loci. The programs can accurately subdivide multimodal regions of signal enrichment into distinct subpeaks corresponding to binding sites or chromatin modifications, retrieve genomic sequences encompassing the computed subpeak summits, and identify positional features of interest such as intersection with exon/intron gene components, proximity to up- or downstream transcriptional start sites and cis-regulatory elements. The software can be configured to run either as a pipeline component for high-throughput analyses, or as a cross-platform desktop application with an intuitive user interface.
Conclusions
PeakAnalyzer comprises a number of utilities essential for ChIP-seq and ChIP-chip data analysis. High-performance implementations are provided for Unix pipeline integration along with a GUI version for interactive use. Source code in C++ and Java is provided, as are native binaries for Linux, Mac OS X and Windows systems.
Keywords
Transcriptional Start Site
Peak Region
Motif Discovery
Motif Analysis
Peak Caller
Background
Next-generation sequencing technologies and tiling microarrays are frequently employed for genome-wide identification of regulatory elements and chromatin modifications. These applications generate vast numbers of experimental data points, which are compiled into extensive sets of genomic loci representing the units of biological activity measured in the particular assay. Researchers must then discern functionally-relevant results from these large-scale datasets, a process that poses significant bioinformatic challenges for research groups with limited computational support. For example, a common aim of transcription factor location analysis is to determine the relationship between ChIP-enriched loci and annotated genes; identifying the cis-regulatory elements occupied by the factor can reveal the set of genes it is likely to regulate across the genome. Correlating global transcription factor binding-site occupancy with target genes quickly becomes intractable in the absence of software tools to automate aspects of large-scale data analysis.
Sequence patterns occurring repeatedly among enriched loci are indicative of regulatory elements such as transcription factor-binding sites, and can often be identified by DNA motif analysis. Successful motif discovery relies on a set of candidate loci that exclude extraneous sequences while still containing the binding site consensus; however, since many peak-finding utilities merge overlapping areas of enrichment, the resulting peaks tend to be much larger than the actual binding sites. Peak regions often comprise more than one functional element (e.g. co-located transcription factor-binding sites or chromatin modifications), and these must be distinguished into individual loci in order to accurately interpret experimental results. The ability to subdivide composite peak regions into a finer-resolution set of individual binding sites (subpeaks) can improve the accuracy of sequence motif analysis.
Here we describe PeakAnalyzer, a set of standalone tools for the automated post-processing of large-scale chromatin profiling data. The programs are able to identify discrete enrichment peaks from loci corresponding to transcription factor binding or chromatin modification, retrieve individual peak sequences and annotate experimental data against various classes of functional elements, such as genes, CpG islands, regulatory features or DNase I hypersensitive sites. Results can also be compared across multiple datasets to report overlapping features, as well as those unique to a given experimental sample. The software is freely available and flexible in implementation, providing both high-performance solutions for pipeline integration and a GUI version for desktop users.
Implementation
Program description
PeakAnalyzer comprises two main utilities:
PeakSplitter
and
PeakAnnotator. PeakSplitter
accurately subdivides experimentally-derived peak regions containing more than one site of signal enrichment, optionally retrieving genomic DNA sequences corresponding to subpeak summit regions. This procedure facilitates more detailed analysis of individual subpeaks (Figure
1
).
PeakAnnotator
scans the target genome to identify and report functional elements proximal to peak loci and contains three main subroutines: Nearest Downstream Gene (
NDG
), Transcription Start Site (
TSS
) and Overlap Data Sets (
ODS
).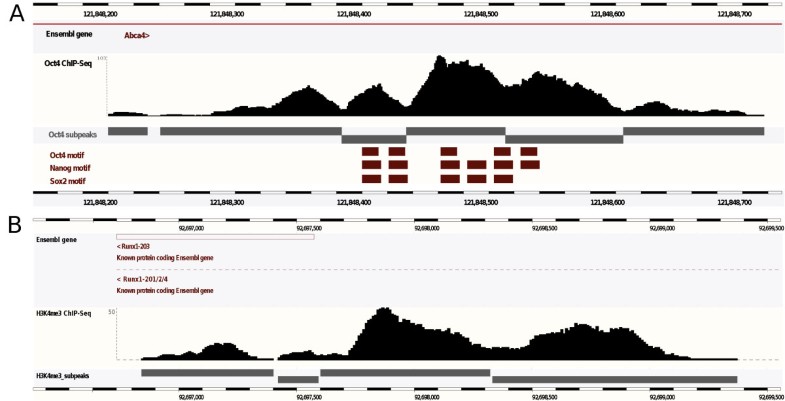 The function NDG locates the nearest downstream genes on both strands and calculates their distances. If the peak region intersects a gene, the program determines if the overlap is within an exon, intron, 5' UTR or 3' UTR. Multiple transcripts or genes overlapping a given location are all reported, providing a means to identify putative bi-directional promoters where the peak is proximal to genes on both strands. TSS locates the nearest transcriptional start site relative to each locus, scanning both downstream or upstream of the experimental peak to account for transcription initiation on either the sense or antisense strand. The ODS function calculates the overlap in positions/peaks between datasets, where peak loci intersecting by at least one nucleotide on either strand are reported. To compute a P-value of overlap enrichment, a random dataset is generated having peak lengths and chromosomal distribution matching the experimental dataset; the overlap between experimental and artificial loci is then determined, and through successive iterations a P-value representing the statistical significance of experimental signal over random is calculated.
Software distribution and input requirements
PeakAnalyzer is implemented as a unified Java program encompassing the software components described above. Equivalent versions of PeakSplitter and PeakAnnotator are also implemented in C++ and Java so that users can choose a distribution suited to their particular requirements. Core facilities processing numerous datasets have the option to incorporate the faster C++ version into a Unix pipeline, whereas the Java implementations can either be run as separate command-line utilities or as a single cross-platform desktop application using an intuitive graphical interface.
PeakAnalyzer requires only a single peak file and a feature annotation file in BED or GTF format; complete annotation files for the current builds of the human (HG19) and mouse (MM9) genomes are provided with the software distribution. The input files required by PeakSplitter are those commonly generated by peak-finding programs: a .bed-formatted peak file containing chromosome start and end locations of signal enrichment loci, and a .wig signal file describing the size and shape of each peak.
Algorithm implementation
PeakSplitter
We adopted the peak-splitting approach proposed by Fejes et al. [1] and implemented as the function subpeaks in recent versions of their FindPeaks tool. The method identifies multiple peaks within a given locus and accurately subdivides those containing more than one site of signal enrichment. In addition to incorporating the algorithm into PeakAnalyzer we provide a standalone version as the PeakSplitter utility, thereby enabling its application to signal loci called by any such program (e.g., [2–9]). Local maxima are identified in the peak region by scanning for relative peak heights, where those of adjacent maxima are compared and the lowest value is multiplied by a user-adjustable parameter to arrive at the read depth required for subpeak division. Binding sites are most likely to appear at or near subpeak summit regions, and these sequences can be retrieved directly from the Ensembl database [10].
PeakAnnotator
The PeakAnnotator component scans the target genome to identify and report functional elements proximal to peak loci. Rather than comparing each peak with all possible features, PeakAnnotator uses a combination of binary search and a modified version of the nested containment list (NCList) algorithm (see below and [11]) to rapidly identify proximal features among the full set of annotated elements. Proof of correctness of the algorithms described below and a discussion of their runtime complexity can be found in Additional file 1.
Generating a containment list
Determining the set of intersecting genomic regions across multiple experiments and data sources is not straightforward, because for a given dataset the regions queried may not be contiguous and some regions may be embedded within others. Thus, when sorting the regions by start position, the corresponding end positions could be out of sequence. This is more likely to be the case in higher eukaryotes where some loci encode overlapping genes.
The NCList algorithm constitutes a solution to this problem [11]. In this method the set of genomic regions is partitioned into a primary category of positionally-independent loci, and all remaining loci are segregated into a second category. We adopted this approach in our algorithm, where for each gene in the list PeakAnnotator creates a sublist of all genes containing it. A pseudocode description of the process is listed in Additional file 1, Figure S1.
Finding proximal downstream genes
The NDG utility determines the most proximal non-overlapping downstream genes on both strands. If a gene intersects a signal peak it will be stored in a separate list of overlapping genes. For simplicity, we define here a gene that is transcribed from the forward strand pos_gene, and a gene transcribed from the reverse strand neg_gene. The algorithm works as follows: the first non-overlapping gene located 3' to the peak, G 3' , is found using a binary search strategy such that G 3'-start > Peak end . If G 3' is a pos_gene, it is the closest downsteam gene on the forward strand; if not, genes located downstream to G 3' are visited until a pos_gene is found.
Next, the first gene located upstream to G 3' that does not overlap with the current experimental peak is found, termed G 5' . If G 5' is a neg_gene it has the potential to be the closest downstream gene on the reverse strand. However, if G 5' is contained within another gene transcribed from the reverse strand, this gene is potentially closer to or even intersecting the current peak. Hence, the next step is to determine the closest neg_gene and overlapping genes in the set of G 5' and the gene(s) containing G 5' . If G 5' is a pos_gene, genes located upstream are visited until a neg_gene is found. Finally, the closest downstream neg_gene is searched within the set of that gene and those containing it.
Finding proximal transcription start sites
The TSS function works as follows: the first gene located downstream to the peak's central position, G 3' , is found using a binary search strategy, and its distance to the current peak is calculated. Genes located downsteam to G 3' are visited until a gene that starts downstream of the G 3' locus is found. The gene having the lowest distance from the signal peak is then marked as the closest downstream gene. Next, the first gene upstream to G 3' , termed G 5' , whose end position < G 5'-start (i.e., G 5' = G3'-1 ) is found. Its distance, and the distance of all genes that contain it, is calculated in order to find the nearest upstream gene. The one representing the minimal absolute distance to the peak among the set of proximal downstream and upstream genes will be reported.
Finding overlapping data sets
The ODS function operates on two sets of peaks, denoted here S 1 and S 2 , and iterates over all loci in S 1 to find those intersecting by at least one nucleotide with loci in S 2 . For each locus Ln in S 1 , the first non-overlapping peak from S 2 located 3' to L1, termed L2 3' , is found using a binary search strategy such that L2 3'-start > L1 end . The algorithm then searches upstream of L2 3' to determine if any peak intersects L1, until the first locus in S 2 , termed L2 5' , is found having coordinates outside the boundaries of L1. Peaks containing L2 5' can potentially overlap L1, and are also considered.
Results and Discussion
To illustrate typical applications of PeakAnalyzer, we analyzed the genome-wide binding profiles of a series of transcriptional regulators (Ctcf, E2f1, Esrrb, Klf4, c-Myc, n-Myc, Nanog, Oct4, Stat3, Smad1, Sox2, Suz12, Tcfcp2l1 and Zfx) in mouse embryonic stem (ES) cells, determined using the ChIP-seq method [12]. We obtained the primary data from the NCBI GEO database (series GSE11431), mapped the sequencing reads to the mouse genome assembly using the Bowtie alignment program [13], and detected significant peaks of signal enrichment with MACS [2]. Subsequent analyses were performed on the set of chromatin-binding regions from each of these re-processed ChIP-seq datasets.
Conclusions
Regulatory elements identified through functional genomic assays are commonly determined based on signal peaks from tiling array fluorescence data or aligned reads from massively parallel sequencing. In order to interpret the results of such experiments, they must be considered in context with genes and regulatory elements in proximity to peak regions. Methods to automate the functional annotation of chromatin binding and modification loci can greatly ease characterization of their biological significance in genome-wide analyses.
A variety of tools are available for processing the primary data generated by ChIP-seq experiments, such as mapping sequence reads to a reference genome and identifying areas of significant enrichment. However, this is not the case for downstream analysis and data integration. Existing solutions that address these issues either rely on the transfer of large datasets via the Web for remote processing [26], require local installation of target genome databases [27], or operate within a specific computing environment [28].
PeakAnalyzer is a standalone solution amenable to a wide range of applications, including comparison of data generated on different experimental platforms. The software can accept any genomic loci as input and therefore can be used to process datasets spanning various methods, such as ChIP-seq, ChIP-chip, DamID, MeDIP and bisulfite sequencing. The PeakAnnotator component facilitates the automated annotation of numerous experimental results, and obviates the need to import large datasets into a genome browser for manual visualization and assessment.
Subdividing genomic loci with PeakSplitter is particularly useful for discerning individual binding sites that may be present in aggregate peak regions, and in extracting candidate sequences for motif analysis. We observe an increase in both accuracy and efficiency in motif search when ChIP data are processed by PeakSplitter. Partitioning broad signal peaks into discrete loci enriches the dataset for sequences containing transcription factor-binding sites and other regulatory elements, and can enhance the discovery of new consensus motifs by providing a more focused set of candidate sequences for alignment and/or model building.
Availability and requirements
Declarations
Acknowledgements
The authors thank Pär Engström and Tao Liu (DFCI, Harvard) for discussions and program testing. Support is acknowledged from EMBL and BBSRC grant BBG0156781.
Authors' Affiliations
(1)
EMBL European Bioinformatics Institute, Wellcome Trust Genome Campus, Cambridge, UK
(2)
Department of Cell and Molecular Biology, Karolinska Institutet, Stockholm, Sweden
Copyright
© Salmon-Divon et al; licensee BioMed Central Ltd. 2010
This article is published under license to BioMed Central Ltd. This is an Open Access article distributed under the terms of the Creative Commons Attribution License (http://creativecommons.org/licenses/by/2.0), which permits unrestricted use, distribution, and reproduction in any medium, provided the original work is properly cited.