Research article

Open Access
Knowledge-based matrix factorization temporally resolves the cellular responses to IL-6 stimulation
BMC Bioinformatics
2010
11:585
Received: 13 August 2010
Accepted: 30 November 2010
Published: 30 November 2010
Abstract
Background
External stimulations of cells by hormones, cytokines or growth factors activate signal transduction pathways that subsequently induce a re-arrangement of cellular gene expression. The analysis of such changes is complicated, as they consist of multi-layered temporal responses. While classical analyses based on clustering or gene set enrichment only partly reveal this information, matrix factorization techniques are well suited for a detailed temporal analysis. In signal processing, factorization techniques incorporating data properties like spatial and temporal correlation structure have shown to be robust and computationally efficient. However, such correlation-based methods have so far not be applied in bioinformatics, because large scale biological data rarely imply a natural order that allows the definition of a delayed correlation function.
Results
We therefore develop the concept of graph-decorrelation. We encode prior knowledge like transcriptional regulation, protein interactions or metabolic pathways in a weighted directed graph. By linking features along this underlying graph, we introduce a partial ordering of the features (e.g. genes) and are thus able to define a graph-delayed correlation function. Using this framework as constraint to the matrix factorization task allows us to set up the fast and robust graph-decorrelation algorithm (GraDe). To analyze alterations in the gene response in IL-6 stimulated primary mouse hepatocytes, we performed a time-course microarray experiment and applied GraDe. In contrast to standard techniques, the extracted time-resolved gene expression profiles showed that IL-6 activates genes involved in cell cycle progression and cell division. Genes linked to metabolic and apoptotic processes are down-regulated indicating that IL-6 mediated priming renders hepatocytes more responsive towards cell proliferation and reduces expenditures for the energy metabolism.
Conclusions
GraDe provides a novel framework for the decomposition of large-scale 'omics' data. We were able to show that including prior knowledge into the separation task leads to a much more structured and detailed separation of the time-dependent responses upon IL-6 stimulation compared to standard methods. A Matlab implementation of the GraDe algorithm is freely available at http://cmb.helmholtz-muenchen.de/grade.
Keywords
Gene Regulatory NetworkAcute Phase ProteinNonnegative Matrix FactorizationGraDe AlgorithmNetwork Component Analysis
Background
With the availability of high-throughput 'omics' data, more and more methods from statistics and signal processing are applied in the field of bioinformatics [1]. Direct application of such methods to biological data sets is essentially complicated by three issues, namely (i) the large-dimensionality of observed variables (e.g. transcripts or metabolites), (ii) the small number of independent experiments and (iii) the necessity to take into account prior information in the form of e.g. interaction networks or chemical reactions. While (i) may be tackled by targeted analysis, feature selection or efficient dimension reduction methods, the issue of low number of samples (experiments) may hinder the transfer of methods. For example, with cDNA microarrays, the number of genes (p) is usually much larger than the experiment size n (number of arrays). Quantitative data from experiments are often classified as 'small-n-large-p' problems [2] and algorithms that are currently being developed are tailored for such kind of data. Detailed prior information is in general best handled by Bayesian methods [3], which are however not straight-forward to formulate in small-n-large-p problems.
Here, we focus on the unsupervised extraction of overlapping clusters in data sets exhibiting properties (i-iii). If applied to gene expression profiles acquired by microarrays or metabolic profiles from mass spectrometry, we can interpret these clusters as jointly acting species (cellular processes). While partitioned clustering based on k-means [4] or hierarchical clustering [5] has been successful in some domains and is often the initial tool of choice for data grouping, overlapping clusters are better described by fuzzy techniques [6] or linear models [7]. Focusing on the latter, we can essentially summarize these techniques as matrix factorization algorithms. Constraining the factorization using e.g. decorrelation, statistical independence or non-negativity then leads to algorithms like principal component analysis (PCA), independent component analysis [8] and nonnegative matrix factorization [9], respectively. Although such methods are successfully applied in bioinformatics [10–12], they partially run into issues (i-iii) as described above. In particular, it is not clear how to include prior knowledge, which has been a quite successful strategy in other contexts [13]. A first step towards this direction is network component analysis (NCA) [14, 15]. It integrates prior knowledge in form of a multiple-input motif to uncover hidden regulatory signals from the outputs of networked systems, a task also covered in [16]. Hence, it focuses on the estimation of single gene's expression profiles, not in a linear decomposition of a data set into overlapping clusters. NCA poses strict assumptions on the topology of this predefined network, which makes it hardly applicable to mammalian high-throughput 'omics' data. Moreover, feedbacks from the regulated species back to the regulators are treated only as 'closed-loops', without explicitly modeling the feedback structure.
To overcome these constraints, this contribution provides a novel framework for the linear decomposition of data sets into expression profiles. We present a new matrix factorization method that is computationally efficient (i), able to deal with the low number of experiments (ii) and includes as much prior information as possible (iii). In order to achieve computational efficiency coupled with robust estimation, we use delayed correlations instead of higher-order statistics. In signal processing, this strategy has been shown to be advantageous [17, 18] for two reasons: such methods use more information from the data without over-fitting it and they can be formulated as second order techniques. This is crucial for the application to microarray data, since dimensionality tends to be high in this environment.
However, delayed correlations can usually not be computed in the case of biological high-throughput experiments such as in microarray samples. While time-resolved experiments may provide correlations, the number of temporal observations is commonly too small (<10) for the estimation of time-delayed correlations.
Hence, we instead pose factorization conditions along the set of genes or other biological variables. We link these variables using prior knowledge e.g. in the form of a transcription factor or protein-protein interaction (PPI) network, metabolic pathways or
via
explicitly given models. Using this information enables us to define a graph-decorrelation algorithm that combines prior knowledge with source-separation techniques, for illustration see Figure
1
. In case of gene expression analysis the input of GraDe are the expression data and an underlying regulatory network. After applying GraDe, we obtain two matrices, a mixing and a source matrix. We interpret the sources as the biological processes and the mixing coefficients as their time-dependent activities. Hereby, the extracted sources group the genes' expression that can be explained by the underlying regulatory network, e.g. different responses of a cell to an external stimulus.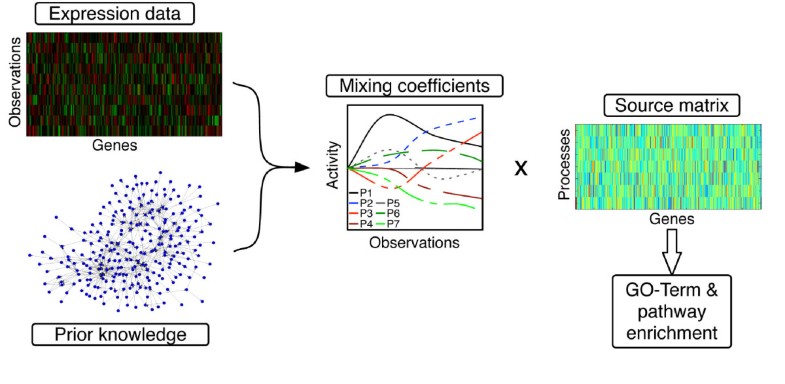 The cytokine interleukin IL-6 mediates the production of acute phase proteins by hepatocytes and promotes liver regeneration [19]. In order to unveil the multi-layered temporal gene responses in these processes, we measure gene expression in IL-6 stimulated mouse hepatocytes by a time-course microarray experiment. Applying GraDe with a literature based gene regulatory network, we are able to infer associated biological processes as well as the dynamic behavior of IL-6 related gene expression. In addition, we find that the estimated factors are robust against the high number of false positives contained in large-scale biological databases.
Results and Discussion
The activation of gene regulatory processes upon external stimulations induces a re-arrangement of cellular gene expression patterns. Matrix factorization techniques are currently explored in the analysis of such multi-layered and overlapping temporal responses. In the following, we propose an algorithm that incorporates prior knowledge as a constraint to the factorization task (see Figure 1).
Conclusion
IL-6 promotes liver regeneration and protects against liver injury. In order to understand these effects in a time-resolved manner, we performed a time-course microarray experiment of IL-6 stimulated primary mouse hepatocytes. Standard techniques applied to this data set only partly revealed temporal gene expression patterns following the stimulation. To resolve the interaction of IL-6 and the corresponding cellular responses in more detail, we developed GraDe. It extracts overlapping clusters from large-scale biological data by combining a matrix factorization approach with the integration of prior knowledge. Applying GraDe to our experiment, we identified the activation of acute phase proteins, which are known to be one of the primary response upon infection based in ammation. Moreover, we observed that IL-6 activates cell cycle progression, as well as the down-regulation of genes associated with metabolic processes and programmed cell death. Therefore, IL-6 mediated priming renders hepatocytes more responsive towards cell proliferation and reduces expenditures for the energy metabolism.
Methods
IL-6 stimulated mouse hepatocytes
RNA probes from primary mouse hepatocytes were assessed with the Bioanalyzer 2100 (Agilent) to ensure that 28S/18S rRNA ratios were in the range of 1.5 to 2.0 and concentrations were comparable between probes. For each time point, 4 g of total RNA were used for the hybridization procedure using the One-Cycle Target Labeling Kit (Affymetrix). Fluorescence intensities were acquired with the GeneChip Scanner 3000 and the GCOS software (Affymetrix). GeneChip Mouse Genome 430 2.0 Arrays (Affymetrix) were used in the analysis comprising stimulations with 1 nM IL-6 for 1 h, 2 h, 4 h and an unstimulated control (0 h) each performed in triplicates. As a probe level model (PLM) for microarray data an additive-multiplicative error model was used. Data processing was performed using the Limma toolbox [31] provided by Bioconductor [32]. The RMA approach was used for normalization and background correction. Probe sets were filtered out by the genefilter package. A gene was considered as expressed if the signal was above 100 (unlogged data) for at least one time point. Finally, we obtained a data set of 5709 genes. Significantly regulated genes compared to time point 0 h were determined by using the LIMMA (Linear Models for Microarray Data) method [33]. The Limma toolbox uses the moderated t-statistics to identify significant regulated genes. Moreover the moderated t-statistics is advisable for a small number of arrays [33, 34]. A gene was determined as significant regulated if the p-value was <0.05 after multiple testing correction by the Benjamini-Hochberg procedure [35]. Raw data are available at GEO with accession number GSE21031.
Gene Regulatory network
In order to link genes along an underlying network we used the TRANSPATH database [36] that provides detailed knowledge of intracellular signaling information based on changes in transcription factor activity.
We searched for direct gene or protein interactions within the TRANSPATH database using the terms: transactivation, increase of abundance, expression, activation, DNA binding, increase of DNA binding, transrepression, decrease of abundance, decrease of DNA binding, and inhibition.
Principle component analysis
For principle component analysis (PCA) we performed an eigenvalue decomposition of the covariance matrix of the data set X. Thereby we obtained a decomposition into an orthonormal source matrix S and an orthogonal mixing matrix A. We applied PCA to the same set of expressed genes as GraDe and also inferred four sources. We defined for each component two submodes by grouping genes with a threshold ≥+2 standard-deviations and a second set of genes having a source weight of ≤-2 standard-deviations.
k-means clustering
In order to ensure a fair comparison of k-means clustering with GraDe and PCA, we first applied a gene selection step to provide that all methods selected an approximately equal number of genes, as proposed in [12]. We ranked all expressed genes according to their expression variance across the time-course and then selected the top 15% variable genes. Having the selected genes, clustering was then performed using k-means clustering [29], where k was set to 8 in order to match the same number of submodes inferred by GraDe and PCA.
FunCluster
In addition to k-Means clustering, we also include a clustering method which incorporates Gene Ontology information into the clustering task. We use the FunCluster method, which performs functional analysis of gene expression data [30, 37]. FunCluster detects co-regulated biological processes through a specially designed clustering procedure involving biological annotations (GO and KEGG) and gene expression data. We apply the FunCluster implementation provided within the R environment [38] and using standard parameters.
Enrichment analysis
For gene sets grouped in sources obtained by GraDe and PCA or k-means clusters we performed an enrichment analysis to determine significantly enriched biological processes and pathways. For biological processes we performed a Gene Ontology (GO) [39] term enrichment analysis, which was carried out with the R package GOstats [32]. For pathway enrichment analysis we used non-metabolic pathways that are manually curated by the Kyoto Encyclopedia of Genes and Genomes (KEGG) [40]. Pathway enrichment was also evaluated with the GOstats package. To correct for multiple testing, we used the Benjamini-Hochberg procedure [35] and called an association significant if the p-value was less than 0.05. To evaluate the mapping of pathways to submodes or clusters we applied the pathway enrichment index (PEI), as proposed by [12]. For each submode or cluster we evaluated the significance of enrichment of a set of genes in a particular pathway by using a hypergeometric test. A pathway association was considered as significant if the p-value was below 0.05 after multiple testing correction using the Benjamini-Hochberg procedure. The PEI was then defined as the fraction of significant pathway mapped to at least one submode or cluster.
Robustness analysis
Robustness analysis was performed by two network randomizations. The gene regulatory network is interpreted as a weighted bipartite graph, i.e. a graph with two sets of nodes (regulators and regulated genes). Weighted edges indicate interactions either activating or inhibiting. First, we randomized existing edge information within the network between 0.1 and 100%. In each step we shuffled 10:000 times the corresponding amount of edges using a degree-preserving rewiring [41, 42]. Applying GraDe with the resulting networks we obtained new factorizations. To compare the original and new results in a quantitative way, we used the Amari-index [43]. For each step we took the 95% quantile of the random sampling and calculated a p-value by comparing this quantile to Amari-indices obtained comparing normally distributed random separating matrices and the original mixing matrix. In a second randomization approach, we added 10:000 times new information (edges) between 0.1 and 100% of the original network content and calculated the 95% quantile of the resulting Amari-indices. Again, the p-value was calculated by comparing each quantile with a random sampling.
For analysis of robustness against noise we randomly chose between one and three replicates for each time point and ran GraDe. For each run, we calculated the Amari-index. Again, we compared the 95% quantile of the resulting distribution with a random sampling to obtain the corresponding p-value.
Declarations
Acknowledgements
We thank S. Rose-John for generous donation of IL-6 and D. Wittmann for stimulating remarks. This work was supported by the Federal Ministry of Education and Research (BMBF) project 'HepatoSys' and the MedSys initiative (project 'LungSys') and the Helmholtz Alliance on Systems Biology (projects 'CoReNe' and 'SBCancer'). FJT gratefully acknowledges financial support by the European Union within the ERC grant LatentCauses.
Authors' Affiliations
(1)
Institute for Bioinformatics and Systems Biology, Helmholtz Zentrum München, Neuherberg, Germany
(2)
Division of Systems Biology of Signal Transduction, DKFZ-ZMBH Alliance, German Cancer Research Center, Heidelberg, Germany
(3)
Medical Research Center, Medical Faculty Mannheim, University Heidelberg, Mannheim, Germany
(4)
Department of Mathematical Science, Technische Universität München, Garching, Germany
Copyright
© Kowarsch et al; licensee BioMed Central Ltd. 2010
This article is published under license to BioMed Central Ltd. This is an Open Access article distributed under the terms of the Creative Commons Attribution License (<url>http://creativecommons.org/licenses/by/2.0</url>), which permits unrestricted use, distribution, and reproduction in any medium, provided the original work is properly cited.