Methodology article

Open Access
Structator: fast index-based search for RNA sequence-structure patterns
BMC Bioinformatics
2011
12:214
Received: 10 December 2010
Accepted: 27 May 2011
Published: 27 May 2011
Abstract
Background
The secondary structure of RNA molecules is intimately related to their function and often more conserved than the sequence. Hence, the important task of searching databases for RNAs requires to match sequence-structure patterns. Unfortunately, current tools for this task have, in the best case, a running time that is only linear in the size of sequence databases. Furthermore, established index data structures for fast sequence matching, like suffix trees or arrays, cannot benefit from the complementarity constraints introduced by the secondary structure of RNAs.
Results
We present a novel method and readily applicable software for time efficient matching of RNA sequence-structure patterns in sequence databases. Our approach is based on affix arrays, a recently introduced index data structure, preprocessed from the target database. Affix arrays support bidirectional pattern search, which is required for efficiently handling the structural constraints of the pattern. Structural patterns like stem-loops can be matched inside out, such that the loop region is matched first and then the pairing bases on the boundaries are matched consecutively. This allows to exploit base pairing information for search space reduction and leads to an expected running time that is sublinear in the size of the sequence database. The incorporation of a new chaining approach in the search of RNA sequence-structure patterns enables the description of molecules folding into complex secondary structures with multiple ordered patterns. The chaining approach removes spurious matches from the set of intermediate results, in particular of patterns with little specificity. In benchmark experiments on the Rfam database, our method runs up to two orders of magnitude faster than previous methods.
Conclusions
The presented method's sublinear expected running time makes it well suited for RNA sequence-structure pattern matching in large sequence databases. RNA molecules containing several stem-loop substructures can be described by multiple sequence-structure patterns and their matches are efficiently handled by a novel chaining method. Beyond our algorithmic contributions, we provide with Structator a complete and robust open-source software solution for index-based search of RNA sequence-structure patterns. The Structator software is available at http://www.zbh.uni-hamburg.de/Structator.
Keywords
Suffix
Loop Length
Complementarity Constraint
Suffix Array
Consensus Secondary Structure
Background
The discovery of new roles of non-coding RNAs (ncRNAs) has made them of central research interest in molecular biology [1, 2]. Like proteins, ncRNA sequences that have evolved from a common ancestor can be grouped into families. For instance, the Rfam database [3, 4] release 10.0 compiles 1,446 such families. Members of a family share, to different degrees, sequence and structure similarity. In many cases, however, the members of a family share only few sequence features, but share by far more specific structural and functional properties. Prominent examples of such cases are tRNAs and microRNA precursors.
In this paper, we consider the problem of searching nucleotide databases for occurrences of RNA family members. As sequence similarity is often remote even within well-established RNA families, we cannot rely on pure sequence alignment and related techniques for this task. Indeed, it has been shown that sequence alignments of structured RNAs fail at pairwise sequence identities below about 60% [5]. Therefore, we briefly review nucleotide database search methods that make use of sequence and structure information. There are general sequence-structure alignment tools, which determine structural similarities and derive consensus structure patterns for RNAs that are too diverse to be alignable at sequence level. We identify two classes of such tools. The first class, with RNAforrester[6] and MARNA[7] being the main representatives, require a known or predicted secondary structure for both sequences as input. However, they suffer from the low quality of secondary structure prediction, especially if the boundary of the RNA elements are not exactly known. The second class of methods are derivatives of the Sankoff algorithm [8], which provides a general solution to the problem of simultaneously computing an alignment and the common secondary structure of the two aligned sequences. Due to its high complexity (

time and

memory) several variants of this approach have been introduced such as foldalign[9, 10], dynalign[11] and LocaRNA[12]. Still, these tools have a time complexity that is generally too high for a rapid database search. Thus, more specialized tools for searching RNA families in nucleotide databases have been introduced. Tools like RNAMotif[13], RNAMOT[14], RNABOB[15], RNAMST[16], PatScan[17], and PatSearch[18] are based on motif descriptors defining primary and secondary structure properties of the families to be searched for. They provide a language for defining descriptors and a method to search with these in large nucleotide databases. For these tools, the motif descriptor for a family has to be extracted externally from other information (such as a multiple sequence-structure alignment) about the specific RNA family. There are also tools that automatically derive descriptors from structure-annotated sequences or a multiple sequence alignment of related RNA sequences such as Infernal[19, 20], RSEARCH[21], and PHMMTS[22]. They use variants of stochastic context-free grammars as descriptors, whereas ERPIN[23] uses sequential and structural profiles. Despite being fast compared to other methods, descriptor-based tools available today have a running time that is, in the best case, linear in the size of the target sequence database. This makes their application challenging when it comes to large sequence databases. A solution with sublinear running time would require index data structures. However, widely used index structures like suffix trees [24] or arrays [25] or the FM-index [26] perform badly on typical RNA sequence-structure patterns, because they cannot take advantage of the RNA structure information. Here, we present a fast descriptor-based method and software for RNA sequence-structure pattern matching. The method consists of initially building an affix array [27], i.e. an index data structure of the target database. Affix arrays cope well with structural pattern constraints by allowing for an efficient matching order of the bases constituting the pattern. Structurally symmetric patterns like stem-loops can be matched inside out, such that first the loop region is matched and, in subsequent extensions, pairing positions on the boundaries are matched consecutively. Because the matched substring is extended to the left and to the right, this pattern matching scheme is known as bidirectional search. Unlike traditional left-to-right search where the two substrings constituting the stem region of the pattern are matched sequentially, in bidirectional search, base complementarity constraints are checked as early as possible. This leads to a significant reduction of the search space that has to be explored and in turn to a reduced running time. We note that bidirectional search for RNA sequence-structure patterns was also presented by Mauri et al. in [28]. However, their method uses affix trees [29] instead of the more memory efficient affix arrays. Affix trees require with approximately 45 bytes per input symbol more than twice the memory of affix arrays (18 bytes per input symbol), making their application infeasible on a large scale. Moreover, their method traverses the affix tree in a breadth-first manner, leading to a space requirement that grows exponentially with increasing reading depth. We instead employ a depth-first search algorithm whose space requirement is only proportional to the length of the searched substring.
The affix array directly supports the search for sequence-structure patterns that describe sequence-structure motifs with non-branching structure, for example stem-loops. In contrast, e.g. the search for stems closing a multi-loop is not directly supported. Nevertheless, even for RNA containing multi-loops, the affix array can still speed up the search. Our general approach for finding RNA families with branching structure is to describe each stem-loop substructure by a sequence-structure pattern. Each of these patterns is matched independently using the affix array. Then, with a new efficient chaining algorithm, we compute chains of matches such that the chained matches reflect the order of occurrence of the respective patterns in the molecule. Note that complex structures containing one or more multi-loops can be expected to contain sufficiently many non-branching patterns, such that the proposed chaining strategy identifies true matches with high specificity.
For a better understanding of the concepts underlying our method, we begin with formalizing RNA structural motifs. We then describe the concepts and ideas of affix arrays and show how to use them in an algorithm for fast bidirectional search for sequence-structure patterns. After presenting a detailed complexity analysis of the algorithm, we proceed with a detailed description and analysis of a novel method for computing chains of sequence-structure pattern matches. Finally, we benchmark and validate our method in several experiments.
Results
Implementation and computational results
We implemented (1) the algorithms necessary for affix array construction, (2) the fast bidirectional search of RSSPs using affix arrays as sketched in Algorithm 2 (hereinafter called BIDsearch), (3) an online variant operating on the plain sequence (hereinafter called ONLsearch) for validation of BIDsearch and reference benchmarking, and (4) the efficient global and local chaining algorithms. Algorithm ONLsearch shifts a window of length m = |RSSP| along the sequence of length n to be searched and compares the substring inside the window with the RSSP from left to right until a mismatch occurs. Hence, it runs in

time in the worst and

time in the best case. Algorithms BIDsearch and ONLsearch were implemented in the program afsearch. The afconstruct program makes use of routines from the libdivsufsort2 library (see http://code.google.com/p/libdivsufsort/) for computing the sufF and sufR tables in

time. For the construction of the lcpF and lcpR tables we employ our own implementation of the linear time algorithm of [36]. Tables aflkF and aflkR are constructed in

worst-case time with fast practical construction time due to the use of the skip tables skpF and skpR[37]. The programs were compiled with the GNU C compiler (version 4.3.2, optimization option -O3) and all measurements were performed on a Quad Core Xeon E5410 CPU running at 2.33 GHz, with 64 GB main memory (using only one CPU core). To minimize the influence of disk subsystem performance the reported running times are user times averaged over 10 runs. Allowed base pairs were canonical Watson-Crick (A, U), (U, A), (C, G), (G, C), and wobble (G, U), (U, G), unless stated otherwise.
Structator software package
Structator is an open-source software package for fast database search with RNA structural patterns implementing the algorithms and ideas presented in this work. It consists of the command line programs afconstruct and afsearch.
afconstruct implements all algorithms necessary for affix array construction, namely a lightweight suffix sorting algorithm for construction of the suffix arrays sufF and sufR, the algorithm for construction of tables lcpF and lcpR[36], and the algorithm for computation of the affix link tables aflkF and aflkR. The program constructs all or if necessary only some of the tables of the affix array for a target database provided in FASTA format and stores them on disk. Therefore the program can also be used to compute only the tables needed for a traditional enhanced suffix array [34]. afconstruct can handle RNA as well as DNA sequences. Moreover, it supports the transformation of input sequences according to user-defined (reduced) alphabets and allows the index construction for transformed sequences. Such personalized alphabets are easily specified in a text file.
afsearch
is the program for performing structural pattern matching. That is, it searches (ribo)nucleic acid sequence databases for entries that can adopt a particular secondary structure. For an overview of the supported RNA sequence-structure patterns (RSSPs), see Figure
12
. The simplest RSSP describes a single-stranded region, where ambiguous (not well-conserved) nucleotides can be specified with IUPAC characters. All ambiguous IUPAC characters are hard-coded in
afsearch
, e.g. N standing for nucleotides A, C, G, and U (and T) and R standing for A and G. Besides fixed-length RSSPs with or without ambiguous characters (Figure
12(A)
until
12(D)
), also RSSPs describing loop or stem regions of variable size (Figure
12(E)
until
12(H)
) are supported. More precisely, one can specify with parameters
maxleftloopextent (mllex)
and
maxrightloopextent (mrlex)
a variable number of allowed extensions to the left (nucleotides marked in yellow in Figure
12(E)
) and/or to the right (nucleotides marked in blue in Figure
12(F)
) for the specified loop pattern. Variable stem sizes can be addressed with parameter
maxstemlength (msl)
(see regions marked in pink in Figure
12(G)
). Also supported is the combination of variable loop and stem size (see Figure
12(H)
) and a maximal number of allowed mispairings in the stem region. All these different RSSPs can be specified by the user in a text file which use, as shown in Figure
12
, an expressive but easy to understand pattern syntax. For additional details on the supported patterns see the corresponding section in the
Structator
user manual.
afsearch
also permits user-defined base pairing rules. That is, the user can define an arbitrary subset from

as valid pairings. This ensures a maximum of flexibility. For example, the standard canonical Watson-Crick pairings as well as non-standard pairings such as G-U can be specified.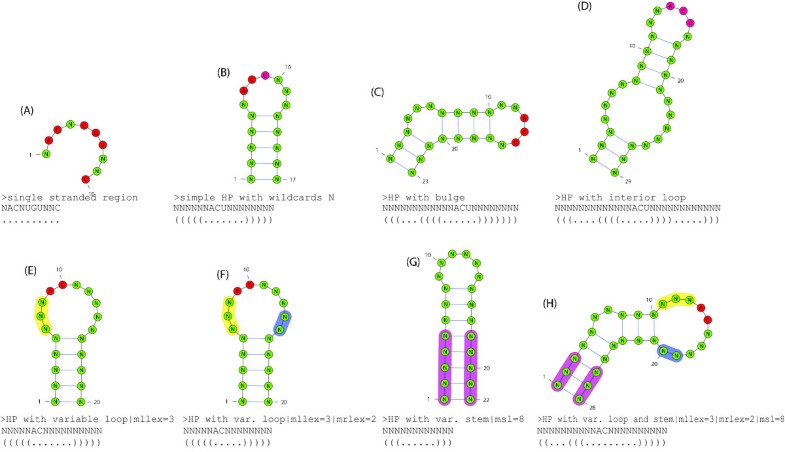 The search is performed efficiently on a pre-computed affix array. afsearch implements the bidirectional index-based search algorithms BIDsearch and the online algorithm ONLsearch operating on the plain sequence, both extended to support patterns with variable loop size and/or stem length. Further, it implements the methods for fast global and local chaining of RSSP matches. The search with RSSPs can be performed on the forward and, in case of nucleotide sequences, also on the reverse strand. Searching on the reverse strand is implemented by reversal of the RSSP and transformation according to Watson-Crick base pairing. Hence it is sufficient to build the affix array for one strand only.
RSSP matches can be reported directly by afsearch or can be used as input for the computation of high-scoring global or local chains of matches. Computed chains resemble the order of the RSSPs given in the pattern file and are reported in descending order of their chain score. This allows the description of complex secondary structures with our new concept of secondary structure descriptors (SSDs). This is done by simply specifying a series of RSSPs in the pattern file describing the stem-loop substructures the RNA molecule is composed of in the order of their occurrence in 5' to 3' direction. To incorporate different levels of importance or significance of an RSSP into SSD models and subsequently in the computation of chain scores, RSSP specific weights can be defined in the pattern file. This is particularly useful in the context of RNA family classification where the used SSD may be derived from a multiple sequence-structure alignment or a consensus structure-annotated multiple sequence alignment. Here, it permits the assignment of higher weights to RSSPs describing highly conserved functionally important structural elements occurring in a family of RNAs, and lower weights to RSSPs describing less conserved substructures that occur only in certain members of the family.
The output format of afsearch contains all available information of a match or chain of matches, either in a human-readable, or a tab-delimited format. Moreover, afsearch can also report matches in BED format. This allows a direct visualization of the results in e.g. the UCSC genome browser.
Discussion and conclusion
We have presented a method for fast index-based search of RNA sequence-structure patterns (RSSPs), implemented in the Structator software. As part of the software, we give the first publicly available implementation of bidirectional pattern search using the affix array data structure. For the majority of biologically relevant RSSPs, our implementation of BIDsearch shows superior performance over previous programs. In a benchmark experiment on the Rfam database, BIDsearch was faster than RNAMotif and RNABOB by up to two orders of magnitude. Furthermore, in a comparison between BIDsearch and the program of [54], which works on compressed index data structures, BIDsearch was faster by up to 2 times. We observed that for RSSPs with long unconserved loop regions, the advantage of BIDsearch over ONLsearch decreases. For such cases, Structator can also employ ONLsearch on the plain sequence data. As a further contribution, we presented for the first time a detailed complexity analysis of bidirectional search using affix arrays. While bidirectional search does not does not improve the worst-case time complexity compared to online search, in practice it runs much faster than online search algorithms and the running time scales sublinearly with the length n of the searched sequences.
Our implementation of the affix array data structure requires only 18n bytes of space. This is a significant space reduction compared to the ~ 45n bytes needed for the affix tree. With the program afconstruct we present for the first time a command line tool for the efficient construction and persistent storage of affix arrays that can also be used as a stand-alone program for index construction.
With the new concept of RNA secondary structure descriptors (SSDs) combined with fast global and local chaining algorithms, all integrated into Structator, we also introduce a powerful technique to describe RNAs with complex secondary structures. This even allows to effectively describe RNA families containing branching substructures like multi-loops, by decomposition into sequences of non-branching substructures that can be described with RSSPs. Compared to programs like RNAMotif , Structator' s pattern description language for RSSP formulation is simple but powerful, in particular in combination with the SSD concept. Beyond the algorithmic contributions, we provide with the Structator software distribution a robust, well-documented, and easy-to-use software package implementing the ideas and algorithms presented in this manuscript.
Availability
The Structator software package including documentation is available in binary format for different operating systems and architectures and as source code under the GNU General Public License Version 3. See http://www.zbh.uni-hamburg.de/Structator for details.
Declarations
Acknowledgements
This work was supported by the German Research Foundation (grant WI 3628/1-1). We also thank the anonymous referees, especially referee 2, for their valuable comments and suggestions.
Authors' Affiliations
(1)
Center for Bioinformatics, University of Hamburg, Hamburg, Germany
(2)
Chair for Bioinformatics, University of Freiburg, Freiburg, Germany
(3)
Computer Science and Artificial Intelligence Lab, Massachusetts Institute of Technology, Cambridge, USA
Copyright
© Meyer et al; licensee BioMed Central Ltd. 2011
This article is published under license to BioMed Central Ltd. This is an Open Access article distributed under the terms of the Creative Commons Attribution License (http://creativecommons.org/licenses/by/2.0), which permits unrestricted use, distribution, and reproduction in any medium, provided the original work is properly cited.