Revealing the functionality of hypothetical protein KPN00728 from Klebsiella pneumonia e MGH78578: molecular dynamics simulation approaches
BMC Bioinformatics
2011
12(Suppl 13):S11
Published: 30 November 2011
Abstract
Background
Previously, the hypothetical protein, KPN00728 from Klebsiella pneumoniae MGH78578 was the Succinate dehydrogenase (SDH) chain C subunit via structural prediction and molecular docking simulation studies. However, due to limitation in docking simulation, an in-depth understanding of how SDH interaction occurs across the transmembrane of mitochondria could not be provided.
Results
In this present study, molecular dynamics (MD) simulation of KPN00728 and SDH chain D in a membrane was performed in order to gain a deeper insight into its molecular role as SDH. Structural stability was successfully obtained in the calculation for area per lipid, tail order parameter, thickness of lipid and secondary structural properties. Interestingly, water molecules were found to be highly possible in mediating the interaction between Ubiquinone (UQ) and SDH chain C via interaction with Ser27 and Arg31 residues as compared with earlier docking study. Polar residues such as Asp95 and Glu101 (KPN00728), Asp15 and Glu78 (SDH chain D) might have contributed in the creation of a polar environment which is essential for electron transport chain in Krebs cycle.
Conclusions
As a conclusion, a part from the structural stability comparability, the dynamic of the interacting residues and hydrogen bonding analysis had further proved that the interaction of KPN00728 as SDH is preserved and well agreed with our postulation earlier.
Keywords
Root Mean Square DeviationRadial Distribution FunctionDocking SimulationPolar EnvironmentInteract Residue
Background
In the genome map of an organism, there are genes which code for hypothetical proteins. They contribute about 20 to 40% of total proteins [1]. The only information can be obtained on hypothetical protein is from their nucleotide and amino acid sequences as rather few experimental data is found for this category of proteins. Despite many years of investigation, the annotations of these proteins have yet to progress significantly. Hence, these hypothetical proteins provide large research opportunities to scientists to elucidate their structures and functions especially those from pathogens [2].
Approximately 20% of 4776 protein coding genes of Klebsiella pneumoniae MGH78578 pathogen are classified as hypothetical proteins [3]. K. pneumoniae is an opportunistic pathogen which affects patients with weakened immune system and/or underlying diseases [4]. Elucidating the structures and functions of these hypothetical proteins will help to give insight to the possible roles and mechanisms of these proteins in relation to the pathogenesis or survivability of the pathogen. In addition to this, new functions may also emerge from protein complexes. All the information obtained can be a stimulant for further drug discovery efforts in the future.
Previously, via homology modeling and docking studies, we postulated that hypothetical protein KPN00728 (gi: 152969292) is the chain C subunit of Succinate dehydrogenase (SDH) [5]. In both eukaryotic and prokaryotic organisms, SDH plays an important role in the aerobic respiratory chain specifically in the Krebs cycle which occurs in the transmembrane (TM) region of mitochondria. Our previous study showed that KPN00728 has a missing region containing conserved amino acid residues important for Ubiquinone (UQ), the natural ligand of SDH and heme group binding. Secondary structure and TM topology analyses showed that KPN00728 adopts SDH (subunit C)-like structure. Evolutionary relationship across 7 other Enterobacteriaceae was analyzed and showed that they are highly conserved. Molecular docking simulation on the other hand showed that UQ docked well onto the built model (consisting of KPN00728 and the annotated SDH chain D-KPN00729). Formation of hydrogen bonds between UQ and Ser27, Arg31 (from KPN00728) and Tyr83 (from KPN00729) further reinforced that KPN00728 hypothetical protein together with KPN00729 preserved the functionality of UQ binding. This observation strongly supported the possibility that KPN00728 is indeed chain C of SDH.
Although docking simulations enabled us to understand the preferred orientation of UQ when bound to the built model to form a stable complex, there were however, limitations. In docking simulation, rigidity of the built protein model and target of docking location are defined by the user. Hence this decreases the degree of freedom of both interacting components during the simulation. Furthermore, results from docking can only provide a single snapshot of the ligand orientation which does not represent a global, real-time picture of the dynamics of the interactions. Therefore, in this present study, molecular dynamics simulation was employed to obtain an in-depth understanding of the structure and function of KPN00728 as chain C of SDH across a successfully built model of the membrane environment of mitochondria.
Conclusions
In our present study, MD simulation was used to give further insight into the functionality of our built model of KPN00728 hypothetical protein from Klebsiella pneumoniae MGH78578 as chain D of SDH. This was achieved by investigating the dynamics of its interaction with UQ and chain D of SDH across a transmembrane environment which was successfully established in this study. The stability of the simulation correlated well with major experimental parameters which are important for dynamic study of binding interaction of UQ and SDH. Both Ser27 and Arg31 had failed to demonstrate the possibility of forming H-bond with UQ. However, interestingly, analysis on simulation trajectories indicated that water-mediating H-bond did indeed exist and was found sandwiched between Arg31@NH1 and UQ@O2. Water molecules also appeared to be around Ser27. The occurrence of these water molecules around the binding site of UQ indicated that they might be responsible for the interaction involving binding of UQ to SDH. Examination of the structural properties at the binding site revealed that polar residues such as Asp95 and Glu101 (KPN00728), Asp15 and Glu78 (chain D SDH) were conserved and located at the entrance of the channel believed to be a water channel. The polarity of these residues might create a proton motive force which is responsible in transferring protons from the water channel or cytoplasm. The observation of this MD study had provided conclusive evidence that KPN00728 is indeed part of SDH.
Methods
Setup of the simulation system
A membrane bilayer simulation system which consisted of 512 palmitoyl oleoyl phosphatidyl choline (POPC) generated from 128 pre-equilibrated POPC obtained from Peter Tielemen's website [
10
] was used to encapsulate the model built previously using genbox command from GROMACS 4.0.5 [
24
] (Figure
16
). More than 90 molecules of POPC were removed from the constructed bilayer in order to accommodate the proteins. Topology file of UQ and heme were created using PRODRG2 server [
25
]. Gasteiger approach [
26
] was used to calculate partial atomic charges in UQ to ensure that the system is consistent with the molecular docking simulation carried out previously [
5
].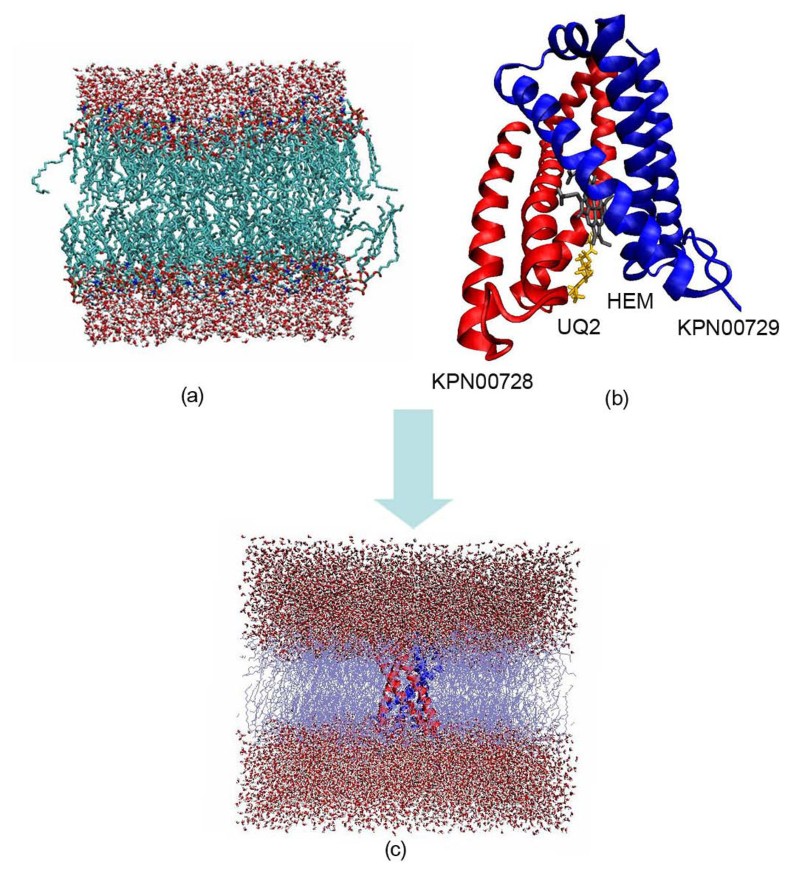 A total of 29153 single point charge (SPC) waters were added into the simulation box with the thickness of ~27 Å away from the lipid headgroup. Three counterions Cl- were added to compensate for the net charge of the system, resulting in the system to be comprised of 111826 atoms. A total of 32,632 minimization steps were performed, starting with steepest descent (SD) and ended with conjugate gradient (CG), to remove unfavourable contacts. Subsequently, the system was subjected to equilibration in two phases. NVT equilibration was done to equilibrate the temperature of the entire system using Berendsen temperature coupling for 200 ps [27], whereby the protein complex was under position restraint condition. Then, NPT equilibration of the system on the protein complex was done for 2 ns under restraint condition. Nose-Hoover thermostat [28] was used to produce a correct kinetic ensemble and to allow molecular fluctuations within the system for more natural dynamics simulation. Semi-isotropic pressure coupling was applied. Upon completion of the two equilibration phases, the system was well equilibrated at the desired temperature and pressure. This was followed by the production run without any restraint. A total of 18 ns production MD was performed using an NPT ensemble.
Simulation protocols
Molecular dynamics simulation of the built model/membrane protein was performed using GROMACS v4.0.5 package [24] under NPT ensemble at a pressure of 1 bar and temperature of 300K. The GROMOS96 53a force field was used for both built model and lipid bilayer system [29]. All bond lengths were constrained to their equilibrium value using SETTLE algorithm for water [30] and LINCS algorithm for the bonds between heavy atom and hydrogen atoms in protein, lipids and peptides [31]. Integration time step of 2 fs was used and the neighbour list to calculate non-bonded interaction was updated every 10 time steps during the entire simulation time. A cut-off of 12 Å for Coulombic and van der Waals interactions was applied. Correction of long range electrostatics was done using Particle Mesh Ewald method (PME) [32] with a fourth-order spline interpolation and Fourier grid spacing of 0.12 nm. Periodic boundary condition in all directions was applied in the simulation.
During NVT equilibration simulation, Berendsen temperature coupling method [27] was used with a temperature coupling constant (τT) of 0.1 ps. Each group (peptide, lipids, solvent/ions) was coupled to a separate temperature bath. Subsequently, in NPT equilibration and production simulation, pressures were applied independently using Parrinello-Rahman pressure coupling approach [33, 34] in the x and y directions. To pack the lipids around the peptide and accelerate equilibration, a weak pressure coupling of 1.0 bar is given in the x and y directions with a pressure coupling constant (τP) of 5.0 ps.
Declarations
Acknowledgements
This work was supported by the USM-RU grant (1001/PBIOLOGI/815014) Sy Bing, Choi gratefully acknowledge Universiti Sains Malaysia for the support of USM fellowship.
This article has been published as part of BMC Bioinformatics Volume 12 Supplement 13, 2011: Tenth International Conference on Bioinformatics – First ISCB Asia Joint Conference 2011 (InCoB/ISCB-Asia 2011): Bioinformatics. The full contents of the supplement are available online at http://www.biomedcentral.com/1471-2105/12?issue=S13.
Authors' Affiliations
(1)
Pharmaceutical Design and Simulation (PhDS) Laboratory, School of Pharmaceutical Sciences, Universiti Sains Malaysia, Minden, Malaysia
(2)
Department of Cell and Molecular Biology, Faculty of Biotechnology and Biomolecular Sciences, Universiti Putra Malaysia, Serdang, Malaysia
Copyright
© Choi et al; licensee BioMed Central Ltd. 2011
This article is published under license to BioMed Central Ltd. This is an open access article distributed under the terms of the Creative Commons Attribution License (http://creativecommons.org/licenses/by/2.0), which permits unrestricted use, distribution, and reproduction in any medium, provided the original work is properly cited.