Methodology article

Open Access
A flexible count data model to fit the wide diversity of expression profiles arising from extensively replicated RNA-seq experiments
BMC Bioinformatics
2013
14:254
Received: 1 June 2013
Accepted: 14 August 2013
Published: 21 August 2013
Abstract
Background
High-throughput RNA sequencing (RNA-seq) offers unprecedented power to capture the real dynamics of gene expression. Experimental designs with extensive biological replication present a unique opportunity to exploit this feature and distinguish expression profiles with higher resolution. RNA-seq data analysis methods so far have been mostly applied to data sets with few replicates and their default settings try to provide the best performance under this constraint. These methods are based on two well-known count data distributions: the Poisson and the negative binomial. The way to properly calibrate them with large RNA-seq data sets is not trivial for the non-expert bioinformatics user.
Results
Here we show that expression profiles produced by extensively-replicated RNA-seq experiments lead to a rich diversity of count data distributions beyond the Poisson and the negative binomial, such as Poisson-Inverse Gaussian or Pólya-Aeppli, which can be captured by a more general family of count data distributions called the Poisson-Tweedie. The flexibility of the Poisson-Tweedie family enables a direct fitting of emerging features of large expression profiles, such as heavy-tails or zero-inflation, without the need to alter a single configuration parameter. We provide a software package for R called tweeDEseq implementing a new test for differential expression based on the Poisson-Tweedie family. Using simulations on synthetic and real RNA-seq data we show that tweeDEseq yields P-values that are equally or more accurate than competing methods under different configuration parameters. By surveying the tiny fraction of sex-specific gene expression changes in human lymphoblastoid cell lines, we also show that tweeDEseq accurately detects differentially expressed genes in a real large RNA-seq data set with improved performance and reproducibility over the previously compared methodologies. Finally, we compared the results with those obtained from microarrays in order to check for reproducibility.
Conclusions
RNA-seq data with many replicates leads to a handful of count data distributions which can be accurately estimated with the statistical model illustrated in this paper. This method provides a better fit to the underlying biological variability; this may be critical when comparing groups of RNA-seq samples with markedly different count data distributions. The tweeDEseq package forms part of the Bioconductor project and it is available for download at http://www.bioconductor.org.
Keywords
Differential Expression Gene
Negative Binomial Distribution
Differential Expression Analysis
Negative Binomial
Negative Binomial Model
Background
High-throughput gene expression profiling across samples constitutes one of the primary tools for characterizing phenotypes at molecular level. One of the main advantages of the rapidly evolving massive scale cDNA sequencing assay for this purpose (RNA-seq [1]), over the hybridization-based microarray technology, is a much larger dynamic range of detection. However, the extent to which this feature is fully exploited depends entirely on the way the resulting data is analyzed when addressing a particular biological question. For instance, in the identification of genes that significantly change their expression levels between groups of samples, also known as differential expression (DE).
For DE analysis, after some pre-processing steps that include the alignment of the sequenced reads to a reference genome and their summarization into features of interest (e.g., genes), raw RNA-seq data is transformed into an initial table of counts. This table should then be normalized [2-4] in order to adjust for both technical variability and the expression properties of the samples, such that the estimated normalization factors and offsets applied to the RNA-seq count data describe as accurately as possible the relative number of copies of each feature throughout every sample. As opposed to the continuous nature of log-scale fluorescence units in microarray data, RNA-seq expression levels are defined by discrete count data, and therefore, require specific DE analysis techniques.
Detection of DE genes using RNA-seq data was firstly based on using models assuming a Poisson distribution [
5
] with one single parameter, the mean, which simultaneously determines the variance of the distribution. Given that the observed variation in read counts is much larger than the mean (overdispersion), researchers have proposed the use of negative binomial (NB) distributions [
6
-
8
] which are defined by two parameters: the mean and the dispersion. However, the larger power of RNA-seq to capture biological variability can potentially introduce into count data not only overdispersion, but also oddities such as zero-inflation (i.e., in lowly expressed genes, the proportion of zero counts may be greater than expected under an NB distribution) and heavy tail behavior (i.e., a large dynamic range within the same expression profile), specially when many biological replicates are available. Under these circumstances even a two-parameter NB distribution may not provide an adequate fit to the data (see Figure
1
). In turn, this may lead to incorrect statistical inferences resulting in lists of DE genes with a potentially increased number of false positive calls and poor reproducibility. To overcome this problem, methods based on the NB distribution [
6
-
11
] use sophisticated moderation techniques that borrow information across genes and exploit the mean-variance relationship in count data to improve the estimation of the NB dispersion parameter. This requires, however, that the parameter configuration is calibrated for the most appropriate moderation regime which may depend on features such as sample size, the magnitude of the fold-change, the variability of expression levels, the fraction of genes undergoing differential expression and the overall expression level.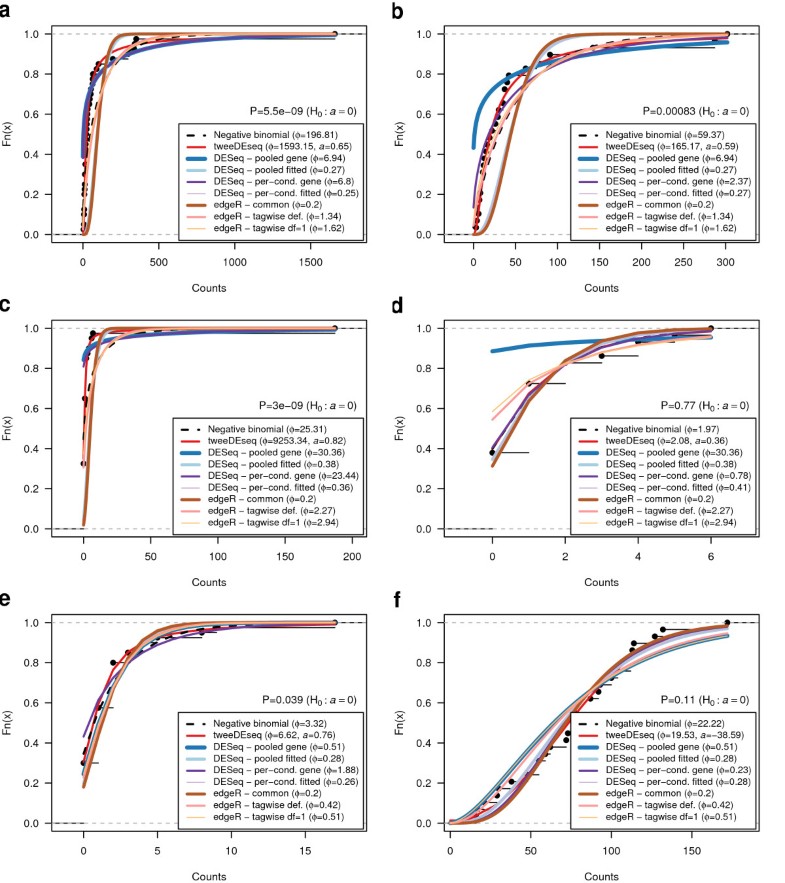 In this paper we propose to approach this problem by using other count data distributions that fit expression profiles better than the NB without the need to alter configuration parameters. The rest of the paper is organized as follows. Using a large RNA-seq data set of HapMap lymphoblastoid cell lines (LCLs) derived from n=69 unrelated Nigerian (YRI) individuals [12], we start by assessing the goodness of fit of extensively replicated expression profiles to the NB distribution, showing a lack of fit for an important fraction of genes. We illustrate how a more flexible family of count-data probability distributions, called the Poisson-Tweedie, provides a better fit to these expression profiles. We provide data supporting the hypothesis that the lack of fit to NB distributions may be related to the dynamics of gene expression unveiled by RNA-seq technology. We then introduce a new test for differential expression analysis in RNA-seq data based on the Poisson-Tweedie family of distributions. We demonstrate with simulations on synthetic and real RNA-seq data how a single run of our approach provides P-values that are equally or more accurate than NB-based competing methods calibrated with a variety of configuration parameters. Finally, by surveying the tiny fraction of sex-specific gene expression changes in LCL samples, we approach the problem of assessing accuracy in DE analysis with real RNA-seq data and show that, in the context of extensively replicated RNA-seq experiments, tweeDEseq yields better performance than competing NB-based methods without the need to make an informed decision on the configuration of parameters. This improvement is reported in terms of precision and recall of DE genes and reproducibility of the significance levels with respect to matching microarray experiments.
Results and discussion
The results we provide in this paper are based on data from a previously published large RNA-seq experiment [
12
] and on our own simulated count data. We downloaded and pre-processed the HapMap LCL raw RNA-seq data, consisting of
n
=69 samples from unrelated YRI individuals, with our own pipeline (see Methods). The resulting table of counts consists of 38,415 genes by 69 samples. We filtered out genes with very low expression levels and used different normalization methods [
2
,
4
] (see Methods) to ensure that the results described below do not depend on this fundamental step. In fact, we have observed that normalized counts can lead to quite different MA-plots depending on the normalization method, thus potentially affecting DE detection power and accuracy (Figure
2
).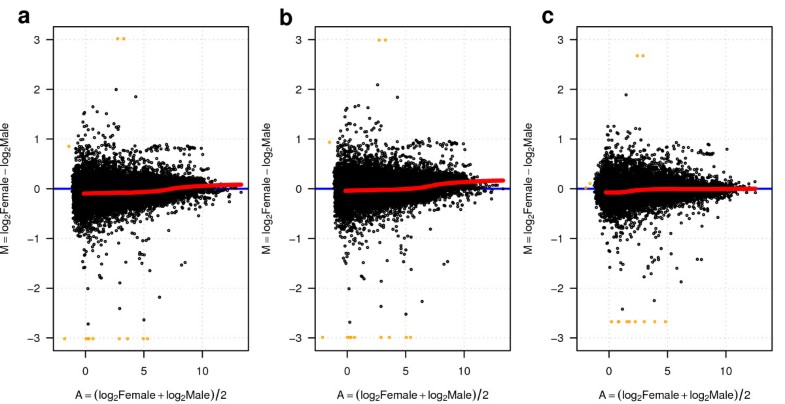 The statistical methods proposed in this paper are implemented in a package for the statistical software R, called tweeDEseq which forms part of the Bioconductor project [13] at http://www.bioconductor.org. We have also created an experimental data package, called tweeDEseqCountData, which contains the previously described data set and is also available at the same URL. All results presented in the paper were obtained using these and other packages from R version 2.15.1 and Bioconductor version 2.11, and can be reproduced through the scripts available as Additional file 1 to this article.
Conclusions
The increased amount of biological variability revealed by extensive replication in RNA-seq experiments brings new challenges to the task of identifying genes whose change in expression is both, biologically and statistically significant. In microarray data, large fold-changes derived from large data sets were nearly synonymous of statistical significance. The volcano plots in Figure 12 and the examples of specific genes in Figure 1 illustrate why this is not true anymore with RNA-seq count data. Those figures unveil that one of these new challenges is to distinguish statistically significant changes among those that are already large in magnitude. In this paper we provide an approach to this problem by using the PT family of distributions, showing that it captures a much richer diversity of expression dynamics in RNA-seq count data than the statistical models based in the NB distributions alone (see Figures 4 and 5). We have implemented a two-sample PT-test in a software package for R, called tweeDEseq, for detecting DE genes and demonstrated with simulations that produces more accurate P-value distributions that lead to better calibrated q-values and FDR estimates.
We have made an attempt to assess DE detection accuracy with real RNA-seq data by comparing male and female LCL samples normalized with three different methods and comparing the results to a gold-standard set of genes with documented sex-specific expression. This assessment also shows that tweeDEseq provides a better precision-recall tradeoff than the compared NB-based methods (see Figure 10 and Additional file 2: Figure S11). We have also made a comparison with matching samples hybridised on microarray chips which allowed us to verify that tweeDEseq yields a higher degree of reproducibility of significance levels with respect to microrray data.
All these different comparative assessments have been performed against two of the most widely currently used methods for DE analysis of RNA-seq data, edgeR and DESeq, under four different parameter configurations each, since their default parametrisation is tailored towards very limited sample size. Making an informed decision on what is the most appropriate setup is not trivial for the non-expert user and, for this reason, it is important to underscore that tweeDEseq is competitive with all of the methodologies that follow from the different configurations of edgeR and DESeq without the need to set a single parameter.
The fact that the volcano plots from tweeDEseq and limma, derived from RNA-seq and microarray data, reveal that limma is able to find a larger number of DE genes from the gold-standard, suggests a long way still ahead of us to fully exploit the RNA-seq technology for DE. Not only regarding experimental aspects, but also statistical ones such as properly detecting and adjusting for unwanted sources of non-biological variability, for which there is currently no well-established available techniques, as in the case of microarray data.
Other applications of high-throughput sequencing technology that output counts of molecules, like in Copy Number Variation (CNV) analysis, could potentially benefit of models based on the PT-distribution. It is our perception that richer count data models of this kind will become increasingly necessary to draw accurate conclusions from data as technology brings us closer the actual biology of the cell.
Declarations
Acknowledgements
This work was supported by grants from the 'Ministerio de Ciencia e Innovación - MICINN' (MTM2011-26515 to JRG and ME, MTM2010-09526-E to JRG, MTM2009-10893 to PP and TIN2011-22826 to RC), from European Reseach Council, Breathe project, ERC-AdG, GA num. 268479 to ME.
Authors' Affiliations
(1)
Center for Research in Environmental Epidemiology (CREAL), Barcelona, Spain
(2)
Department of Mathematics, Universitat Autònoma de Barcelona (UAB), Barcelona, Spain
(3)
Center for Genomic Regulation (CRG), Barcelona, Spain
(4)
Department of Experimental and Health Sciences, Research Program on Biomedical Informatics (GRIB), Universitat Pompeu Fabra, Barcelona, Spain
(5)
Hospital del Mar Research Institute (IMIM), Barcelona, Spain
(6)
CIBER Epidemiology and Public Health (CIBERESP), Barcelona, Spain
Copyright
© Esnaola et al.; licensee BioMed Central Ltd. 2013
This article is published under license to BioMed Central Ltd. This is an Open Access article distributed under the terms of the Creative Commons Attribution License (http://creativecommons.org/licenses/by/2.0), which permits unrestricted use, distribution, and reproduction in any medium, provided the original work is properly cited.