Methodology article
Open Access
Computational verification of protein-protein interactions by orthologous co-expression
BMC Bioinformatics
2005
6:40
Received: 08 September 2004
Accepted: 02 March 2005
Published: 02 March 2005
Abstract
Background
High-throughput methods identify an overwhelming number of protein-protein interactions. However, the limited accuracy of these methods results in the false identification of many spurious interactions. Accordingly, the resulting interactions are regarded as hypothetical and computational methods are needed to increase their confidence. Several methods have recently been suggested for this purpose including co-expression as a confidence measure for interacting proteins, but their performance is still quite poor.
Results
We introduce a novel computational method for verification of protein-protein interactions based on the co-expression of orthologs of interacting partners. The performance of our method is analysed using known S. cerevisiae interactions, and is shown to overcome limitations of previous methods. We present specific examples of known and putative interactions that are detected by our method and not by previous methods, and suggest that they represent transient interactions that might have been conserved and stabilized in other species.
Conclusion
Co-expression of orthologous protein-pairs can be used to increase the confidence of hypothetical protein-protein interactions in S. cerevisiae as well as in other species. This approach may be especially useful for species with no available expression profiles and for transient interactions.
Keywords
Protein PairOrthologous PairTransient InteractionCodon Adaptation IndexTransient Complex
Background
Protein-protein interactions (PPIs) have a central role in most biological processes, and identifying these interactions is an important goal of biological research. PPIs are the subject of extensive experimental studies, but the majority of them remain unknown. In the last few years, high-throughput techniques were developed for the identification of PPIs on a genomic scale. Yeast two-hybrid [1, 2] and mass spectrometric analysis of protein complexes [3, 4] were used to produce large sets of PPIs. However, these techniques are known to suffer from many false positives and the resulting PPIs are typically regarded as putative [5, 6]. Thus, the development of computational methods for assessment and verification of putative PPIs is crucial [7–10]. Two such methods were proposed, that are based on the co-expression [11] and conservation [9] of PPIs, respectively. Here we propose to extend these methods by considering co-expression of orthologous protein pairs. We demonstrate the predictive power of our approach and discuss its advantages.
Results
Verification by mRNA co-expression
It was previously shown that interacting pairs of proteins are often correlated in their expression profiles [11, 12]. The correlation of expression profiles was therefore proposed as a confidence measure for putative PPIs [7, 10, 13]. However, this approach has three major limitations. First, many pairs of non-interacting proteins are also co-expressed (false positives). Second, many pairs of interacting proteins are not co-expressed (false negatives). Third, to properly determine co-expression, mRNA expression profiles from a large and diverse set of conditions are needed, rendering this approach inapplicable for most organisms.
Former studies that used co-expression to identify PPIs did not explicitly examine its predictive power, or did not use a random set of protein-pairs as control for evaluating its performance. We thus carried out an analysis to evaluate the predictive power of this approach for S. cerevisiae, in order to later compare it to our new method. High quality S. cerevisiae expression data is available for many conditions, making it an ideal organism for the use of co-expression for validation of PPIs. We extracted a reference set of 1656 known interaction from the MIPS database [14], and generated a random set by randomly choosing pairs of proteins. Cosine correlation over our entire set of S. cerevisiae conditions was used to compare the levels of co-expression between the reference set and the random set (see methods).
The results of this analysis are summarized in Figure
1
. The cumulative distributions of expression correlations in both sets are compared, showing higher degrees of co-expression in the reference set than in the random set (Figure
1a
). The resulting predictive power is shown in Figure
1b
, where each dot represents a possible correlation threshold for PPIs prediction. The percentages of protein-pairs passing each threshold from the random and reference sets are shown in the horizontal and vertical axes, respectively. For example, the threshold shown in Figure
1
(0.155) which leads to the correct verification of 30% of the reference set (497 true positives), results also in the false verification of approximately 9% of the random set (~149 false positives). Applying this to a set of putative PPIs with 50% false positives (as estimated for the
S. cerevisiae
yeast two hybrid sets [
5
,
6
]) results in a filtered subset with approximately 23% false positives (9% divided by 39%).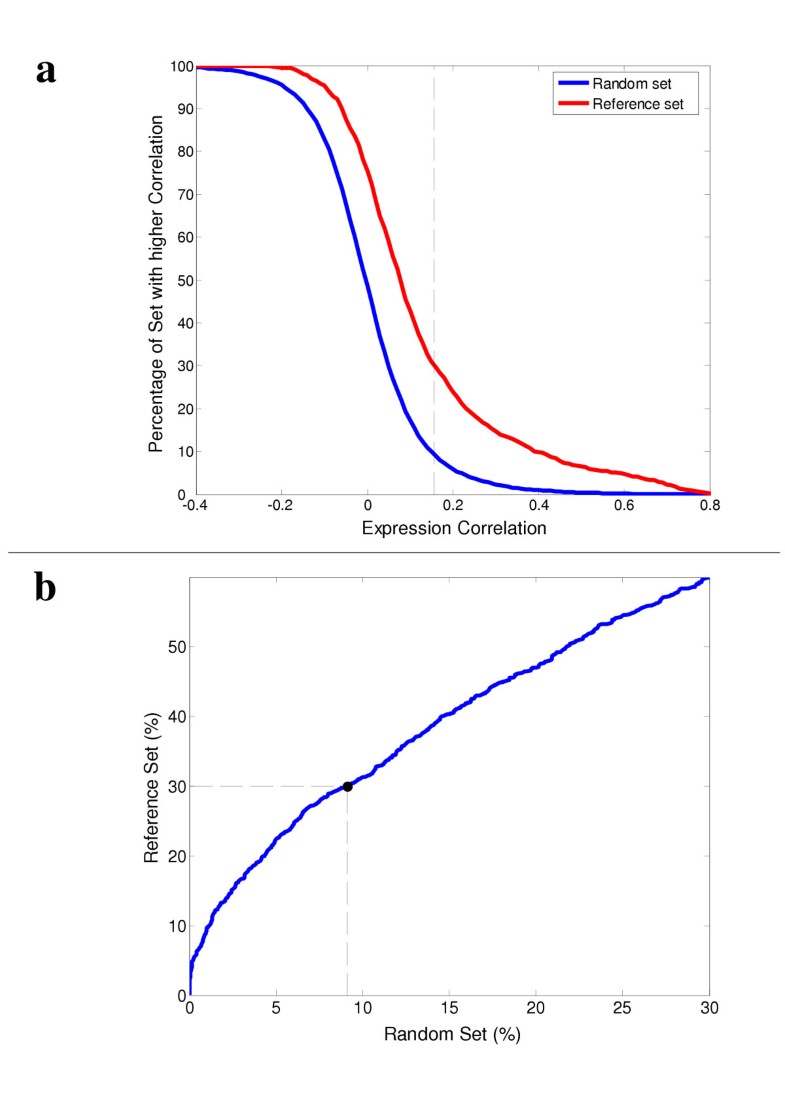 We verified that the performance of this method is largely independent of the exact set of conditions that is used, and that filtering the conditions or choosing them specifically for each pair of proteins does not improve the performance (not shown).
Conservation of PPIs
Another approach that was proposed to verify or predict PPIs is based on conservation of interactions [9, 15, 16]. In this approach (termed "interologs"), pairs of proteins whose orthologs are known to interact in other species are assumed to interact. Such a method can potentially reveal many conserved PPIs, but it is currently limited by the availability and accuracy of interaction data. Without relying on putative interactions, the available set of S. cerevisiae PPIs only correspond to a small fraction of the biologically meaningful interactions, and the situation is much worse for other species. Consequently, this method has so far been based only on S. cerevisia e PPIs, including putative ones, to predict interactions in other organisms. Giot et al. used putative S. cerevisia e PPIs from mass spectrometric analysis to verify Drosophila PPIs found by yeast two-hybrid. Only 65 out of the ~2000 Drosophila putative interactions were identified as having an orthologous interaction in S. cerevisia e. This set was then used to train a statistical model for assignment of confidence scores to putative PPIs. Li et al. used putative S. cerevisia e PPIs gathered from several sources to predict C. elegans PPIs (rather than verify an existing set of putative PPIs). Out of the 5534 predicted C. elegans PPIs, only 949 were identified as having an orthologous interaction in S. cerevisia e [16].
The use of conserved interactions to verify a putative set of PPIs is therefore very limited, since only a small fraction of the putative set would have a known orthologous interaction. Furthermore, using putative PPIs in order to increase the coverage of this approach will decrease its accuracy and introduce many more false positives.
Orthologous co-expression
Discussion
We presented here a new computational method for verification of PPIs that is based on the co-expression of orthologous protein-pairs, and demonstrated its predictive power using PPIs identified in S. cerevisiae.
This method extends two of the former methods, namely co-expression of interacting proteins and conservation of interactions (interologs). The first method can only be applied to organisms with expression data and its performance depends on the amount and quality of that data. Our method overcomes this limitation by integrating sequence and expression data from other organisms. It can thus be applied to any sequenced organism, particularly for those without available expression data, thereby replacing the missing data. Moreover, it performs better than the former method even for S. cerevisiae, where many high quality expression data is available, and is especially better in identifying transient interactions. It is difficult to evaluate our approach for other species, since we do not have large representative sets of known interactions, but the success in yeast is promising.
The proposed method also overcomes the limitation of the interologs approach, namely the small fraction of interactions that is known to date. Our method uses expression rather than interaction data, which makes it capable of giving evidence for a much larger number of interactions.
mRNA expression profiles are being generated by many different labs for a wide range of organisms. The improved quality of existing expression profiles as well as the addition of profiles for other organisms will improve the performance of our method. Further improvements can be achieved by giving different weights to the co-expression from different organisms (not shown). A weight can be given to each organism according to the reliability of its expression profiles, or according to its evolutionary distance from the studied organism.
During the writing of this manuscript, a related approach was suggested [28]. Based on the codon adaptation index (CAI) as an estimator for average expression levels, Fraser et al. examined co-evolution of expression levels from four fungi closely related to S. cerevisiae, and used that to predict PPIs in S. cerevisiae. This approach is complementary to the one that we have proposed. Thus, mRNA expression should be used directly when possible, even from relatively distant species (such as D. melanogaster), and CAI should be used from closely related species without available expression data.
Finally, the methods described here are still not accurate enough to verify specific PPIs, but they provide additional evidences and are useful for assessment and filtering of high-throughput PPIs data sets, in order to produce smaller sets of higher confidence, and direct further investigations. Complementary methods should be combined to create a general scheme for verification of putative PPIs, for example by considering only those interactions that are verified by at least two or three methods [7] or using supervised machine learning approaches [29], thus improving the performance of each method alone.
Conclusion
We have shown that expression data from multiple organisms can be used to increase the confidence of hypothetical PPIs by considering co-expression of orthologs of the presumed interacting partners. For organisms such as S. cerevisiae, with highly characterized expression profiles, orthologous co-expression may be combined with co-expression of the actual proteins, whereas for other, less studied organisms, it may replace the missing expression profiles. Notably, this method is especially useful for detection of transient interactions which presents a known weakness of most prediction methods. The success of this method also implies that PPIs tend to be conserved in different organisms, even as distant as yeast and human, further supporting the use of comparative approaches in proteomics.
Methods
Interactions sets – a reference set of S. cerevisiae interactions was extracted from the MIPS (Munich Information Center for Protein Sequences) PPI database [14] at 22/01/04. We excluded genetic interactions, self-interaction, interactions found by high-throughput experiments, interactions without expression data, and redundancies, resulting in a set of 1656 interactions. We did not use larger databases such as the one compiled by von Mering et al. [7] since they are more likely to contain false interactions and are also biased towards co-expression since this information was used in their construction. Randomly generated set of the same size was used as control, and averaged over ten trials. Self-interactions were excluded from the random set. The random set may include real interaction, but their expected frequency is much less than 1%. Transient complexes were taken from Jansen et al. [12]. The transient set was constructed by combining the pair-wise interactions from each transient complexes and removing redundancies (some protein pairs were present in more than one complex).
mRNA expression data – datasets for six organisms were collected from different sources, as described in [19], and can be downloaded from our home page [30]. All datasets were normalized to have a mean of 0 and standard deviation of 1 for each condition.
Expression correlation – cosine correlation over the entire expression data of each organism was used as a measure of co-expression. Former analysis suggested that cosine correlation is the optimal measure of co-expression for the purpose of detecting PPIs [13]. Many genes in all six organisms have missing values in the expression data, so the expression correlations of many orthologous pairs cannot be calculated. To decrease the dependency of our approach in the availability of expression data and to improve its performance, we replace the missing correlations by estimated values. We used the corresponding yeast co-expression when the yeast and orthologous co-expression are combined (green curve in figure 2d). In contrast, when orthologous co-expression is used alone (red curve in figure 2d), the yeast expression data is assumed to be unavailable (in order to show the applicability of the method to organisms without expression data) and an expected correlation is calculated for each species, based on the union of the reference and random sets (average expression correlation of orthologous pairs in a specific species, over the reference and random sets combined with equal weights). The expected correlations are greater than zero for all five species; so putative PPIs are actually given positive scores for the existence of an orthologous pair, corresponding to the notion that PPIs are more likely to have pairs of orthologs [21].
Orthologous proteins – orthologs were found using blastp [22] with a P-value threshold of 10-7, and alignment length threshold of 0.3. The ortholog with the most significant p-value that had available expression data was used to measure co-expression. Other studies had used a reciprocal best-hit BLAST search for finding orthologous; we use a less strict criterion in order to apply the orthologous co-expression method to more protein-pairs.
P-values and Significance – by sampling 100,000 protein pairs we determined p-values for S. cerevisiae and orthologous co-expression as the fraction of pairs with equal or greater correlation of expression profiles; P-values of 0.05 (not corrected for multiple testing) were used as thresholds for significance.
Declarations
Acknowledgements
This work was supported by the NIH Grant No. A150562 and the Israeli Science Ministry. N. B. is the incumbent of the Soretta and Henry Shapiro career development chair.
Authors' Affiliations
(1)
Departments of Molecular Genetics and Physics of Complex Systems, Weizmann Institute of Science, Rehovot, Israel
Copyright
© Tirosh and Barkai; licensee BioMed Central Ltd. 2005
This article is published under license to BioMed Central Ltd. This is an Open Access article distributed under the terms of the Creative Commons Attribution License (http://creativecommons.org/licenses/by/2.0), which permits unrestricted use, distribution, and reproduction in any medium, provided the original work is properly cited.