QualitySNP: a pipeline for detecting single nucleotide polymorphisms and insertions/deletions in EST data from diploid and polyploid species
BMC Bioinformatics
2006
7:438
Received: 29 December 2005
Accepted: 09 October 2006
Published: 09 October 2006
Abstract
Background
Single nucleotide polymorphisms (SNPs) are important tools in studying complex genetic traits and genome evolution. Computational strategies for SNP discovery make use of the large number of sequences present in public databases (in most cases as expressed sequence tags (ESTs)) and are considered to be faster and more cost-effective than experimental procedures. A major challenge in computational SNP discovery is distinguishing allelic variation from sequence variation between paralogous sequences, in addition to recognizing sequencing errors. For the majority of the public EST sequences, trace or quality files are lacking which makes detection of reliable SNPs even more difficult because it has to rely on sequence comparisons only.
Results
We have developed a new algorithm to detect reliable SNPs and insertions/deletions (indels) in EST data, both with and without quality files. Implemented in a pipeline called QualitySNP, it uses three filters for the identification of reliable SNPs. Filter 1 screens for all potential SNPs and identifies variation between or within genotypes. Filter 2 is the core filter that uses a haplotype-based strategy to detect reliable SNPs. Clusters with potential paralogs as well as false SNPs caused by sequencing errors are identified. Filter 3 screens SNPs by calculating a confidence score, based upon sequence redundancy and quality. Non-synonymous SNPs are subsequently identified by detecting open reading frames of consensus sequences (contigs) with SNPs. The pipeline includes a data storage and retrieval system for haplotypes, SNPs and alignments. QualitySNP's versatility is demonstrated by the identification of SNPs in EST datasets from potato, chicken and humans.
Conclusion
QualitySNP is an efficient tool for SNP detection, storage and retrieval in diploid as well as polyploid species. It is available for running on Linux or UNIX systems. The program, test data, and user manual are available at http://www.bioinformatics.nl/tools/snpweb/ and as Additional files.
Keywords
Single Nucleotide PolymorphismParalogous SequenceHaplotype ReconstructionQuality FileHigh Confidence Score
Background
Sequence variation in the genomic DNA of individuals of the same species or related species are typically single nucleotide polymorphisms (SNP) or small insertions/deletions (indels) [1, 2]. Because of their abundance and slow mutation rate within the genome, they are the most common type of genetic markers [3] for studying complex genetic traits and genome evolution [4]. In addition SNPs in coding sequences can be used to directly study the genetics of expressed genes and to map functional traits [5, 6]. Non-synonymous SNPs (nsSNPs) are of particular interest because they change the protein sequence, possibly affecting protein function [7, 8].
There are several strategies, both experimental and computational for SNP discovery. Experimental SNP discovery often consists of a number of laborious steps that make this process complex and expensive [2]. The computational approach makes use of the large sequence datasets present in public databases. Over the last few years, a number of pipelines have been developed that automatically detect SNPs in such databases. One type of pipeline detects SNPs using trace files or quality files, for example the PHRED/PHRAP/PolyBayes system [9, 10] and other pipelines [2, 3, 11–14]. The other type of pipeline uses only EST redundancy in text-based sequence files to detect SNPs: these include autoSNP [15, 16] and SNiPpER [17]. Both autoSNP and SNiPpER are based on sequence redundancy for the initial detection of SNPs, and sequencing errors are detected and filtered out by analyzing SNP patterns.
The major drawback of all these computational approaches is that they do not provide a good way to distinguish allelic variation from sequence variation between paralogous sequences. In addition, they do not recognize sequencing errors very well, leading to the frequent occurrence of false positives [7, 16, 18]. Only PolyBayes [9] has implemented an enhanced paralog identification routine, but it requires the corresponding genomic sequence and quality files in addition to the EST sequence. As most public ESTs do not include trace or quality file, and genomic sequences are not available for most species, the versatility of the PolyBayes paralog identification routine is limited.
In this paper we describe a new method (QualitySNP) that uses a haplotype-based strategy to detect reliable synonymous and non-synonymous SNPs from public EST data without the requirement of trace/quality files or genomic sequence data. Haplotypes in this context represent the different alleles of a gene in a dataset. The haplotype reconstruction is based on a mathematical algorithm. QualitySNP's versatility is demonstrated by the identification of SNPs in EST datasets from potato, chicken and humans.
Materials
For potato, two datasets were used in our study. One dataset was from the EMBL database (version 79), containing 83,565 ESTs with tissue information of the potato variety Kennebec. The other was from the Potato Gene Index of TIGR database (data of Dec 7th 2004) containing 87,637 reads of potato ESTs with quality files, which was used to evaluate the quality of public potato ESTs and the performance of our SNP discovery pipeline. Function annotation information of the potato ESTs was obtained from the TIGR Gene Index [19] and UniGene [20]. For chicken, a dataset consisting of 100,000 ESTs, originating from more than one genotype was used [21]. For thorough validation of our program, nineteen UniGene datasets obtained from NCBI (Build #191 of Homo sapiens) were used. The Single Nucleotide Polymorphism database (dbSNP) was downloaded from NCBI (Jun 3th 2006) to our local machine.
To detect non-synonymous and synonymous SNPs, the UniProt database (version of Feb 28th 2005) [22] was used to obtain reference protein sequences for ORF detection; FASTY, which is a module of the FASTA package 3.4 [23] and BLAST package 2.2.10 [24] were used as tools for searching the UniProt database. CAP3 [25] was used for assembling sequences. Cross_match [26] was used for removing vector fragments; the vector sequences were downloaded from the NCBI data repository on Dec 5th 2004. To verify paralog identification the BLAT server of the human genome reference sequence was used [27].
Architectural structure
The pipeline consists of five steps: 1) EST assembling using cross_match for removing vectors and CAP3 for sequence clustering, 2) analysis of the alignment information to select clusters with at least 4 EST members, 3) SNP detection and distinguishing variations between or within genotypes, 4) distinction between non-synonymous and synonymous SNPs using FASTY, and 5) transferring the final results into a SNP database (Figure
1
). The pipeline is implemented in standard C-Shell script on a Linux workstation; the individual programming steps are written in the C programming language, with exception of the alignment analysis tool (PERL5.8) and the web pages to view the results from the database (PHP4 and MYSQL3.23).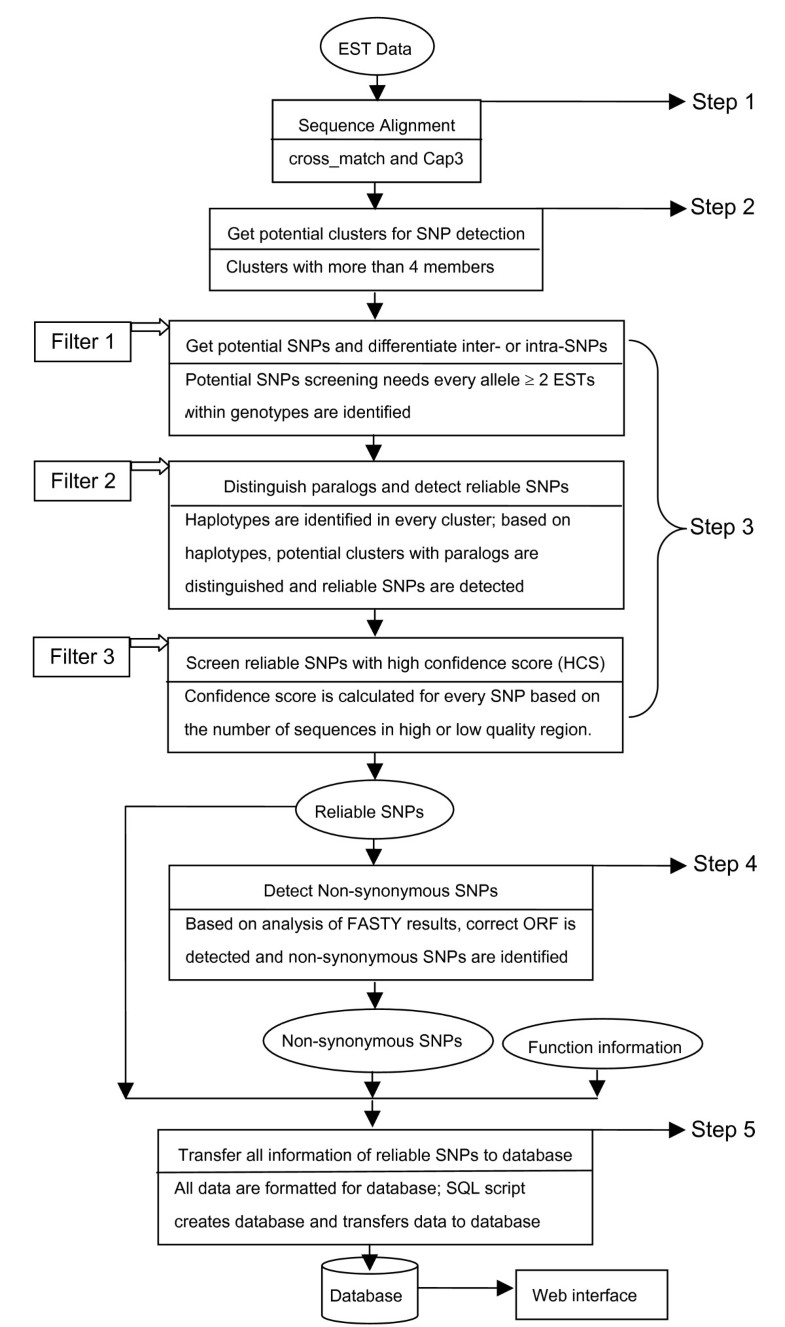 In step 3 three filters are used to detect reliable SNPs: filter 1 screens clusters for potential SNPs and differentiates variations between or within genotypes; filter 2 detects clusters containing variations caused by sequencing errors and paralogous sequences; and filter 3 detects unreliable SNPs by assigning confidence scores to SNPs based on sequence redundancy and sequence quality.
Results
The new pipeline for SNP detection (called QualitySNP) presented here distinguishes itself from other programs mainly in the approach it takes for detecting sequencing errors and paralogous sequences. The source code and the manual of the program are freely available for academic use [[32], see Additional file 1, 3], an sample dataset for testing QualitySNP is available as well [[32], see Additional file 2]. To demonstrate the specific properties and advantages of our program we have used potato, human and chicken ESTs as a target for SNP identification. Potato was chosen because it is a tetraploid species and cultivars consist of clonally propagated, heterozygous genotypes. The high level of heterozygosity and the tetraploid nature present problems for most currently available SNP detection programs in particular in the discrimination of paralogs from alleles. Also, within the genomes of plants large numbers of duplications are found [33, 34] which may complicate detection of reliable SNPs. Human and chicken datasets were used as a reference for a 'normal' diploid species and to illustrate specific properties and advantages of QualitySNP.
Conclusion
In conclusion, QualitySNP works at least as well as, and in cases outperforms currently available methods, without the drawbacks of some of them, such as the necessity to provide a genomic sequence or sequence quality files. However, if quality files are available, this information can also be used by QualitySNP. By using a haplotype-based strategy, QualitySNP not only predicts reliable SNPs but also identifies haplotypes, and thus can be used in EST-based genotyping.
Another advantage of QualitySNP over other programs for SNP detection in nucleotide databases is the availability of a retrieval system that can output various kinds of data. Although QualitySNP can be used as a SNP detection tool with default settings, it can also be used for instance to examine specific clusters of genes, or to find nsSNPs in candidate genes.
Declarations
Acknowledgements
Thanks are due to David Edwards (La Trobe University, Bundoora, Australia) for his data and program, and to Martijn van Kaauwen (Plant Research International, Wageningen UR) for expert technical assistance in the SNP validation in potato. This research was supported by the Dutch Ministry of Agriculture, Nature and Food Quality (kennisbasis funding).
Authors' Affiliations
(1)
Plant Research International, Wageningen, The Netherlands
(2)
Laboratory of Bioinformatics, Wageningen University, Wageningen, The Netherlands
Copyright
© Tang et al; licensee BioMed Central Ltd. 2006
This article is published under license to BioMed Central Ltd. This is an Open Access article distributed under the terms of the Creative Commons Attribution License (http://creativecommons.org/licenses/by/2.0), which permits unrestricted use, distribution, and reproduction in any medium, provided the original work is properly cited.