Methodology article

Open Access
Protein structural similarity search by Ramachandran codes
BMC Bioinformatics
2007
8:307
Received: 26 April 2007
Accepted: 23 August 2007
Published: 23 August 2007
Abstract
Background
Protein structural data has increased exponentially, such that fast and accurate tools are necessary to access structure similarity search. To improve the search speed, several methods have been designed to reduce three-dimensional protein structures to one-dimensional text strings that are then analyzed by traditional sequence alignment methods; however, the accuracy is usually sacrificed and the speed is still unable to match sequence similarity search tools. Here, we aimed to improve the linear encoding methodology and develop efficient search tools that can rapidly retrieve structural homologs from large protein databases.
Results
We propose a new linear encoding method, SARST (S tructural similarity search A ided by R amachandran S equential T ransformation). SARST transforms protein structures into text strings through a Ramachandran map organized by nearest-neighbor clustering and uses a regenerative approach to produce substitution matrices. Then, classical sequence similarity search methods can be applied to the structural similarity search. Its accuracy is similar to Combinatorial Extension (CE) and works over 243,000 times faster, searching 34,000 proteins in 0.34 sec with a 3.2-GHz CPU. SARST provides statistically meaningful expectation values to assess the retrieved information. It has been implemented into a web service and a stand-alone Java program that is able to run on many different platforms.
Conclusion
As a database search method, SARST can rapidly distinguish high from low similarities and efficiently retrieve homologous structures. It demonstrates that the easily accessible linear encoding methodology has the potential to serve as a foundation for efficient protein structural similarity search tools. These search tools are supposed applicable to automated and high-throughput functional annotations or predictions for the ever increasing number of published protein structures in this post-genomic era.
Keywords
Query Protein
Linear Encode
Glutamyl Endopeptidase
Combinatorial Extension
Scop Family
Background
The number of proteins found in structural databases has increased at such an unprecedented rate in recent years that achieving speed and accuracy simultaneously in protein structure similarity searches has become a formidable task. During evolution, three-dimensional (3D) structures are more conserved than amino acid sequences [1], and protein homologs that share highly conserved 3D structures may have unrecognizable sequence homology [2]. Amino acid sequence search tools are fast; however, they have proven to be insufficient for detection of remote homology in structural databases [3]. Structure alignment using delicate geometric algorithms is much more accurate than amino acid sequence comparisons, especially when the sequence homology is low [3]. Many brilliant pairwise comparison tools have been created, such as Distance Alignment Tools, DALI [4], Combinatorial Extension, CE [5], and FAST Alignment and Search Tool, FAST [6], but still there is a demand for rapid similarity search tools because protein structure databases have outgrown the utility of pairwise-based searches.
Protein structures are not fully flexible; there are physical constraints on polypeptide conformation [7–11]. It is believed that the 3D structure can be reduced to a simpler form while maintaining the intrinsic structural information [12–24]. With the reduced data, a similarity search can become much easier and faster. A number of methods have been designed based on this idea to one-dimensionalize the 3D protein structure. For instance, Levine et al. (1984) compared 3D protein structures using the sequence of dihedral angles (ϕ, ψ) in a pairwise manner [14]. Lesk (1998) modified Efimov's dissections on the Ramachandran diagram [15] and combined them with a reduced amino acid alphabet to linearly encode protein structures [16]. Martin (2000) developed TOPSCAN, which uses topology strings to represent protein structures [17]. However, most of these methods could not reach the accuracy comparable to conventional 3D structural comparison methods, and furthermore the implementation of some of them were limited because their methodology could not conveniently analyze fragments with missing residues [18]. Consequently, linear encoding methods have long been considered to compromise accuracy for speed in protein structure comparisons [14]. Nevertheless, there are advantages of the one-dimensional (1D) representation of protein structure, such as its easy applicability to multiple structural alignments [16], fold-recognition and genome annotations [19, 20]; besides, local backbone structure prediction has long been using linear encoding methodologies [24–27].
In recent years, linear encoding has been applied to large scale structural database searches. Methods like YAKUSA [21] and 3D-BLAST [22] can scan thousands of proteins thousands of times as rapid as CE with good performance in searching accuracy. In this post-genomic era when protein structural data increase exponentially, we believe that linear encoding methodology is capable of serving as the foundation for efficient protein structural similarity search tools and that there is still much valuable room left for its improvement.
Here we propose a linear encoding algorithm, Ramachandran sequential transformation, and introduce an efficient protein structural similarity search method, SARST (
S
tructural similarity search
A
ided by
R
amachandran
S
equential
T
ransformation) [
28
]. SARST improves the linear encoding methodology and achieves higher search speed with less sacrifice of accuracy than previous methods. SARST converts 3D protein structures into two-dimensional Ramachandran maps [
29
] and further to 1D sequences by predefined assignments of regions to text letters (Ramachandran codes). Finally, conventional sequence similarity search methods can be applied to retrieve homologous proteins from structure databases. These approaches are illustrated in Figure
1
.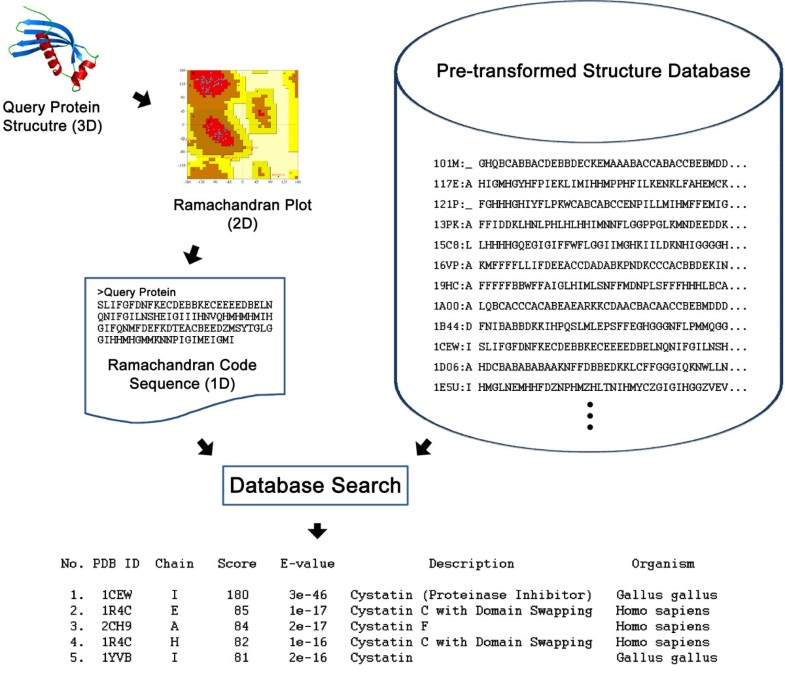 SARST, using structurally meaningful Ramachandran strings, converts structural similarity search problems into sequence similarity searches. Besides inheriting the speed advantages of sequence-based methods, it provides a ranked hit list with similarity scores and statistically meaningful expectation values (E-values) to assess the reliability of the retrieved information.
Because SARST is aimed to be a database search method, information retrieval (IR) techniques, which have been widely used in the document, image, spatial database, and 3D protein structure database fields [30, 31], were used to evaluate it. SARST can detect remote homology and overcome structural incompleteness; we also report its performances on different structural classes (all alpha, all beta, alpha/beta and alpha+beta).
Conclusion
We have introduced a new protein structure similarity search method, SARST (S tructural similarity search A ided by R amachandran S equential T ransformation), which transforms 3D protein structures into 1D strings through a clustered Ramachandran map [28]. This technique uses a regenerative approach to produce improved substitution matrices and recruits classical sequence alignment search methods to perform structural similarity searches. As a hybrid, SARST combines the speed advantages of sequence-based methods and accuracy advantages of structural comparisons. Its precision is only slightly lower than CE, and SARST executes hundreds of thousand times faster, almost as rapid as BLAST. In addition, SARST provides E-values to assess the reliability of the retrieved information.
SARST can detect remote homology that escapes a typical amino acid sequence alignment search. Its performance among different structural classes is similar to that of CE, without the normal bias shown by BLAST. Compared with previous linear encoding methods, SARST suppresses the problems caused by structural incompleteness by utilizing "X" codes and major differences in SSEs between homologous structures by using suitable gap penalties: it also achieves higher search speed and precision.
The fact that most linear encoding methods could not match conventional structure alignment methods in accuracy indicates that linear encoding might not be the best solution to protein structural comparisons; however, SARST demonstrates that it still has the potential to develop efficient structural similarity search tools. Protein structural data is increasing exponentially; thus, we hypothesize that efficient, easily accessible and highly portable similarity search methods like SARST will be the basic tool for post-genomic era researches.
Methods
The operating system was linux (Fedora Core 4) and, PHP (v.5.0.4) and Java 2 (v.1.4.2) were used to develop programs. The blast method described by Altschul et al.[36, 37] was used as the SARST search engine. All structures presented in the figures were drawn using PyMol [52].
Optimization of the search engine parameters
Because blastall (v.2.2.13) was recruited as the search engine, its parameter settings would affect the performance of SARST. Based on our early experience, the query sequence filter must be disabled (parameter setting: -F F) to achieve better search results. In addition, three other parameters were optimized: word size (W), gap-opening penalty (G), and gap-extension penalty (E).
There were two W values (2 and 3) allowed by blastall. We had used the small database developed by Aung [30] to determine their effects. It was found that the word size had limited effects on the precision of SARST, but the speed of SARST running under W = 3 was 3.4 times as rapid as that under W = 2. To meet speed requirements, size 3 was adopted.
At setting W = 3, the effects of all allowed combinations of G and E values were analyzed after the retrieval of 500 proteins. As shown in the additional material [see Additional file 4], SARST yielded the highest IR quality when G = 9 and E = 2, and it ran fastest when G = 25 and E = 2. Therefore, these are the recommended settings for SARST.
Practical parameter settings for SARST
Generally speaking, a well-developed search tool, such as NCBI's BLAST [53], would offer many parameters freely adjustable by the user to satisfy individual research preferences; however, a set of default values should also be provided to meet the common needs of users and to ensure high performance. To determine the practical parameter settings of SARST, Aung's large database [30] was used to compare the precision and speed of SARST under various v (number of database sequences to show one-line descriptions) and e (expectation value, or E-value) thresholds. When the v threshold was 250, the average recall was over 80%; thus, higher values seemed unnecessary. When the E-value threshold was above 10-7, the average precision fell below 80%; thus, higher thresholds appeared impractical. As such, we suggest that the combination of v = 250 and e = 10-7 would satisfy common needs. Running under these settings, the average recall of SARST was 76.0% and the average precision was 84.1%.
Assessment of speed and precision
Among the tools assessed in this report, the stand-alone version of CE and FAST could only perform pairwise comparisons; hence, the database searches were achieved using numerous pairwise comparisons with script programs. However, to make fair assessments only the actual running times were considered. The calculation times for parsing and sorting the results were omitted. The time consumed in parsing the outcomes of BLAST, ProtDex2, YAKUSA, 3D-BLAST and SARST was also omitted.
CE was good at local alignment, and therefore its output might contain many pairwise alignments of polypeptide fragments [5]. In such cases, the alignment with the greatest length was selected as the final result.
FAST was designed to align two single polypeptide chains [6]. Because many SCOP domains were composed of multiple fragments from different chains, they would cause FAST to function improperly. Thus, before any PDB file of SCOP domains was entered, it had to be "unified" first – all the chain IDs were changed to "A" regardless of the original labels, and all the residues were re-numbered consecutively.
Declarations
Acknowledgements
This work was supported by the National Science Council, Taiwan, R.O.C. (NSC grant numbers: 94-3112-B-007-004-Y, 95-2752-B-007-003-PAE). We thank Dr. Yi-Shin Chen, Department of Computer Science, for insightful discussions.
Authors' Affiliations
(1)
Institute of Bioinformatics and Structural Biology, National Tsing Hua University, Hsinchu, Taiwan
Copyright
© Lo et al; licensee BioMed Central Ltd. 2007
This article is published under license to BioMed Central Ltd. This is an Open Access article distributed under the terms of the Creative Commons Attribution License (http://creativecommons.org/licenses/by/2.0), which permits unrestricted use, distribution, and reproduction in any medium, provided the original work is properly cited.