MetaMQAP: A meta-server for the quality assessment of protein models
BMC Bioinformatics
2008
9:403
Received: 18 March 2008
Accepted: 29 September 2008
Published: 29 September 2008
Abstract
Background
Computational models of protein structure are usually inaccurate and exhibit significant deviations from the true structure. The utility of models depends on the degree of these deviations. A number of predictive methods have been developed to discriminate between the globally incorrect and approximately correct models. However, only a few methods predict correctness of different parts of computational models. Several Model Quality Assessment Programs (MQAPs) have been developed to detect local inaccuracies in unrefined crystallographic models, but it is not known if they are useful for computational models, which usually exhibit different and much more severe errors.
Results
The ability to identify local errors in models was tested for eight MQAPs: VERIFY3D, PROSA, BALA, ANOLEA, PROVE, TUNE, REFINER, PROQRES on 8251 models from the CASP-5 and CASP-6 experiments, by calculating the Spearman's rank correlation coefficients between per-residue scores of these methods and local deviations between C-alpha atoms in the models vs. experimental structures. As a reference, we calculated the value of correlation between the local deviations and trivial features that can be calculated for each residue directly from the models, i.e. solvent accessibility, depth in the structure, and the number of local and non-local neighbours. We found that absolute correlations of scores returned by the MQAPs and local deviations were poor for all methods. In addition, scores of PROQRES and several other MQAPs strongly correlate with 'trivial' features. Therefore, we developed MetaMQAP, a meta-predictor based on a multivariate regression model, which uses scores of the above-mentioned methods, but in which trivial parameters are controlled. MetaMQAP predicts the absolute deviation (in Ångströms) of individual C-alpha atoms between the model and the unknown true structure as well as global deviations (expressed as root mean square deviation and GDT_TS scores). Local model accuracy predicted by MetaMQAP shows an impressive correlation coefficient of 0.7 with true deviations from native structures, a significant improvement over all constituent primary MQAP scores. The global MetaMQAP score is correlated with model GDT_TS on the level of 0.89.
Conclusion
Finally, we compared our method with the MQAPs that scored best in the 7th edition of CASP, using CASP7 server models (not included in the MetaMQAP training set) as the test data. In our benchmark, MetaMQAP is outperformed only by PCONS6 and method QA_556 – methods that require comparison of multiple alternative models and score each of them depending on its similarity to other models. MetaMQAP is however the best among methods capable of evaluating just single models.
We implemented the MetaMQAP as a web server available for free use by all academic users at the URL https://genesilico.pl/toolkit/
Keywords
Root Mean Square DeviationLocal QualitySteric ClashResidue DeviationCASP7 Target
Background
Evaluation of model accuracy is an essential step in protein structure prediction. The existing methods for quality assessment of protein models (MQAPs) are usually based either on a physical effective energy which can be obtained from fundamental analysis of particle forces or on an empirical pseudo energy derived from known protein structures (review: [1]. So far, most of the development of MQAPs was focused on the global evaluation of protein structure and most of the existing methods were optimized to discriminate between globally correct and incorrect 'decoy' structures rather than to detect correct and incorrect fragments [2, 3]. Even for MQAPs that are capable of generating independent evaluations for each amino acid in the protein structure, it is usually recommended that a score is averaged over a long stretch of residues (e.g. 21 amino acids in the case of VERIFY3D [4]). Systematic assessment experiments, e.g. Critical Assessment of techniques for protein Structure Prediction (CASP) and LiveBench demonstrated that models with a correct fold can be confidently recognized, especially by the fold-recognition meta-servers [5, 6]. However, comparative models, especially those based on remotely related templates, often exhibit local inaccuracies that are difficult to identify by a global evaluation, in particular misthreadings of short regions (5–10 residues) corresponding to shifted alignments within individual secondary structure elements [7, 8].
In CASP5, we proposed that inaccuracies due to local alignment shifts can be identified and corrected by identification of variable conformations in alternative homology models, comparison of their VERIFY3D scores averaged over only 5 neighbouring residues, and construction of hybrid models comprising the best-scoring fragments [9]. Our method (termed the "FRankenstein's monster approach") turned out to consistently produce very accurate models, especially if regions with initially poor scores were systematically varied to generate additional models for evaluation [10]. However, detailed inspection of cases where we failed to identify the most native-like local conformation based on the VERIFY3D score revealed a considerable variation of scores even among models with similar structural features. Therefore, we decided to carry out a systematic evaluation of the capability of VERIFY3D and several other popular MQAPs, including the recently published method PROQRES [11], to identify the best method for prediction of local accuracy of protein models. However, as the work progressed, we realized that none of the MQAPs we analyzed was sufficiently accurate and robust and that they exhibited very different strengths, and weaknesses. This in turn prompted us to develop a new "meta-predictor" specifically optimized to detect local errors.
Implementation
Preparation of protein models for the local quality assessment
Training data
We downloaded all models generated within the framework of the Critical Assessment of techniques for protein Structure Prediction (CASP) rounds 5 and 6, for cases classified as 'template-based modeling', i.e. 'comparative modeling' and 'fold recognition' [12, 13]. In these cases a large fraction of models have a correct fold and exhibit widely varying degree of global and local similarity to the native structure, with some completely wrong models (of incorrect folds). To create the model database we used only models that covered at least 90% residues of the target sequence and did not exhibit any internal deletions (i.e. missing residues were allowed only at the termini). If the CASP target was a multidomain protein, it was split into individual domains, which were then regarded as separate models. Ultimately, we collected 8251 models for 84 CASP5&6 targets. Then these models where superimposed onto their experimentally solved counterparts using LGA [14], routinely used in CASP assessment. For our datasets, the average root mean square deviation (RMSD) on C-α atoms between the models and the templates is 2.00 Å and the average GDT_TS score is 59.
Many of CASP models are 'non-physical' in the sense that they often exhibit steric clashes, non-standard bond lengths and angles, improper stereochemistry or they lack parts of residues (e.g. residues may be reduced to just C-α atoms). Thus, we 'idealized' our CASP5&6 model dataset to minimize the most severe local errors by simply running MODELLER [15] with default options, using the original model as a template to derive spatial restraints to build a refined full-atom model. We want to emphasize that such procedure can lead to false positives in the case of bad regions of a model and false negatives in the case of excellent refined models.
The average RMS deviation between the idealized models and their original counterparts is 0.33 Å reflecting a slight positional adjustment of the most distorted residues during the idealization. Nonetheless, the GDT_TS score of the idealized models remains 59, the same as for the original models, and the average RMSD with respect to the native structures changes negligibly from 2.00 to 2.01 Å, indicating approximately the same amount of movement towards and away from the native structures during 'idealization'. Analysis of the RMSD and GDT_TS values for models of different accuracy reveals that on the average, our 'idealization' has slightly improved the absolute accuracy of original models with GDT_TS score < 90 (i.e. very good models) and slightly decreased the quality of models with GDT_TS ≥ 90 (Figure
1
). Hereafter, the resulting set of models will be referred to as CASP5&6+.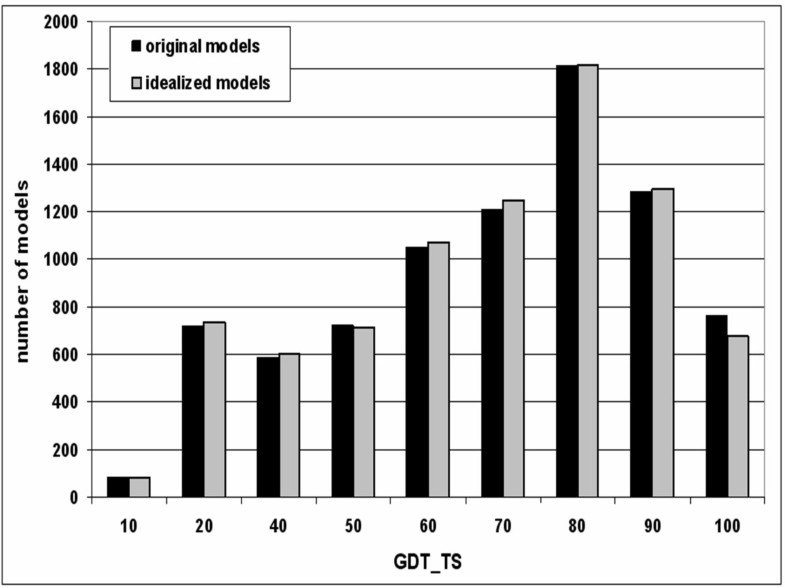 The aim of our analysis was to develop a method that would be able to accurately estimate the deviation of C-α atoms with respect to the corresponding residues in the native structures without any knowledge of the native structure. Despite we introduced 'idealization', we intended to make predictions for the original models. Thus, we trained MetaMQAPII with the deviations between original models (not the idealized models) to the native structures, even though the other component of training was the MQAP score for the idealized models.
Test data
In the last part of this article we compare MetaMQAP with CASP7 winners in the MQAP category. Thus, from the CASP7 website we downloaded both the server models and Quality Assessment predictions done by winners of the MQAP category. The accuracy of server models calculated by the LGA method was taken from the CASP7 website [16]. CASP7 server models have been processed in the same way as the training CASP5&6 data, e.g. they have been 'idealized' with MODELLER and scored with MetaMQAP. As with the CASP5&6+ dataset, deviations between the models and the experimental structures were calculated for models before 'idealization'.
Statistical analyses
We applied wide range of statistical tools: such as Pearson and Spearman's rang correlation, ROC curve analysis, t-test, multivariable regression, and cluster analysis. All statistical analyses were done using STATISTICA 7 software (StatSoft, Inc. Tulsa, OK, USA).
Model Quality Assessment Programs (MQAPs)
For the evaluation of protein models from the training dataset and for the development of the MetaMQAP we used 8 primary MQAP methods: VERIFY3D [4], PROSA2003 [17], PROVE [18], ANOLEA [19], BALA-SNAPP [20], TUNE [21], REFINER [22], and PROQRES [11]. VERIFY 3D evaluates the environment of each residue in a model with respect to the expected environment as found in the high resolution X-ray structures. It operates on a '3D-1D profile' of a protein structure, which includes the statistical preferences for the following criteria: the area of the residue that is buried, the fraction of side-chain area that is covered by polar atoms (oxygen and nitrogen), and the local secondary structure [4, 23]. In our own experience, VERIFY3D is rather permissive (i.e. detects only relatively major errors, usually related to unusual contacts resulting from misalignments, e.g. burial of charged groups in a hydrophobic core. On the other hand, VERIFY3D often fails to detect errors such as non-physical bond lengths or angles or some steric clashes (e.g. threading of a distorted aliphatic side chain through a distorted aromatic ring could be regarded as 'protein-like' by this method). PROSA 2003 relies on empirical energy potentials derived from pairwise interactions observed in high-resolution protein structures [17]. In our own experience, PROSA 2003 is very strict compared to VERIFY3D, i.e. it often detects even very minor errors, such as distorted geometry of hydrogen-bonded residues, and therefore may be more useful for the evaluation of nearly-native homology models than for the fold-recognition models that are plagued by local errors. ANOLEA is also based on a distance-dependent empirical potential. It evaluates the non-local environment (NLE) of each heavy atom in the model. The NLE is defined as the set of all heavy atoms within the distance of 7 Å that belong to amino acids farther than 11 residues in the analyzed polypeptide. Owing to the focus on non-local contacts, ANOLEA is able to identify some errors that remain undetected both by VERIFY3D and PROSA [19]. PROVE analyzes the packing in protein models by evaluating the regularity of the atom volume, defined by the atom's radius and the planes separating it from other atoms [18]. BALA-SNAPP evaluates the structure by means of a four-body statistical potential, applied to tetrahedral quadruplets or spatially neighbouring residues [24]. TUNE uses a neural network to predict local quality of residue from both a local and non local contact of residues in the model [21]. REFINER is based on a statistical potential, which includes terms such as: contacts potential, long distance potential, hydrogen bonds and burial pseudo energy [22]. Finally, PROQRES is the only method in this set, which has been developed specifically to predict local errors in crude protein models. This method applies a neural network to estimate local structure from: atom-atom contacts, residue-residue contacts, secondary structure context, and solvent accessibility [11].
In the final comparison, we analyzed the results of "blind" assessment done for the CASP7 dataset by 6 methods: QA556 – LEE (unpublished), QA704 – QA-ModFOLD [25, 26], a method based on the nFOLD protocol [27], QA633 – PROQ, QA692 – ProQlocal [11], QA634 – PCONS6 a new variant of PCONS [28], QA713 – CircleQA (for more information see CASP7 abstracts website [29])
Conclusion
We have developed a new method for the quality assessment of protein models, which uses the results of eight other MQAP methods (VERIFY3D, PROSA, BALA, ANOLEA, PROVE, PROQRES, REFINER, and TUNE) and a wide range of local residue features to predict the local deviation of residues in the model from their counterpart in the (unknown) native structure. To our knowledge, this is the first publicly accessible method that attempts to predict the absolute deviation (in Å) for the individual residues in the model in a manner completely independent of used modeling protocol and without any additional alternative models. The development of such methods was recently strongly encouraged in the course of discussions of members of the protein structure prediction community on the FORCASP website [51]. Among similar methods, the ModFold server v1.1 [26] can predict local residue deviations (in the ModFoldClust mode), but only for multiple models.
When our method is compared with the winners of MQAP category in last 7th edition of the CASP experiment [41], our method is outperformed by a few methods that use to their evaluation a large set of alternative models. However, thus far none of these methods has been made available as a public web server. Moreover, these methods require that a potential user provides a large set of models, whose size and diversity would be comparable to all models submitted by all CASP modelers for a given target. It is very unlikely that such an effort would be possible outside the CASP experiment itself. Therefore, MetaMQAP has a potential to become a tool of choice for researchers interested in evaluating just a single model of their target protein, or a few individual models, without necessity to provide a multiplicity of state-of-art models with many different modeling methods.
We hope that our server will be useful for many researchers, perhaps not only computational modelers, but also experimental structural biologists willing to identify confident parts of low-resolution models, e.g. structures generated by automatic tracing of crystallographic electron density maps or preliminary models from an NMR experiment. One possible area of immediate practical application for our method could be the identification of regions of comparative models that deviate less than ~3 Å from the native structure and could be used to solve the crystal structures directly from the diffraction data, using the molecular replacement approach [52–54]. Another possible application is to ensure that the overall quality of the model is sufficient for the intended application and to predicting regions of lower quality for further refinement.
It should be remembered that MetaMQAP is a 'meta-server', and critically depends on the 'primary' methods for the assessment of the local quality of models. The training protocol described in this work can be extended in the future to include additional models (of different quality, similar to QA_634) and additional primary MQAP methods (and structural feature analyses) – both general ones as those that specialize in detection of very minor or very large errors, or deviations of some particular type.
Availability
We implemented MetaMQAP as a web server available for free use by all academic users at the URL
https://genesilico.pl/toolkit/
. Any user can submit a model in the Protein Data Bank (PDB) format. After assessment, the web server sends three different files by e-mail. A first file contains a simple report about whether all MQAPs used for computing MetaMQAP score were successfully executed. The second file contains raw scores of primary MQAPs and the deviation predicted by MetaMQAP for each residue, as well as a GDT_TS score predicted for the whole model. The third file contains the model PDB with the temperature (B-factor) fields replaced with the MetaMQAP scores. One option corresponds to linear scaling of values onto the range of 0.00 (predicted no deviation) and 99.99 (predicted deviation ≥ 10 Å), similar to the COLORADO3D server [
47
]. If an option of 'absolute values' was used, then raw MetaMQAP scores are reported without scaling (i.e. B-factor contains the predicted absolute per-residue deviations in Å). The results can be conveniently visualized e.g. with any macromolecular viewer that allows coloring the structure according to B-factor values (e.g. RasMol [
48
], PyMol [
49
], SwissPDBViewer [
50
] etc.). Per-residue prediction accuracy is visualized as a color in a spectrum between blue (predicted high accuracy), and red (predicted low accuracy). Figure
9
shows an example of three alternative comparative models scored with MetaMQAP, with the results visualized as temperature factors.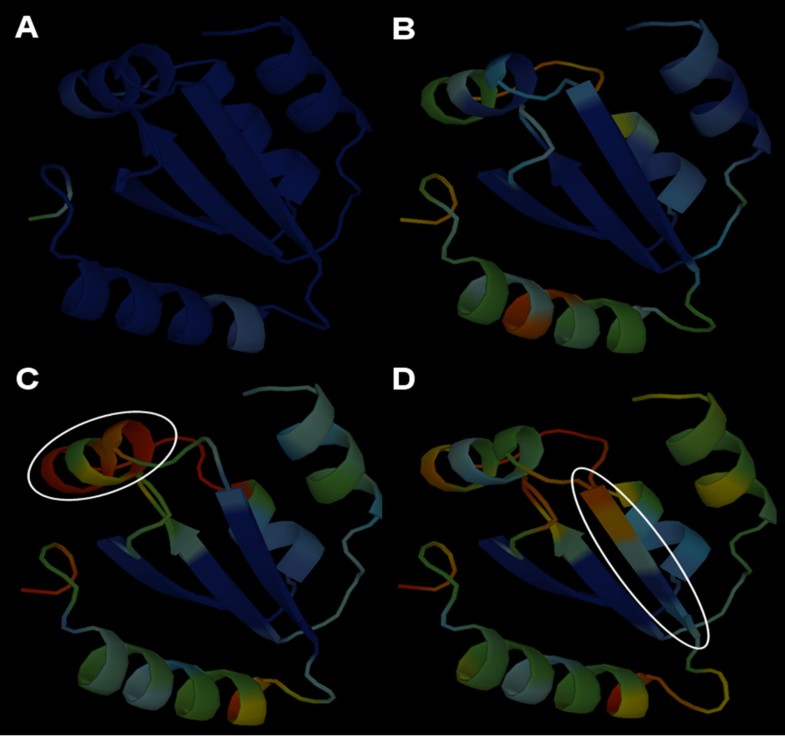 Thus far, we have used MetaMQAP in a number of modeling analyses to discriminate between alternative models and to illustrate the uncertainty of different regions in modeled proteins. Table
4
list the published modeling analyses that relied on MetaMQAP that can be used as guides or case studies for potential users.
Table 4
Published analyses describing the use of MetaMQAP prior to publication of this article.
| Protein name | Protein function | Literature reference |
| --- | --- | --- |
| MnmC | Bifunctional tRNA methyltransferase and oxidoreductase | [55] |
| R.Eco124I | Nuclease/ATPase subunit of Type I restriction-modification system | [56] |
| Bud23 | RNA methyltransferase | [57] |
| Mom | DNA modification enzyme | [58] |
| Sgm | RNA methyltransferase | [59] |
| MiaA, MiaB, MiaE | Enzymes involved in the ms2io6A biosynthesis pathway: a P-loop NTPase, a Radical SAM enzyme, and a diiron carboxylate oxidase | [60] |
| M.EcoRII | DNA methyltransferase | [61] |
| R.MvaI | Restriction endonuclease | [62] |
| I-Ssp6803I | Homing endonuclease | [63] |
| R.HphI | Restriction endonuclease | [64] |
Declarations
Acknowledgements
We are grateful to the developers of primary MQAPs, in particular those used in this work: VERIFY3D, PROSA, BALA, ANOLEA, PROVE, TUNE, REFINER, and PROQ, for making their methods available. Our method can stand only 'on their shoulders', and without them the development of MetaMQAP would not be possible. We also thank our colleagues, in particular Marcin Feder, Michal Pietal, and Maciej Fijalkowski for critical comments and useful suggestions and for their help with the installation of MetaMQAP as a publicly available server. This work was supported by the Polish Ministry of Science (grant N301 10632/3600). M.P. and J.M.B. were additionally supported by the NIH (grant 1R01 GM081680-01 to Andrzej Kloczkowski)
Authors' Affiliations
(1)
Laboratory of Bioinformatics and Protein Engineering, International Institute of Molecular and Cell Biology, Warsaw, Poland
(2)
Laboratory of Bioinformatics, Institute of Molecular Biology and Biotechnology, Faculty of Biology, Adam Mickiewicz University, Poznan, Poland
Copyright
© Pawlowski et al; licensee BioMed Central Ltd. 2008
This article is published under license to BioMed Central Ltd. This is an Open Access article distributed under the terms of the Creative Commons Attribution License (http://creativecommons.org/licenses/by/2.0), which permits unrestricted use, distribution, and reproduction in any medium, provided the original work is properly cited.