LC-MSsim – a simulation software for liquid chromatography mass spectrometry data
BMC Bioinformatics
2008
9:423
Received: 07 May 2008
Accepted: 08 October 2008
Published: 08 October 2008
Abstract
Background
Mass Spectrometry coupled to Liquid Chromatography (LC-MS) is commonly used to analyze the protein content of biological samples in large scale studies. The data resulting from an LC-MS experiment is huge, highly complex and noisy. Accordingly, it has sparked new developments in Bioinformatics, especially in the fields of algorithm development, statistics and software engineering. In a quantitative label-free mass spectrometry experiment, crucial steps are the detection of peptide features in the mass spectra and the alignment of samples by correcting for shifts in retention time. At the moment, it is difficult to compare the plethora of algorithms for these tasks. So far, curated benchmark data exists only for peptide identification algorithms but no data that represents a ground truth for the evaluation of feature detection, alignment and filtering algorithms.
Results
We present LC-MSsim, a simulation software for LC-ESI-MS experiments. It simulates ESI spectra on the MS level. It reads a list of proteins from a FASTA file and digests the protein mixture using a user-defined enzyme. The software creates an LC-MS data set using a predictor for the retention time of the peptides and a model for peak shapes and elution profiles of the mass spectral peaks. Our software also offers the possibility to add contaminants, to change the background noise level and includes a model for the detectability of peptides in mass spectra. After the simulation, LC-MSsim writes the simulated data to mzData, a public XML format. The software also stores the positions (monoisotopic m/z and retention time) and ion counts of the simulated ions in separate files.
Conclusion
LC-MSsim generates simulated LC-MS data sets and incorporates models for peak shapes and contaminations. Algorithm developers can match the results of feature detection and alignment algorithms against the simulated ion lists and meaningful error rates can be computed. We anticipate that LC-MSsim will be useful to the wider community to perform benchmark studies and comparisons between computational tools.
Keywords
Positive Predictive Value
Shot Noise
Isotopic Pattern
Isotopic Peak
Elution Peak
Background
In mass spectrometry (MS) based proteomics, proteins in a sample are digested and the resulting peptides are separated by high-performance liquid chromatography (LC) before injecting them into the mass spectrometer [1]. In this work, we focus on data from LC-MS experiments, as opposed to LC-MS/MS experiments where a fragmentation of selected sample compounds is performed to obtain ion ladders which can be used for the identification of the compound [2]. Pure LC-MS experiments do not directly give information about the sequences of the peptides in a sample but we can still use the information on the LC-MS level to perform a quantification of the sample proteins [3]. In this application, algorithms detect peptide ion signals (features) in LC-MS spectra and estimate their abundances by integrating the signal area. Different charge variants of the same peptide are summarized (deconvoluted) and the peptides are mapped back to their parent protein to obtain abundance estimates at the protein level.
Modern mass spectrometers can easily generate thousands of mass spectra in a short time. This wealth of information has sparked off the development of new, fully automated methods to analyze and process it. Fig.
1
gives an example of a generic data analysis workflow in a study using LC-MS. Stages of mass spectrometry-based proteomics in which algorithms can be applied are, among many others, low-level preprocessing such as the abovementioned feature detection and quantification [
4
–
6
], alignment and registration of LC-MS data sets [
7
–
9
] as well as the statistical evaluation [
10
] of the experiments. There also exist some software tools that offer all (or most) of these steps in one program [
11
–
14
]. For a recent review, we refer the interested reader to Müller
et al
. [
15
].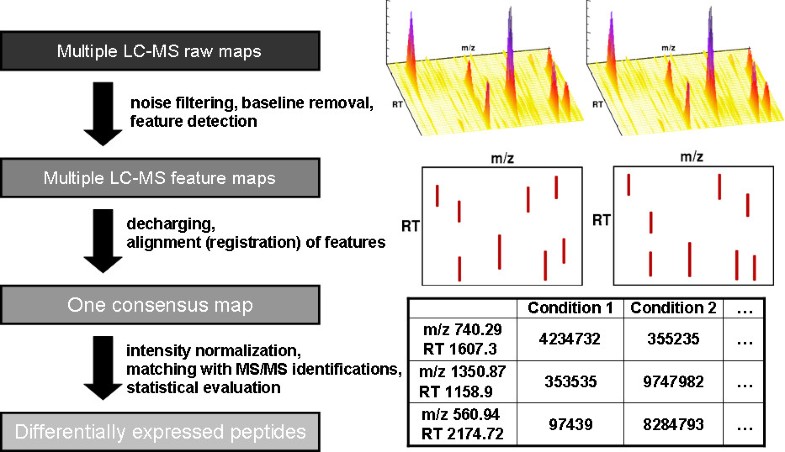 This plethora of tools is often confusing for the user who needs to decide which algorithms to apply for his data. But also developers of new algorithms need standardized benchmark data to compare their approach to existing ones. This is a difficult task, since only few quality metrics [16] and only limited benchmarks exist so far. Carefully compiled databases of annotated test data are standard in other fields such as DNA sequence [17–19] or RNA structure analysis [20]. But they are not yet available for mass spectrometry based proteomics. Only few researchers make their LC-MS data publicly available and all proteomic databases so far focus on data for the identification of peptides from MS/MS spectra [21–25] and not on broader applications such as quantitative experiments.
An ideal LC-MS data set for the evaluation of feature detection, alignment and quantification algorithms would contain annotations with the positions of all peptide ion signals, their charge states, monoisotopic masses and abundances. Only this information would allow meaningful comparisons between different methods and fair benchmark studies. Of course, this information can be partially obtained by peptide identifications using MS/MS fragmentation. Unfortunately, only a few of the peptide ions present in a sample are selected for fragmentation. Furthermore, even of those fragmented, many cannot be identified due to noise, mutations or posttranslational modifications. For these reasons, annotations by MS/MS will always be incomplete. Manual annotations by a human expert have been performed for single data sets [6] but are clearly infeasible if our aim is to generate larger benchmarks. We believe that the simulation of LC-MS spectra is a valid approach, to be supplanted by the accumulation of annotated real-word spectral databases.
In the following sections, we introduce our software LC-MSsim and describe its implementation details. We would like to emphasize that our aim was not to create a detailed physical model of mass spectra generation as, for instance, attempted in [26]. But we want to simulate data that is reasonably close to reality and provides a fair testing ground for data analysis methods. The idea of simulating ESI mass spectra to assess the performance of MS feature detection algorithms was pioneered by Wong et al. [27] who presented a straightforward model for the simulation of ESI mass spectra. They simulate spectra as mass lists derived from theoretical digests of protein sequences with normalized intensities without prediction of ion intensities, retention times or simulation of isotopic pattern. They also restrict their comparison to their own algorithm which implements a very specific task, the detection of protein-ligands and other macromolecular complexes in mass spectra. Of course, the applications of LC-MSsim are not restricted to feature detection benchmarks. The next obvious step would be to compare alignment algorithms, but even the comparison of a full quantification workflow is an interesting scenario.
To our knowledge, LC-MSsim is the first software that models the whole LC-MS data acquisition process and delivers an output (the simulated LC-MS map and the list of peptides and contaminants with m/z and retention time) that can directly be used for the assessment of proteomics algorithms. There are, of course, some programs that simulate individual parts of the LC-MS data acquisition process, such as the estimation of isotopic peak patterns [28, 29], the prediction of peptide retention times [30–34] or detectability [35, 36]. However, these tools are written in different programming languages and they have different output formats that cannot be easily combined. Therefore, to simulate a full LC-MS run, it is clearly desirable to have all of these tools combined in a single application.
Methods
LC-MSsim is written in C++ as an add-on for OpenMS [37], our software library for computational mass spectrometry. LC-MSsim uses OpenMS data structures for file reading, writing and the calculation of isotopic patterns. It is also compatible with The OpenMS Proteomics Pipeline (TOPP) [13] and can readily be integrated into its workflows. This makes it very easy to generate large numbers of simulated data sets and to pipe them directly into a TOPP data analysis pipeline. LC-MSsim is compatible with the current OpenMS release version 1.1.
Furthermore, LC-MSsim supports the TOPP INI (configuration) file format. This format is XML-based and can be edited using common XML editors or the INIFileEditor supplied with TOPP. LC-MSsim, OpenMS and TOPP are all published under the Lesser GNU Public License. The source code can be downloaded from http://sourceforge.net/projects/lcms-sim.
An artificial LC-MS data set is generated by the following steps: digestion of proteins, prediction of peptide detectability and retention time, relative abundances of charge states, modeling of isotopic and elution profiles and addition of shot noise to spectra. Key parameters that influence the outcome of the simulation are the minimum accepted peptide detectability which influences the number of theoretical peptides appearing in the LC-MS spectra, mass accuracy and resolution, as well as the Full-Width-At-Half-Maximum (FWHM) of the peptide peaks and the percentage of non-peptide contaminants added by the simulation software. In the following sections, we give an overview of all simulation steps and explain their parameters in more detail.
Results
In this section, we present exemplary applications of LC-MSsim. The advantage of our simulator is that we can generate LC-MS maps for which the exact mass, charge, retention time and bounding box of all compounds are known. The bounding box is the smallest axis-parallel rectangle that fully encloses the raw data points constituting the peptide feature. We can also deliberately introduce noise or change instrument parameters such as resolution or chromatographic behavior. This allows scientists to perform fine grained comparisons of LC-MS data analysis algorithms.
We decided to focus on peptide feature detection algorithms and compare the algorithms msInspect [11], Superhirn [15], SpecArray [56], MZmine [12] and Decon2LS [57]. Decon2LS is an implementation of the THRASH algorithm [58]. We also report on results for the algorithm implemented in OpenMS [4]. This is for reference only, since we use some of the simulation models in our feature detection algorithm as well, which would make benchmarking of the OpenMS algorithm biased.
The algorithms we compared differ heavily in the type and number of parameters they accept. Some require only m/z and retention time range in which to search for features, others require lots of parameters such as confidence cutoffs, bin width or minimum signal-to-noise levels, to name just a few. Parameters are also not always well documented. To achieve a comparison as fair and unbiased as possible, we chose for each algorithms settings that seemed suitable for each simulation run (such as mass resolution and m/z range), but apart from that we decided to stick with the standard parameters and not to further optimize.
Discussion
LC-MSsim simulates mass spectrometry experiments with a wide range of instrument settings and column performances. There are some ways this software could be improved. To give an example, we trained our SVM predictor for the detectability of peptides on data obtained from MS/MS identifications. That is, our model actually predicts whether a peptide is detected and identified using MS/MS. But we use it to predict whether a peptide occurs at all in an LC-MS data set or not. This is clearly a less stringent criterion since not all peptides visible in a mass spectrum will be identified by MS/MS.
It would also be interesting to test another important class of LC-MS data analysis algorithms, namely alignment methods. There is a similar diversity of approaches [62] as for feature detection algorithms and it would be highly beneficial to the computational proteomics community to know about their individual strengths and weaknesses. The next step, as already mentioned in the introduction, would be to test full data analysis pipelines for accuracy of quantification, robustness in the presence of noise and contaminants, etc. Obviously, finding good parameters for each and every pipeline will become even more difficult than it was already in this smaller study. It might be a good idea to compile a benchmark data set consisting of some real and manually annotated LC-MS runs, complemented by a large number of simulated runs. This would be an ideal testing ground for the proteomics community to compare and assess different analysis methods.
To summarize, our aim was not to develop a simulation capturing all physical aspects of an LC-MS experiment. This is hard since not all these aspects are entirely understood. But our aim was to develop a tool which yields benchmark data that are sufficiently close to reality. Furthermore, we tried to keep the source code as modular as possible such that the community can adopt it or add new ideas and simulation models.
Conclusion
We presented LC-MSsim, a simulation software for LC-ESI-MS spectra. Our software contains predictors for peptide retention time and detectability as well as models for charge distribution, peak shapes and isotopic intensity distributions. It has already proved to be valuable for in-house studies and we make it publicly available in the hope that it will be useful to the wider community.
LC-MSsim is implemented as an add-on to the OpenMS C++ software library and available for free under an open source license (LGPL). Both OpenMS and LC-MSsim can be downloaded from the sourceforge software repository. From a software engineering point of view, LC-MSsim is an example how mass spectrometry-related software can easily be built using the OpenMS library.
In this work, we demonstrated the versatility of LC-MSsim for the benchmarking of peptide feature detection algorithms. This is a difficult task on real LC-MS data since there is no clearly defined ground truth in this case. We were able to probe the capabilities of currently available algorithms to a deeper extent than previously possible.
Availability and Requirements
List of abbreviations used
FDR:

False-Discovery-Rate
FWHM:

Full-Width-At-Half-Maximum
LC-MS:

Liquid Chromatography coupled to Mass Spectrometry
LGPL:

Lesser GNU Public License. Available at http://www.gnu.org/licenses/lgpl.html
libSVM:

An integrated software for support vector classification, available at http://www.csie.ntu.edu.tw/~cjlin/libsvm/
MudPIT:

Multidimensional Protein Identification Technology, it combines 2D chromatography, i.e. two coupled columns, with a mass spectrometer
POBK:

Paired Oligo-Border Kernel
SVM:

Support Vector Machine
TPR:

True Positive Rate.
Declarations
Acknowledgements
O.S.-T. acknowledges funding by the International Max Planck Research School for Computational Biology and Scientific Computing (IMPRS-CBSC) and by a grant of the German Federal Ministry for Education and Research (BMBF), grant no. 031369C.
We thank Parag Mallick (UC Los Angeles) for providing us with the data sets for peptide detectability prediction. We also thank Alexander Haupt who implemented a preliminary version of the simulator and Marcel Grunert who implemented the peak elution profiles. Many other researchers and students in Berlin, Saarbrücken and Tübingen contributed to the OpenMS software library of which we made heavy use in this work. We also thank the anonymous reviewers who helped to improve this manuscript.
Authors' Affiliations
(1)
International Max Planck Research School for Computational Biology and Scientific Computing, Berlin, Germany
(2)
Department Computer Science and Mathematics, Free University of Berlin, Berlin, Germany
(3)
Wilhelm Schickard Institute for Computer Science, Tübingen University, Tübingen, Germany
Copyright
© Schulz-Trieglaff et al; licensee BioMed Central Ltd. 2008
This article is published under license to BioMed Central Ltd. This is an Open Access article distributed under the terms of the Creative Commons Attribution License (http://creativecommons.org/licenses/by/2.0), which permits unrestricted use, distribution, and reproduction in any medium, provided the original work is properly cited.