Research article
Open Access
Metabolome searcher: a high throughput tool for metabolite identification and metabolic pathway mapping directly from mass spectrometry and using genome restriction
BMC Bioinformatics
2015
16:62
Received: 4 August 2014
Accepted: 13 January 2015
Published: 25 February 2015
Abstract
Background
Mass spectrometric analysis of microbial metabolism provides a long list of possible compounds. Restricting the identification of the possible compounds to those produced by the specific organism would benefit the identification process. Currently, identification of mass spectrometry (MS) data is commonly done using empirically derived compound databases. Unfortunately, most databases contain relatively few compounds, leaving long lists of unidentified molecules. Incorporating genome-encoded metabolism enables MS output identification that may not be included in databases. Using an organism's genome as a database restricts metabolite identification to only those compounds that the organism can produce.
Results
To address the challenge of metabolomic analysis from MS data, a web-based application to directly search genome-constructed metabolic databases was developed. The user query returns a genome-restricted list of possible compound identifications along with the putative metabolic pathways based on the name, formula, SMILES structure, and the compound mass as defined by the user. Multiple queries can be done simultaneously by submitting a text file created by the user or obtained from the MS analysis software. The user can also provide parameters specific to the experiment's MS analysis conditions, such as mass deviation, adducts, and detection mode during the query so as to provide additional levels of evidence to produce the tentative identification. The query results are provided as an HTML page and downloadable text file of possible compounds that are restricted to a specific genome. Hyperlinks provided in the HTML file connect the user to the curated metabolic databases housed in ProCyc, a Pathway Tools platform, as well as the KEGG Pathway database for visualization and metabolic pathway analysis.
Conclusions
Metabolome Searcher, a web-based tool, facilitates putative compound identification of MS output based on genome-restricted metabolic capability. This enables researchers to rapidly extend the possible identifications of large data sets for metabolites that are not in compound databases. Putative compound names with their associated metabolic pathways from metabolomics data sets are returned to the user for additional biological interpretation and visualization. This novel approach enables compound identification by restricting the possible masses to those encoded in the genome.
Keywords
Metabolic NetworkText FileCompound IdentificationQuery TypeMonoisotopic Masse
Background
Bacterial metabolism impacts almost every aspect of our life. Microbial metabolism was exploited by early human civilization to create fermented foods and beverages [1,2]. The oldest known metabolically derived products from microbes include bread, cured meats, cheese, and beer [2-4]. Currently, metabolic engineering for the production of pharmaceuticals and bioactive compounds is giving way to discovery of novel metabolic pathways for production of alternative fuels [5-7]. Burgeoning needs to produce novel antibiotics for disease treatment and health supplements, such as amino-sugars and vitamins, also represent the metabolic end products that are genome encoded of an organism [8-11].
The virulence of bacterial pathogens is closely linked to their metabolism during infection, which is leading to metabolomic disease biomarkers that is pushing the boundaries of robust methods to quickly identify high throughput metabolomic data [12,13]. Cumulatively, the unusual metabolic networks of organisms in ecological niches are renewing interests in metabolites that highlight the lack of high throughput analysis tools for rapid compound identification when the compound is not included in a database. Unfortunately, rapid identification of multiple metabolites simultaneously is also lacking. However, if one considers an organism's genome to be a database of possible metabolic pathways and metabolite production, it enables customization of MS output analysis based on a specific organism. Approaching the genome as a metabolite database is being done using metabolic reconstruction methods in KEGG and Pathway Tools.
The metabolism of an organism changes during growth, survival, and persistence via complex gene expression changes. In many cases, metabolism begins with the transport of chemically diverse molecules for integration into biologically functional blocks. An organism's metabolic capability can be envisaged as a highly interconnected network of enzymatic reactions that provide energy, intermediates for macromolecular biosynthesis, cellular signaling, regulation of stress, and control of oxidation/reduction to ensure growth or survival [14]. Highly tuned regulatory mechanisms to modulate the metabolic network via gene expression and enzyme attenuation are needed to quickly adapt to local environmental changes. Evolution of genetic control and gene acquisition are critical to ensure the organism's survival in the near- and long-term [15]. Adaptation and genetic evolution results in new metabolic nodes in the interconnected network that modifies the intermediate and end product metabolism [14,16]. Of recent interests, metabolic engineering is largely dependent on understanding the metabolic network to regulate production of specific low molecular weight end products that often accumulate.
Low molecular weight metabolites, usually <1,000 Da (small molecules; Table
1
), including sugars, lipids, fatty acids, amino acids, nucleotides, vitamins, and co-factors are usually the targets of metabolomics, which have bioactivity and lead to biomarker profiles (
www.metacyc.org
; [
17
]). An organism's metabolic demands are met by catabolism of complex macromolecules to the constituent small molecules (e.g. polysaccharides to sugars) or digestion of the molecules themselves (e.g. vitamins and amino acids) to end products. The products of catabolism are reassembled through anabolic pathways into macromolecules of the organism to derive energy, oxidation/reduction regulation, pH control, and to maintain membrane potential that fuels transport functions. During growth catabolic and anabolic processes are regulated both genetically and biochemically to maintain a balance between growth and survival [
18
,
19
]. All of these activities are encoded in the genome, which provides an inherent genetic database of the possible metabolic compounds that an organism can produce during changing growth conditions.
Table 1
Metabolite distribution by molecular mass across metabolic encyclopaedias
| Molecular weight range (Da) | Number of compounds in Metacyc | Number of compounds in KEGG |
| --- | --- | --- |
| 50-99 | 254 | 267 |
| 100-199 | 1,731 | 2,402 |
| 200-299 | 1,050 | 2,614 |
| 300-399 | 842 | 2,575 |
| 400-499 | 461 | 1,150 |
| 500-599 | 311 | 719 |
| 600-699 | 169 | 337 |
| 700-799 | 199 | 201 |
| 800-899 | 198 | 232 |
| 900-999 | 133 | 160 |
| >1,000 | 119 | 224 |
| Total | 5,467 | 10,881 |
Metabolomics aspires to identify all the metabolites produced by an organism [20,21]. However, large data sets, limited identification databases, and limited MS parameters to differentiate small molecules are stumbling blocks for metabolomic analysis, which in turn limits the subsequent bioinformatic analysis and construction of biologically informative models [16,21]. Currently, NMR is of limited use for high throughput small molecule identification due to the lack of sensitivity and limited throughput, but is useful to elucidate the structures of unique metabolites [22,23]. However, NMR is very useful to track the metabolic fate of a small molecule with isotope labels, which provides information for a handful of metabolites once the entire compound list is narrowed to a specific set of metabolic intermediates [18]. Other post-separation detection techniques like photometric, electrochemical, and fluorescent detection are actively used to identify specific metabolites at a substantially reduced analytical scale, but the need to identify the set of compounds produced is overwhelmingly changing the goals of metabolite analysis [24-26]. Conversely, MS analysis, in addition to metabolic tracking estimates the masses of hundreds to thousands of small molecules within minutes and provides information on their relative levels in the sample [27-29], making it very useful for high throughput metabolome analysis. However, it lacks specific information as to the identity of the small molecules, which highlights the need to have curated databases for compound identification [21].
One approach to overcome the need to identify important molecules uses principal component analysis (PCA) to find changes with a specific treatment. From MS data acquisition this produces a reduced list of small molecules that are tagged as biomarkers [30,31]. Often the diagnostic peak is an unknown compound that is difficult to identify. Subsequently, more complex chemical analysis is used to determine the elemental composition of these biomarkers, which requires additional time, expertise, and often multiple instrumentation capabilities [32,33]. Biomarker identities are subsequently validated by standard compound injection to produce a compound library [22]. While this statistics-driven analytical approach favors method development for MS it ignores the underlying biochemistry and the importance of relatively minor changes of small molecules that can sometimes lead to misinterpretation of the biological impact with new small molecule production. This is especially prevalent for key metabolite classes like hormones, vitamins, and enzyme co-factors where small changes regulate large scale proteomic and metabolic fluctuations [23]. One way to overcome this limitation is to use tools that include all possible putative compounds generated directly from matched compound identities prior to statistical analysis. Subsequently, a significant list of putative compounds can be used for metabolic mapping to facilitate biological identity by linking compound identities to metabolic pathways and routes. Feist et al. [24] review the reconstruction approach with specific attention to metabolite identification.
Unfortunately, metabolite identification from hundreds to thousands of masses by searching a large compound database is a slow process that is ill defined relative to the specific search criteria that provides confident compounds assignments. GC-MS analysis often identifies compounds by comparison of MS spectra with large, well-established compound libraries (www.nist.gov). Such compound libraries for LC-MS analysis are available for only a small set of masses and are tightly linked to the LC conditions. Large compound databases such as Pubchem (http://pubchem.ncbi.nlm.nih.gov) and Chemspider (http://www.chemspider.com) allow searches of single masses and other query types, but they do not allow queries from large lists of masses or connect putative compounds to metabolic pathways. However, as the query list expands, as it does in metabolome data sets, data analysis using single queries becomes unrealistic for a timely and accurate analysis.
Multiple software suites are available for compound identification of mass spectrometry-based metabolite data that use mass spectral deconvolution and matching to reference databases. Some examples of full-fledged independent platforms are MetSign [25], MZmine 2 [26], MAVEN [27], and XCMS2 [28], whereas MS Excel templates such as IDEOM [29], R packages like AStream [30] and MAIT [31], and web-applications like METLIN [32], XCMS Online [33], and MZedDB [34] are also available as web services. These tools offer either statistical or structural analyses of small molecule MS data and extract information from metabolic databases to create a list of compounds for their own localized database. For example, MetSign's compound database is formed from the cumulative compound collection of KEGG, HMDB, and LIPIDMAPS databases, MZmine 2′s collection is from KEGG [35], HMP, and Pubchem compound, MAVEN uses KEGG, whereas MAIT, IDEOM and ASTREAM use unspecified databases. However, downstream of compound identification, they ignore the underlying biology and do not offer a mechanism to map the data back to the metabolic pathways. Further, they lack the flexibility of implementing user-defined parameters for database searches, as for example, electrospray ionization (ESI) parameters that are predefined in METLIN and MZedDB [34].
Querying large compound databases that contain millions of non-biological molecules can impede a researcher's ability to overlay a metabolic context onto metabolomic data [36]. Biologists are producing data at rates that outstrip the ability of analysts to examine the data set to uncover the biological importance. To keep pace with metabolome analysis, high throughput bioinformatic tools that bring compound identity and pathway relevance together to the biologist are crucial. This can be accomplished with: a) automated searches of metabolic databases to retrieve putative compound identification, b) large scale queries be performed seamlessly with MS output, c) provide users the flexibility of using multiple query types, and d) map query results to metabolic pathways, hence allowing data to be analyzed in a biological context.
The availability of over 1,000 annotated microbial genome sequences enables bioinformatic reconstruction (biocyc.org) of an organism's metabolic capability via the genome, which provides a broad network of metabolism that can be used to predict small molecule production [27,28]. Consequently, recent efforts have focused on uncovering the metabolic networks in many different biological systems [19,37]. Genome reconstructions of the metabolic pathways coupled to analytical methods, such as liquid chromatography (LC), gas chromatography (GC) and capillary electrophoresis with nuclear magnetic resonance spectroscopy (NMR) and mass spectrometry (MS) produces a new method to leverage genomic sequence to provide putative compound identification quickly [27,38].
In this study, a user-friendly web-based application called Metabolome Searcher to retrieve a list of small molecules identifications based on chemical formula, SMILES structure, and the monoisotopic mass was created using an organism's genome as a putative compound database. While single queries can be directly entered multiple queries with one or more query types can also be done using a text file containing the query list. One or more reference databases can be selected from the list against which the queries are performed. The output connects small molecules in a sample to metabolic databases via embedded links to specific metabolic pathways. The Metabolome Searcher's output allows researchers using metabolome data from different technologies to group the compound identifications into metabolic information so as to uncover the relevant biological function with multiple chemical criteria.
Results and discussion
Metabolomic assessment provides a list of compounds that facilitates the estimation of metabolic flux through both single pathways and networks [41,42]. Metabolome analysis enables determination of abiotic conditions and genetic regulation of metabolic networks. To achieve these purposes a tool that rapidly determines the compound identity, pathways, and metabolic networks was needed [43,44]. The tool accepts queries from common data types and facilitates data integration from independent sources into a unified compound identification and pathway-mapping scheme. To our knowledge such a tool is not available. The Metabolome Searcher addresses these purposes by receiving input from the user, querying the user-selected metabolic reference database(s), and displaying the generated output for further biological interpretation (Figure 3).
Of the Metabolome Searcher's outputs, the compounds file is useful when the user plans to conduct compound classification, data clustering, principal component analysis, analysis of variance, or graphical visualization. The pathways file allows the users to sort the data by pathways and facilitates interpretation of metabolic flux and pathway connections to determine if a compound is an intermediate or an end product. The main feature of the HTML output is that it lists and links compounds to all metabolic pathways in which the metabolite is involved (Figure 3). These links help the user understand the role of that particular metabolite in the organism's metabolic network. The user can click on any one of these links that will navigate them to the PGDBs curated and hosted at ProCyc. The user need not repeat queries on the Metabolome Searcher as the HTML file contains the links to the pathways associated with the returned putative compound IDs. To facilitate obtaining the standard chemicals for verification of retention times, CAS IDs of compounds (where available) are also included in a separate column in the output file.
Verification
For names, formulae, and SMILES structures, any partial matches will also be detected and listed. For example, a query of the word string "glucose" against the MetaCyc database will identify D-glucose and an additional 52 hits (data not shown) that also include alpha-methyl-glucose, NDP-Glucoses, and all other molecules that contain the substring "glucose" in the name. String matching offers the user the ability to obtain partial matches and allows additional control over the query specificity and flexibility for unknown pathways. In most cases, if the specific MetaCyc compound names are used, the results will be restricted to one hit. Searching of word strings was implemented in order that even if other data sources such as GC-MS and LC-MS/MS were provided after identification using other software suites, or even data from standard GC or HPLC analyses based on extractions and retention times under certain conditions was provided, the data can be mapped to metabolites and pathways.
Compound identification from LC-MS or NMR spectrometry data has proven to be a challenge to biologists because the compound databases are limited, especially with respect to the compounds that a specific organism can produce. Based on the user selection of MRDB(s) in Metabolome Searcher, the number of hits is refined and is metabolically relevant to the organism under study, which provides a basis for biological conclusions to be drawn. As an example of the convenience provided by Metabolome Searcher by implementing genome restriction, we initially queried the MetaCyc MRDB with the monoisotopic mass of isocitrate as the search query and used the results for further narrowing the hits by querying organism-specific MRDBs. These genome-restricted results were compared to those hits obtained by querying the monoisotopic mass of isocitrate using Chemspider (Figure
4
). The ChemSpider query returned 118 possible compound identifications that included non-biological compounds and required extensive analysis outside the query system to derive possible identifications whereas querying the MetaCyc MRDB provided hits that included 10 compounds with similar monoisotopic masses to that of isocitrate. Each genome (i.e. organism) further reduced the hits to 2–5 compounds that reflected the genetic differences in metabolism, all of which were related to citrate. Combining genome restriction with the MS compound list refined the possible identification list to a low number of compounds that was reasonable for empirical confirmation.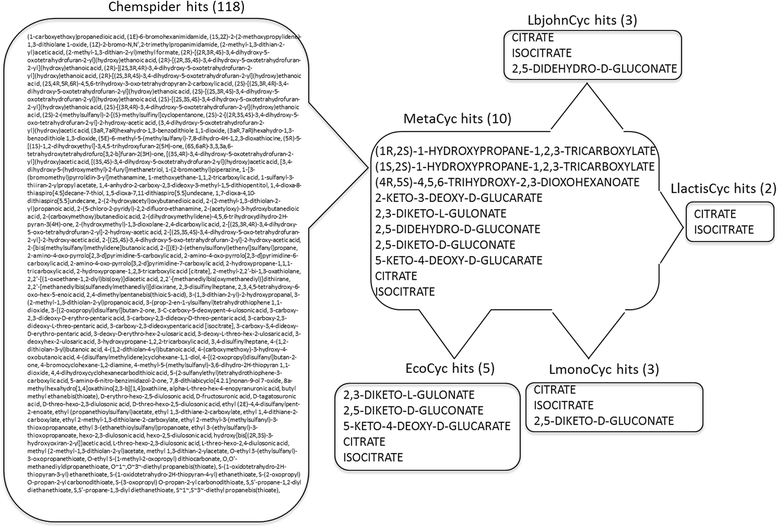 The interface and search function were verified by accessing the database search function using known exact masses and a data set generated from a known mixture of compounds (i.e. a chemically defined bacterial growth medium) from LC-MS output. The resulting markers exported into a MarkerLynx format text file was used to query the compound identification using Metabolome Searcher. All the main ingredients of the growth medium represented in the MetaCyc MRDB were detected during the search (Table
3
). MOPS, a buffering salt, was used as a negative control for the chemical challenge, which was done by excluding it from the MetaCyc MRDB. Interestingly, after excluding MOPS, some of the query masses also matched multiple metabolites, many of which were isomeric forms of the metabolites being tested. This allowed further restriction of identification to narrower ranges of mass deviation to obtain better accuracy. However, in nearly 90% of compounds identified the number of hits was limited to <5 metabolites, thus aiding the directed development of protocols for further compound identification. This approach enabled detection of common starting substrates for metabolism and verified that if the compound was in the database, Metabolome Searcher found it.
Table 3
Summary of hits to selected compounds from a chemically defined growth medium determined from a query of monoisotopic masses using the Metabolome Searcher
| Compound | Detected by mass match | Number of additional hits* | Number of non-isomeric additional hits* |
| --- | --- | --- | --- |
| Tyrosine | Yes | 29 | 25 |
| Pyridoxamine | Yes | 0 | 0 |
| Lysine | Yes | 4 | 1 |
| Thymidine | Yes | 0 | 0 |
| Pyridoxal | Yes | 8 | 5 |
| Glycine | Yes | 1 | 0 |
| Dihydrouracil | Yes | 4 | 0 |
| Arginine | Yes | 2 | 1 |
| Threonine | Yes | 7 | 0 |
| Alanine | Yes | 5 | 0 |
| Serine | Yes | 1 | 0 |
| Asparagine | Yes | 5 | 0 |
| Histidine | Yes | 3 | 1 |
| Tryptophan | Yes | 2 | 1 |
| Aspartate | Yes | 2 | 0 |
| Glutamate | Yes | 6 | 0 |
| Guanosine | Yes | 0 | 0 |
Uses of metabolome searcher
An example demonstration of the Metabolome Searcher for microbial metabolomics was by collecting metabolomics profiles for both sterile chemically defined media and spent media collected after inoculation with the bacterium
Lactococcus lactis
IL1403 for 16 h. Metabolomics profiles were collected by LC-MS analysis in both positive and negative electrospray modes for the same samples and the masses obtained from MarkerLynx were queried against the
L. lactis
IL1403 MRDB (Table
2
). After overlaying the compound identifications we quickly inferred changes in compound classes, such as amino acids (Figure
5
), by sorting the compounds file, or pathways file that changed during growth of
L. lactis
IL1403 (Figure
5
). This example demonstrated that Metabolome Searcher performed the intended search and enabled the biological meaning to rapidly assign the identified compounds using constructed databases from metabolic reconstruction maps.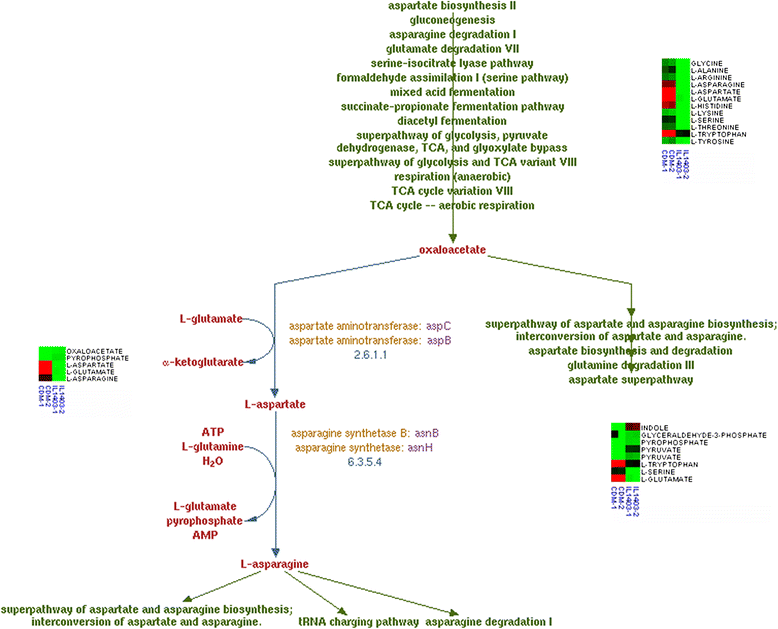 Conclusions
The Metabolome Searcher provides an automated tool to identify metabolites from MS analyses from metabolic reconstruction of specific genomes. This approach couples long lists of masses to specific genomic-based metabolites for identification and subsequent visualization via metabolic pathways. The tool is flexible so that query types can use many types of data that include names, molecular formulae, or SMILES structures, and monoisotopic masses that are entered singly or in bulk as a text file. The matches to queries are then presented as results along with other input parameters that the user included in the query and the pathways in which the matched metabolites are involved. The versatility of accepted query types and the provision of pathways mapped to queries are unique to the Metabolome Searcher. The Metabolome Searcher's utility and flexibility facilitates rapid advances from metabolomics to biological comprehension.
Declarations
Acknowledgements
Funding for this project was provided by a grant from USDA CSREES 2006-34526-17001 to BCW. Contribution Number 8121of the Utah Agricultural Experimental Station.
Authors' Affiliations
(1)
Center for Integrated BioSystems, Computer Science Department, Utah State University, Logan, USA
(2)
Western Dairy Center, Department of Nutrition, Dietetics, and Food Sciences, Utah State University, Logan, USA
(3)
University of California, Davis, School of Veterinary Medicine, Davis, USA
(4)
Linda Crnic Institute for Down Syndrome, Department of Pediatrics, School of Medicine, University of Colorado Denver, Aurora, USA
(5)
Spillman Technologies, Salt Lake City, USA
Copyright
© Dhanasekaran et al.; licensee BioMed Central. 2015
This is an Open Access article distributed under the terms of the Creative Commons Attribution License (http://creativecommons.org/licenses/by/4.0), which permits unrestricted use, distribution, and reproduction in any medium, provided the original work is properly credited. The Creative Commons Public Domain Dedication waiver (http://creativecommons.org/publicdomain/zero/1.0/) applies to the data made available in this article, unless otherwise stated.