Methodology article
Open Access
Inferring bona fide transfrags in RNA-Seq derived-transcriptome assemblies of non-model organisms
BMC Bioinformatics
2015
16:58
Received: 30 June 2014
Accepted: 6 February 2015
Published: 21 February 2015
Abstract
Background
De novo transcriptome assembly of short transcribed fragments (transfrags) produced from sequencing-by-synthesis technologies often results in redundant datasets with differing levels of unassembled, partially assembled or mis-assembled transcripts. Post-assembly processing intended to reduce redundancy typically involves reassembly or clustering of assembled sequences. However, these approaches are mostly based on common word heuristics and often create clusters of biologically unrelated sequences, resulting in loss of unique transfrags annotations and propagation of mis-assemblies.
Results
Here, we propose a structured framework that consists of a few steps in pipeline architecture for Inferring Functionally Relevant Assembly-derived Transcripts (IFRAT). IFRAT combines 1) removal of identical subsequences, 2) error tolerant CDS prediction, 3) identification of coding potential, and 4) complements BLAST with a multiple domain architecture annotation that reduces non-specific domain annotation. We demonstrate that independent of the assembler, IFRAT selects bona fide transfrags (with CDS and coding potential) from the transcriptome assembly of a model organism without relying on post-assembly clustering or reassembly. The robustness of IFRAT is inferred on RNA-Seq data of Neurospora crassa assembled using de Bruijn graph-based assemblers, in single (Trinity and Oases-25) and multiple (Oases-Merge and additive or pooled) k-mer modes. Single k-mer assemblies contained fewer transfrags compared to the multiple k-mer assemblies. However, Trinity identified a comparable number of predicted coding sequence and gene loci to Oases pooled assembly. IFRAT selects bona fide transfrags representing over 94% of cumulative BLAST-derived functional annotations of the unfiltered assemblies. Between 4-6% are lost when orphan transfrags are excluded and this represents only a tiny fraction of annotation derived from functional transference by sequence similarity. The median length of bona fide transfrags ranged from 1.5kb (Trinity) to 2kb (Oases), which is consistent with the average coding sequence length in fungi. The fraction of transfrags that could be associated with gene ontology terms ranged from 33-50%, which is also high for domain based annotation. We showed that unselected transfrags were mostly truncated and represent sequences from intronic, untranslated (5′ and 3′) regions and non-coding gene loci.
Conclusions
IFRAT simplifies post-assembly processing providing a reference transcriptome enriched with functionally relevant assembly-derived transcripts for non-model organism.
Keywords
Transcriptome reconstructionTransfragsCoding potentialMultiple domainAnnotation
Background
Whole transcriptome analysis using next generation sequencing (NGS) or sequencing-by-synthesis (SBS) technologies offers the possibility of interrogating genes and their expression en masse without knowledge of their underlying genomes. Transcriptome sequencing is often preferred over genome sequencing because of the reduced size of the sequence target space and the high functional information content [1,2]. However, sequences generated from NGS platforms are often too short to represent entire protein-coding transcripts, and genomes for reference-guided transcriptome reconstruction are rare. De Bruijn graph assemblers allow de novo assembly of transcripts but represent only approximate computational solutions [3]. The final assembly is one of many possibilities for which there is no universally accepted heuristic verification method; it is often highly redundant and contains mis-assemblies that are difficult to identify [4]. Post-assembly processing intended to reduce redundancy typically involves reassembly or clustering of assembled sequences. This however may lead to propagation of mis-assemblies [5] and assignment of sequences to unrelated gene clusters, resulting in loss of unique annotations [6].
The main objective of transcriptome SBS is to ascribe functional labels to assembled transcribed fragments (transfrags). This is usually done via significant sequence similarity [7] or domain signature annotations [8]. Similarity-based approaches predominantly rely on transfer of functional labels of the best BLAST hits to the sequence in question [7,9,10]. However, low BLAST annotation coverage is often observed, in particularly in transcriptomes of non-model organisms [11,12]. The implementation of significant BLAST hit as a proxy for functional annotation has further limitations: sequences that produce significant similarity may be functionally unrelated due to divergence [13], low complexity sequences may produce high-scoring hits but have no biological relationships [14], and functional homologs may lack sequence similarity [15]. Consequently, a first large-scale assessment of protein function shows that BLAST alone is often ineffective at predicting functional labels [16]. Domain-based annotation methods (e.g. InterProScan) appreciate only presence or absence of domains. Given that domains seldom function in isolation [17], a reliable approach should involve a method that recognises the overall domain co-occurrence architecture of the sequences under examination. Prerequisite for domain-based annotation is a reliable protein prediction method that tolerates sequencing errors and frame shifts.
Here, we introduce IFRAT, which allows for selection and annotation of functionally relevant transfrags (
bona fide
) without clustering. This is achieved through 1) removal of identical subsequences, 2) error tolerant CDS prediction, 3) identification of coding potential, and 4) complementation of BLAST with a multiple domain architecture annotation (see Figure
1
). The effectiveness and versatility of this approach is shown on published datasets from non-model organisms.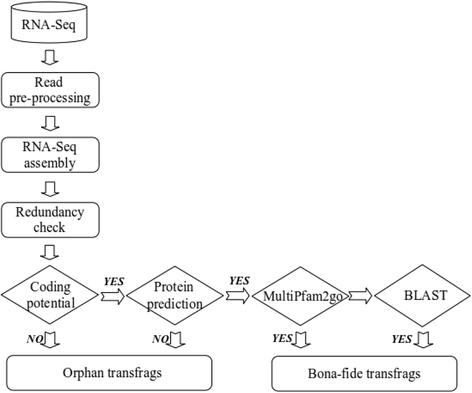 Discussion
Single k-mer assemblies of transcriptomes are considered incomplete because a short k-mer result in a highly diverse but also fragmented and redundant assembly, while a long k-mer provides a more contiguous assembly but misses poorly expressed transcripts [40]. To account for this problem the multiple k-mer transcriptome assembly approach was introduced [28,41]. However, the number of sequences generated in this way exceeds by far the number of protein coding genes likely to exist in the respective organism [42], making identification of genuine transfrags a major challenge for downstream analysis. To reduce redundancy, clustering or merging methods are currently being applied [4,27,43]. Yet, these methods rely on common word heuristics, ignoring the biological nature of assembled transcripts [44]. Therefore, reference-free clustering tends to mis-assign transfrags to biologically unrelated clusters [45] which leads to loss of unique functional annotations [6] and creation of chimeric transcripts [5].
Here, we propose IFRAT, a workflow that allows selection of unique bona fide transfrags (with CDS and coding potential) without clustering; and introduce domain co-occurrence analysis as means of tranfsrag assembly verification. IFRAT filters unique transfrags by removing exact duplicates, including identical forward and reverse nucleotide subsequences. IFRAT filtering removes slightly more transfrags than CD-HIT-EST at 100% identity because this program does not properly process transfrags containing N's (author's personal communication). Our results suggest that single k-mer assemblies may not need this filtering step since the proportion of redundant transfrags in the Trinity and Oases-25 datasets were only about 1%. In contrast, redundancy filtering is particularly important in multiple k-mer assemblies, considering that nearly half the transfrags in the Oases-M and Oases-P datasets were exact copies or substrings of other transfrags. It is unknown at what percent identity clustering results in significant loss of unique functional annotations. However, as suggested by our analysis, clustering without biological insight should be handled with caution because at 99% identity a significant subset of potentially unique transfrags is removed by CD-HIT-EST.
After filtering, IFRAT classifies the sequences into bona fide and orphan transfrags based on CDS prediction and coding potential. Our subsequent BLAST analysis corroborated this categorization, since 70-80% of bona fide transfrags had significant BLAST matches while this was true for only 1-6% of orphan tranfrags. We note that the median length of bona fide transfrags ranged from 1.5kb (Trinity) to 2kb (Oases), which is consistent with the average coding sequence length in fungi [46] while most of the orphan transfrags were short (med. 147-198 bp). However, our results confirmed previous findings that length is not the only indicator of coding potential [47] and 'non-blastable' transfrags [20], since 6-26% of the orphan transfrags with BLAST matches were less than 200 bp long.
All four assembly methods produced high quality datasets, as 76-90% of the transfrags mapped to the genome and the predicted CDS of N. crassa at high identity and coverage. Bona fide transfrags represented approximately 73% of the 10,785 known gene loci in the N. crassa genome. In addition, they indicated the existence of 715-1168 unknown potentially coding gene locations. Orphan transfrags also mapped to known gene locations, but most of these locations were represented by longer bona fide transfrags. These orphan transfrags may represent biologically interesting data, such as truncated assemblies (e.g. rare exons, poorly expressed genes, transcript with under-sampled regions), or immature mRNA with intronic regions and long UTRs for which coding potential could not be predicted [20,48,49]. Orphan transfrags that mapped to non-coding regions of the genomes represented ribosomal and non-coding RNA [50], and may be of interest. In any case, it is advisable to verify the correct assembly of orphan transfrags and remove mis-assemblies using a suitable reference dataset, such as a reference genome or EST collection. We integrated multi-domain co-occurrence architecture [33] to complement BLAST annotation. This avoids non-specific annotation of promiscuous domains resulting from truncated transfrags. Between 44% and 50% of the bona fide tranfrag peptides from N. crassa were assigned at least one GO term. Using IFRAT, we improved annotation coverage of published transcriptome datasets from non-model organisms. The choice of database and to a larger extend the coverage filter threshold accounts for small differences in the number of BLAST hits between bona fide transfrags and unfiltered assemblies. We attribute this high annotation coverage to the error tolerant CDS prediction [31] and selection of longer proteins with coding potential by IFRAT.
IFRAT is able to select bona fide transfrags irrespective of the assembler or assembly method used. Profound differences between transcriptome assemblers and assembly methods have been elaborately dealt with elsewhere [4,41,51,52]. We note however that Trinity performed very similar to Oases-P in identifying CDS and known gene loci, requiring substantially less computational resources. Other technical limitations, such as runtime and data-size, may influence the choice of one assembler over the other [53]. Since many more transfrags were produced by the multiple k-mer assemblies that identified a comparable number of gene loci, they may be suitable for studies with interest on splice variants.
Conclusion
We have proposed a framework for post-assembly analysis of transcriptome assembly that is flexible enough to accommodate sequencing error and frame-shifts and that does not rely on the availability of a reference genome. Through this, a catalogue of reliable protein coding transfrags is established that represents a reference transcriptome. The method described herein is potentially applicable not only to assemblies of transcribed fragments generated with Trinity or Oases but also to assemblies produced by de Bruijn graph assemblers where no reliable sequenced genome is available, as demonstrated with the published datasets. Our framework performs well in segregating functionally relevant transcripts. We note that the main challenge remains the quality of assembly-derived-transcripts, which is undermined by incorporation of non-coding fragments that reduces the coding potential signal. One possible avenue for improvement is to screen RNA-seq reads for non-coding transcribed fragments prior to de novo assembly.
Declarations
Acknowledgement
This work was supported by the South African Research Chairs Initiative of the Department of Science and Technology and National Research Foundation of South Africa. We are thankful to Dr. Kristoffer Forslund from the European Molecular Biology Laboratory, Germany with assistance in implementing MultiPfam2go, Mr Nicholas Thorne from the Advanced Computer Engineering Laboratory Group at the Centre for High Performance Computing, Cape Town, South Africa with discussions around implementing accelerated BLAST and Dr. Ana Riesgo at the University of Barcelona for making available the transcriptome assemblies of A. grandidieri, C. marginatus, C. olivaceus, C. elegans, and H. samnitica.
Authors' Affiliations
(1)
South African Medical Research Council Bioinformatics Unit, South African National Bioinformatics Institute, University of the Western Cape, Bellville, South Africa
Copyright
© Mbandi et al.; licensee BioMed Central. 2015
This is an Open Access article distributed under the terms of the Creative Commons Attribution License (http://creativecommons.org/licenses/by/4.0), which permits unrestricted use, distribution, and reproduction in any medium, provided the original work is properly credited. The Creative Commons Public Domain Dedication waiver (http://creativecommons.org/publicdomain/zero/1.0/) applies to the data made available in this article, unless otherwise stated.