Guide Picker is a comprehensive design tool for visualizing and selecting guides for CRISPR experiments
BMC Bioinformatics
BMC series – open, inclusive and trusted
2017
18:167
Received: 22 November 2016
Accepted: 3 March 2017
Published: 14 March 2017
The Erratum to this article has been published in BMC Bioinformatics 2017 18:202
Abstract
Background
Guide Picker (https://www.deskgen.com/guide-picker/) serves as a meta tool for designing CRISPR experiments by presenting ten different guide RNA scoring functions in one simple graphical interface. It allows investigators to simultaneously visualize and sort through every guide targeting the protein-coding regions of any mouse or human gene.
Results
Utilizing a multidimensional graphical display featuring two plots and four axes, Guide Picker can analyze all guides while filtering based on four different criteria at a time. Guide Picker further facilitates the CRISPR design process by using pre-computed scores for all guides, thereby offering rapid guide RNA generation and selection.
Conclusions
The ease-of-use of Guide Picker complements CRISPR itself, matching a powerful and modular biological system with a flexible online web tool that can be used in a variety of genome editing experimental contexts.
Keywords
CRISPRsgRNARNA guide design softwareCas9Genome editingFunctional genomics
Background
CRISPR (clustered regularly interspaced short palindromic repeats) allows researchers to introduce site-specific mutations in a variety of organisms [1, 2]. SpCas9 (an RNA-guided nuclease found in Streptococcus pyogenes) is directed to target sites in the genome by a chimeric single guide RNA (sgRNA) [1]. The sgRNA forms a complex with Cas9 and binds to genomic DNA according to a 20 bp protospacer sequence. The complex then induces a double-stranded break (DSB) three nucleotides upstream of the protospacer adjacent motif (PAM). The cell usually repairs the DSB through the endogenous non-homologous end joining (NHEJ) pathway which often produces insertion/deletion (indel) and potentially deleterious frameshift mutations [3]. Customizing the 20 bp protospacer elements of the sgRNAs to target within and across different genes allows researchers to multiplex functional genomics experiments.
The PAM is essential for Cas9 binding. SpCas9 primarily recognizes NGG PAMs [4]. Other PAMs, such as NAG, are referred to as non-canonical and have much lower rates of cleavage [4]. However, although NAG is not as strong as NGG, SpCas9 may still cleave near NAG PAMs. Therefore, NAG PAMs are relevant when searching for off-target hits but are not desirable when designing highly active guides [4]. SpCas9 also has tolerance for mismatches in the 20 bp protospacer element and can still induce DSBs despite a lack of full complementarity [5]. In concert, variable PAM sequences and mismatch tolerance can lead to off-target edits (often via NHEJ) in unintended regions across the genome. These characteristics should be considered when predicting and analyzing off-target activity.
To ensure target specificity and guide activity, researchers depend on intelligent guide RNA design tools to predict guide RNA behavior [6]. Several algorithms have already been released which use guide RNA sequences as predictors of both on- [7, 8] and off-target [4, 8] activity based on sequence composition. Additional algorithms focus on GC content [9], homopolymers [10] and other features. Existing online web tools frequently offer one or combine a few design considerations, but rarely aggregate all of these parameters in one place. This forces investigators to spend time comparing across multiple websites in order to guarantee optimal guide RNA design.
To address these problems, we developed Guide Picker. Guide Picker is a cloud-based tool that allows the user to visualize guide RNA designs plotted according to ten scoring functions using one simple graphical interface. Guide Picker can compare on- and off-target scores, as well as other parameters, for every guide RNA targeting the protein-coding transcripts in a given mouse or human gene. Filtering and selecting guides according to different scores in one interface alleviates the labor involved in testing designs across disparate guide RNA design tools (Fig.
1
). Once the user has generated suitable designs, the list of guide RNAs can be saved and passed on for synthesis and experimental application.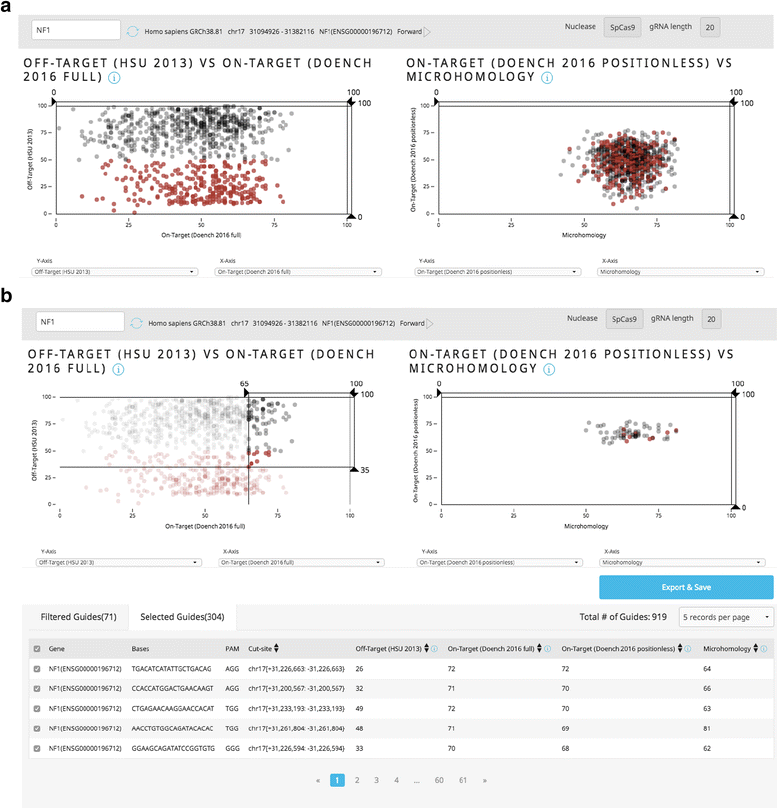 Guide Picker is also unique because it is the only online resource that allows guide design around all protein-coding transcripts of a gene. Transcripts are identified using Ensembl database annotations indicating known coding DNA sequences. Some design tools limit guide design to a 250 nucleotide input sequence while others only generate guides for a single transcript. By using all transcripts for a given gene, Guide Picker can offer more guide design options and help the user target as many transcript variants as possible to ensure gene knockout.
Guide sequences are determined by performing an exhaustive search throughout all protein-coding regions of the mouse or human genome based solely on available NGG SpCas9 PAM sites. This is accomplished using in-house Python scripts which, along with the scores, are contained in a Python wrapper to facilitate automation. This loading process occurs on a cloud-based web server and not on the user's computer.
In addition to pre-loading guide sequences, Guide Picker further speeds up the CRISPR design process by pre-computing all scores for every guide RNA targeting coding genomic regions in the mouse and human reference genomes. For any given scoring function and gene, rendering all available guides takes fewer than five seconds (even for large genes with ~3000 guides, such as MUC4). Guide Picker displays all of these guides in an easily manageable graphical format that can be adjusted to improve visual accessibility.
Implementation
Materials and methods
The Guide Picker user interface (UI) is built on custom in-house components developed using open source libraries Vue.js (https://github.com/vuejs/vue), a JavaScript framework, and a data visualization library, D3.js (https://github.com/d3/d3). Interfacing with the open source community assured maintainability and compatibility of the Guide Picker tool with most modern web browsers. Using a powerful D3.js library enabled fast prototyping and development of the graphic component, as well as access to its advanced data visualization algorithms such as quadtree (https://github.com/d3/d3-quadtree) which is used in the "Force Layout" mode to detect collisions between data points (Fig. 3).
All Guide Picker scoring functions are based on previously published studies. Further, Guide Picker is free and accessible to the academic community on http://deskgen.com without restriction following sign-up. There is no paid version of Guide Picker. Moreover, the source code for Guide Picker at the time of publication is available in a GitHub repository at https://github.com/DeskGen/open-guide-picker under an open source MIT license. This includes access to the pre-computed guide score database associated with the tool.
Guide Picker uses the reference genomes for Mus musculus (GRCm38) and Homo sapiens (GRCh38) provided by Ensembl. This is because the scoring functions provided in the tool were developed with datasets from mammalian models and depended on standard U6 delivery plasmid systems. Therefore, all algorithms displayed by Guide Picker are constructed to make predictions within that context [6]. Similarly, Guide Picker only uses SpCas9 guide RNA design rules. We made this decision because all guide RNA scoring algorithms to date were written to accommodate this nuclease and not its orthologs (e.g. NmCas9) which vary in PAM recognition, specificity and more.
User interface
The number of relationships between guide RNA data points can be explained by the formula n p (where n is a number of guides and p is a number of properties). The multidimensionality of guide RNA data yields an unwieldy number of variables for an investigator to navigate during the guide RNA design process. It also presents a challenge for creating a simple and efficient web tool UI. Guide Picker arose as a solution to this problem.
A previously trialed UI (https://www.deskgen.com/guidebook/advanced.html), where the user selected guides by manually navigating inside genes with a sequence browser, turned out to be an impractical, labor-intensive solution. In parallel, an internally used algorithm-assisted UI which presented the user with five top scoring guides for a given gene limited user engagement and control. It also stymied the user's ability to cross-validate guides across multiple parameter thresholds.
To achieve maximum clarity and usability for this tool, a deliberate choice was made to adopt the minimalist design paradigm by reducing the subject to its principal components. This philosophy yielded a simple yet effective scatter plot graphic. The scatter plot allowed users to visualize and compare thousands of guides at once, thereby providing an intuitive UI for selecting guides that met specific scoring thresholds. It also offered more control over design than the algorithm-assisted UI.
However, any gains in clarity over previous UI iterations and peer web tools were outweighed by a reduction in data depth. The two-dimensional x/y view did not present a comprehensive method for selecting optimal guides. Also, a number of relationships between data points C(n, k) (where n is the number of properties and k is the number of axes) produced an unworkable UI. To compensate for this loss of dimensionality, we drew two scatter plots side-by-side, each displaying different properties for the same set of guides. The axis values of these two plots were user-selected guide design parameters. This improved readability while maintaining a robust level of customizable dimensionality.
We also chose to round score values to the nearest integer. Although floating numbers would provide a more continuous distribution of values, they are harder for users to read and compare. A decimal point is also likely to be statistically insignificant for choosing an optimal guide. Therefore, we decided to round score values as is consistent with other guide RNA design web tools [4, 8].
Due to the volume of guide RNA data and our decision to round score values to the nearest integer, highly dense overlapping regions became common in the scatterplots. In order to explore these dense regions more easily, we implemented a "Force Layout" view and "Fisheye" lensing (advanced Guide Picker features) to allow users to visualize overlapping guides or guides in close proximity to one another (Fig. 3). In concert, displaying all guides for a gene side-by-side across two plots according to four variable guide RNA scores offers unprecedented ease and control over guide design.
Discussion
Guide Picker can be used to design both gene knockout and tiling experiments using SpCas9. For gene knockout, the scoring parameters can be set to maximize guide efficiency. Ideally, this means selecting guides with a high Doench 2016 score, a high Hsu 2013 score, no homopolymers or uracil triplets, high transcript representation and a high microhomology score. Location in the MCDS (as indicated by the percent peptide score) will vary depending on the experiment.
Guide Picker can also be used to interrogate specific regions of a gene in what is known as a CRISPR tiling experiment. In principle, this involves systematically designing guides that target along the MCDS to determine regional essentiality in protein function [
15
]. This can be done efficiently with the Guide Picker interface (Fig.
6
).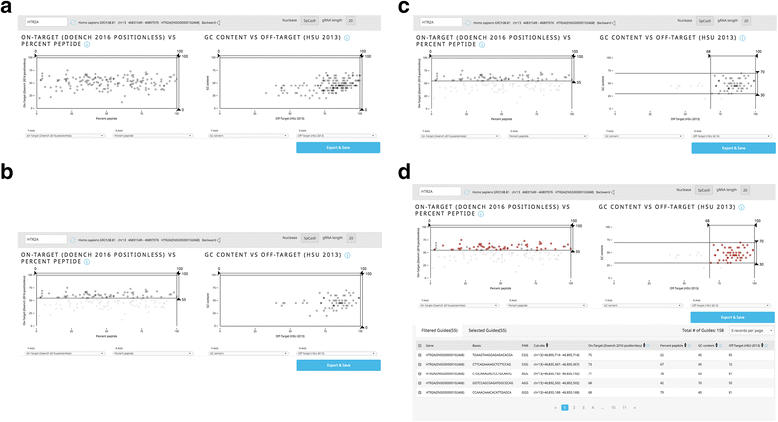 First, guides are displayed in a PPS versus Doench 2016 Positionless on-target score plot. This is displayed in Fig. 6a using the human serotonin receptor 2A gene, HTR2A, as an example. We use Positionless in this example because we do not want to introduce scoring bias against guides targeting the 3′ end of the gene; 3′ regions may still be functional or essential. The guides can then be filtered according to a Doench 2016 Positionless threshold (e.g. 50) (Fig. 6b). The "Filtered Guides" list is now restricted to designs that target along the whole MCDS and that have a higher likelihood of on-target activity.
All guides above this threshold are then brought over to the right-hand plot and further narrowed down according to, for example, a relatively high Hsu 2013 off-target score (68, which is >50 and means they have no exact matches elsewhere in the genome) and a GC content range of 30–70% [9] (Fig. 6c). The final guide selection can be highlighted on the right to verify that they still target along the full length of the MCDS (as evidenced by a broad range of PPS values on the left-hand plot) (Fig. 6d).
In this example, the user now has 55 guides with convincing GC content, on-target scores and off-target scores that will direct SpCas9 across the entirety of the MCDS of HTR2A. These guide sequences can then be checked in the Knockout or Knockin tools (https://www.deskgen.com/guidebook/) or a comparable genome browser to determine their exact location in the transcript(s) or MCDS. From there, the user can execute the experiment using a small-scale library generated with the list from Guide Picker to elucidate the essentiality of each protein-coding region.
Conclusions
Guide Picker is the newest addition to the DESKGEN [16] (http://www.deskgen.com) cloud platform. It brings together ten literature-based guide RNA scoring parameters and functions. It is unique to other design tools because it can simultaneously visualize all guides for a given gene according to four pre-computed guide RNA design parameters at a time. The tool can be used to support various experimental applications by accelerating and improving the guide design process. As new scores are published, the tool will be updated to accommodate, utilize and compare the latest algorithms.
Abbreviations
CRISPR:

Clustered regularly interspaced short palindromic repeats
DSB:

Double-stranded break
Indel:

Insertion/deletion mutation
MCDS:

Master coding DNA sequence
NHEJ:

Nonhomologous end joining
PAM:

Protospacer adjacent motif
PPS:

Percent peptide score
sgRNA:

Single guide RNA
SpCas9:

Streptococcus pyogenes Cas9
UI:

User interface
Declarations
Acknowledgements
The authors would like to acknowledge Riley Doyle and Edward Perello at Desktop Genetics for their support and leadership in developing this tool and this manuscript.
Funding
All funding for this project was provided through Desktop Genetics Ltd. No external grants were used for the development of this tool.
Authors' contributions
SHH created all figures, wrote the majority of the text, edited, and shepherded the manuscript to completion. KK developed the Guide Picker tool and contributed to the Methods section of the manuscript. SHH and KK contributed to this manuscript equally. LB wrote the initial drafts and revisions of the paper and contributed to the conception and design of the manuscript. JW wrote initial drafts and revisions of the manuscript. NHK contributed to Percent Peptide and Transcript Representation figure and wrote the initial drafts and revisions of the manuscript. KD helped organize, edit and contribute to the Results section in a way that was critically important for the intellectual content of the manuscript. AA contributed intellectual content to the Discussions section of the manuscript. VD served as the executive lead on conception and development of the manuscript and gave final approval of the version to be published. All authors read and approved the final manuscript.
Authors' information
LB holds a PhD in biochemistry with a background in RNAi. NHK holds a PhD in molecular biology with a background in bioinformatics. AA holds a PhD in clinical medicine with a focus in neuroscience. KD is finishing a PhD program in integrated genetics with a background in bioinformatics. SHH has performed wet lab research and published in CRISPR biology. All authors have extensive experience with CRISPR from a bioinformatics and biological perspective.
Competing interests
All authors are employees of Desktop Genetics, Ltd.
Consent for publication
Not applicable.
Ethics approval and consent to participate
Not applicable.
Publisher's Note
Springer Nature remains neutral with regard to jurisdictional claims in published maps and institutional affiliations.
Open AccessThis article is distributed under the terms of the Creative Commons Attribution 4.0 International License (http://creativecommons.org/licenses/by/4.0/), which permits unrestricted use, distribution, and reproduction in any medium, provided you give appropriate credit to the original author(s) and the source, provide a link to the Creative Commons license, and indicate if changes were made. The Creative Commons Public Domain Dedication waiver (http://creativecommons.org/publicdomain/zero/1.0/) applies to the data made available in this article, unless otherwise stated.
Authors' Affiliations
(1)
Desktop Genetics, Ltd., London, UK