ICoVeR – an interactive visualization tool for verification and refinement of metagenomic bins
BMC Bioinformatics
BMC series – open, inclusive and trusted
2017
18:233
Received: 9 November 2016
Accepted: 26 April 2017
Published: 2 May 2017
Abstract
Background
Recent advances in high-throughput sequencing allow for much deeper exploitation of natural and engineered microbial communities, and to unravel so-called "microbial dark matter" (microbes that until now have evaded cultivation). Metagenomic analyses result in a large number of genomic fragments (contigs) that need to be grouped (binned) in order to reconstruct draft microbial genomes. While several contig binning algorithms have been developed in the past 2 years, they often lack consensus. Furthermore, these software tools typically lack a provision for the visualization of data and bin characteristics.
Results
We present ICoVeR, the Interactive Contig-bin Verification and Refinement tool, which allows the visualization of genome bins. More specifically, ICoVeR allows curation of bin assignments based on multiple binning algorithms. Its visualization window is composed of two connected and interactive main views, including a parallel coordinates view and a dimensionality reduction plot. To demonstrate ICoVeR's utility, we used it to refine disparate genome bins automatically generated using MetaBAT, CONCOCT and MyCC for an anaerobic digestion metagenomic (AD microbiome) dataset. Out of 31 refined genome bins, 23 were characterized with higher completeness and lower contamination in comparison to their respective, automatically generated, genome bins. Additionally, to benchmark ICoVeR against a previously validated dataset, we used Sharon's dataset representing an infant gut metagenome.
Conclusions
ICoVeR is an open source software package that allows curation of disparate genome bins generated with automatic binning algorithms. It is freely available under the GPLv3 license at https://git.list.lu/eScience/ICoVeR. The data management and analytical functions of ICoVeR are implemented in R, therefore the software can be easily installed on any system for which R is available. Installation and usage guide together with the example files ready to be visualized are also provided via the project wiki. ICoVeR running instance preloaded with AD microbiome and Sharon's datasets can be accessed via the website.
Keywords
Contig bin visualizationGenome reconstructionMetagenomicsSoftware
Background
Rapid improvement of high-throughput sequencing technologies allows for much deeper exploitation of microbial communities, including bacteria, archaea and microeukaryotes. While only a small fraction of the microbial phylogenetic diversity is represented by cultivated organisms [1], metagenomics (shotgun DNA sequencing) allows reconstruction of microbial genomes (partial and/or complete) directly from environmental samples without cultivation. However, the binning of assembled metagenomic contigs into individual genomes still remains a significant challenge.
The combination of tetra-nucleotide frequencies (TNFs; sequence-dependent contig binning) with contigs' differential abundance spectra (sequence-independent contig binning) has resulted recently in the development of multiple (fully) automated contig binning approaches [2–6]. Even though fully automated genome binning allows the processing of large amounts of sequencing data, the different binning algorithms often result in redundant or overlapping genome bins. Moreover, depending on the chosen parameters, even an individual binning algorithm may provide different binning results. This makes it difficult for a user to determine which configuration produces the best results. Alternatively, one might want to combine bin assignments from different tools (or parameter configurations) in order to get the "consensus" set of bins, similarly to a recently proposed merged assembly concept [7].
Therefore, further verification of bin completeness and contamination (based on the presence of essential single copy genes, ESCGs) as well as subsequent bin refinement are necessary. The first task has been recently addressed by the development of CheckM [8], an automated tool that estimates the completeness and contamination of draft genomes (population genomes recovered from metagenomic data) using a set of marker genes that are specific to a genome's inferred lineage. The second issue concerning the refinement of genomic bins would ideally require an interactive framework allowing for visualizing several automated binning outputs in order to perform further supervised binning. To our knowledge, anvi'o [9] is the only interactive tool that enables for such visualization and for subsequent human-assisted improvement of automatically generated genome bins resulting from multiple binning algorithms. Even though, the anvi'o metagenomic workflow enables the user to interactively work with the data and to perform a supervised binning using a real-time display of bin completeness and contamination estimates, its main limitation is a low number (up to 20,000) of contigs (contig splits) that can be clustered for human-guided binning. Visualization of larger datasets decreases the responsiveness of its interactive interface.
Here, we introduce ICoVeR, the Interactive Contig-bin Verification and Refinement visualization tool, which allows user-guided refinement of automatically generated contig bins. The software provides a visual interface that allows for comparing different binning results and their further supervised refinement. Its visualization window is composed of two connected and interactive main views: (1) a parallel coordinates view in which GC content, gene length, contig abundance spectra across different samples, binning results and TNFs values are displayed, and (2) a dimensionality reduction plot in which projections of the TNFs and contigs are shown (Fig.
1
). To demonstrate ICoVeR's utility we used it to refine automated binning results for a dataset representing the microbiome of an anaerobic digester (AD microbiome). We show that it improved the completeness and reduced the contamination of genome bins initially generated with MetaBAT [
5
], CONCOCT [
3
], and MyCC [
6
]. Moreover, we further used ICoVeR to refine genome bins for an infant gut metagenome [
10
], previously validated with CONCOCT [
3
], GroopM [
4
], MaxBin2 [
11
], MetaBAT [
5
] and MyCC [
6
].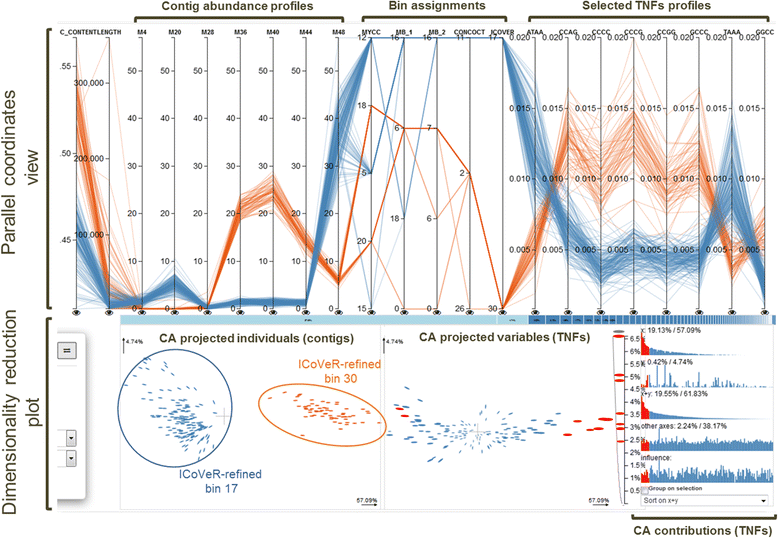 Conclusions
We present ICoVeR, a new interactive visualization interface for contig-bin verification and refinement. The software can visualize bin assignments from automated binning approaches, as well as perform further contig clustering using both contig co-abundances across multiple samples and their TNFs/PNFs features. ICoVeR has an open design that allows adding new algorithms and solutions that could further contribute to a better and faster genome bins refinement. We demonstrated the utility of ICoVeR by refining MyCC, MetaBAT and CONCOCT bin assignments for AD microbiome dataset. In addition, we applied ICoVeR to further refine genome bins for a previously validated Sharon's dataset, formerly binned with CONCOCT, GroopM, MaxBin2, MetaBAT and MyCC. As a result, combining the strength of several binning algorithms led in many cases to nearly complete draft microbial genomes for both analyzed datasets. We also point to several improvements that would further render the bin refinement process faster and more replicable; such as an implementation of systematic mechanisms to capture the provenance of changes derived in the course of an exploratory task and an algorithmic approach to combine the different binning results into a single set of merged and improved genome bins before their visualization.
Abbreviations
AD:

Anaerobic digestion
CA:

Correspondence analysis
CSTR:

Continuously/completely stirred tank reactor
ESCGs:

Essential single copy genes
ORF:

Open reading frame
OTU:

Operational taxonomic unit
PCA:

Principal coordinates analysis
PNFs:

Penta-nucleotide frequencies
SRA:

Sequence Read Archives
TNFs:

Tetra-nucleotide frequencies
Declarations
Acknowledgements
The authors would like to thank Prof. Thomas Udelhoven from Trier University in Germany for his initial interest in the project and valuable discussions.
Funding
This work was supported by a LIST internally funded project, HYDVIGA (Hydrology, Visualization, Biogas), and co-funded by Fonds National de la Recherche, Luxembourg (FNR CORE 2011 project GASPOP, CO11/SR/1280949: Influence of the Reactor Design and the Operational Parameters on the Dynamics of the Microbial Consortia Involved in the Biomethanation Process). Both funding sources originated from donation to research by the Luxembourg Government. As such the research conducted here was totally independent from any influence from the funding body.
Availability of data and materials
All data and materials are available as supplementary files or can be downloaded from the software website https://git.list.lu/eScience/ICoVeR. ICoVeR is released under GPLv3 license.
Authors' contributions
BB, FMG, KW developed ICoVeR and helped to draft the manuscript. MC participated to the tool development, analyzed the data and drafted the manuscript. MG, PD, PW coordinated the study and helped to draft the manuscript. XG helped to analyze the data and drafted the manuscript. FB helped in setting up required software on the HPC infrastructure and helped to draft the manuscript. All authors read and approved the final manuscript.
Competing interests
The authors declare that they have no competing interests.
Consent for publication
Not applicable.
Ethics approval and consent to participate
Not applicable.
Publisher's Note
Springer Nature remains neutral with regard to jurisdictional claims in published maps and institutional affiliations.
Open AccessThis article is distributed under the terms of the Creative Commons Attribution 4.0 International License (http://creativecommons.org/licenses/by/4.0/), which permits unrestricted use, distribution, and reproduction in any medium, provided you give appropriate credit to the original author(s) and the source, provide a link to the Creative Commons license, and indicate if changes were made. The Creative Commons Public Domain Dedication waiver (http://creativecommons.org/publicdomain/zero/1.0/) applies to the data made available in this article, unless otherwise stated.
Authors' Affiliations
(1)
Environmental Research and Innovation Department, Luxembourg Institute of Science and Technology, Belvaux, Luxembourg
(2)
Johann Bernoulli Institute for Mathematics and Computer Science, University of Groningen, Groningen, The Netherlands
(3)
Luxembourg Centre for Systems Biomedicine, University of Luxembourg, Esch-sur-Alzette, Luxembourg