An integrated approach to infer cross-talks between intracellular protein transport and signaling pathways
Kumar Parijat Tripathi

†

1

Email author

,

Marina Piccirillo

1 and

Mario Rosario Guarracino

1
BMC Bioinformatics
BMC series – open, inclusive and trusted
2018
19(Suppl 2):58
Abstract
Background
The endomembrane system, known as secretory pathway, is responsible for the synthesis and transport of protein molecules in cells. Therefore, genes involved in the secretory pathway are essential for the cellular development and function. Recent scientific investigations show that ER and Golgi apparatus may provide a convenient drug target for cancer therapy. On the other hand, it is known that abundantly expressed genes in different cellular organelles share interconnected pathways and co-regulate each other activities. The cross-talks among these genes play an important role in signaling pathways, associated to the regulation of intracellular protein transport.
Results
In the present study, we device an integrated approach to understand these complex interactions. We analyze gene perturbation expression profiles, reconstruct a directed gene interaction network and decipher the regulatory interactions among genes involved in protein transport signaling. In particular, we focus on expression signatures of genes involved in the secretory pathway of MCF7 breast cancer cell line. Furthermore, network biology analysis delineates these gene-centric cross-talks at the level of specific modules/sub-networks, corresponding to different signaling pathways.
Conclusions
We elucidate the regulatory connections between genes constituting signaling pathways such as PI3K-Akt, Ras, Rap1, calcium, JAK-STAT, EFGR and FGFR signaling. Interestingly, we determine some key regulatory cross-talks between signaling pathways (PI3K-Akt signaling and Ras signaling pathway) and intracellular protein transport.
Keywords
PerturbationGenetic NetworkSecretory Pathway
Background
The secretory pathway is composed of different organelles suspended in the cytoplasm. It includes rough endoplasmic reticulum (rough ER), ER exit sites (ERESs), the ER-to-Golgi intermediate compartment (ERGIC) and the Golgi complex cellular organelles, which have distinct functions in the transport of proteins to their final destination in the cell. Not only does the secretory pathway play an important role in proteins synthesis and delivery, but it also facilitates the proper folding and post-translational modifications of protein [
1
]. At present, we know that these organelles are able to interact dynamically with each other and play an important role in the establishment of cellular homeostasis; furthermore, the cross-talks between these inter cellular compartments are also required to maintain the structure and shape of the cell and for its survival [
2
]. Recent studies show all these cellular organelles within the secretory pathway are sensitive to stress conditions and capable to propagate the signaling for cell death [
2
]. Basically, signaling implies the conversion of mechanical or chemical stimuli directed towards the cell into a specific cellular response. In a general signaling pathway, a signal is received by the receptor molecules, which leads to a change in functioning and modulation of the cellular response driven by series of molecular interactions within the cellular boundary. These interactions include the activation and inhibition of numerous kinases and signaling molecules producing a complex inter dependent molecular cross-talks. To understand the complex relationship between signaling and secretory pathway in a broader perspective, it is important to study the genetic interactions within the cell and determine the gene regulatory network. Previously, researchers have been using correlation and gene co-expression based networks, to infer a genome wide representation of the complex functional organization of gene interaction networks [
3
]. These networks are predicted on the similarity of the gene expression profiles. However, these reconstructed gene networks are undirected, and therefore it is difficult to infer the causality relationship between two connected genes. The other caveat associated with co-expression network analysis regards the handling of large data sets, which limits the biological interpretation of the data [
4
,
5
]. Though regression methods have been used to determine directed edges and to identify the set of genes having regulatory effects on their target, these methods are generally computational demanding and often limited to predict the set of genes regulated by transcription factors [
6
,
7
]. Recently, gene perturbation studies have started playing an important role in directed gene networks reconstruction and in determining their reciprocal influence [
8
–
11
]. In the present work, we study the gene-gene interactions in MCF7 breast cancer cell line using an integrated approach (shown in Fig.
1
) based on functional genomics and network analysis, derived from expression profiles of knocked-down or over-expressed genes within the secretory pathway. Signaling associated to and from protein transport machinery provides convenient therapeutic targets for drug development in cancer therapy [
12
]. Therefore, we try to decipher the direct and indirect genetic regulatory components of secretory pathway and their corresponding cross-talk with cellular signaling within the cell. Our goal is to understand the complex interactions among genes, constituting important signaling pathways with respect to protein transport in a cancer cells. Furthermore, we investigate the cause and disturbance in the delicate balance of cross-talks among these genes, which can lead to cancer progression. We try to highlight the interesting aspects of gene-gene interactions, which they could be as potential drug target for cancer therapies.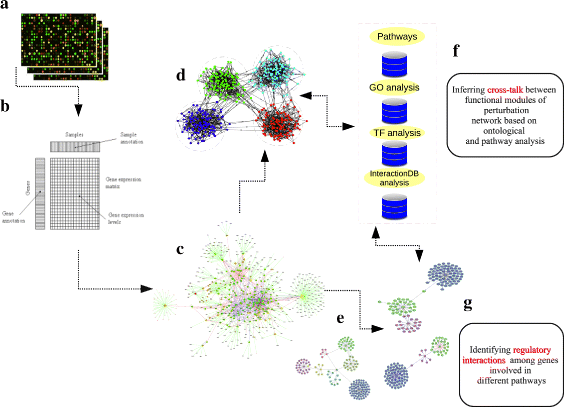 Conclusions
In this work, we develop a computational integrated pipeline to analyze genes perturbation experimental data and uncover the regulatory interactions among genes. We use functional genomics and network biology approach to create a directed network, where nodes represent the perturbed and impacted genes, while direct edges represents the positive and negative regulatory effects of perturbation on its neighboring elements. We implemented this approach to infer regulatory cross-talk between signaling pathways and intracellular protein transport in MCF7 cell line. Our aim is to elucidate the regulatory connection between genes constituting signaling pathways such as PI3K-Akt, Ras, Rap1, calcium, JAK-STAT, EFGR and FGFR signaling and intracellular protein transport mechanism in MCF7 cell line. We focus on PI3k-Akt signaling and Ras pathway, to highlight some of their mutual key regulatory features. In our results, we find some interesting regulatory components of PI3k-AKT signaling with respect to Ras pathway as well as intracellular protein transport mechanism. From the literature, it is known that development of resistance to cancer therapy is an important clinical problem [30]. Inactivation of apoptotic programme leads to drug resistance in tumor cells. This resistance is mainly supported by PI3K-Akt signaling and hence this signaling contributes to the resistance of cancer cell [59, 60]. As it is known that Ras and calcium signaling activate the PI3K-Akt signaling in a cell, targeting the upstream and downstream signaling pathways with respect PI3K-Akt signaling is a feasible approach to procrastinate resistance in cancer cells. In future, we will hopefully extend this work and develop a methodology as well as computational integrated platform to construct an interaction network from perturbation data not only from one cell line but simultaneously from multiple tissue samples/cell lines, for the comparative analysis of putative regulatory interactions among genes in different experimental conditions.
Declarations
Acknowledgements
We would like to acknowledge the efforts of Mr Giuseppe Trerotola for the technical support, and Dr Gennaro Oliva for the deployment of hardware and software infrastructure used in the analysis.
Funding
Publication of this article was sponsored by funding support from MIUR Interomics Flagship project, PON02-00612-3461281 and PON02-006193470457. Mario R. Guarracino work has been conducted at National Research University Higher School of Economics and supported by RSF grant 14-41-00039.
Availability of data and materials
The data are all publicly available. We will provide the python script to reconstruct regulatory interactions, on demand, and it is freely available.
Authors' contributions
KPT and MRG conceived the experiment(s), KPT and MP conducted the experiment(s), KPT and MP analyzed the results. KPT, MP and MRG wrote the manuscript. All of the authors have read and approve the manuscript.
Ethics approval and consent to participate
Not applicable.
Consent for publication
Not applicable.
Competing interests
The authors declare that they have no competing interests.
Publisher's Note
Springer Nature remains neutral with regard to jurisdictional claims in published maps and institutional affiliations.
Open Access This article is distributed under the terms of the Creative Commons Attribution 4.0 International License (http://creativecommons.org/licenses/by/4.0/), which permits unrestricted use, distribution, and reproduction in any medium, provided you give appropriate credit to the original author(s) and the source, provide a link to the Creative Commons license, and indicate if changes were made. The Creative Commons Public Domain Dedication waiver (http://creativecommons.org/publicdomain/zero/1.0/) applies to the data made available in this article, unless otherwise stated.
Authors' Affiliations
(1)
Lab-GTP, High Performance Computing and Networking Institute, National Research Council, Naples, Italy