Methodology article

Open Access
A classification approach for genotyping viral sequences based on multidimensional scaling and linear discriminant analysis
BMC Bioinformatics
2010
11:434
Received: 15 December 2009
Accepted: 21 August 2010
Published: 21 August 2010
Abstract
Background
Accurate classification into genotypes is critical in understanding evolution of divergent viruses. Here we report a new approach, MuLDAS, which classifies a query sequence based on the statistical genotype models learned from the known sequences. Thus, MuLDAS utilizes full spectra of well characterized sequences as references, typically of an order of hundreds, in order to estimate the significance of each genotype assignment.
Results
MuLDAS starts by aligning the query sequence to the reference multiple sequence alignment and calculating the subsequent distance matrix among the sequences. They are then mapped to a principal coordinate space by multidimensional scaling, and the coordinates of the reference sequences are used as features in developing linear discriminant models that partition the space by genotype. The genotype of the query is then given as the maximum a posteriori estimate. MuLDAS tests the model confidence by leave-one-out cross-validation and also provides some heuristics for the detection of 'outlier' sequences that fall far outside or in-between genotype clusters. We have tested our method by classifying HIV-1 and HCV nucleotide sequences downloaded from NCBI GenBank, achieving the overall concordance rates of 99.3% and 96.6%, respectively, with the benchmark test dataset retrieved from the respective databases of Los Alamos National Laboratory.
Conclusions
The highly accurate genotype assignment coupled with several measures for evaluating the results makes MuLDAS useful in analyzing the sequences of rapidly evolving viruses such as HIV-1 and HCV. A web-based genotype prediction server is available at http://www.muldas.org/MuLDAS/.
Keywords
Reference Sequence
Linear Discriminant Analysis
Gene Segment
Recombinant Form
Quadratic Discriminant Analysis
Background
We are observing rapid growth in the number of viral sequences in the public databases [1]: for example, HIV-1 and HCV sequence entries in NCBI GenBank have doubled almost every three years. These viruses also show great genotypic diversities and thus have been classified into groups, so-called genotypes and subtypes [2, 3]. Consequently classifying these virus strains into genotypes or subtypes based on their sequence similarities has become one of the most basic steps in understanding their evolution, epidemiology and developing antiviral therapies or vaccines. The conventional classification methods include the following: (1) the nearest neighbour methods that look for the best match of the query to the representatives of each genotype, so-called references (e.g., [4]); (2) the phylogenetic methods that look for the monophyletic group to which the query branches (e.g., [5]). Since the genotypes have been defined originally as separately clustered groups, these intuitively sound methods have been widely used and quite successful for many cases.
However, with increasing numbers of sequences, we are observing outliers that cannot be clearly classified (e.g., [6]) or for which these methods do not agree. A recent report that compared these different automatic methods with HIV-1 sequences showed less than 50% agreement among them except for subtypes B and C [7]. One of the reasons for the disagreement was attributed to the increasing divergence and complexity caused by recombination. It was also noted that closely related subtypes (B and D) or the subtypes sharing common origin (A and CRF01_AE) showed poor concordance rate among those methods. We think what lies at the bottom of this problem is that the number of reference sequences per subtype was too small; these methods have used two to four reference sequences. Having been carefully chosen by experts among the high-quality whole-genome sequences, they are to cover the diversity of each subtype as much as possible [2]. However with intrinsically small numbers of references per subtype, they cannot address the confidence of subtype predictions; a low E-value of a pairwise alignment or a high bootstrap value of a phylogenetic tree indicates the reliability of the unit operation, but does not necessarily guarantee a confident classification.
Recognition of this issue of lacking a statistical confidence measure, brought about the introduction of the probabilistic methods based on either position-specific scoring matrix [8] or jumping Hidden Markov Models (jpHMM) [9–11] built from multiple sequence alignment (MSA) of each genotype. By using full spectra of reference sequences, jpHMM was effective in detecting recombination breakpoints. Recently, new classification methods based on nucleotide composition strings have been introduced [12]. It is unique in that it bypasses the multiple sequence alignment and still achieves high accuracy. However, it uses only 42 reference sequences and has been tested with 1,156 sequences. Considering the explosive increase in the numbers of these viral sequences, the test cases of these conventional methods were rather small, an order of ten thousands at most. It would be desirable to measure the performance of a new classification method over all the sequences publicly available.
It is critical to evaluate how well each genotype population is clustered, before attempting to classify a query sequence. Consider a case where the reference sequences are mostly well segregated by genotype except for two or more genotypes that overlap at least partially (see Figure
1
for an illustration); those methods that rely on a few references may not notice this problem and may assign an apparent genotype with a high score. Due to varying mutation rate along the sequence range, the phylogenetic power of each gene segment may also vary [
13
]. This is particularly critical for relatively short partial sequences. In other words, even the well characterized references that are otherwise distinctively clustered may not be resolved if only part of the sequence region is considered in the classification. The nearest neighbour methods do not evaluate this validity of the background classification models, since they concern the alignments of only query-to-reference, not reference-to-reference. REGA, one of the tree-based methods, concerns whether the query is inside or outside the cluster formed by a group of references [
5
]. The branching index has been proposed to quantify this and has been useful in detecting outlier sequences [
14
,
15
]. A statistical method, jpHMM, reports the posterior probabilities of the subtypes at each query sequence position; based on these, some heuristics is given to assess the uncertainty in detecting recombination region [
11
].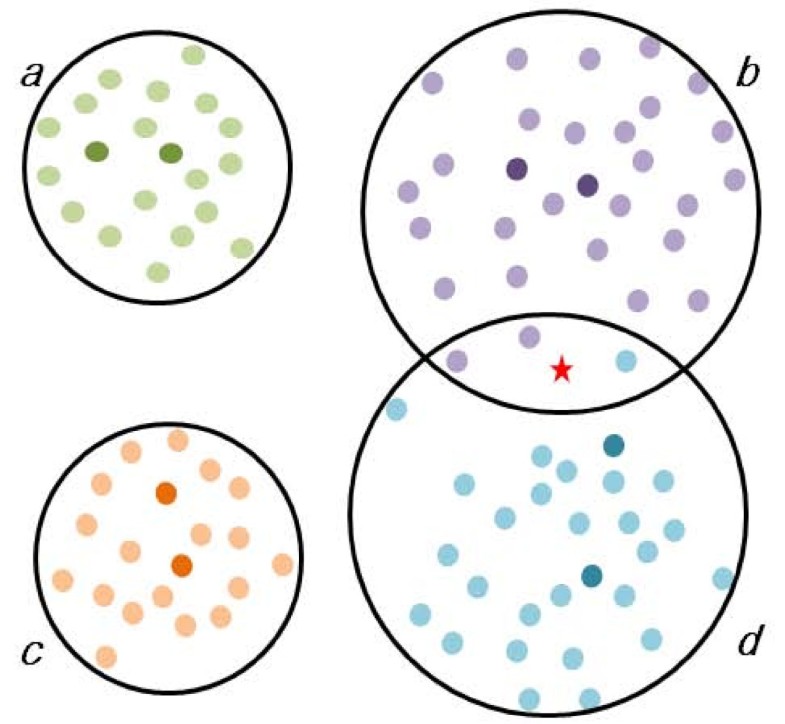 Here we present a new method, MuLDAS, which develops the background classification models based on the distances among the reference sequences, re-evaluates their validity for each query, and reports the statistical significance of genotype assignment in terms of posterior probabilities. As such, it is suited for the cases where many reference sequences are available. MuLDAS achieves such goals by combining principal coordinate analysis (PCoA) [16] with linear discriminant analysis (LDA), both of which are well established statistical tools with popular usages in biological sciences. PCoA, also known as classical multidimensional scaling (MDS), maps the sequences to a high-dimensional principal coordinate space, while trying to preserve the distance relationships among them as much as possible. It has been widely applied to the discovery of global trends in a sequence set, complementing tree-based methods in phylogenetic analysis [17, 18]. Since genotypes have been defined as distinct monophyletic groups in a phylogenetic tree, each genotype should form a well separated cluster in a MDS space if an appropriately high dimension is chosen. In such cases, we can find a set of hyperplanes that separate these clusters and classify a query relative to the hyperplanes. For this purpose, MuLDAS applies LDA [19], a straightforward and powerful classification method, to the MDS coordinates and assigns a query to the genotype that shows the highest posterior probability of membership. This probability can be useful in detecting any ambiguous cases, for which careful examination is required. MuLDAS tests the LDA models through the leave-one-out cross-validation (LOOCV), which can be used to assess the model validity by examining the misclassification rate. As the sequences are represented by coordinates, a simple measure can be also developed for detecting genotype outliers. We have tested the algorithm with virtually all the HIV-1 and HCV sequences available from NCBI GenBank and the results are presented.
Results and Discussion
The MuLDAS algorithm was tested with the sequence datasets of HIV-1 and HCV downloaded from NCBI GenBank. The genotype information of nucleotide sequences was retrieved from the LANL website for 158,578 HIV-1 (including 6,203 CRFs) and 40,378 HCV sequences (non-recombinants only) that have not been used as the reference sequences. For some of the sequences, the genotypes/subtypes were given by the original submitters and otherwise they were assigned by LANL. We considered these datasets as 'gold standards' for benchmarking the performance of MuLDAS.
Conclusions
Here we have demonstrated that MuLDAS is a novel approach useful for classifying viral sequences based on a large sample population of reference sequences. As it reports several confidence measures, it is a particularly powerful tool for detecting unusual, problematic sequences that often slip through unnoticed. Explosive growth in number coupled with complex divergence of viral sequences, demands classification tools such as MuLDAS. It has been a while since the previous methods were developed and their performances have not been comprehensively re-evaluated with the sequences emerged since then. MuLDAS achieved remarkable accuracy in the tests that included all HIV-1 or all HCV sequences currently available. As at the core of MuLDAS is MDS of distance matrix followed by LDA, it is conceivable that in place of LDA other classification algorithms such as K-NN or SVM are applied. However, they may not be appropriate as they focus on either a few nearest neighbours (K-NN) or solely on the decision boundary without taking into consideration of the population distribution (SVM). In addition, K-NN may also suffer from the issue of sample size imbalance. MuLDAS algorithm is straightforward enough to be applied to the classification of either nucleotide or peptide sequences. It can be even extended to classify individual subjects into population groups based on a distance matrix of polymorphic markers such as SNP. To sum it up, the approach taken by MuLDAS has far reaching implications for sequence classifications.
Note added in proof
The pre-computed genotype/subtype information is accessible through LinkOut service from NCBI.
Declarations
Acknowledgements
We are grateful to Prof. Julian Lee and Kyu-Baek Hwang at Soongsil University, and Dr. Sang Chul Kim at Yonsei University for helpful discussions. We also thank Dr. Joo Shil Lee and colleagues at Korea National Institute of Health for helpful discussion and encouragement. Generous allocation of computer clusters for the benchmark tests and a web server system by Korea Bioinformation Center (KOBIC), Taejon, Korea, is greatly appreciated. This work has been supported by a grant from the Korea Science and Engineering Foundation (KOSEF) (R11-2008-062-03003-0) funded by the Korea government (MEST).
Authors' Affiliations
(1)
Department of Bioinformatics & Life Sciences, Soongsil University, Seoul, Korea
(2)
Equispharm Co., Ltd, Suwon, Korea
(3)
Macrogen Inc., Seoul, Korea
Copyright
© Kim et al; licensee BioMed Central Ltd. 2010
This article is published under license to BioMed Central Ltd. This is an Open Access article distributed under the terms of the Creative Commons Attribution License (http://creativecommons.org/licenses/by/2.0), which permits unrestricted use, distribution, and reproduction in any medium, provided the original work is properly cited.