Methodology article
Open Access
A comparison of the functional modules identified from time course and static PPI network data
BMC Bioinformatics
2011
12:339
Received: 8 April 2011
Accepted: 15 August 2011
Published: 15 August 2011
Abstract
Background
Cellular systems are highly dynamic and responsive to cues from the environment. Cellular function and response patterns to external stimuli are regulated by biological networks. A protein-protein interaction (PPI) network with static connectivity is dynamic in the sense that the nodes implement so-called functional activities that evolve in time. The shift from static to dynamic network analysis is essential for further understanding of molecular systems.
Results
In this paper, Time Course Protein Interaction Networks (TC-PINs) are reconstructed by incorporating time series gene expression into PPI networks. Then, a clustering algorithm is used to create functional modules from three kinds of networks: the TC-PINs, a static PPI network and a pseudorandom network. For the functional modules from the TC-PINs, repetitive modules and modules contained within bigger modules are removed. Finally, matching and GO enrichment analyses are performed to compare the functional modules detected from those networks.
Conclusions
The comparative analyses show that the functional modules from the TC-PINs have much more significant biological meaning than those from static PPI networks. Moreover, it implies that many studies on static PPI networks can be done on the TC-PINs and accordingly, the experimental results are much more satisfactory. The 36 PPI networks corresponding to 36 time points, identified as part of this study, and other materials are available at http://bioinfo.csu.edu.cn/txw/TC-PINs
Keywords
Gene OntologyFunctional ModulePeriodic GeneReal ComplexGene Express Profile
Background
Over the past decade, most research on biological networks has been focused on static topological properties, describing networks as collections of nodes and edges. Computational analysis of these networks has great potential in aiding our understanding of gene function, biological pathways and cellular organization. But, in reality, cellular systems are highly dynamic and responsive to cues from the environment [1]. Cellular function and response patterns to external stimuli are regulated by biological networks, such as PPI, metabolic, signaling, transcription regulatory networks and neural synapses. Such networks are representations of large-scale dynamic systems. While significant progress has been made in computational analysis of proteome-scale cellular networks, the dynamics inherent within these networks are often overlooked in computational network analysis. Since there typically is little direct information available on the temporal dynamics of these network interactions, the majority of molecular interaction network modeling and analysis have been solely focused on static properties. However, proper cellular functioning requires the precise coordination of a large number of events and identifying the temporal and contextual signals underlying proposed interactions is a crucial part of understanding cellular function. Network maps are graphical representations of dynamic systems in life. A network with a static connectivity is dynamic in the sense that the nodes implement so-called functional activities evolving in time. In a biological context, these activities may represent the concentration of a molecule, the phosphorylation state of an enzyme, the expression level of a gene, or the depolarization of a neuron or circadian rhythm.
The moment has now come when the shift from static to dynamic network analysis is essential for further understanding of molecular systems. One of the very first things is to determine what we mean by interaction or network 'dynamics'. In simple terms, whether an interaction occurs or not depends upon spatial, temporal and/or contextual variation. Interactions may be constitutive or obligate, or may instead occur only in specific situations. Among these dynamically varying interactions (sometimes referred to as transient interactions), the variation may be either reactive (i.e., caused by exogenous factors, such as a response to some environmental stimulus) or programmed (i.e., due to endogenous signals, such as cell-cycle dynamics or developmental processes). Contextual variation overlaps heavily with temporal variation, but focuses more specifically on characterizing reactive variation and the conditions that cause it. Studying context may also encompass examining sequence or genetic variation within a population of contemporaries and exploring how that variation affects network interactions, topology and function [2]. When development, disease progression and cyclical biological processes, e.g., the cell cycle, metabolic cycle [3] and even entire life cycles, are studied, time course analysis becomes an important tool. Recent research efforts have considered using static measurements to 'fill in the gaps' (the gaps refer to accurate temporal parameters that are not yet available for many protein-protein interactions) in the time series data [4], quantifying timing differences in gene expression and reconstructing regulatory relationships. By integrating yeast PPI networks with gene expression data, Han et al. suggested that some modules are active at specific times and locations [5]. In a study that described dynamic protein complex formation during cell cycles, it was found that constitutively expressed and cell cycle-regulated proteins form protein complexes together at particular time points during the cell cycle [6]. Qi et al. further noted that the integration of a variety of datasets, including binary interactions, protein complexes and expression profiles enables the identification of subnetworks that are active under certain conditions [7]. Here we focus on the temporal aspects of networks, which allow us to study the dynamics of protein module assembly during the S. cerevisiae cell cycle. Although accurate temporal parameters are not yet available for PPI systems, by integrating additional biological resources that contain such information (e.g., gene expression data), people can solve or partially solve this problem. In this paper, Time Course Protein Interaction Networks (TC-PINs) are reconstructed by incorporating time series gene expression data [3] into a PPI network (http://dip.doe-mbi.ucla.edu/dip/Download.cgi?SM= 7).
Because we have unfolded a static PPI network in time (dynamics), it will be necessary to make a principal distinction between two biological concepts, namely, protein complexes and functional modules. A protein complex is a physical aggregation of several proteins (and possibly other molecules) via molecular interaction (binding) with each other at the same location and time. A functional module also consists of a number of proteins (and other molecules) that interact with each other to control or perform a particular cellular function. However, unlike protein complexes, these proteins do not necessarily interact at the same time and location [8]. Song et al. utilized an external measure - the Gene Ontology(GO) [9] - to define functional modules [10]. That is, for a GO biological process or cellular component functional term, the corresponding module contains all the proteins that are annotated with that term.
After the TC-PINs are constructed, a representative clustering algorithm [11] is selected and used to create functional modules from the TC-PINs. Then repetitive modules and those modules that are contained in bigger modules are removed. The same method used by Bader et al. [12] is also used to determine how effectively the remaining modules match the known modules. To have a further understanding of biological significance of the modules, Gene Ontology enrichment analysis is performed. Finally, as the point of reference, the clustering algorithm also uncovers modules from the static PPI network and the pseudorandom network and analyses of these similar results are underway.
Conclusions
In this paper, the TC-PINs are reconstructed by incorporating gene expression profiles into a static PPI network in order to discover the new biologically significant functional modules. And then we employ the MCL procedure to predict functional modules from the TC-PINs. Moreover, a series of comparative analyses on the matching and GO functional enrichment are carried out. The results show that compared with the static PPI network, there are much more biologically significant functional modules identified from the TC-PINs.
When candidate functional modules are handled, we find that a functional module can be identified repeatedly from PPI networks at different time points. It seems to mean that functional modules are dynamic assemblies, which form in order to carry out specific functions in a temporal fashion. All functional modules identified from a TC-PIN at a certain time point form a set of functional modules. Since there are 36 TC-PINs, there are 36 sets of functional modules. In order to validate the temporal variability of functional modules over time points, the occurrence frequencies of functional modules in these 36 functional module sets are given in Figure
6
. As shown in Figure
6
, the intersection set of 36 functional module sets consists of 206 functional modules; 65 functional modules repeatedly appear 35 times in 36 functional module sets; likewise, 166 functional modules repeatedly only appear twice in 36 functional module sets. Moreover, 312 functional modules occur one time in 36 functional module sets. We think that it is a valuable work to research the temporal specificity of the functional modules discovered from the TC-PINs in future.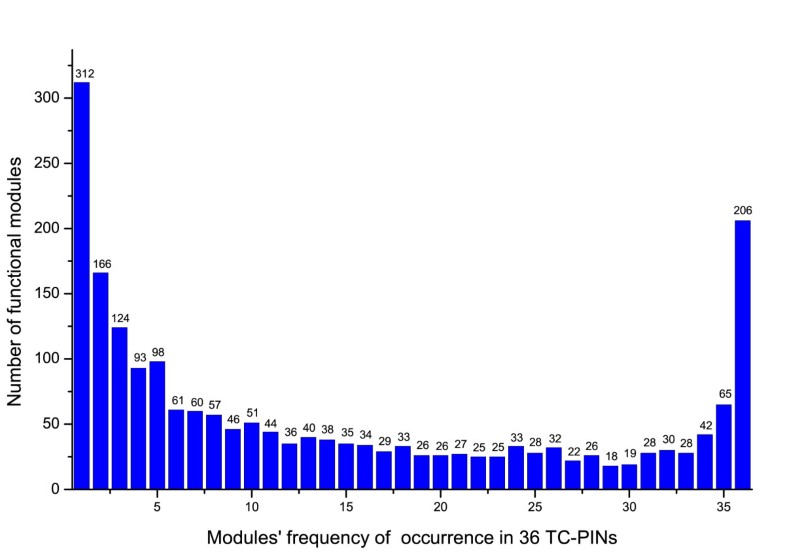 In addition, how to process the slightly different candidate functional modules is another problem worthy of research. A lot of functional modules are produced when the MCL algorithm runs on the TC-PINs. A few of these functional modules detected from the TC-PINs have probably the identical biological significance. Therefore, it is necessary to merge the functional modules. Certainly, it is easy to eliminate functional modules redundancy by discarding the modules whose all proteins belong to another module. Yet, merging the functional modules also creates a particular challenge: how to handle two modules sharing most but not all the proteins. Does the decision of whether or not to merge two slightly different modules depend on a small number of proteins not shared by the two modules? We believe that it will be valuable in the future to do an in-depth study of this problem.
In spite of the issues that still need to be resolved in the study of the TC-PINs, our research represents a successful, fundamental shift in the study of PPI from the static network to dynamic networks. Previous research on static PPI networks, such as identification of functional modules, protein function predictions, essential proteins and so on, can be performed on the TC-PINs and the resulting experimental results are much more satisfactory.
Declarations
Acknowledgements
This work is supported in part by the National Natural Science Foundation of China under Grant Nos.61073036, 61003124, the Ph.D. Programs Foundation of Ministry of Education of China No.20090162120073, the Freedom Explore Program of Central South University No.201012200124, High-tech Program of China Hunan Provincial Science and Technology Department No.2010GK3049, Aid program for Science and Technology Innovative Research Team in Higher Educational Institutions of Hunan Province No.2010212, the U.S. National Science Foundation under Grants CCF-0514750, CCF-0646102 and CNS-0831634.
Authors' Affiliations
(1)
School of Information Science and Engineering, Central South University, Changsha, China
(2)
School of Information Science and Engineering, Hunan First Normal University, Changsha, China
(3)
Department of Computer Science, Georgia State University, Atlanta, USA
References
Jin R, Mccallen S, Liu C, Xiang Y, Almaas E, Zhou XH: Identify Dynamic Network Modules with Temporal and Spatial Constraints. Proc Pacific Symp Biocomputing (PSB) 14: 203–214.Google Scholar
Przytycka TM, Singh M, Slonim DK: Toward the dynamic interactome: it's about time. Brief Bioinform 2010, 11: 15–29. 10.1093/bib/bbp057PubMed CentralView ArticlePubMedGoogle Scholar
Tu BP, Kudlicki A, Rowicka M, McKnight SL: Logic of the yeast metabolic cycle: temporal compartmentalization of cellular processes. Science 310: 1152–1158.Google Scholar
Simon I, Siegfried Z, Ernst J, Bar-Joseph Z: Combined static and dynamic analysis for determining the quality of time-Series expression profiles. Nature Biotechnology 2005, 23(12):1503–1508. 10.1038/nbt1164View ArticlePubMedGoogle Scholar
Han JDJ, Bertin N, Hao T, Goldberg DS, Berriz GF, Zhang LV, Dupuy D, Walhout AJM, Cusick ME, Roth FP, Vidal M: Evidence for dynamically organized modularity in the yeast protein-protein interaction network. Nature 2004, 430(6995):88–93. 10.1038/nature02555View ArticlePubMedGoogle Scholar
de Lichtenberg U, Jensen LJ, Brunak S, Bork P: Dynamic complex formation during the yeast cell cycle. Science 2005, 307: 724–727. 10.1126/science.1105103View ArticlePubMedGoogle Scholar
Qi Y, Ge H: Modularity and dynamics of cellular networks. PLoS Computational Biology 2006, 2: 1502–1510.View ArticleGoogle Scholar
Li XL, Wu M, Kwoh CK, Ng SK: Computational approaches for detecting protein complexes from protein interaction networks: a survey. BMC Genomics 2010, 11(suppl+1):S3.PubMed CentralView ArticlePubMedGoogle Scholar
Ashburner M, Ball CA, Blake JA, Botstein D, Butler H, Cherry JM, Davis AP, Dolinski K, Dwight SS, Eppig JT, Harris MA, Hill DP, Issel-Tarver L, Kasarskis A, Lewis S, Matese JC, Richardson JE, Ringwald M, Rubin GM, Sherlock G: Gene Ontology: tool for the unification of biology. The Gene Ontology Consortium. Nat Genet 2000, 25(1):25–29. 10.1038/75556PubMed CentralView ArticlePubMedGoogle Scholar
Song J, Singh M: How and when should interactome-derived clusters be used to predict functional modules and protein function? BMC Bioinformatics 2009, 25(23):3143–3150.View ArticleGoogle Scholar
Enright AJ, Van Dongen S, Ouzounis CA: An e cient algorithm for large-scale detection of protein families. Nucleic Acids Research 2002, 30(7):1575–1584. 10.1093/nar/30.7.1575PubMed CentralView ArticlePubMedGoogle Scholar
Bader GD, Hogue CW: An automated method for finding molecular complexes in large protein interaction networks. BMC Bioinformatics 2003., 4(2):Google Scholar
Freeman TC, Goldovsky L, Brosch M, van Dongen S, Mazi'ere P, Grocock RJ, Freilich S, Thornton J, Enright AJ: Construction, visualization, and clustering of transcription networks from microarray expression data. PLoS Computational Biology 2007, 3(10):e206. 10.1371/journal.pcbi.0030206PubMed CentralView ArticleGoogle Scholar
Ala U, Piro RM, Grassi E, Damasco C, Silengo L, Oti M, Provero P, Cunto FD: Prediction of human disease genes by humanmouse conserved coexpression analysis. PLoS Computational Biology 2008, 4(3):e1000043. 10.1371/journal.pcbi.1000043PubMed CentralView ArticlePubMedGoogle Scholar
Butte AJ, Tamayo P, Slonim D, Golub TR, Kohane IS: Discovering functional relationships between RNA expression and chemotherapeutic susceptibility using relevance networks. Proceedings of the National Academy of Sciences of the United States of America 2000, 97(22):12182–12186. 10.1073/pnas.220392197PubMed CentralView ArticlePubMedGoogle Scholar
Voy BH, Schar JA, Perkins AD, Saxton AM, Borate B, Chesler EJ, Branstetter LK, Langston MA: Extracting gene networks for low-dose radiation using graph theoretical algorithms. PloS Computational Biology 2006, 2(7):e89. 10.1371/journal.pcbi.0020089PubMed CentralView ArticlePubMedGoogle Scholar
Lee HK, Hsu AK, Sajdak J, Qin J, Pavlidis P: Coexpression analysis of human genes across many microarray data sets. Genome Research 2004, 14: 1085–1094. 10.1101/gr.1910904PubMed CentralView ArticlePubMedGoogle Scholar
Moriyama M, Hoshida Y, Otsuka M, Nishimura S, Kato N, Goto T, Taniguchi H, Shiratori Y, Seki N, Omata M: Relevance network between chemosensitivity and transcriptome in human hepatoma cells. Molecular Cancer Therapeutics 2003, 2: 199–205.PubMedGoogle Scholar
Brohée S, van Helden J: Evaluation of clustering algorithms for proteinprotein interaction networks. BMC Bioinformatics 2006, 7: 488. 10.1186/1471-2105-7-488PubMed CentralView ArticlePubMedGoogle Scholar
Blatt M, Wiseman S, Domany E: Superparamagnetic clustering of data. Physical Review 1998, 57(4):3767–3783.Google Scholar
King AD, Przulj N, Jurisica I: Protein complex prediction via cost-based clustering. Bioinformatics 2004, 20(17):3013–3020. 10.1093/bioinformatics/bth351View ArticlePubMedGoogle Scholar
Vlasblom J, Wodak S: Markov clustering versus affinity propagation for the partitioning of protein interaction graphs. BMC Bioinformatics 2009, 10: 99. 10.1186/1471-2105-10-99PubMed CentralView ArticlePubMedGoogle Scholar
Wu M, Li XL, Kwoh K: Algorithms for Detecting Protein Complexes in PPI Networks: An Evaluation Study. (Supplementary paper presented at) International Conference on Pattern Recognition in Bioinformatics (PRIB); 2008 Oct 15–17; Melbourne, Australia 2008: 135–146.Google Scholar
Pu S, Wong J, Turner B, Cho E, Wodak SJ: Up-to-date catalogues of yeast protein complexes. Nucleic Acids Res 2009, 37(3):825–831. 10.1093/nar/gkn1005PubMed CentralView ArticlePubMedGoogle Scholar
Altaf-Ul-Amin M, Shinbo Y, Mihara K, Kurokawa K, Kanaya S: Development and implementation of an algorithm for detection of protein complexes in large interaction networks. BMC Bioinformatics 2006, 7: 207–219. 10.1186/1471-2105-7-207PubMed CentralView ArticlePubMedGoogle Scholar
Hu H, Yan X, Huang Y, Han J, Zhou X: Mining coherent dense subgraphs across massive biological networks for functional discovery. Bioinformatics 2005, 21(suppl 1):213–221. 10.1093/bioinformatics/bti1049View ArticleGoogle Scholar
Boyle EI, Weng S, Gollub J, Jin H, Botstein D, Cherry JM, Sherlock G: GO::TermFinder-open source software for accessing Gene Ontology information and finding significantly enriched Gene Ontology terms associated with a list of genes. Bioinformatics 2004, 20(18):3710–3715. 10.1093/bioinformatics/bth456PubMed CentralView ArticlePubMedGoogle Scholar
Daraselia N, Yuryev A, Egorov S, Mazo I, Ispolatov I: Automatic extraction of gene ontology annotation and its correlation with clusters in protein networks. BMC Bioinformatics 2007, 8: 243. 10.1186/1471-2105-8-243PubMed CentralView ArticlePubMedGoogle Scholar
Maraziotis IA, Dimitrakopoulou K, Bezerianos A: Growing functional modules from a seed protein via integration of protein interaction and gene expression data. BMC Bioinformatics 2007, 8: 408. 10.1186/1471-2105-8-408PubMed CentralView ArticlePubMedGoogle Scholar
Copyright
© Tang et al; licensee BioMed Central Ltd. 2011
This article is published under license to BioMed Central Ltd. This is an Open Access article distributed under the terms of the Creative Commons Attribution License (http://creativecommons.org/licenses/by/2.0), which permits unrestricted use, distribution, and reproduction in any medium, provided the original work is properly cited.