BactImAS: a platform for processing and analysis of bacterial time-lapse microscopy movies
BMC Bioinformatics
2014
15:251
Received: 6 July 2014
Accepted: 17 July 2014
Published: 25 July 2014
Abstract
Background
The software available to date for analyzing image sequences from time-lapse microscopy works only for certain bacteria and under limited conditions. These programs, mostly MATLAB-based, fail for microbes with irregular shape, indistinct cell division sites, or that grow in closely packed microcolonies. Unfortunately, many organisms of interest have these characteristics, and analyzing their image sequences has been limited to time consuming manual processing.
Results
Here we describe BactImAS – a modular, multi-platform, open-source, Java-based software delivered both as a standalone program and as a plugin for Icy. The software is designed for extracting and visualizing quantitative data from bacterial time-lapse movies. BactImAS uses a semi-automated approach where the user defines initial cells, identifies cell division events, and, if necessary, manually corrects cell segmentation with the help of user-friendly GUI and incorporated ImageJ application. The program segments and tracks cells using a newly-developed algorithm designed for movies with difficult-to-segment cells that exhibit small frame-to-frame differences. Measurements are extracted from images in a configurable, automated fashion and an SQLite database is used to store, retrieve, and exchange all acquired data. Finally, the BactImAS can generate configurable lineage tree visualizations and export data as CSV files. We tested BactImAS on time-lapse movies of Mycobacterium smegmatis and achieved at least 10-fold reduction of processing time compared to manual analysis. We illustrate the power of the visualization tool by showing heterogeneity of both icl expression and cell growth atop of a lineage tree.
Conclusions
The presented software simplifies quantitative analysis of time-lapse movies overall and is currently the only available software for the analysis of mycobacteria-like cells. It will be of interest to the community of both end-users and developers of time-lapse microscopy software.
Keywords
Time-lapse microscopyMycobacteriaImage analysisImageJIcyData visualizationDatabase
Background
Multiple cellular properties can be monitored simultaneously over time at the single-cell level using fluorescence time-lapse microscopy [1, 2]. This method is based on the repeated imaging of cell(s) at regular time intervals, resulting in an image sequence that can be viewed as a time-lapse movie. By combining it with a computer controlled microscope stage and microfluidic devices, many cells can be observed in controlled, varying environments for days [3, 4]. This powerful method is currently the only available approach to obtain real-time information on the dynamics of intracellular processes, to determine individual cell lineages, and to monitor cell-to-cell variation over time.
Quantitative biological information needs to be extracted through subsequent processing of time-lapse movies, a step that significantly limits the potential of this method. This entails delineating individual cells in each movie frame (segmentation), following identified cells through the movie (tracking), and identifying cell division events (lineage). Done manually, this process is extremely time-consuming and error-prone, whereas universal and fully automated software does not exist. Nevertheless, many automated analysis programs have been developed for specific experimental setups, mostly for analysis of eukaryotic cells (for review see [5]). For prokaryotic cells, several software solutions exist [6–11], among which only Schnitzcells [6] and MicrobeTracker [7] are widely used.
All these programs were developed and tested for the model organisms Escherichia coli, Bacillus subtilis or Caulobacter crescentus under a limited set of experimental conditions, but were also used with other bacteria having similar cell properties [12–14]. All these bacterial species share low variation in shape and size between individual cells and exhibit clear contours, even when allowed to grow into a large microcolony. These characteristics enable existing algorithms to recognize every cell in each frame. However, some bacterial types cannot be easily segmented. Specifically, none of the known programs could be used to automate analysis of mycobacterial time-lapse movies. This is attributed to the tendency of mycobacterial cells to form closely-packed microcolonies, lacking visible separation between neighbors. Moreover, individual cells possess highly irregular morphology and do not form readily detectable division sites. These factors, combined with technical issues and experimental conditions that sometimes result in poor image quality, preclude automated analysis.
Development of image analysis software that can facilitate processing of mycobacterial cells would be of great value to the field. The Mycobacterium genus notably includes Mycobacterium tuberculosis, the causative agent of tuberculosis. This disease caused over 1.4 million deaths in 2011 and the emergence of drug-resistant strains poses a great public health threat and global economic burden [15]. Several recent publications have demonstrated that it is possible to monitor real-time growth of M. tuberculosis and its non-pathogenic relative M. smegmatis by combining fluorescence time-lapse microscopy and microfluidics. These studies have resulted in new biological insights on cell cycle dynamics, antibiotic persistence, and drug-susceptibility [4, 16–19].
In all these studies, mycobacterial time-lapse movies were analyzed manually by using multipurpose image analysis platforms such as ImageJ [20]. However, none of these analyses were real-time gene expression studies and hence did not require the tracking of each individual cell in every frame of the time-lapse movie. Such gene-expression analysis would generate considerably larger and more complex datasets and it would become challenging to efficiently store, exchange, statistically analyze, and visualize them. Therefore, beyond the problem of cell segmentation and tracking algorithms, a major obstacle to a much wider application of bacterial time-lapse microscopy is processing and managing the generated data. This is, in fact, a common problem to all bioimaging methods, see [21].
In this study we present BactImAS (BACTerial IMage Analysis Software) – a Java-based program designed for semi-automated cell segmentation and tracking, as well as storage, analysis, and visualization of acquired time-lapse data. It includes a newly developed algorithm that allows segmentation of mycobacterial cells and manages extracted data using a database. We tested BactImAS on time-lapse movies from an M. smegmatis ICL reporter strain and analyzed expression dynamics of the icl gene using a novel visualization tool and a built-in SQL editor.
Implementation
BactImAS is a Java-based program that incorporates the latest ImageJ version (currently 1.49a) [
20
] and a relational database (SQLite3) (Figure
1
A). The interaction between the program and the user is facilitated through a graphical user interface loosely inspired by movie editing tools (Figure
1
B). We incorporated ImageJ, a tool well known to the biological community, in our GUI for various image processing tasks. We also used ImageJ data structures and functionalities in the implementation of our algorithm. The program is distributed, with identical features, in two ways: as an Icy [
22
] plugin and as standalone software. If used as a plugin, BactImAs is installed (and kept up to date) through Icy. Installation of the standalone version consists of downloading and extracting the application files from [
23
]. In both cases, the SQLite database has to be installed for the program to work. In Windows OS, SQLite installation is a simple task, whereas in Mac OS X and many distributions of Linux OS it is already pre-installed.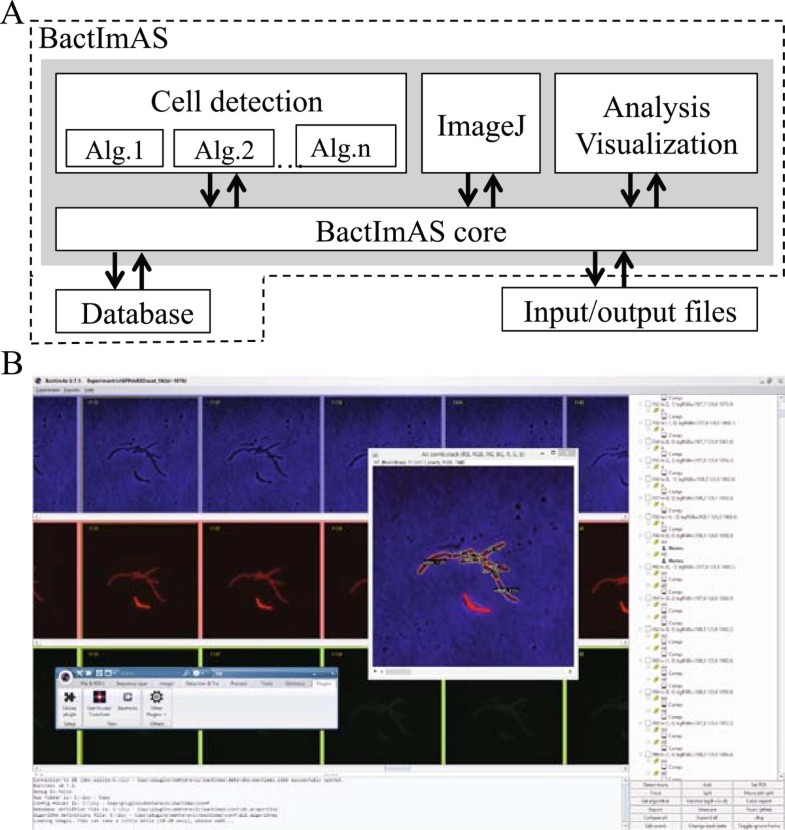 Analyzing time-lapse movies with BactImAS consists of preprocessing the images, followed by computer-assisted segmentation and tracking, and finally measurement of features of the segmented cells for further analysis. All regions of interest (ROIs) and extracted measurements are automatically and continuously saved in the database, thereby reducing the chance of error and data loss. This feature also allows image processing to be a collaborative effort between multiple users.
Results and discussion
BactImAS as a platform for bacterial time-lapse movie analysis
In contrast to other MATLAB-based analysis software [
6
–
10
], BactImAS is a freely available, open-source program written in Java. Table
1
lists the major differences between BactImAS and the two most widely-used bacterial time-lapse software Schnitzcells [
6
] and MicrobeTracker [
7
]. These two programs fully-automate cell segmentation and tracking by batch processing the movies and then provide limited tools for reviewing and possibly correcting the results. This approach works well if segmentation algorithms rarely fail. However, for many cell types this is not the case and manual intereventions are frequently needed. In contrast, multipurpose image analysis tools such as ImageJ provide full manual control but with limited automation. This manual approach is useful for small datasets, but as the microcolony grows, it quickly becomes error-prone and time consuming. In BactImAS, we combine these two approaches. We automated the straightforward tasks (e.g. cell labeling, extraction of quantitative data) but rely on the user to detect cell divisions and, if the algorithm fails, correct cell segmentation. In doing so, the user retains complete manual control, implemented in an easy-to-use way, and benefits from computer assisted workflow. This semi-automated approach makes BactImAS unique, and well suited for analysis of time-lapse movies in which existing algorithms frequently fail.
| | ImageJ | BactImAS | MicrobeTracker | Schnitzcells |
| --- | --- | --- | --- | --- |
| Platform | Win/Mac/Linux | Win/Mac/Linux | Win/Mac/Linux | Windows |
| License | GNU GPL | GNU GPL | GNU GPL + MATLAB license; registration required | Freely available + MATLAB license; registration required |
| Written in | Java | Java | MATLAB | MATLAB |
| Data storage | .txt file format | Relational database SQLite3 | MATLAB directories | MATLAB directories |
| ROI storage | Manual, file system | Continous automatic, SQLite3 | MATLAB directories | MATLAB directories |
| Software-user Interaction | Dialog-based GUI | Dialog-based GUI | Dialog-based GUI + command line | Mostly command line |
| Algorithm optimized for | - | M. smegmatis | C. crescentus, E. coli | B. subtilis, E. coli |
| Manual control | Full | Full | Limited | Limited |
| Cell segmentation | Manual | Semi-automated | Fully-automated | Fully-automated |
An important novelty, with respect to all other bacterial time-lapse analysis software, is data storage in the form of a relational database. The advantages of this approach are manifold: easy data backup and exchange, elegant retrieval of results via the standard SQL language, and simple data maintenance/handling in general. We are using the SQLite database as a data repository for all the information extracted from the movies (see database diagram in the Additional file 1). The SQLite is portable, has low memory requirements, and is freely available. However, it is easy to replace SQLite with any other database management system (e.g. MySQL, PostgreSQL) since the Java database connectivity standard is used to connect the program with the database. This replacement would be advisable should the program be configured to use one centralized database. By default, the platform is single-user oriented, with the ability to exchange data with other users by simply transferring a single SQLite file (and associated images).
The BactImAS platform is built in a modular fashion (Figure 1A) to facilitate addition of new functionalities, primarily additional cell segmentation and tracking algorithms. Similar to Schnitzcells [6] and MicrobeTracker [7], it is possible to build an algorithm collection so that users can perform the segmentation and tracking with the best fitting algorithm. To add an algorithm, one has to write a Java class implementing the given programming interface (for detailed description see Additional file 1). BactImAS adopts ImageJ data structures and functionality for various image processing tasks (e.g. edge detection) and adds a number of its own functionalities, which facilitates the development of new algorithms.
Segmentation and tracking of microfluidics-grown mycobacteria
We validated BactImAS on time-lapse movies of microfluidics-grown
M. smegmatis
cells (Additional file
2
). Details on the experimental setup are given in the Additional file
1
. The BactImAS algorithm tracked the growth of every individual cell in a microcolony using phase-contrast images with parameters for cell width, maximum pole elongation, and the maximal area increase set to 3, 10, 35, respectively (Figure
4
and Additional file
3
). In the presented time-lapse movie, 6.3% (201 out of 3184) of the ROI selections had to be manually corrected. Manual interventions were also required to define division events. However, division events represent only a small percentage (3.7% in the presented movie) of total cell selections in a typical mycobacterial movie. Similar results were obtained with other processed movies, resulting in, at least, a 10-fold decrease of processing time when compared to manual analysis. As these results were obtained using suboptimal images (pixel size was 0.129
μ
m), we expect a further reduction in the percentage of manual selections when using higher resolution images.

Currently available software solutions were developed for bacterial species where the typical frame-to-frame difference between cells is high, but the programs could rely on the clear cell contours to obtain good segmentation. In our experimental system, the situation is the opposite: cell delineation is difficult, but the tracking is simple because cells grow slowly and minimally change position between two successive frames (Additional file 2). To examine if the developed algorithm is more widely applicable, we processed published time-lapse movies from three different bacterial genera: fast-growing rod-like Bacillus [28], crescent-shaped Caulobacter [7], and filamentous Streptomyces [29]. The most promising results were obtained by processing the Streptomyces time-lapse movie. The main limitation of the algorithm lies in its sensitivity to significant frame-to-frame changes in cell shape and position. Should the skeleton from the previous frame fail to overlap with the contours of the cell body in the following frame, an erroneous selection would likely be generated. This presents a problem when detecting fast-growing organisms (e.g. E.coli or B. subtilis) and/or when the frequency of imaging is such that significant changes occur between subsequent frames. Hence, selection of an appropriate image acquisition frequency, one that enables good automation of the tracking step, should be considered when designing the time-lapse experiments.
We intend to build a multi-channel version of the algorithm to simultaneously use the information from all available channels. This would potentially allow automated detection of cell division events in mycobacterial strains that express a fluorescently-tagged Wag31protein, a reporter that accumulates at the position of cell division septum and poles [16], clearly marking division events.
Visualisation and analysis of bacterial gene expression
We illustrate the usage of BactImAS by analyzing real-time expression of icl, a gene previously shown to be indispensable for chronic infection of M. tuberculosis in mice [30, 31]. A change of carbon source in the growth medium from glucose to acetate affects the quantity and activity of ICL in M. tuberculosis[32]. To investigate the role of icl induction in this process, we followed the ICL reporter strain of M. smegmatis (described in detail in the Additional file 1) in which a green fluorescence protein (GFP) signal serves as a proxy for ICL production within the cell (Figure 2, middle row and Additional file 4). Beside reflecting changes in icl expression, the GFP fluorescence is also influenced by fluctuations in the global gene expression machinery (e.g. altered number of ribosomes) within each cell. To account for differences in icl expression that stem from these other cellular factors, we monitored, in parallel, the signal of DsRed2, a red fluorescent protein constitutively-expressed from an independent chromosomal locus (Figure 2, bottom row and Additional file 5). Dual-fluorescent ICL reporter cells were cultured in a custom-made microfluidic device [4] and imaged every 10 minutes. For the initial 29 hours cells grew in a glucose-based flow medium and then the glucose was replaced with acetate. We processed three time-lapse movies and extracted quantitative data for every cell of the microcolony. This data is the first such demonstration of single-cell gene expression dynamics in mycobacteria.
Although time-lapse data is commonly represented as a lineage tree, researchers predominantly use unavailable in-house software. BactImAS includes a novel and advanced visualization tool that can display lineage tree(s) superimposed with any two variables from the database. A representative tree, with cell size displayed as proportional to the branch width and mean green fluorescence mapped to a color scale, demonstrates the advantages of such visualization for representing complex information (Figure
5
A). Upon switching to an acetate-based growth medium, there is a clear increase in
icl
expression, with concomitant decrease in typical cell size. Phenotypic heterogeneity in
icl
induction and cell growth, observed even between sibling cells, is clearly evident from such visualization.
The built-in SQL editor allows data analysis to be performed directly with BactImAS. With a single query to the database (see Additional file 1), we analyzed the dynamics of icl expression in all processed movies. We calculated the green/red fluorescence ratio for every cell (7306 ROIs) and then plotted the average ratio as a function of time (Figure 5B). The icl expression was found to be stable in the 9 hour interval prior to the glucose-to-acetate switch. Upon the switch, icl expression continuously increased over the next 5 hours before reaching a 6-fold higher plateau. This is in very good agreement with the 5.9-fold difference in the icl expression level determined after 24 hours by quantitative real-time PCR in M. tuberculosis[32].
Conclusion
Here we present BactImAS – a Java-based, open-source platform for semi-automated analysis of bacterial time-lapse movies. Image processing tasks are carried out through a user-friendly GUI and incorporated ImageJ program. All resulting information is stored and retrieved from an SQLite database. The platform includes a newly-developed segmentation and tracking algorithm based on the assumption that the frame-to-frame difference in a cell's shape and size is usually very small. The algorithm allowed us to process mycobacterial time-lapse movies for the first time. While the user is still responsible for identifying cell division events, we were able to reduce the number of manual selections by 90%. Finally, we implemented a novel graphic tool and an SQL editor and illustrate their usefulness by analyzing icl gene expression in M. smegmatis, the first such gene expression study in the Mycobacterium genus.
The BactImAS platform is currently the only available tool for analysis of mycobacterial time-lapse movies and we believe it will be useful for other similar organisms. By adding segmentation algorithms optimized for other bacterial species, it has the potential to become a much-needed platform for universal bacterial time-lapse movie analysis.
Availability and requirements
Project name: BactImAS Project home page: http://homer.zpr.fer.hr/BactImAS/ Operating system(s): Linux, MacOS X, Windows Programming language: Java Other requirements: Java 1.6 or higher and SQLite3 License: GNU GPL v3. Please cite this paper in any publications that use this software. Any restrictions to use by non-academics: None.
Declarations
Acknowledgements
We thank Michael Elowitz, Christine Jacobs-Wagner and Klas Flärdh for kindly providing image sequences from B. subtilis, C. crescentus and S. coelicolor, respectively. We would also like to thank Manisha Lotlikar, Fred Ross and Arne Seitz for useful discussions and carefully reading the manuscript.
This work was partially supported by the Semantic Integration of Heterogeneous Data Sources project, funded by the Croatian Ministry of Science, Contract 036-0361983-2012 (IM).
Authors' Affiliations
(1)
Department of Applied Computing, Faculty of Electrical Engineering and Computing, University of Zagreb, Zagreb, Croatia
(2)
Division of Experimental Physics, Ruđer Bošković Institute, Zagreb, Croatia
(3)
School of Life Sciences, Swiss Federal Institute of Technology in Lausanne (EPFL), Lausanne, Switzerland
Copyright
© Mekterovićet al.; licensee BioMed Central Ltd. 2014
This article is published under license to BioMed Central Ltd. This is an Open Access article distributed under the terms of the Creative Commons Attribution License (http://creativecommons.org/licenses/by/4.0), which permits unrestricted use, distribution, and reproduction in any medium, provided the original work is properly credited. The Creative Commons Public Domain Dedication waiver (http://creativecommons.org/publicdomain/zero/1.0/) applies to the data made available in this article, unless otherwise stated.